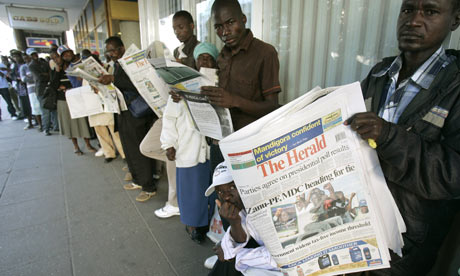 A London-based investment group co-founded by the former chairman of Morgan Stanley International and an old Etonian whose great, great-grandfather invented shorthand, today snapped up a 25% stake in one of Zimbabwe's largest financial services companies, NMBZ Holdings.
African Century was founded two years ago to invest in sub-Saharan Africa by Jonathan Chenevix-Trench - who spent over 20 years with Morgan Stanley- and Henry Pitman, former boss of the support services group Tribe and a man whose surname is known to anyone who has learned shorthand.
It spent $4.9m (£3.16m) on the stake in NMBZ, which is listed in London and Harare, and now has two seats on the company's board.
Chenevix-Trench said he will now accompany the bank's chief executive on a tour of potential sources of funding to get the bank lending to businesses within Zimbabwe.
After years of rampant inflation and food shortages, the country last year abandoned its own currency in favour of the US dollar, a move which has helped stabilise the economy, which Chenevix-Trench reckons is "slowly but surely recovering". The issue now is how Zimbabwe will grow.
"If Zimbabwe is going to recover you have got to have the agricultural and mining industries to get going again and they desperately need credit," Chenevix-Trench said. "It is a very compelling economic case but also a very compelling philanthropic case."
African Century has already invested in poultry and aquaculture ventures in Mozambique, Uganda and Zambia and also has a small portfolio of assets within Zimbabwe.
African Century's investment in NMBZ, which owns NMB Bank, will help stabilise its balance sheet as it looks to fulfil the Reserve Bank of Zimbabwe's requirement that commercial banks should have at least $12.5m in capital. African Century also has an option to buy a further $2.2m worth of shares in the bank.
James Mushore, chief executive of NMBZ Holdings said "we are delighted to have secured an international equity partner of the stature and experience of African Century, and we look forward to working with them".