The ZIMBABWE Situation
An extensive and up-to-date website containing news, views and links related to ZIMBABWE - a country in crisis


Please note: You need to have 'Active content' enabled in your IE browser in order to see the index of articles on this webpage
---
U.N. council, African Union to debate Zimbabwe
Reuters

Wed 16 Apr 2008, 3:56 GMT

By Louis Charbonneau

UNITED NATIONS, April 16 (Reuters) - Leaders of key members of the U.N.
Security Council and the African Union meet at U.N. headquarters on
Wednesday where they are expected to debate the crises in Zimbabwe, Sudan
and Somalia.

The meeting, which will be chaired by South African President Thabo Mbeki,
is due to focus on Security Council cooperation with the AU and other
regional organizations.

South Africa has drafted a resolution cementing this cooperation, which is
expected to adopted on Wednesday.

U.N. Secretary-General Ban Ki-moon joined the United States, Britain and
France on Tuesday in urging the Security Council and AU leaders to take up
the worsening election standoff in Zimbabwe, despite resistance from South
Africa.

Ban said the summit, which British Prime Minister Gordon Brown and several
African Union leaders will attend, offered "a natural opportunity to address
the situation in Zimbabwe."

Britain has accused Zimbabwean President Robert Mugabe of delaying the
results of the country's March 29 election to try to subvert the outcome.
Opposition leader Morgan Tsvangirai has said he won the election and accuses
Mugabe of planning violence to overturn the results.

South Africa holds the Security Council's rotating presidency and has
opposed council discussion of Zimbabwe, arguing that the problems there are
not a crisis and do not represent a threat to international peace and
security.

Pretoria's U.N. envoy Dumisani Kumalo said the issue was being dealt with by
the Southern Africa Development Community, which has resisted calls for
greater pressure on Mugabe.

But Ban said it was time the United Nations got involved.

"I will be engaging in a number of meetings with the leaders tomorrow to
discuss what the United Nations and how the international community could
help the Zimbabwean people and authorities to resolve this issue," he said.

He said Mugabe's government should release the election results "so that the
Zimbabwean people will be able to enjoy the democratic process, and also
they should be able to overcome these serious humanitarian difficulties."

DARFUR AND SOMALIA

The Security Council is not expected to make a unanimous statement or
resolution on Zimbabwe because of resistance from South Africa and other
council members. But any discussion of the issue at the meeting will
increase the pressure on Mugabe, Western diplomats said.

Also to be debated is the crisis in western Sudan, where only 9,000 of the
required 26,000 U.N.-AU peacekeepers have been deployed in the war-racked
Darfur region.

International experts estimate around 2.5 million people have been displaced
and 200,000 have died in five years of violence in Darfur which Washington
calls genocide. The Khartoum government denies genocide and puts the death
toll at 9,000.

Somalia's Foreign Minister Ali Ahmed Jama said on Tuesday that Somali
President Abdullahi Yusuf would tell the Security Council that international
peacekeepers were urgently needed to bring stability to his lawless country.

"We hope the Security Council would take meaningful steps to assume its
responsibility and engage and replace the African Union force there with a
U.N. force," he said. "This is the proposal we are going to make."

Talk of outside intervention is still colored by memories of a battle in
1993 in which 18 U.S. troops and hundreds of Somali militiamen died. The
incident inspired a Hollywood movie, "Black Hawk Down" and marked the
beginning of the end for a combined U.S.-U.N. peacekeeping force. (Editing
by Chris Wilson)

---
Beaten for voting the wrong way: how Zanu-PF is taking revenge in rural areas
With the election outcome still unclear, gangs warn against opposing Mugabe
Wednesday April 16 2008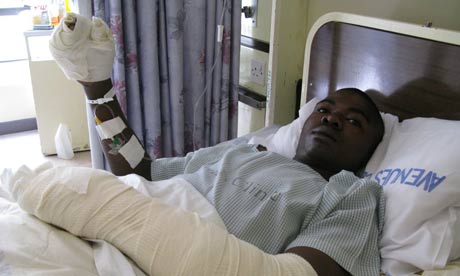 It is called Operation Makavhoterapapi - Shona for 'Where did you put your cross?' - and it descended on 15-year-old Privilege Chikwana as she was doing her homework. Privilege was too young to have voted in Zimbabwe's still unresolved election but her mother did and the men at the door suspected she voted the wrong way. So they took the child back to the school in Chiwaka village where scores of Zanu-PF activists were holding opposition supporters prisoner and started beating her.
"They beat her on the buttocks with wooden rods, beat her and beat her because they said she was hiding me. Men were doing this," said Privilege's mother, Faustina Chikwana. "When I heard they had taken her to the school I went straight there. There was a big group of Zanu-PF, about 100. They had drums. They were singing. They grabbed me and they had a list of where we voted. That's when it started."
Chikwana and her daughter are now in a private Harare hospital hardly able to move because of the injuries inflicted on them as a wave of state-sponsored terror sweeps rural Zimbabwe to punish voters for supporting the opposition and to ensure that if there is a run-off presidential election they do not repeat their mistake. Scattered around the same hospital are others who have survived the systematic punishment beatings and burnings but with terrible injuries.
They include Mike Mavhura, whose hands are swollen, bloodied and seared after burning grass was piled on him and his arms were broken in several places. A little way down the corridor is Daniel Muchuchuti, a 62-year-old retired major from the Zimbabwean army and village head, being treated for broken ribs. On the floor below is Linus Mubwanda, whose brother was beaten to death in front of him.
They are from diverse parts of rural Zimbabwe - Mashonaland to Manicaland and the Mozambican border - and they are just a fraction of the many hundreds of people the opposition says have been assaulted as gangs of armed Zanu-PF supporters under military leadership move through the countryside using polling station returns from the election nearly three weeks ago to identify villages where support for the opposition was strong.
Many hundreds more have been forced from their homes. War veterans burned the houses of 30 families in Centenary. Those who have tried to report the attacks to the police have sometimes themselves been arrested.
Chikwana, 38, says she is not an opposition activist and that her vote is her secret. But not secret enough. There were two polling stations in Chiwaka. The one in the centre appeared to be correctly run but the other, on the edge of the village, raised suspicions. Ahead of the elections Zanu-PF was telling people that they should vote there.
"When they were beating me they wanted to know why I didn't go to their polling station. They said to me: there we could see how you put your vote, if you vote in the other place it's secret and that means you voted for the opposition. They said they knew how people voted in that polling station from the figures and it wasn't for Zanu-PF," she said. "They said we must vote for Zanu-PF. If you don't vote Zanu-PF you must go away. They said we were selling the country to the whites."
Chikwana said that the Zanu-PF supporters also burned four houses in the area. "I recognised some of the people in the group. There were war vets and village men, councillors from Zanu-PF. They brought people from villages all around to the school and were beating them," said Chikwana. "They beat us for at least an hour then they took us to a large room and kept us there with other people they had beaten. We were there for about six hours. Then they said we could go but we couldn't walk. We were crawling out the door."
Zanu-PF arrived at Felix Gutima's door in Baradze village at about midnight. He is the ward secretary for the opposition Movement for Democratic Change.
"They smashed in the door and entered the house. They demanded the party register. They told me they were on Operation Makavhoterapapi. It means: where did you put your cross?" They said they were finding out how people voted. They wanted to use that register to track down our members," said Gutima. "I'd already hidden it and when I wouldn't show it they attacked me. They hit me with wood and iron bars."
Mike Mavhura, an opposition activist, was dragged from his small general store in Musaruro village. "They came and broke down the door and dragged me out and beat me. They threw burning grass on to my body. They said: you are an MDC member so we want to give you a reason to change your mind," he said. "After that they broke all the windows in my store and took the goods."
The four men and two women who attacked Mavhura, 22, left him with extensive burns and deep lacerations on his arms and hands. The ends of his fingers are bloodied and burned from trying to snatch off the burning grass. The men also beat him severely with wooden rods, particularly his buttocks and arms, leaving him with four broken bones in his left hand and two fractured fingers on his right.
One feature of the beatings is that very few people are killed. It would appear that Zanu-PF has learned that deaths attract attention. But there has been at least one killing in the past few days. Tapiwa Mubwanda was the MDC district chairman in Mhfreyenyoka village in the north of the country. He was bludgeoned to death on Saturday as his brother Linus, another opposition activist, was beaten next to him.
"They said it was to teach us how to vote," said Linus, 58. "They said: 'It's your own fault, voting for the opposition. That's why we are doing all these things to you. When we have the run-off you will know how to vote'."
Tsvangirai will run
Zimbabwe's opposition leader, Morgan Tsvangirai, yesterday shifted tack and said he would participate in a run-off election against Robert Mugabe, but only if the poll and count were monitored by international observers.
The Movement for Democratic Change had previously rejected a second round on the grounds that its own calculations showed Tsvangirai had won outright in the election more than 18 days ago. The state-run electoral commission has still to release the official count.
An opposition call for a general strike to demand the immediate release of the election results flopped yesterday with almost all shops and businesses open.
But the MDC received a boost in South Africa where the ruling African National Congress broke with President Thabo Mbeki and declared the situation in Zimbabwe to be "dire". It backed the opposition's call for the election results to be released "without any further delay".
Mbeki said at the weekend that there was no crisis in Zimbabwe and described the election results delays as "normal". The new ANC leadership, far more critical of Mugabe than Mbeki, yesterday said it would make contact directly with Mugabe's Zanu-PF and the MDC in an attempt to settle the crisis.
---
Military Leaders Making the Decisions in Zimbabwe
Washington Post

Washington Post Foreign Service
Wednesday, April 16, 2008; Page A12

JOHANNESBURG, April 15 -- Zimbabwe's military has taken day-to-day control
of key elements of the national government, limiting the authority of
President Robert Mugabe as he struggles to maintain power after 28 years,
according to senior government sources, Western diplomats and analysts.

Mugabe's clout has diminished as military forces deploy widely across
Zimbabwe's countryside and in government agencies. Among those agencies is
the electoral commission, which has refused to release results from the
March 29 election and would manage a runoff vote, if one is eventually
scheduled.

National decision-making increasingly has been consolidated within the Joint
Operations Command, a shadowy group consisting of the leaders of the army,
air force, police, intelligence agency and prison service -- a group
Zimbabweans call the "securocrats."

Although those officials long have been powerful, their authority in
government and political matters grew sharply in the days after the
election, when it became clear that Mugabe had lost a first round of
balloting to longtime opposition leader Morgan Tsvangirai. Several of the
securocrats, whose ties to Mugabe date to Zimbabwe's liberation war in the
1970s, had vowed before the vote never to take orders from Tsvangirai, a
former trade union official with no military background.

The shift in power is "an interim measure that is meant to stabilize the
country at this critical moment," said a top government official and Mugabe
confidant, speaking on the condition of anonymity. "The arrangement is just
temporary because once he wins [a runoff vote], as the army expects him to,
he will be back in charge."

Zimbabwe's political crisis has shown no sign of abating since the election
17 days ago. All sides agree that Mugabe received fewer votes than
Tsvangirai, but they disagree as to whether the opposition candidate won the
clear majority needed for a decisive first-round victory.

The opposition party, which asserts that Tsvangirai did win enough votes to
become president, has tried various tactics to push Mugabe's government from
office. It sued unsuccessfully to force release of the results. It embraced
a runoff, announced a boycott of it, then reversed again and said it would
take part under certain conditions. On Tuesday, it called a general strike
only to see it fizzle.

Regional diplomatic efforts, including quiet negotiations between the ruling
party and the opposition, have failed so far. There are no official
presidential election results, no date for a runoff and no clear path for
resolving the crisis. That has made questions about who is in charge now all
the more pressing. The constitutional mandate for parliament and Mugabe's
cabinet expired at the end of March.

Opposition leaders have claimed for several days that the military has
quietly taken control of the government. "It's a coup in the guise of an
election," said opposition lawmaker David Coltart, who is part of a
breakaway faction that does not answer to Tsvangirai.

Mugabe's security minister, Didymus Mutasa, disputed Coltart's description,
saying, "President Mugabe is still in charge, and that is a fact. Those
people who are telling you that are wishing for bad things for this country.
Wait until the runoff. We will beat them overwhelmingly, and then they will
shut up."

Yet a Zimbabwean general, speaking on the condition of anonymity, described
a meeting between top military officers and Mugabe last week in Murombedzi,
about 55 miles southwest of Harare, the capital. After declaring to the
president that they were in charge, the officers laid out a plan by which he
would contest a runoff vote in conditions made far more favorable by
military control of polling stations and central counting centers, the
general said.

He added that the military has assigned two senior officers to oversee each
of Zimbabwe's dozens of local government districts. Their job, the general
said, is to coordinate political violence by ruling party groups that are
intimidating and attacking opposition supporters.

Two people have died since the election. Dozens of others have been beaten,
whipped and threatened by ruling party youth militias, opposition activists
say. Veterans of Zimbabwe's liberation war have occupied many of the
remaining white-owned commercial farms. As police checkpoints on Zimbabwe's
highways have proliferated, a growing number are monitored by military
policemen or officers of Mugabe's secret police.

Such harsh tactics were common in previous elections, especially in 2000 and
2002; this year's vote was generally regarded as less violent. The following
day, results were posted at individual polling stations, which allowed both
the opposition and independent monitors to compile tallies showing the
extent of Mugabe's loss.

This more relaxed atmosphere, which resulted largely from pressure applied
by leaders of other countries of southern Africa, changed in the days after
the election. Through increasingly belligerent statements, ruling party
figures vowed to defeat Tsvangirai in a runoff and challenged the results of
several parliamentary seats they lost.

Seven election officials were arrested, as were several journalists covering
the election amid intensive restrictions on news gathering.

This crackdown has come since the Joint Operations Command took operational
control of the ruling party's political strategy and the country's electoral
mechanisms and internal security measures, the senior government sources,
diplomats and analysts said. The pretext, they said, is a national security
threat posed by a possible victory by Tsvangirai, whom officials long have
accused of colluding with Zimbabwe's former colonial ruler, Britain, to help
it reassert control.

Former Mugabe information minister Jonathan Moyo, who broke with the
president and now is an independent lawmaker, said that when he was in the
cabinet from 2000 to 2005, major decisions needed the approval of the
securocrats, much as a company's chief executive officer submits major
initiatives to a board of directors.

Since the vote, Moyo said, power has shifted from Mugabe, whom he called "a
hostage president."

"His role is as a weakened CEO," Moyo said. "Still CEO, but one who cannot
disagree with his boss."

---
Mugabe dilemma for Brown at UN meeting
The Telegraph

By David Blair, Diplomatic Editor
Last Updated: 2:52am BST 16/04/2008

When Gordon Brown attends a special session of the United Nations in
New York today, he will raise Zimbabwe's political turmoil before the
Security Council.

But President Thabo Mbeki of South Africa will chair the meeting - and
he will probably avoid mentioning his northern neighbour where, he
stubbornly insists, "no crisis" is unfolding.

This presents the Prime Minister with an acute dilemma. British
officials have no doubt that President Robert Mugabe has decided to defy
last month's election, which he almost certainly lost, and hold power by
whatever means necessary.

A murderous terror campaign designed to crush the opposition has duly
begun. Britain's logical response would be to denounce Mr Mugabe as an
illegal leader and place a tough Resolution before the Security Council
calling on Zimbabwe's regime to release the results of the presidential
election.

America and France will probably echo Mr Brown's concerns before the
Security Council. But Whitehall sources say the Prime Minister will not
table a Resolution on Zimbabwe.

Choosing this path would "set us up to fail", said one official, by
placing Britain on a collision course with Mr Mbeki and other African
leaders. Despite everything, Mr Mbeki still views Mr Mugabe as a legitimate
president who must be dealt with, instead of condemned.

Moreover, he remains utterly convinced that Zimbabwe's election has
vindicated his conciliatory approach. He points to a modest package of
electoral reforms agreed by Zimbabwe's regime and the opposition before
polling day.

For the first time, all results were posted outside polling stations,
transparent ballot boxes were employed and the early stages of the campaign
were relatively peaceful. So Mr Mbeki believes that his policy has produced
real gains. Tragically, this conviction has entrapped him in a wilful
blindness about the terrible events now unfolding in Zimbabwe.

Almost three weeks after polling day, no official results for the
presidential election have been released. This has only one logical
explanation. Mr Mugabe lost the first round and his minions are busily
rigging the result.

The new safeguards rendered it impossible to rig at polling station
level. So the chicanery is happening in the national counting centre
instead. The figures will probably be finessed to give the president a
narrow lead, while falling below the 50 per cent threshold needed to avoid a
second round.

Anticipating this run-off, Mr Mugabe's thugs are now trying to break
the opposition by their customary methods of terror and violence. Mr Mbeki
is psychologically incapable of acknowledging any of this.

To do so would be to admit the failure of his policy. So he persists
in claiming that "no crisis" is unfolding. Mr Mbeki, who holds the Security
Council's rotating presidency, would probably block any British attempt to
debate Zimbabwe before this body, possibly with China's help.

If Mr Brown says that Zimbabwe has effectively suffered a coup and Mr
Mugabe is now an illegal leader a claim already made by the opposition South
Africa would certainly offer no support. Worse, Mr Mbeki could be pushed
into publicly endorsing Mr Mugabe as a legitimate leader.

So Mr Brown's options are extremely limited. The only glimmer of hope
is that some African leaders dissent from Mr Mbeki's sanguine view of
Zimbabwe.

President Ian Khama of Botswana, who took office a fortnight ago, has
hosted Morgan Tsvangirai, the opposition leader, and privately signalled his
unhappiness. President Levy Mwanawasa of Zambia has called Zimbabwe a
"sinking Titanic".

He snubbed the regime by pointedly inviting Mr Tsvangirai to the last
summit of southern African leaders. Britain hopes these divisions among his
African peers might bring pressure to bear on Mr Mugabe.


---
Robert Mugabe's terror victims tell of beatings
The Telegraph

By Byron Dziva in Harare
Last Updated: 2:48am BST 16/04/2008

The brutality of Robert Mugabe's crackdown on the Movement for
Democratic Change was described yesterday by the victims of his thugs as
they recovered from their injuries in a clinic in Harare.

Lainos Mubwanda, whose brother Tapiwa was the first person to be
killed in Zimbabwe's post-election violence, was injured in the same attack.

He described how a gang of youth militia from the ruling Zanu-PF party
arrived at their home in Mashonaland West, Mr Mugabe's home province, where
his brother was a party organiser.

"About 200 of them descended on our homestead. They were armed with
metal, sticks and knives. They were prepared to kill. I don't think they
were prepared for anything less.

"They were accusing us of supporting the MDC, and demanded information
from us. When they tried to beat me up, my brother jumped to my side and
tried to restrain them.

"One of the militias stabbed my brother twice on the right side of the
rib. He fell down. They hit me in the head with logs and with a huge stone
in the head, then ran away into the bush."

Mr Mubwanda lost consciousness. "Later I heard that my brother had
died," he added simply.

The violence is concentrated in former strongholds of Zanu-PF that
voted for the MDC last month, such as Mudzi district in Mashonaland East
province.

Poshie Pfiranimata, 22, is the local MDC secretary, and has to sleep
face down because of the pain from his beaten, swollen legs. "They came
around midnight, broke down the wooden doors and forced themselves into the
hut," he said.

"They were about 30 Zanu-PF militias, armed with truncheons and
sticks. They started demanding the MDC book containing the membership lists
of every local person supporting the opposition. I told them that I had
submitted the book to Harare party's headquarters.

"All hell broke loose. They started beating me with logs all over the
body until I passed out. They feared I was dead and they left me. I was only
rescued the following morning and taken to Harare."

In all, two people are know to have been murdered and at least 157
assaulted so far, including a 15-year-old girl and a pregnant woman. Scores
of Zimbabwe's last white farmers have seen their land invaded.

Zanu-PF's campaign extends to the airwaves where state radio is
playing hate-filled songs hour after hour. Mr Mugabe routinely calls the MDC
"sellouts" and the lyrics of one song played on Spot FM read: "Give me my
spear so that I can kill the many sellouts in my forefathers' country."

The MDC called a general strike yesterday to protest over the
authorities' failure to announce the presidential election results. However,
the call was ignored and businesses in Harare opened as normal.

Last week, the opposition said they would boycott any second round of
the presidential poll. But a spokesman for Morgan Tsvangirai, the MDC
leader, said the MDC would take part if the election was monitored by
outside observers.

Gordon Brown will be in New York today for a special Security Council
session chaired by President Thabo Mbeki of South Africa. There is unlikely
to be any discussion of Zimbabwe. British officials say their options for
imposing pressure on Mr Mugabe are constrained by the need to avoid
alienating African leaders.

But South Africa's ruling ANC contradicted Mr Mbeki's recent claim
that there was "no crisis" in Zimbabwe. In a statement, the party said: "The
ANC regards Zanu-PF as an ally. However, it regards the situation in
Zimbabwe as dire, with negative consequences" for southern Africa.


---
Mbeki must explain 'no crisis', says MDC
Business Day

16 April 2008

Sure Kamhunga

ZIMBABWE's opposition Movement for Democratic Change (MDC) will ask
President Thabo Mbeki to clarify what he meant by claiming there is no
crisis in that country.

It is understood that MDC leader Morgan Tsvangirai is being pressed by
incensed party members to denounce Mbeki as a "dishonest" broker in the
country's political stalemate.

However, Tsvangirai struck a conciliatory tone in an interview with Business
Day, saying his party — which claims it won a landmark election victory
against Zanu (PF) — will choose "an appropriate time" to seek clarification
from Mbeki.

Mbeki's remarks have been contradicted by the African National Congress
national working committee.

Tsvangirai said Mbeki's credibility as an honest broker in the had taken a
huge knock after his statement, made after a stopover meeting with Zimbabwe's
President Robert Mugabe last Saturday, en route to an extraordinary summit
of the Southern African Development Community (SADC) in Lusaka.

The summit ended with a call to the Zimbabwe Electoral Commission to
"expeditiously" release the results of the presidential poll held on March
29.

"I do not know what informed Mbeki to make such a statement and I am as
surprised as a lot of people on his conclusion, which might undermine his
credibility as an honest broker (in mediation efforts) to bring a resolution
to the crisis," Tsvangirai said.

"We hope to engage (Mbeki) and clarify that position that there is no crisis
in Zimbabwe."

He said Mbeki had in previous private discussions acknowledged that Zimbabwe
faced a crisis "and that it needs resolution".

Despite Tsvangirai's conciliatory approach, MDC sources said yesterday that
Mbeki's statement — and TV footage of his holding hands with Mugabe — had so
incensed some party members that they were now demanding Tsvangirai publicly
denounce Mbeki for his stance on the delayed release of the presidential
poll results.

However, a diplomatic source in Harare said he doubted Tsvangirai would make
"such a fatal error of judgment" considering that Mbeki was probably the
only regional leader with influence over Mugabe. Mbeki's policy of quiet
diplomacy towards Zimbabwe has been much criticised.

A senior MDC official said the party had lost confidence in Mbeki, and his
"no crisis" statement had destroyed any remaining credibility.

"He has a well-established pattern of bias towards the incumbent in all his
mediations, and that is why no one wants to see him in Africa as a
 mediator."

However, Tsvangirai said the MDC acknowledged that SA, by virtue of its
importance as a regional economic and political leader, had a role to play
in resolving the Zimbabwe crisis.

He said it was time for Mugabe to concede defeat and allow a smooth
transition to a new government rather than continue to insist on a recount
of votes and a runoff, which he warned that Mugabe would lose. He said he
was astounded to hear government ministers declare there would be a runoff
between the MDC and the ruling Zanu (PF) party even before the results of
the presidential election had been released.

Yesterday — after yet another general strike in Zimbabwe that flopped —
Tsvangirai was reported as saying that he would contest a runoff, but only
if it was run by SADC with international observers.

---
Region fails in its response to crude coup by Mugabe
Business Day

16 April 2008

Allister Sparks

THE Southern African Development Community (SADC) faced its most critical
credibility test at its summit on the Zimbabwe crisis over the weekend — and
failed.

The SADC's call for a speedy announcement of the presidential election
results, and its appeal that should a run-off between Morgan Tsvangirai and
Robert Mugabe be necessary it should be conducted in "a secure environment",
were well-meaning but hopelessly inadequate. The request is toothless. There
is no hint of any penalty should Mugabe ignore it, as he surely will.

This is where the default lies. There is mounting evidence that the Mugabe
regime is in the process of manipulating the electoral figures to steal both
the presidential and parliamentary elections, in other words to retain
political power through a de facto coup — and the SADC states are bound by
their own founding treaty to try to prevent that.

Mugabe's strategy of delaying the presidential count has been two-edged. It
means there have been enough leaks from the counting house to reveal what
the real count was, and what strategies are being used to subvert it.

By noon on Sunday, March 30, 18 hours after the polls closed and with
three-quarters of the count completed, police reports from the country's
9400 polling stations to the headquarters of the Joint Operational Command
(the chiefs of the five powerful security services) indicated Tsvangirai was
heading for a landslide victory, with 58% of the vote at that stage to
Mugabe's 27% and 15% for Simba Makoni.

This triggered panic in the ruling Zanu (PF) hierarchy, which summoned an
emergency meeting of its politburo. At a second meeting the next day, it was
decided to slow the count so as to massage the figures and allow for a
run-off, at which huge security force deployments and intimidation could try
to ensure a Mugabe victory.

The Movement for Democratic Change (MDC), aware of this, promptly issued a
statement claiming Tsvangirai had won with a majority of 50,3%, a figure
based on 90% of reports received from its own polling agents.

The MDC also called for a full audit of results, which took another three
days and showed, according to further leaks, a final count of 54% for
Tsvangirai.

At that point, the Zimbabwe Electoral Commission (ZEC), under huge pressure
from the security chiefs, froze the count, closed its command centre and
moved to a secret venue where, at Zanu (PF)'s insistence, a recount of 23
constituencies is now taking place with no opposition candidates, election
officials or lawyers present.

The strategy seems obvious, and the SADC leaders, including its chairman,
Zambian President Levy Mwanawasa, must know this.

The key factor here is that the SADC Treaty, which established the
organisation, enjoins its 14 member states to defend the principles of
democracy and ensure free and fair elections are held. It also binds member
states to align themselves with the principles set out in the Constitutive
Act of the African Union (AU), whose Charter on Democracy, Elections and
Governance "prohibits, rejects and condemns any unconstitutional change of
government".

In other words, no coups.

Some may argue there should be no interference in the affairs of a sovereign
member state. That's old fashioned. The Organisation of African Unity was
reconstituted into the AU in 2002 to move away from that old passive
doctrine, which had tarnished the continent's image by silently tolerating
tyrants and military dictatorships. Article 4 of the AU's Constitutive Act
proclaims the right of the organisation "to intervene in grave circumstances
that include war crimes, genocide and crimes against humanity, as well as a
serious threat to legitimate order".

Only last month, the AU invoked this clause to intervene militarily in
Comoros, when the island of Anjuan refused to recognise the outcome of a
national election.

Obviously any threat of military intervention in Zimbabwe is out of the
question, if only because it would be logistically impractical. But what the
SADC summit should have done was to couple its message to Mugabe with a
warning that if its injunctions were not heeded, if the process of
attempting to rig the elections and retain power unconstitutionally were to
continue, the SADC member states would not recognise the legitimacy of the
outcome.

They would not recognise the reappointed regime. Mugabe would find himself
heading an illegitimate government unrecognised within its own region.

Such a warning, I believe, would have given him pause. It may well have been
sufficient to prevent what now looks like a certain drift to a de facto
coup.

Indeed, had the SADC issued such an advance warning last year, when it
appointed President Thabo Mbeki as its official negotiator — as this column
suggested at the time — we may well have seen a much cleaner election
campaign yielding a more conclusive result.

As it is, by my count eight of the 10 principles for conducting democratic
elections set out in the SADC Treaty were violated.

Of course, Mugabe may have ignored all such warnings and treated the SADC
with the same contempt he has shown Mbeki. But at least the SADC would have
emerged with some credibility, and the rest of Africa with it. The
international community would have seen that there had been an effort to
give substance to the fine words in the founding charters of these
institutions of the hoped-for African renaissance, and that they are not
just empty vessels floating on a cushion of hot air.

It might even have had a meaningful effect within Zimbabwe, where there are
signs of cracks in the Zanu (PF) hierarchy and within the powerful Joint
Operational Command, which comprises the security chiefs who have committed
untold crimes against humanity and are so fearful of the demise of their
protector that they are prepared to commit more to keep him in State House.

As it is, the whole world can see what is happening, and Africa's image is
in danger of returning to the derisory label of "the hopeless continent".

Mbeki's performance as the SADC's point man in this sad saga has not helped.
His fatuous statement that "there is no crisis" in Zimbabwe, even as
beatings, torture and intimidation of opposition supporters was taking place
all around him as he stood on Zimbabwean soil, marked a new low.

More revealing still was a statement he made in London last week. "I must
say that we have been very pleased with the manner in which the elections
have gone," he said. "For the first time the opposition parties had access
to everywhere in the country."

There is a damning admission in that. Implicit in Mbeki's statement that
this was the first time opposition parties had been able to campaign freely
was an acknowledgment he knew they had not been able to do so in the 2002
and 2005 elections. Yet the African National Congress, the South African
government and SADC observer missions, and Mbeki himself, all proclaimed
those elections free and fair.

That tells you all you need to know about the craven inability to confront
Mugabe, despite his destruction of his country and his discrediting of the
whole of Africa.

Which calls to mind the warning of political philosopher Edmund Burke more
than 200 years ago: "All that is required for evil to flourish is for good
men to do nothing."

... Sparks writes for a number of South African newspapers

---
Police use water cannons in Zimbabwe protests
Independent, Ireland

By Mike Cohen and Brian Latham
Wednesday April 16 2008

South African president Thabo Mbeki's bid to use "quiet diplomacy" to
resolve Zimbabwe's political crisis is backfiring, as police deployed water
cannon in the Zimbabwean capital Harare yesterday to counter an opposition
call for strikes.

Almost three weeks after Zimbabwe's presidential elections -- which the
opposition says it won -- officials have yet to release final results,
leaving President Robert Mugabe in power.

"No form of diplomacy has worked in Zimbabwe, quiet or otherwise, simply
because we are dealing with a head of state who is completely impervious to
criticism," Aubrey Matshiqi, an analyst at the Centre for Policy Studies in
Johannesburg, said yesterday. "It's time to review mediation as a form of
intervention."

Shared

That view is shared by politicians across South Africa's political spectrum,
including the ruling African National Congress. The ANC described the
situation in Zimbabwe as "dire," contradicting Mr Mbeki's comments on April
12 that there was "no crisis" in Zimbabwe.

Mr Mbeki lost control of the ANC to Jacob Zuma in December, and since then
there have been policy differences between the party and the government.

Mr Mugabe (84), a long-standing ally of Mr Mbeki, is seeking to extend his
28-year rule of the country.

Zimbabwe's police deployed water cannons and military vehicles in Harare.

Roadblocks were set up on roads leading into the city and security forces
patrolled townships that are support bases for the Movement for Democratic
Change, the National Constitutional Assembly, a Harare-based pro-democracy
group, said yesterday.

- Mike Cohen and Brian Latham

---
ANC breaks with Mbeki to condemn 'evident' crisis in Zimbabwe
Independent, UK

By a Special Correspondent in Harare
Wednesday, 16 April 2008

South Africa's ruling African National Congress has split publicly over the
still-undeclared presidential election result in Zimbabwe, where President
Robert Mugabe is accused of defying the verdict of his own voters.

Leading ANC figures have openly contradicted President Thabo Mbeki, who
declared after meeting Mr Mugabe in Harare last weekend that there was "no
crisis" in Zimbabwe. A top ANC official, Matthews Phosa – a close ally of
the ANC leader Jacob Zuma – said yesterday that a crisis was "evident" in
South Africa's northern neighbour. The party's national working committee,
in a snub to the president, resolved to open direct contact with Zimbabwe's
ruling Zanu-PF and the opposition Movement for Democratic Change (MDC) to
promote dialogue.

The deadlock in Zimbabwe has caused frustration in South Africa with Mr
Mbeki's brand of "quiet diplomacy" to boil over. His critics believe the
president's uncritical support of Mr Mugabe is allowing the 84-year-old
autocrat to prepare a campaign to overturn the results of both the
parliamentary elections, in which Zanu-PF lost its majority, and the
presidential poll, where the MDC leader Morgan Tsvangirai is believed by
independent monitors to have come within 1 per cent of an overall majority.

The raging controversy in South Africa's ruling circles contrasted with
apparent apathy on the streets of Harare yesterday, where Mr Tsvangirai's
call for a national "stay-away" was all but ignored. The opposition blamed
lack of publicity and Zimbabwe's economic collapse, which makes it difficult
for people to forego a day's income.

Zimbabweans are likely to hope instead that South Africa, the regional
power, will at last put effective pressure on Mr Mugabe. Warning that the
"dire" situation in Zimbabwe was having negative consequences for the whole
of southern Africa, the top ANC committee said it would be "undemocratic and
unprecedented" for Mr Mugabe to hold a run-off vote without first announcing
the result of the 29 March presidential poll.

Mr Phosa, the ANC treasurer, said the continuing failure to release results
was causing uncertainty that could "lead to explosions", adding: "We don't
want to prophesise disaster, we don't want disaster, we think pre-emptive
action should be taken to avoid disaster."

Mr Tsvangirai is in South Africa, having remained abroad since the election
amid hints that he fears for his life if he returns to Zimbabwe. He has been
criticised by some in the opposition for failing to appear more
"presidential" since the poll, and for being unrealistic in demanding that
an emergency regional summit in Zambia last weekend recognise him
immediately as Zimbabwe's president.

In Harare yesterday, it was soon evident that Mr Tsvangirai's "stay-away"
call had been a flop. There was some tension early in the day in the city
centre, where riot police raced down streets, chanting and beating their
batons against the sides of their trucks. But most shops and banks were
open, apart from some near the MDC headquarters, and those with jobs were
pouring in from the "high-density suburbs" – the euphemistic name for the
former segregated townships, which are MDC strongholds.

Although there was the hulk of a burnt-out bus on the outskirts, and
residents in one area reported some stoning of minibuses in an effort to
stop commuters heading for work, the police soon dismantled roadblocks and
scaled down their presence as it became clear there was no opposition to
deal with. Many arriving for work said they knew nothing of the strike
call – Mr Mugabe's government keeps tight control of the media.

---
Mugabe the tyrant proves we are cowards on a continental scale
Irish Examiner

16 April 2008

By Steven King
Mugabe has gradually made the impossible possible: restoring Ian Smith's
historical reputation.

He died, vindicated, last year. Barely anyone in Zimbabwe has a job.
Inflation, at 100,000%, is so high that wages would need to be raised hourly
to make turning up worthwhile

TODAY, the state buries Patrick Hillery. If he was a reluctant
President, he had been an energetic minister, holding numerous offices over
a 14-year period. As Minister of External Affairs — renamed Foreign Affairs
in 1971 — he had his work cut out for him. Not only was there the outbreak
of the Troubles to contend with, but Ireland's accession to the EEC to
negotiate as well.

However, another issue 5,000 miles away was to be a constant irritant
for Hillery and his officials at Iveagh House throughout his years of
service there: Rhodesia.

When one considers that there are only 30,000 Europeans left in
Zimbabwe today, it is remarkable to think that more than 8,000 Irish
passport-holders lived there during the 15-year life of Ian Smith's racist
regime.

The white community was much larger then, of course — although never
more than 5% of the total population. Irish passports were much in demand.
Britain had imposed travel restrictions, refusing entry to those holding the
green so-called 'Republic of Rhodesia' documents.

The Irish passport office did a brisk trade with anyone who could
point to an Irish grandparent. The letter of the UN sanctions was observed —
no passports were issued to those accused of close involvement with the
Rhodesian Front government — but Hillery still had to defend Government
policy from attacks by Garret FitzGerald and Noel Browne.

Today, of course, a few Rhodies — whites who left Zimbabwe after
majority rule — reside in Ireland permanently. But they are vastly
outnumbered by black Zimbabweans — many supporters of the Movement for
Democratic Change, others members of the oppressed Ndebele ethnic group —
who have fled persecution by the Mugabe regime. Those who could not afford
to return to vote in last month's election — either for financial reasons or
for fear of their lives — must look despairingly at the farcical situation
now.

Back in the 1970s, Garret FitzGerald urged Hillery to give the British
government advice on the means of testing the acceptability of proposals
from Edward Heath to end the stalemate created by Rhodesian UDI (Ian Smith
would not allow a referendum of the whole population; London would not allow
a whites-only poll). It was a forlorn hope: if London in 1971 was not
prepared to listen to Dublin about the introduction of internment, what hope
in respect of Rhodesia?

I was last in Zimbabwe in 2004. By then, the economy was in freefall
and Mugabe's subjects were growing hungry, but he was more popular than
ever. Not in Zimbabwe, mind you. But in many African capitals he was
receiving standing ovations, not least at President Thabo Mbeki's
swearing-in ceremony in Cape Town.

At home, it was already clear that his 'land-reform programme' had not
significantly reversed his unpopularity. He had already taken to bludgeoning
black opponents and rigging elections. His supporters didn't care. Mugabe
was giving the whites hell. He was a hero.

One assumed this accounted for the Mbeki administration's reluctance
to criticise him in public. We were told that the situation in Zimbabwe was
delicate and that 'quiet diplomacy' offered the best shot at staving off
anarchy. For a while this seemed plausible. In time, though, it became clear
that quiet diplomacy was mostly a cover for covert support. South Africa
thwarted attempts to place his atrocities on the agenda at the UN Security
Council and the UN Human Rights Committee.

Having been elected amidst high hopes, Mugabe has gradually made the
impossible possible: restoring Ian Smith's historical reputation. He died,
vindicated, last year. Barely anyone in Zimbabwe has a job. Inflation, at
100,000%, is so high that wages would need to be raised hourly to make
turning up worthwhile. Most don't bother. The unluckiest go hungry. All
because of one man.

Colonialism might have left a wretched legacy, but next-door Botswana
thrives as Zimbabwe grinds to a halt. Mugabe fears international justice —
he has the blood of thousands of Ndebele on his hands — but true justice
would see him indicted for millions more deaths caused by his misrule.

As he enters the 29th year of his rule, Mugabe is not only sucking the
life from his country but also holding back an entire continent. In his
constant railing about colonialism, he keeps the country and the whole of
Africa looking backward.

Mugabe is one of the last leaders of a liberation struggle to hold
power in Africa and he regularly invokes those credentials. He appears on
Zimbabwean television in his fatigues even though it has been nearly three
decades since his movement put down its guns. In any case, the
Jesuit-educated intellectual with eight university degrees never carried one
himself.

With his incessant reminders to his people of how much he sacrificed
for them, he insists on a now outdated reverence for his generation. Yet
more than half of the population of sub-Saharan Africa was born after the
last of the independence wars. That language is lost on them. South Africa's
Nelson Mandela knew it and left office after one term nearly a decade ago.
Mugabe's rhetoric no longer resonates with anyone — except the powerbrokers
of the African Union and the Southern African Development Community (SADC)
in their Mercedes limousines.

Mugabe's use of postcolonial rhetoric is genuinely brilliant. The
bogeymen he conjures, combined with the respect still accorded to him as a
veteran who supported other leaders in their countries' fights (Zimbabwe was
a key frontline state in the war against apartheid), means that he steadily
undermines the ability of regional organisations to stand up for any of the
principles of governance they theoretically hold dear.

AND the dearth of meaningful intervention by the west (just some
half-hearted bank account freezes and ill-defined travel restrictions on
Mugabe's cronies) puts the lie to any claims about intervention to support
democracy and human rights.

It is time we actually considered what is required for true democracy
in Zimbabwe and across the African continent. There is an underlying problem
in the thinking of African ruling elites: they believe that elections are
indeed enough to measure democracy by.

The concept of some sort of limit to power is largely anathema. Once
they have it, they will keep it, come what may.

We cannot turn our backs on Africa, tempting as it might appear. Great
work has been done by Irish officials in Mozambique; Irish troops are on
their way to help bring peace to Chad as we speak. But Africa's greatest
need is help with building strong, independent civil society institutions,
not bags of grain or guns.

In Patrick Hillery's day there was at least an effort to right wrongs,
to treat the continent as part of the global community. Nowadays, the
developed word hides behind compromised organisations like the African Union
and the SADC for fear of appearing to tell Africans how to behave.
Archbishop Desmond Tutu says we are cowards. He is right.

---
Zimbabwe blind spot shames Thabo Mbeki
The Telegraph

Last Updated: 12:01am BST 16/04/2008

With every passing day, Robert Mugabe's brand of national vandalism
heaps still more misery on Zimbabwe.

The old dictator's latest ploys - clinging to power despite an
election defeat, launching a murderous terror campaign against his opponents
and pillaging what remains of a shattered economy - are well rehearsed.

Tragically, the same is true of President Thabo Mbeki's unceasing
indulgence of these outrages.
When South Africa's urbane leader blithely announced that "no crisis"
existed in Zimbabwe, his shamelessness was wearily predictable.

Mr Mbeki chairs a meeting of the Security Council in New York today.
Naturally, no one expects him to utter a word about his northern neighbour.

Grasping why Mr Mbeki has adopted this quixotic approach towards
Zimbabwe requires more than an understanding of realpolitik.

This is not simply a calculated decision to refrain from denouncing Mr
Mugabe in the hope of buying influence, nor is Mr Mbeki's reticence solely
explained by solidarity with a pillar of the struggle against white colonial
rule.

To really comprehend what lies behind all this, you must delve into Mr
Mbeki's bleak psyche.

He genuinely believes that British criticism of Mr Mugabe is motivated
by a desire to denigrate black people and, in particular, to demonstrate
their unfitness to govern their own countries.

Well, we have news for Mr Mbeki. This newspaper's deep concern for
Zimbabwe stems from the appalling spectacle of a beautiful nation, rich in
natural resources, being wilfully despoiled by a venal leader.

As the president of Africa's most powerful country, Mr Mbeki has a
special obligation to act. He has one final chance.

Under Zimbabwe's own laws, the election's second round must happen on
Saturday.

If this does not occur - and it seems inconceivable - Mr Mugabe will
lead an illegal regime. Mr Mbeki should have the courage to say so.


---
Why Mugabe is deaf to the West
BBC
23:14 GMT, Tuesday, 15 April 2008 00:14 UK
By Peter Greste
BBC News, Johannesburg
On Wednesday, the United Nations Security Council will convene in New York for a special session chaired by South Africa's President Thabo Mbeki.
British criticism has played into the hands of Zanu-PF
They are meeting to discuss ways of improving co-operation between the African Union and the United Nations.
The issue has never been more timely.
South Africa's president has been the point-man for the region's, and the world's, diplomatic efforts to resolve Zimbabwe's increasingly desperate crisis.
He has also staked his legacy on success in Zimbabwe.
He argues that the rest of the world should butt out and let Africans resolve the problems in an African way.
Western finger-wagging, he says, simply does not help.
Although Zimbabwe is not officially on the agenda, diplomats from the United States and Britain are determined to make it so.
And in a not-so-subtle attempt to catch the Security Council's eye, one organisation is planning to fly a 3,000-sq-ft (280-sq-m) banner above the UN on Wednesday morning, calling on Mr Mbeki to convince Zimbabwe's leader Robert Mugabe to respect the will of his people.
The banner, with some 120,000 signatures, is likely to be the latest in a loud chorus of international demands to "do something" about democracy in Zimbabwe.
More harm than good
Over the weekend, it was UK Prime Minister Gordon Brown's turn, declaring: "We can't wait any longer for the announcement of these results."
The US said it had "credible reports of violence and intimidation" against opposition supporters and called on the government to end the attacks.
Gordon Brown has called for the election results to be released
Zimbabwe is an easy target for Western governments.
The image of Robert Mugabe as an arrogant dictator is straightforward and easy to condemn.
Doing so polishes politicians' credentials as democrats defending human rights, without having to worry about losing things like oil.
But the bitter lesson of the past decade has been that in being openly critical, the West has done more harm than good in Zimbabwe.
Starting with former UK Prime Minister Tony Blair and his then International Development Secretary Clare Short more than a decade ago, British criticism has played into President Mugabe's view of black Africa under siege by white colonialists.
Rather than increasing pressure for him to go, the criticism has given Mr Mugabe fuel for his rhetorical fire.
Lessons of history
In 1997, Ms Short wrote a now infamous letter to Zimbabwe's Agriculture Minister, Kumbirai Kangai. She was responding to President Mugabe's demand that Britain fulfill its Lancaster House agreement to pay for land redistribution from white farmers to poor black Zimbabweans.
"I should make it clear," she said, "that we do not accept that Britain has a special responsibility to meet the costs of land purchase in Zimbabwe."
"We are a new government from diverse backgrounds without links to former colonial interests. My own origins are Irish and, as you know, we were colonised, not colonisers."
It hardly matters now whether that letter really did send Mr Mugabe into a rage that became focused on the white farmers who were to lose their properties in the land invasions that began in 2000.
But it showed a basic misunderstanding of Zimbabwe's recent colonial history that still taints the West's approach to the country.
After Zimbabwe's liberation war of the 1970s to overthrow Ian Smith's minority government, the white community reached an unspoken compact with President Mugabe's Zanu-PF party.
If they stayed out of politics, they would be left alone.
But when the issue over land flared up, they began to support the opposition Movement for Democratic Change (MDC) in a move that Mr Mugabe came to regard as a continuation of the war by other means.
It became easy to cast the MDC as poodles of London and Washington, particularly as it accepted support from both.
Now, every utterance from either capital confirms a view of the West as one that still cannot accept the idea that Africans should be allowed to shape their own destinies.
That is what Mr Mbeki meant when he said on Sunday that "there is no crisis".
Regional solidarity
One of his negotiating team, Sydney Mufamadi, said he understood the anxiety about the delay in releasing election results.
But he added: "Those of us that have a responsibility to make sure a resolution is found, also have a responsibility to say that we have not reached a dead end because we know what processes can still be activated to remove the blockage."
Thabo Mbeki shows solidarity with Robert Mugabe
The need to keep control of this crisis within African hands may also explain why the region's leaders have been so reluctant to openly criticise Mr Mugabe.
In this, they are oddly out of step with public opinion.
If the newspaper columns are any indication, neighbouring states firmly believe that Zimbabwe's 84-year-old leader should go as soon as possible.
But the cost to the dignity of leaders like Mr Mbeki to be seen to be heeding their former colonial masters is too much to bear.
Southern African countries are painfully aware of the impact of Zimbabwe's collapse.
They are hosting some three million Zimbabweans and these are states that can barely afford to feed themselves.
Yet African solidarity still seems to be the defining theme of regional diplomacy.
The leaders of the Southern African Development Community (Sadc) spent more than 12 hours in a summit that finally ended at 0500 on Sunday - more than 11 hours later than scheduled.
Sources suggest there was a fierce debate over whether the situation constituted a "crisis" or not, and about whether there should be some kind of government of national unity.
The final communique said there was no crisis, and blandly called on the Zimbabwe Electoral Commission to release the results "as expeditiously as possible".
This is not to suggest that the West should sit on its hands.
But if history is anything to go by, UN pressure may only make it harder to resolve the crisis.
---
Africa must condemn Mr Mugabe's brutal coup
Independent, UK

Leading article:

Wednesday, 16 April 2008

Yesterday's general strike in Zimbabwe was always likely to be a relative
flop. The people of that nation are demoralised and intimidated. Only once
in the past decade has there been much general support for a "stayaway".
With inflation running at 100,000 per cent and four out of five people
unemployed, few of those who still have a job were willing to risk a day's
pay. So the weary and impoverished population formed the usual daily queues
at banks to withdraw just enough hyperinflationary cash to buy bread, for
which they had to queue again at the supermarkets.

The strike was called by the opposition Movement for Democratic Change to
press for publication of last month's general election results. The poll
gave new meaning to the term "secret ballot" when President Robert Mugabe
refused to announce the voters' verdict when it turned out not to suit him.
A strike was a feeble strategy but it was all the opposition could muster
once the High Court, packed with judges who are Mugabe stooges, ruled that
it was perfectly legal for Zimbabwe's Electoral Commission to delay its
announcement pending a "recount" in 23 constituencies – no doubt to give Mr
Mugabe time to rig the results.

The sad truth is that Mr Mugabe's gangster tactics are working. He has had
arrested five election officials who were insufficiently malleable. He has
had the thuggish militia he calls the "war veterans" invade 60 of the
biggest white-owned commercial farms to stir up atavistic resentments from
the colonial era. He did this just two weeks before the wheat-planting
season, despite projections that Zimbabwe will run out of maize by mid-July.
He has had his courtroom cronies give the stamp of specious legality to the
process. Yesterday came the first reports of the murder of MDC supporters in
a systematic crackdown which saw foreign journalists detained and the arrest
of the lawyer representing the MDC leader Morgan Tsvangirai.

Intimidation is spreading through rural areas north of Harare which were
once Mugabe strongholds but which voted for the opposition a fortnight ago.
Two hundred MDC supporters have been hospitalised after being brutally
beaten into chanting pro-government slogans, in what Mugabe loyalists are
calling "Operation Mavhoterapapi" ("Operation where you put your X"). Its
aim is to "re-educate" MDC supporters to vote the right way next time and
scare civil servants who run polling stations to allow vote-rigging in any
future ballot. The violence is escalating. The harsh reality is that the
momentum is now very clearly with Mr Mugabe.

Zimbabwe's neighbours have failed its people badly. The summit called by
President Levy Mwanawasa of Zambia at the weekend, under the aegis of the
Southern African Development Community (SADC), did not urge Mr Mugabe to
step aside, as the MDC had requested, but merely called for the election
results to be announced "expeditiously". The crooked Zimbabwean president
failed to attend. And when SADC's designated mediator, President Thabo Mbeki
of South Africa, went to Harare instead, it was only to announce that there
was "no crisis" and to call for patience.

The world's patience, however, is exhausted with Mr Mugabe. Mr Mbeki's
"quiet diplomacy" has failed. So has the SADC's limp initiative. But though
Britain and the US will today raise the Zimbabwe crisis at a UN Security
Council meeting, the solution rests with Africa. It is now time for the
African Union – a body which has prided itself on requiring human rights,
democracy and good governance – to become involved and condemn Mr Mugabe's
coup. The African Union's credibility is on the line and, the West should
make clear, so is the financial and political backing that the
industrialised nations currently offer it.

---
Endgames for Zimbabwe's Mugabe


Christian Science Monitor

Published: April 15th, 2008

Can't he see it? Can't Robert Mugabe, Zimbabwe's strongman, see that the jig
is up - if not today, then in the not-too-distant future? Even without
official election results to spell it out, it's clear that the majority of
Zimbabweans have rejected his leadership after nearly three decades.

Millions of desperate Zimbabweans had already voted with their feet, fleeing
into neighboring countries such as South Africa in order to escape
hyperinflation, mass unemployment, and scarce food - this in the country
formerly known as Africa's breadbasket.

The March 29 local and national elections only confirmed their desertion,
but this seems to have surprised the octogenarian ruler and the loyalists in
his ruling ZANU-PF party.

After announcing the results for parliament - in which the opposition MDC
overtook ZANU-PF for the first time since independence in 1980 - the
election office shamefully refused to give out the presidential tally. An
independent compilation of votes showed that 58.2 percent of Zimbabweans
voted against Mr. Mugabe. The lion's share of votes went to Morgan
Tsvangirai, leader of the MDC, who got 49.4 percent versus Mugabe's 41.8
percent, setting the country up for a presidential runoff election,
according to the independent ballot count. (Mr. Tsvangirai says he won
outright.)

Mugabe's strategy now is to hang on by whatever means possible - through his
stacked judiciary and friendly election office, through violence to
intimidate voters in a possible run-off, and perhaps even through a state of
emergency.

Dictators don't go easily. In Africa, they've been forced out militarily, as
well as through negotiated settlement. Mugabe's case is particularly tough
because of his aura as liberator from white rule and founder of Zimbabwe.
But the aura is overshadowed by gross economic mismanagement, the prime
example being Mugabe's 2000 expropriation of white-owned farms - a crucial
sector that he handed to inexperienced cronies.

How attuned he is to the severity of the economic crisis is unclear. In
December, Mugabe boasted to author Heidi Holland that Zimbabwe is second
only to South Africa: "What is lacking now are goods on the shelves,
perhaps. That's all. But the infrastructure is there. We have our mines, you
see. We have our enterprises."

What can open Mugabe's eyes to the end of his rule? Western sanctions
haven't done it. Zimbabweans, too downtrodden and frightened to join in a
general strike this week, don't seem up to it. South Africa's influential
president, Thabo Mbeki, denies the election stalemate is "a crisis." And
Mugabe has ignored Tsvangirai's promise not to prosecute him once he leaves
office.

It may be that Mugabe is not the one to convince. He could not sit atop his
empire if he didn't have ZANU-PF supporters, kept loyal by favors. But
serious divisions have emerged in the party, and these must be encouraged -
by Tsvangirai, the West, and Zimbabwe's neighbors. It is heartening that
South Africa's ruling party has split with President Mbeki on the elections
and wants to contact ZANU-PF and the MDC directly for talks.

One way or another Mugabe will go. A free election process is always the
best way for a transition. Unfortunately for his country, he looks to be
rejecting that better way.

---
African Suicide
American Spectator

By George H. Wittman
Published 4/16/2008 12:07:57 AM
It was bound to happen. If Robert Mugabe ever lost an election to remain
president of Zimbabwe, he would deny it ever happened, obstruct the result,
or simply call for a recount after he had refined his methods of
manipulating the result. And all of the above has happened.

The final chapter of Mugabe's dictatorial 28-year-reign as head of
government is not yet ended, but the process of the denouement is as ugly as
expected. No matter what happens in the next few weeks, short of his death,
Mugabe will continue his struggle for personal control of his country.

There should be no mistake about this man. He has all the qualities of
egocentricity, paranoia, and hatefulness that the many caricatures of him
suggest. At the same time, the 84-year-old Mugabe remains acutely clever and
cunning. What a combination!

Young Robert was always a bright boy. The Franciscans and Jesuits who
trained him in his early years were convinced he would be one of their
"winners." They were right, of course, but not quite in the manner they
envisaged.

Mugabe's early political training, not unlike Patrice Lumumba's, was
straight out of the Soviet-written Afro/Asian solidarity handbook. He
further developed his contacts through his days in Kwame Nkrumah's Ghana;
one of many up-and-coming African leaders who sojourned as guests of the
increasingly pro-Russian and socialist Ghanaian leader.

Mugabe learned a great deal from Nkrumah's political mistakes in dealing
with other African leaders. But he learned even more in terms of what was
needed to maintain authority at home. From the beginning of his taking power
in 1980, he did what all dedicated dictators do. He built an unswervingly
loyal military and security force.

Ubiquitous uniformed and plain-clothes security elements have kept Robert
Mugabe in power. Among other things, these troops have been convinced by
their officers in recent days that the departure of their "true president"
will mean the disbandment of their force and force them into the poverty
that strangles the rest of Zimbabwe. This is a powerful motivating factor.

Efforts have been made by people close to the opposition leader, Morgan
Tsvangirai, to assure the ranking officers of the army and police forces
that their professional services will remain intact after the departure of
Mugabe. So far there is no sign of serious defection. Mugabe and his
government party, ZANU-PF, have gained the time to regroup and work toward a
recount of the recent elections that clearly tossed them out of both
presidential and parliamentary office.

If Morgan Tsvangirai had the toughness of Mugabe, he would have a better
chance of leading his party, Movement for Democratic Change (MDC), to
dominance over the aging Mugabe. But therein lies the problem. The dictator
is still the smartest and most ruthless politician in Zimbabwe -- and maybe
in all of Africa.

Mugabe has been able to keep his fellow African leaders from exerting the
pressure necessary to place Tsvangirai in power. It seems as if the other
leaders are mesmerized by the old revolutionary. President Thabo Mbeki,
himself holding on to political power by a thread in South Africa, said
after a well-publicized meeting in Harare with Mugabe: "There is no crisis."

In the end, Robert Mugabe has proved that democracy itself does not prevent
totalitarianism. Zimbabwe has had a fully functioning representative
government for many years now. This process has been exploited by a clever
autocrat assisted by willing party faithful and a jackbooted security
service.

Even the Congo's deadly dictator Mobutu in the 1970s was periodically
"voted" into office, as have been other African leaders via so-called
democratic processes. It's not the name of the process that ensures equality
but the character of the people controlling the process itself. American
municipal machine politics has confirmed that many times. Eventually the
people take back their government, and the hope is that time may be arriving
for Zimbabwe.

Mugabe will continue to exploit any aspects of the democratic process
available to him -- including declaring an emergency if necessary. The wild
card remains the extent, if any, of outside pressure; the continued
hesitancy of Morgan Tsvangirai to assume leadership; and most important, the
maintenance of the loyalty of the military.

In the meantime, Zimbabwe's population suffers under oppressive economic
mismanagement, an incredible 100,000% inflation and a total lack of civil
direction. When will Africa help itself?

George H. Wittman, a member of the Committee on the Present Danger, was the
founding chairman of the National Institute for Public Policy.


---
The Zimbabwe impasse
Washington Times
April 16, 2008
Editorial

Yesterday, South African President Thabo Mbeki claimed that there is "no
crisis" in Zimbabwe. By this definition, there is no such thing as a crisis.
The same day Mr. Mbeki spoke these words, a second major opposition leader
was murdered. The first was stabbed to death Saturday by supporters of
Robert Mugabe's ruling ZANU-PF political party. Two weeks have passed since
the election. The regime continues to suppress the results. Violence is now
erupting. Mr. Mbeki, for too long a comfortable friend of Mr. Mugabe, is in
danger of solidifying a very ignominious role in history as sidekick to the
man who ruined Zimbabwe.

Mr. Mugabe and his party lost. Either the ZANU-PF lost already or it faces a
runoff that it will lose with certainty. Regime-controlled election
commissioners cite a technicality in justification of their continued
withholding of the election results. It is nonsense. The regime will only
retain power by force, to which Mr. Mugabe is no stranger. The body count of
murdered opposition figures, killed at the hands of regime proxies, will
mount. It is a matter of time before they target opposition leader Morgan
Tsvangirai, who, as it happens, was nearly beaten to death previously by Mr.
Mugabe's police.

Now is the moment for neighboring countries, the United Nations and Western
powers to speak as one as they cut off the Mugabe regime's financial
lifeline and call for the dictator to step down. But so few are willing. Mr.
Mbeki's South Africa holds a seat on the U.N. Human Rights Council, and we
see what Mr. Mbeki thinks. Cuba, China, Russia and Saudi Arabia also sit on
the council — countries that exhort others not to meddle in their "internal
affairs." This is a "human rights" body worthy of George Orwell. Meanwhile,
Western powers consider Zimbabwe too distant and too peripheral for tough
action.

Neighboring countries are the most readily affected by this crisis. They
have the strongest incentive to care. But South Africa, Botswana and others
are content to see the problem contained and not solved if it means that
fewer refugees pour forth.

Toward that end, they should help dislodge the regime whose offenses include
the world's worst inflation rate, the bulldozing of hundreds of thousands of
citizens' homes and a ruinous three decades of power that made a pauper of
Africa's onetime breadbasket.

---
Second Take
Business Day

16 April 2008

WERE it not for its tragic dimensions, Zimbabwe's post-election
debacle would be entering the realms of farce.

Fifteen days have passed since it became clear that Robert
Mugabe and his ruling Zanu (PF) party lost both presidential and
parliamentary elections. Yet the official tally for the presidential vote
has yet to be declared. It is abundantly clear that the reason for the delay
is that the results spelled defeat for Mugabe and his acolytes.

The parliamentary election, in which the opposition Movement for
Democratic Change overcame Zanu (PF)'s majority for the first time since
independence, may now be overturned in the manipulated recount already under
way.

The response of southern African leaders, meeting in the Zambian
capital, Lusaka, last weekend, was to call on the Zimbabwean authorities to
release the full results of the elections "expeditiously". This was a
pathetic statement of the obvious. But to add insult to injury to Zimbabwean
voters, South African President Thabo Mbeki denied Zimbabwe was in crisis
and urged the world to be patient while the votes were counted. He has now
forfeited any residual credibility as the principal trouble-shooter in
southern Africa.

The world is by now used to the procrastinations of Mbeki and
his southern African peers over Zimbabwe. But that Africa at large should
stand by while Mugabe and his security chiefs steal another vote is harder
to understand.

Until now, the African Union (AU) has delegated a response to
the Zimbabwe crisis to the Southern African Development Community. That is
not working. If the AU is to preserve its own credibility, it must stand up
now and call this coup a coup. That is the first step towards an honest
debate about the transition from Mugabe's tyrannical rule. London, April 15.


---
Zimbabwe Opposition Leader Demands Level Playing Field in Election Run-off
VOA

By Peter Clottey
Washington, D.C.
16 April 2008

Supporters of Zimbabwe President Robert Mugabe's ruling ZANU-PF party have
described the leader of the main opposition Movement for Democratic Change
(MDC) party as a coward. This comes after Morgan Tsvangirai declared he
would be part of an election run-off if there were a level playing field,
which would lead to a free and fair election.

 But ZANU-PF supporters say Tsvangirai is incapable of solving the country's
problems, as he is promising. Tsvangirai claimed he won over fifty percent
of the March 29 presidential vote, which results are yet to be released by
the Zimbabwe Electoral Commission. Mark Fungano is a Zimbabwean political
analyst with the University of Cape Town, South Africa. He tells reporter
Peter Clottey that the opposition leader is caught between a rock and a hard
place.

"I think the way we should look at the response from Morgan Tsvangirai is
that we should look at it in the context of an opposition that has
perpetually been forced into a corner and has remained with very little
option available to deal with the dictatorship in Zimbabwe. And for him to
be vacillating to say I'm going to participate or I'm not going to
participate simply begs of the fact that he has got limited choices; we have
tried the legal route, we have tried the regional route and ZANU-PF does not
appear to be yielding to any of those because it has thrown all the rules of
engagement outside the window. And what they simply want is to go for an
election that is going to predict them as the winner," Fungano noted.

He said the leader of the opposition finds himself in an awkward position.

"The challenge for Morgan is that other than the election, yes they are
shifting from that position, but I think we should look at the flip side to
say what option does he have. There was strike that was called yesterday for
people to stay at home, how was the response? And I think for him as a
leader he has to be able to say okay fine, if this does not work, if
initially the people of Zimbabwe were able to use the ballot box as the only
alternative for them to express the disgruntlement towards the ZANU-PF, it
might make sense for him to go back to use that route, despite the
limitations and the process that has already taken place and ZANU-PF has
already unleashed its militia all over the country, " he said.

Fungano said Tsvangirai faces an uphill battle in his quest to defeat
incumbent President Robert Mugabe in an election.

"I think just like the previous election where they (opposition) entered
that election with a heavy heart, even mentioning that there were
limitations in terms of the environment in terms of the electoral frame work
and things like that. I think he is going into this election under protest
to say I don't have an option. But if this is the route that is simply there
because remember the MDC has been very clear that they are for ensuring that
they are going through the entire democratic process despite the
limitations, despite the repressive environment that is existing there. And
I think they are just doing that," Fungano pointed out.

He said although the odds are against the opposition, the MDC is doing all
it can to come out victorious in a possible election run-off with incumbent
President Mugabe.

"The court case that they (opposition) put through the court, they know that
the court will not protect them. But they are simply following the processes
that are there despite the limitations that they will provide them," he
noted.

---
ANALYSIS: South Africa's Mbeki to grapple with Zimbabwe at UN
Monsters and Critics

Apr 16, 2008, 0:53 GMT

Washington/New York - South African President Thabo Mbeki had intended to
lead a summit Wednesday at the United Nations in New York that would focus
on the increasing peacekeeping chores - and the need for more UN support -
of African Union troops.

But on Tuesday, it became clear that Mbeki would not be able to dodge the
ongoing election crisis in South Africa's neighbour, Zimbabwe.

Mbeki is the object of rising international criticism of his own reticence
to take a stand on Zimbabwe's deteriorating economic and human-rights
situation and the role played by its longtime President Robert Mugabe in the
decline.

Although South Africa had intended to avoid discussing Zimbabwe, UN
Secretary General Ban Ki-Moon said he planned to put it on the agenda.

'The meeting will provide a natural opportunity to raise the situation in
Zimbabwe,' Ban told reporters.

Mbeki, who for years has defended Mugabe even in defiance of his own party,
the African National Congress, stirred criticism over the weekend when he
denied that there was a 'crisis' in Zimbabwe.

Zimbabwe held presidential elections more than two weeks ago, but the
elections commission has refused to release the results - yet at the same
time is calling for a recount.

Over the weekend, 14 African nations met to try to resolve the standoff.
Opposition leader Morgan Tsvangirai claims that he outright defeated
Mugabe - an assessment shared by independent observers and non-governmental
organizations.

Mugabe claims the race was too close to call and that a runoff is needed. He
is supported by Mbeki in his claim.

'There is no crisis,' Mbeki declared after stopping to meet with Mugabe on
his way to the regional meeting in Zambia.

Tuesday in Washington, the US State Department disagreed.

'Zimbabwe is in a crisis. We are in a crisis in Zimbabwe,' State Department
spokesman Sean McCormack said.

He challenged the recount plans. 'Anything could have happened between
election day and when a recount takes place,' McCormack said.

McCormack said that Mugabe's policies and repression have driven Zimbabwe
into economic run. The country is suffering 100,000-per-cent hyperinflation
and shortages of fuel and food.

The idea of Wednesday's Africa summit was to use South Africa's presidency
of the UN Security Council to raise the profile of Africa's cooperation with
the United Nations. Heads of state are to attend including Britis Prime
Minister Gordon Brown and Italian Prime Minister Romano Prodi, as well as AU
Chairman Alpha Oumar Konare.

Even South Africa's leadership on the Security Council came under fire
Tuesday, as the Washington Post weighed in with a particularly scathing
editorial about Johannesburg's role in New York.

In an editorial entitled 'Rogue Democrat,' the Post charged that South
Africa had shielded Sudan and Burma from the 'sort of pressure the United
Nations once directed at the apartheid regime' and had allied itself with
the world's 'rogue states and against the Western democracies.'

The Post criticized Mbeki for using South Africa's 'considerable influence
and prestige to bolster Mr Mugabe' and hoped that when Mbeki left office in
a year, South Africa's 'democracy may yet rectify a foreign policy that is
shaming South Africa.'

Facing pressure from many sides inside the United Nations, Mbeki may not
even be able to look into the sky for solace.

The Internet advocacy group Avaaz.org, aiming to raise international urgency
pressure for democracy in Zimbabwe, plans to trail a 300-square-metre banner
from the back of a plane circling near the UN's Manhattan headquarters,
proclaiming: 'Mbeki, It's Time To Act: Democracy For Zimbabwe.'

Avaaz.org executive director Ricken Patel said that Mbeki was in danger of
'betraying the principles of the worldwide movement that helped bring
democracy to his own country.'

---
What's worse in Zimbabwe?
Khaleej Times Online

 EDITORIAL

16 April 2008

IT SEEMS Zimbabwe always has something in store to make its people's lives a
little worse, no matter how bad things are otherwise. The High Court's
ruling against the Movement of Democratic Change's (MDC) demands for release
of the March 29 presidential election results had done just what was not
needed at a time when the country appeared showing promise as Mugabe and the
long-ruling Zanu-PF party were seemingly shown the door after a good 28
years in power.

As feared in this space recently, Mugabe and his ruling clique have no
intention of simply accepting the vote, say their prayers, wish everyone
well and walking into oblivion, especially since they are sure to be tried
on several counts as soon as another dispensation takes over. Surely they
know their time has come, for they would have no other reason to delay the
result-announcement and demand recount in several areas. Their antics are
only going to make the much needed and awaited transition that much more
painful.

A good example of the people's agony is the strike called by the MDC to
protest the High Court decision. Law and order breakdown and unimaginable
hyper inflation have left hardly any social and economic catastrophe out of
Zimbabwe's daily life. For most people to participate in a shutter-down in
such circumstances amounts to giving up a lot more than just one day's
wages, especially since brutal state crackdown will bring along agitation
and possibly  injuries also.

After braving their way through intimidation and bullying to make the vote
count and taking a hard stand when Mugabe refuses to step down, ordinary
Zimbabweans have run out of options. It is now time for the international
community, especially Zimbabwe's African neighbours, to impress upon Mugabe
the need for respecting people's wishes. And their responsibility will not
end there. They need to make up for the many years of simply looking on and
letting Zimbabwe inflict damage upon itself by aggressively taking part in
the country's economic rebuilding.

---
The Mbeki mystery
Dispatch, SA

2008/04/16

There is no more mystery about why the Zimbabwe election results have not
being released.

Concerns about the impartiality of Zimbabwe's high court judges have long
been raised and there was little doubt over the outcome of their ruling on
releasing the now two-week-old election results.

The thing that boggles the minds of most people now relates to President
Thabo Mbeki's obstinate and prolonged support of Zimbabwe President Robert
Mugabe's tyrannical rule.

It must be clear to South Africa's lame duck leader by now that the longer
Mugabe continues to cling to power – backed by Pretoria's unwillingness to
take a stand – the greater the damage to Mbeki's own credibility on the
world stage.

But clearly, what happened at Polokwane – his own party rejected his
leadership and by implication his handling of the Zimbabwe crisis – has
obviously still not yet sunk in for Mbeki. It took our president-in-
waiting, Jacob Zuma to express the popular sentiment of South Africans –
that the Zimbabwe election results be released.

But yesterday, despite the widespread dissatisfaction over Mbeki's support
of Mugabe, it was reported that South Africa would oppose efforts by the
United States and Britain to raise the Zimbabwe crisis at a high-level
meeting of the UN Security Council today.

"We intend to highlight our concern for Zimbabwe," Benjamin Chang, a
spokesperson for the US mission to the United Nations, said.

But South Africa appeared set to remain silent. Our UN ambassador Dumisani
Kumalo has already stated – last week – that the crisis would not be raised
during today's meeting because it was not on the council's agenda, and that
the matter was best handled by Zimbabwe's neighbours in the Southern African
Development Community (SADC).

But, as the defence force displayed its muscle as a general stay-away began
in Zimbabwe yesterday, the SADC had not delivered on Kumalo's promises.

In fact, most African leaders have even failed to make contact with Mugabe.

The strike initiated by the Movement for Democratic Change's Morgan
Tsvangirai could easily set off violent clashes between Mugabe's security
forces and opposition supporters.

Does Mbeki not realise that a burning powder keg is on our border?

Yesterday Avaaz.org, a global online advocacy network, indicated that it
would attempt to pressure Mbeki to "support democracy in Zimbabwe" by flying
a huge banner above the UN headquarters early today, calling on the South
African leader to convince Mugabe "to respect the will of his people".

If this does not convince Mbeki that his quiet diplomacy policy is in
tatters, then who knows what will.

---
Zimbabwe ambassador accuses white refugee farmers of stirring opposition

Ian Keteku, THE CANADIAN PRESS

OTTAWA - White farmers who fled Zimbabwe for Canada years ago have
influenced Canadian policy against the Mugabe government, says Zimbabwe's
ambassador in Ottawa.

"Of course they are sympathetic to the opposition," Florence Zano Chideya
said in an interview with The Canadian Press. "We have a lot of whites that
come here because of the land dispute."

In 2000, supporters of President Robert Mugabe began confiscating
white-owned land for redistribution to black farmers, often without
compensation. Many displaced farmers fled to places all over the world,
including Canada.

Chideya says those white farmers have formed a lobby with the purpose of
influencing Canadian opinion on Zimbabwe.

"They go to Parliament to lobby for government to look at things in a
different way."

The ambassador's comments come amid turmoil in the African country over
recent election disputes. Mugabe has lost his majority in parliament but the
presidential results have yet to be released.

Last week, Foreign Affairs Minister Maxime Bernier called on the Zimbabwean
Electoral Commission to release accurate results of the presidential
election without further delay.

"Our relations with the (Canadian) government are a bit frosty here and
there," Chideya acknowledged.

"From time to time you will read, Zimbabweans are this and Zimbabweans are
that here in Canada because the government went and picked them out (white
farmers) and put them here, now you have a sizable community."

Chideya did not provide information on the numbers of white expatriates
living in Canada.

David Wilding-Davies, a former coffee farmer who fled Zimbabwe in 2005,
agrees that expatriates have been able to influence public opinion in
Canada.

"I would say we probably have in some ways played a part because we have
first-hand experience of what goes on, so yeah, we've probably had some
impact," he said in an interview from Thornbury, Ont.

At the same time, Wilding-Davies says, the actions of the Mugabe government
have themselves helped sour Canadian opinion.

"I think there are very few people that have illusions about Mugabe
anymore," he said."Everyone sees him for who he is, which is just a ruthless
despot."

Originally from Langley, B.C., Wilding-Davies fled back to Canada after beng
attacked.

He vividly remembers the day Zimbabwe police carrying guns and machetes
ransacked his farm, lit fires on his compound and tried to take his children
away.

Wilding-Davies returns to Zimbabwe occasionally to check on his leased
coffee farm. He said he keeps a low profile because "if they see a white
person on the farm too much, they are going to suspect the white person is
going to try to influence them (local farmers) to support the opposition
party."

He said he is hopeful, however, that the election results will allow him to
return to Zimbabwe soon, where he plans to open a farm with his wife and
children.

"We would love to do that, we enjoy farming, we certainly love Zimbabwe and
we had a really good labour force."


---
Letters to the Telegraph


16 April 2008

Incentives need to be given to Mugabe's opponents

Sir- It is useless for our Prime Minister to condemn the blatant
manipulation of the Zimbabe elections without attaching meaningful
incentives and sanctions to encourage Robert Mugabe's political opponents
(report, April 14).

If Mr Brown wishes to convert himself from a "tiny dot on this world", as Mr
Mugabe called him, he should devise with his allies and the International
Monetary Fund an aid reconstruction package available to a government which
overthrows the current fascist regime.

This would effectively serve to counteract the corrupt and vicious campaign
launched by Mr Mugabe's henchmen, desperate to retain their ill-gotten gains
and luxurious lifestyles, and to avoid prosecution for their bloody and
racist misdeeds.

Derek Sparrow, Grayshott, Hampshire

Sir- Just over 29 years ago as the commander of a team of 13th/18th Royal
Hussars stationed north of Centenary in Zimbabwe, I reported that Zanu-PF
was terrorising the rural population before the first elections after the
civil war.

The official response was that this was at an acceptable level by African
standards. With the benefit of hindsight it was wrong then. Mr Mugabe and
Zanu-PF must not be allowed to do it again.

Lt Col Christopher Le Hardy (Rtd), Rimpton, Somerset

---
The darkest hour
cricinfo
Peter Roebuck 
The mishandling of the Zimbabwe crisis is perhaps the most shameful chapter in the ICC's history
April 16, 2008
| | |
| --- | --- |
| | 'Never can cricket have so disgraced itself as it did at the ICC's recent meeting' © ICC |
Cricket has plunged into the darkest period in its history. Never can the game have so disgraced itself as it did at the most recent ICC meeting. Presented with an opportunity to confront the malign in its ranks, it followed, instead, the course of indulgence and vote counting. And so tyranny went unconfronted and players were let down and good men betrayed. It is not much of a way to run a pizza parlour, let alone a game with international pretensions and inclined to clothe itself in the rhetoric of nobility. Of course it is only a game, but it is also a meeting point and carries wider responsibilities. Alas, its new leadership has shown itself to be spineless, amoral, unprincipled, shallow, self-centred, ill-informed and contemptible. No game that hopes to retain even a modicum of a standing in the wider community can so abjectly bow to despotism.
Nor can those responsible for the latest crassness escape unnamed. After all, they take the glories. Lalit Modi ought to be ashamed of himself, and the same applies to Sharad Pawar, the Indian board president. Previously regarded as a man whose principles had survived the callow pragmatism of politics, Pawar has emerged as a mere manipulator. Indeed, the entire edifice of the BCCI ought to be embarrassed by its recent wheelings and dealings. Oh brave new world that has such people in it.
Of course there never was any point expecting anything except pathetic kowtowing from Ray Mali, a compromised and unworthy president of the ICC. His emptiness was exposed long ago, in the Transkei, before the fall of a system he was supposed to despise. It was documented at the Truth and Reconciliation Hearings. Nor is there anything to be gained from dwelling upon Norman Arendse, chairman of CSA, a third-rate occupant of an important position. His rise has been due not to courage or character but to an ability to sniff the wind.
Angry? Damn right, I am angry, and not with the sort of sudden, regrettable fury caused by petty grievance but rather with the mountainous rage provoked by a terrible wrong, and the lamentable sight of expedient men looking the other way. Cricket boards, too, are known by the company they keep. Alas, the BCCI has shown that it puts self-interest above all other considerations. In order to retain power it will deal with the devil himself. As a result it stands accused of dragging the game, whose good name it is supposed to protect, into a sewer.
Every now and then a game comes across a definitive issue. In the recent past fierce debate has raged about various red herrings. Everyone gets overheated about throwing, which is hardly a problem these days, especially among fast bowlers. Now everyone seems to be agitated about the IPL, forgetting that it was a necessary response to the breakaway ICL. In the longer run these are trivialities, the sort every game encounters in a changing world. Different opinions can reasonably be held about them.
Governance is another matter. Turning a deaf ear to blatant misconduct is another matter. Allowing the game to sink into an abyss is another matter. Betraying honest cricketers is another matter. Tolerating the representatives of tyranny is another matter. Pretending tyranny does not exist is another matter. Ignoring blatant threats, bullying, misuse of funds, unlawful procedures, naked racism, intimidation of critics and so on and so forth - all the ghastly weapons of the all-consuming state - is another matter. That is not leadership. It is cynicism, or worse, cowardice. Modi, Pawar, Mali, Arendse stand accused of all this and more.
Obviously Zimbabwe is the issue that has forced everyone involved in the game to examine their hearts and heads and stomachs. Specifically the manner in which Peter Chingoka, Ozias Bvute and their loathsome henchmen have run the game in that wonderful country.
These men reflect their times. Make no mistake, they are Zanu-PF loyalists in sheep's clothing. Chingoka is a particularly nasty but of work. He has friends in very high places, enjoys the protection of the vice-president and her militarist husband. He has grown fat as others starve. As pitches go unprepared and grass grows high, he has bought property in London, built a house in Cape Town, invested heavily in companies, and generally made a fortune in a bankrupt land. Although charming when he chooses to be, his bitter, rampant racism has shocked even Zimbabwean politicians, not to mention ICC officials. Of course, that has not stopped his inexorable rise at the ICC.
Cunning to the core, Chingoka has done deals with the BCCI, and votes for it at every opportunity. India owes him "big time". Like his mentor and master Robert Mugabe, he knows how to play his cards, talking about colonialism and intransigent whites, spreading rumours when it suits him. He is a pitiful figure who will not survive the return of democracy and the rule of law to his country, should that happy day ever dawn.
Contrastingly, Bvute is the type that appears when there is easy money to be made, the sort that also knows when to jump ship. Nowadays his family lives in New York. Not so long ago, in a brief period under a cloud, Bvute was able to transfer a large sum of money to them. He has also bought a mansion in Harare, a purchase assisted by cricketing forces. Mostly, he throws his weight around in an attempt to cower the dispirited youth team representing the nation (which team managed to finish as high as second last in a recent domestic competition in South Africa). He also seeks to control the media.
Not that in the case of television that is all that hard. Not so long ago a commentator remarked that whereas the Indian team had arrived at a Test match in Bulawayo in a luxury coach, the hosts had turned up in a ramshackle minibus. At once his producer roared into his earphones, telling him to avoid all political comment. He obeyed. These people know where their bread is jammed.
 
 
Of course cricket is only a game, but it is also a meeting point and carries wider responsibilities. Alas, its new leadership has shown itself to be spineless, amoral, unprincipled, shallow, self-centred, ill-informed and contemptible. No game that hopes to retain even a modicum of a standing in the wider community can so abjectly bow to despotism
 
Between them, and ably assisted by other dubious office-bearers, and despite the best efforts of honourable men of all descriptions, they continue to destroy Zimbabwean cricket. Now and then they take ICC visitors on pleasant little trips from which said visitors emerge with gaga grins wrapped around their beneficent faces. They take tem to lively school festivals staged on prestigious school grounds. They take them to Victoria Falls and wine and dine them in posh hotels - the same treatment dished out to election observers. Mali and Arendse and company lap it up. They do not visit hospitals without medicine or schools without teachers or see millions living in avoidable poverty or queuing for bread or crawling under the fence near Beit Bridge. We would not want to upset the poor dears, and anyhow it is all a western conspiracy. These visitors do not ask why life expectancy has fallen to 36 despite the millions of dollars of aid that pours in from Britain and elsewhere. Zanu PF did not stay in power so long without knowing how to play the game.
After years of sickening misrule in Zimbabwean cricket, the ICC finally asked KPMG to undertake a proper forensic audit. Not even Chingoka's supporters could prevent it. Of course, plenty of time had been provided to incinerate tell-tale documents. Moreover, these suspects had previously been arrested by the local police force on foreign exchange charges, which made them even more cautious. After a long scrutiny KPMG reported that it had found no evidence of criminal conduct. But it did uncover serious financial irregularities. Part of any board's duty is to ensure that money is properly used. ZCU has been given tens of millions of dollars. Why are the grounds in poor shape? Why are the players paid a pittance? Why have tournaments been cancelled? Where has the money gone?
Unsurprisingly, the ICC finance subcommittee led by Sir John Anderson recommended that the matter be referred to the ethics committee for further consideration. As Mihir Bose and others reported, the ICC now faced its moment of decision. Did it care about the players or the welfare of the game? Nations concerned about such matters wanted to know more. Previously Malcolm Speed, the dismayed CEO of the ICC, had raised doubts about the reliability of ZCU's accounts. But the sickeningly cynical South African and Indian contingents protected their man. Chingoka had paid his dues.
Perhaps the game has known a darker hour than this. God knows cricket had always reflected its times, as Zimbabwean cricket now reflects Mugabe and his murderous hordes. For an unconscionable time, no one said much about white captains of West Indies, or apartheid, or the massacre of the Tamils, or Mugabe's own slaughter in Matabeleland. God knows the game has been smug. Alas, nothing has changed. Indeed the position has deteriorated. Nowadays, anything goes.
Some people are still trying. After years of fiddling around, England has refused to allow Chingoka into the country, a decision that might cost them the right to stage the next Twenty20 World Cup. In that case England ought not to attend. Mind you, with vast hypocrisy England is still sending Zimbabwean refugees back to the hellhole whence they came.
Tatenda Taibu is eager to go to Australia. Once the golden boy, he had been lured back by money after fleeing in the wake of threats directed at his family. Other players are disenchanted. It is an appalling state of affairs. Protecting Chingoka and Bvute might serve the incumbents' purposes but it has cost them their reputations.
Peter Roebuck is a former captain of Somerset and the author, most recently, of In It to Win It
© Cricinfo
---