Robert Mugabe and MDC leader Morgan Tsvangirai have shook hands in a public ceremony and vowed to work together to end the nation's political crisis that has resulted in riots and violence after a disputed election.  Mugabe really had no choice, after the MDC took a convincing victory in the polls, and ZANU-PF had to work overtime stuffing the ballots to come up with a victory that still had that infamous piscesian odor.
This may look, to many observers, to be a convincing semi-victory for the MDC - when was the last time Mugabe compromised with anyone on anything?  He usually just sends a fleet of ragged Toyotas filled with AK-47-toting thugs to settle his compromises.  This must surely be a sign of progress.
Maybe - but don't count on it.  With his pillaging ways and habit of holding onto power with an iron fist, Mugabe very literally rules a gangster state.  And what happens when a gangster like Mugabe buries the hatchet?  His next move is to knock off his opponent when he least suspects it.  Tsvangirai shouldn't get into any cars with shifty-looking, garrote-toting guys in the back.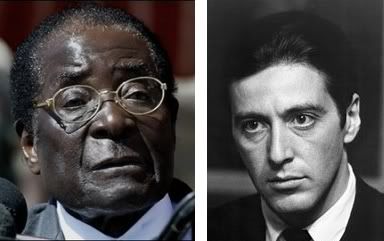 Below: this is what Tsvangirai looked like after he got out of jail.  Sure doesn't look like a foreshadowing of bipartisan cooperation to me.  When will Mugabe apologize for all the destruction he's caused?