The ZIMBABWE Situation
An extensive and up-to-date website containing news, views and links related to ZIMBABWE - a country in crisis

---
Zimbabwe crisis talks delayed again
Yahoo News

by Susan Njanji Wed Jul 23, 12:33 PM ET

HARARE (AFP) - The start of full-scale talks to resolve Zimbabwe's political
crisis were delayed for a second day on Wednesday as the main parties' top
negotiators had yet to arrive in South Africa, sources said.

The negotiations, initially due to start on Tuesday and already facing a
race against time given a two-week deadline, were not now due to begin in
earnest until Thursday when all sides are in place in the capital Pretoria.

The delays mean South African President Thabo Mbeki, the chief mediator
between Zimbabwe's ruling ZANU-PF and opposition Movement for Democratic
Change (MDC), may not be around for the start of the talks as he due to fly
out Thursday to attend a European Union summit in southwest France.

Although a spokesman for Mbeki said the talks process had started, sources
within the MDC and ZANU-PF both confirmed that senior members of their
delegations had yet to fly out of Harare.

"Tendai Biti (the MDC's secretary-general) left this morning, but chairman
Lovemore Moyo is still in Bulawayo. He can either leave today or Thursday,
his flight booking has been done already," an MDC source told AFP.

"The talks are only starting on Thursday so he can leave anytime."

A Zimbabwean government source also confirmed that ZANU-PF's chief
negotiator Patrick Chinamasa was still in the country.

"Minister Chinamasa is still around. He can either leave tonight or first
thing in the morning."

Chinamasa, who is also justice minister in President Robert Mugabe's
cabinet, told the Herald newspaper it had been agreed with the opposition to
begin the talks only when all the delegates were in place.

"All parties to the dialogue agreed that talks should begin on Thursday,"
Chinamasa told the state-run daily.

Mbeki's spokesman Mukoni Ratshitanga told AFP that the talks process had
begun on Tuesday night but declined to comment on Chinamasa's comments.

"We have never been obliged to say who is at the meeting," he said.

Mugabe, main MDC leader Morgan Tsvangirai and Arthur Mutambara, head of a
breakaway opposition faction, penned a memorandum of understanding on Monday
to pave the way for fully-fledged talks.

Both sides agreed in their memorandum of understanding inked in Harare to
observe a media blackout during the course of negotiations that are expected
to conclude within a fortnight.

Although the venue of the talks has been kept under wraps, the negotiations
are expected to take place in the capital Pretoria.

Already going through an economic turmoil, Zimbabwe's crisis deepened when
Mugabe was re-elected in a one-man run-off last month after Tsvangirai
pulled out, citing a campaign of intimidation and violence against his
supporters that had killed dozens and injured thousands.

The vote was widely condemned in the West as a sham, with the European Union
warning that it would not deal with a government unless headed by
Tsvangirai.

---
Zimbabwe business hopes talks will stop the rot
Mail and Guardian

HARARE, ZIMBABWE Jul 23 2008 18:29

Captains of industry are pinning their hopes on talks between Zimbabwe's
political rivals as a chance to stop the rot after a survey on Wednesday
showed investor confidence at a new low of 2%.

"Industry will give full support to the agreement signed on Monday," Calisto
Jokonya, president of the Confederation of Zimbabwean Industries (CZI), said
at the launch of the body's annual report on the state of the nation's
industry.

"This will give us a new direction we need as business ... we do not want to
go back to what we have been doing" in the last 12 months.

An index of business confidence in the new CZI survey showed a drop from 5%
to just 2% in the course of the last year.

This year's report was released in Harare against a backdrop of an annual
inflation rate that officially stands at 2,2-million percent, although
economists say the real figure is in fact even higher.

The country's economic meltdown is seen as one of the major factors in
Zimbabwean President Robert Mugabe's agreement on Monday to open talks with
the main opposition Movement for Democratic Change, despite his re-election
last month in a one-man ballot that was widely denounced as a sham.

"The business confidence level is still low, with 70% of the respondents
being pessimistic and those that are optimistic dropping to 2%," said the
survey.

The country has been experiencing shortages of basic foods for some time and
the report said the skyrocketing inflation rate -- the highest in the
world -- would only make matters worse and dissuade the few people who still
have jobs from shelling out on bus fares to work.

"Food shortages and food inflation are becoming worse, such that more people
are absconding from work because of the high cost of living," it said.

 In a foreword to the survey, Hama Saburi, editor-in-chief of the Financial
Gazette, said it was important that political players find a common ground
that would form the basis of some cooperation in order to revive the
economy.

"Zanu-PF will find it difficult to go it alone without the Movement for
Democratic Change [MDC]," Saburi wrote.

"And the MDC should not fool itself to think it can go it alone either.
Whatever government shall emerge out of the discussions between the main
political parties should make an effort to reach out to business and labour
... Zimbabwe cannot afford failure in this regard."

Kenias Mafukidze, an economist with independent think tank KM Financial
Solutions said Zimbabwe needed a clear economic policy that respects market
forces backed by robust industrial policy.

"The survey sends a clear signal that current policies are slowly but surely
destroying what was once Africa's most robust and diversified manufacturing
sector, replacing it with a nation of traders who do not add value,"
Mafukidze said to AFP.

The CZI said that 80% of the country's infrastructure was currently idle due
to shortages of skilled workers, power cuts and a lack of foreign currency.

Once one of Africa's best-performing economies, Zimbabwe has been in
meltdown since the turn of the decade, when Mugabe embarked on a
controversial land-reform programme that saw thousands of white-owned farms
seized by the state.

Delay
Meanwhile, the start of full-scale talks to resolve Zimbabwe's political
crisis were delayed for a second day on Wednesday as the main parties' top
negotiators had yet to arrive in South Africa, sources said.

The negotiations, initially due to start on Tuesday and already facing a
race against time given a two-week deadline, are not now due to begin in
earnest until Thursday when all sides are in place in Pretoria.

The delays mean Mbeki, the chief mediator between Zimbabwe's ruling Zanu-PF
and the MDC, may not be around for the start of the talks as he due to fly
out Thursday to attend a European Union summit in south-west France.

Although a spokesperson for Mbeki said the talks process had started,
sources within the MDC and Zanu-PF both confirmed that senior members of
their delegations had yet to fly out of Harare.

"Tendai Biti [MDC secretary general] left this morning [Wednesday], but
chairperson Lovemore Moyo is still in Bulawayo. He can either leave today or
Thursday, his flight booking has been done already," an MDC source said.

"The talks are only starting on Thursday so he can leave anytime."

A Zimbabwean government source also confirmed that Zanu-PF's chief
negotiator, Patrick Chinamasa, was still in the country.

"Minister Chinamasa is still around. He can either leave tonight or first
thing in the morning." -- AFP

---
Chingoka, journalists on sanctions list
http://www.thezimbabwetimes.com

July 23, 2008

BRUSSELS (TimesOnline/Own Correspondent) - The European Union stepped up
sanctions against Zimbabwe yesterday, in an effort to increase pressure on
Robert Mugabe a day after he signed a pact to enter power-sharing talks with
the opposition Movement for Democratic Change.The list now includes two
journalists from the State-owned media - Munyaradzi Huni of the Sunday Mail,
as well as Caesar Zvayi, who used to write for the Herald, but has
reportedly since taken up a teaching post in Botswana.

The list also includes a senior sports administrator, Peter Chingoka, and an
official of the Zimbabwe Electoral Commission, Joyce Kazembe.

Chingoka has found himself in the firing line for his alleged links to
Zanu-PF, which critics blame for his continued stay at the helm of the ZC,
despite numerous cases of maladministration and financial misappropriation,
hanging over him.

The new embargo identified a further 37 supporters of the regime whose
assets will be frozen and who will be subject to a visa ban, preventing them
from entering EU territory. For the first time the sanctions will also
affect four Zimbabwean companies and aim to close loopholes that have
enabled Mugabe to come to Europe almost at will despite being the first name
on the travel ban.

Announcing the measures, in protest against June's widely condemned
presidential election run-off, Bernard Kouchner, the French Foreign
Minister, said: "It is impossible to accept the result of the second
elections when basic democratic rules are being violated. Sanctions have an
effect. They are not just for fun."

The decision to add new names to the 130 already on the sanctions list was
taken despite the signing on Monday of a deal between Mugabe and Morgan
Tsvangirai, the MDC leader, on a framework for talks. The discussions, which
were due to begin in South Africa yesterday, got off to a far from
auspicious start after the chief representatives for both parties failed to
leave Harare. The talks are now unlikely to begin before Thursday.

David Miliband, the Foreign Secretary, said: "The sanctions that we and
others are proposing are designed to reinforce the drive for the
transitional government to reflect the democratic will of the Zimbabwean
people."

The EU's decision, which was implemented immediately, has extended the
sanctions to four Harare-based companies. They include ZIDCO Holdings and
Jongwe Printing and Publishing Company (PVT) Ltd, which carries out printing
and publishing for the ruling Zanu (PF). Also on the list is Cold Comfort
Farm Trust Co-operative, which is considered a front for investments outside
Zimbabwe, and Zimbabwe Defence Industries.

The individuals added to the visa ban hail largely from the business sector
and the military. They include Gideon Gono, governor of the central bank,
Joyce Kazembe, the vice-president of the Zimbabwe Electoral Commission, and
Peter Chingoka, the head of the country's cricket federation, who is accused
of supporting the terror campaign during the elections.

For the first time, two journalists have also been included.

Foreign ministers made clear last night that the sanctions could be extended
to other individuals and organisations. In the coming weeks the EU will
"examine the measures which might be taken against others responsible for
violence, and other bodies linked to them", it said.

In future it will be possible to prevent the visit to Europe by anyone on
the banned list unless "on humanitarian grounds". The EU cannot stop
individuals attending UN meetings on its soil but now it will give visas
only to the persons directly concerned. Mr Mugabe will be able to attend
meetings but his wife will be refused a visa.

The following is the full new sanctions list:

1 Gono, Gideon - RBZ Governor
2 Kazembe, Joyce - Deputy head of the Zimbabwe Electoral Commission
3. Patel Bharat P - Businessman
4. Chiwenga Jocelyn - Businesswoman and ZDF chief Constantine Chiwenga's
wife
5 Dube Tshingo - Zimbabwe Defence Industries Chief
6 Huni Munyaradzi - Sunday Mail Journalist
7 Kereke Munyaradzi - Diplomat
8 Chiremba Mirirai - Finance Ministry Official
9. Zvayi Caesar - Former Herald Journalist
10 Chingoka Peter - Zimbabwe Cricket boss
11 General Karakadzai - ZNA
12 Colonel C. Sibanda - ZNA
13. Brigadier Tarumbwa - ZNA
14. Col. M. Mzilikazi (MID) - ZNA
15 Col. Mutsvunguma - ZNA
16 Brigadier General Shungu - ZNA
17 Col. Chipwere - ZNA
18 Col. F. Mhonda - ZNA
19. Air Vice Marshall Henry Muchena - AFZ
20 Air Vice Marshall Abu Basutu - AFZ
21. Brigadier General Khumalo - ZNA
22. E. A. Rugeje - State security
23 Col G. Mashava - ZNA
24 Lt. Col. Muchono - ZNA
25. Lt. Col. Mpabanga ZNA
26 Commandant R. Kwenda -ZNA
27. Brigadier General Sigauke - ZNA
28. Col Gwekwerere -ZNA
29 Col. C. T. Gurira -ZNA
30. Brigadier General D. Nyikayaramba - ZNA
31 Brigadier General Rungani -ZNA
32 Chinotimba Joseph - War Veterans leader
33. Moyo, Gilbert - War Veteran
34. Rangwani, Dani - Police
35. Jangara, Thomsen - Police
36. Tonderai Matibiri, Innocent - Police Chief
37. Zidco Holdings - Zanu PF company
38. Jongwe Printing and Publishing - Zanu PF company
39. Cold Comfort Farm Trust Co-operative
40. Zimbabwe Defence Industries

---
Soldiers await pay as Zimbabwe runs out of paper to print money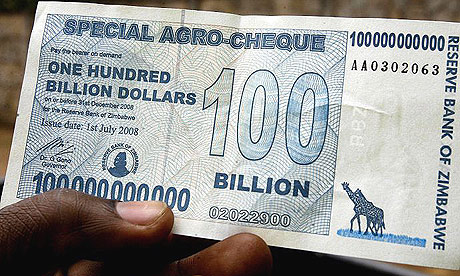 The Zimbabwean government was today struggling to find enough cash to pay its workers, and more importantly the military, after it was forced to severely cut back on printing money because sanctions severed its supply of banknote paper from Europe.
Officials involved in the printing of money said the regime was fearful that the presses could be shut down altogether if further political pressure causes the withdrawal of software licences used to design and print the notes.
Paper money was already in desperately short supply because the state-run Fidelity Printers & Refiners in Harare was unable to keep up with the demand created by hyperinflation and rapid devaluation that had caused notes to lose almost their entire value within weeks of being issued.
But the problems became acute after the Bavarian firm that supplied the watermarked banknote paper - Giesecke & Devrient, which printed worthless cash for the Weimar Republic in the 1920s and supplied Rhodesia's white minority regime with currency - cut off deliveries last month, under pressure from the German government.
Zimbabwe was looking to Malaysia as an alternative source of paper but the government feared that the licence for the specialist software supplied by another European firm would be withdrawn as part of the boycott of Robert Mugabe's regime.
The software is supplied by Jura JSP, a Hungarian-Austrian company that specialises in security printing. A knowledgeable source inside Fidelity Printers said the software issue had created an air of panic.
"It's a major problem. They are very concerned that the licence will be withdrawn or not renewed. They are trying to find ways around it, looking at the software, but it's very technical. They are in a panic because without the software they can't print anything," he said.
On Monday, the central bank issued a $100bn note, the highest denomination to date but worth only about 7p, printed on what remains of stocks of the German-supplied paper.
The source said the firm had been told that new supplies of currency paper were coming from Malaysia but it was unable to meet the current demand for cash created by hyperinflation that economists estimated was running at about 40m%.
Fidelity's presses, which had been running 24 hours a day for many months, were rarely started up. The firm also had problems maintaining the presses because it was unable to obtain spare parts.
The cash shortage was contributing to the rapidly deepening economic crisis and further threatening the stability of Mugabe's regime. The government needs a fresh injection of cash in the coming days to pay its workers, from teachers and nurses, to the police. But most importantly, it needs to ensure that money reaches the army.
Zimbabweans were limited to withdrawing just $100bn a day from their bank accounts, enough to buy less than half a loaf of bread, although the government had just increased the allowance to $1.5tn a day for members of the military. The cash was delivered to the barracks by the banks to save soldiers standing in line for hours like everyone else.
Today, Zimbabwe's trades union confederation wrote to the central bank governor, Gideon Gono, asking him to remove the daily limit on cash withdrawals, describing it as a "joke".
"As you may be aware, transport alone, costs around Z$150bn, on average. How then do the monetary authorities expect an ordinary employee to report for duty and go back home when he/she is allowed to only withdraw a maximum amount of Z$100bn?" the unions said.
"This employee is also expected to make available to his family, bus fare for his/her school going children, funds for daily expenditure. It has also come to our attention that most employees are now spending their productive time queuing for cash at the banks."

The demand for new higher denomination notes, as the value of existing ones plummeted, was reflected in the rapid increase in the numbers of noughts on money printed over the past two years.
In August 2006, the central bank issued a $5 note. A $500,000 note followed a year later.
On 2 May 2008, a $500m banknote hit the streets but was swiftly near worthless, and $5bn, $25bn and $50bn notes followed just a fortnight later.
The speed of the devaluation can also been seen in the watermarks. Hold a $750,000 note up to the light and the watermark shows the paper was intended to be used for a $1,000 bill. The $25bn note has a $500 watermark.
A spokeswoman for Jura, Renate Kroboth, said the company officials responsible for dealing with the software contract were on holiday and not immediately available for comment.
---
Political Violence, Intimidation Continue in Zimbabwe
VOA

By Peta Thornycroft
Harare
23 July 2008

Although Zimbabwe President Robert Mugabe's ZANU-PF party has agreed to
talks with the opposition Movement for Democratic Change on a possible power
sharing arrangement, the country's political violence and intimidation
continue. Peta Thornycroft reports ZANU-PF militia are still patrolling vast
parts of the country.

Several legislators, who have returned to Harare from hiding places in
Zimbabwe and in neighboring countries, say the mood in the country is tense.

They say they dare not go to their homes for fear of being arrested. About
20 winning MDC legislators have been arrested since the elections in March.

One legislator from the eastern Manicaland Province, who spent three weeks
in detention recently and asked not to be identified, said members of the
ZANU-PF militia are asking for money from people who fled during
post-election violence and now want to return home. He said those who have
returned have found their assets, such as food and livestock, were taken
after the elections.

A parliament member from the Mashonaland East Province, a ZANU-PF stronghold
where many voted for the first time for the MDC - said militias still
control people's movements in and out of villages.

An MDC legislator in Mutare, Pishai Muchauraya, said his officials are
searching for many people listed as missing.

MDC branch chairman Reuben Mutewe, 38, from Manicaland Province, who was
abducted from his home June 30, was found in the mortuary at the Mutare
General Hospital last Friday.

Muchauraya says they have still not found the body of activist Emmanuel
Nyapfungwe, who he says was allegedly murdered June 20 in Manicaland
Province.

Meanwhile, farm invasions continue, particularly in the Manicaland province
where six white families and their workers were forced to abandon their
homes last week.

The agreement signed by ZANU-PF and MDC says the violence is to be discussed
during their talks in South Africa.

Another point for negotiations is the resumption of humanitarian aid, banned
June 4 by one of ZANU-PF's two negotiators, Welfare Minister Nicholas Goche.

The government has started to sell food aid to those in need at bargain
prices. But the Combined Harare Residents' Association said only ZANU-PF
members are being given access. The association said many Harare residents
are at the point of starvation.

---
CIO hide MDC activist's corpse
http://zimbabwemetro.com

By Staff ⋅ © zimbabwemetro.com ⋅ July 23, 2008
The body of Emmanuel Nyapfungwe(36) from Ward 20,Nhamo Village ,Chief
nyashanu in Buhera who was murdered on 20 June by ZANU PF militia led by
Headman Amos Betera was confisticated and hidden or possibly secretly buried
by suspected CIO agents.

Nyapfungwe was the MDC branch secretary for Guhudza and MDC activist since
its formation in 1999. He was killed alongside Chris Makanyisa,Albert
masuka,Trymore Sabira, Pepukai Maangira and Phineas Chirozva.

Nyapfungwe's mother-Rudia Machemedze is currently seeking help at the Mutare
MDC offices concerning her son's body whereabouts, she said his son was axed
in both hands and legs before the murderers took him took him to Save River
where they further tortured him until he died.

Rudia further stated that after she visited Headman Betera on 23 June to ask
him about the whereabouts of his son he tried to give her Nyapfungwe's
clothes that he was wearing when she last saw him of which she refused."I
told him I needed my son not his clothes," she said.She reported the matter
to Murambinda Police Station but the police were not cooperative and told
her to leave the Police camp.

MDC staff have searched for Nyapfunwe's body in Birchnough Bridge,Mutare
general Hospital, Murambinda and Rusape Hospital morturies and the only
place they have not searched and assume there are more bodies there is the
crocodile infested Ruti dam and Gotora dam in Buhera.Nyapfungwe is survived
by a wife and three children.

---
Opposition reprisals in Zimbabwe
BBC

Wednesday, 23 July 2008 17:46 UK

Zimbabwean opposition activists returning from South Africa have
driven supporters of President Robert Mugabe from their homes.

The incidents, close to Zimbabwe's border with South Africa, followed
accusations of torture and arson attacks by war veterans.

Youths loyal to the opposition have now have now launched retaliatory
attacks against the veterans.

Police were allegedly informed of the beatings but took no action.

The war veterans have been the most loyal supporters of President
Robert Mugabe and played a key part in his victory in the final round of the
presidential elections.

Three weeks ago, the Zimbabweans in South Africa - known as Injiva in
the local Ndebele language - issued warnings to war veterans and the ruling
Zanu-PF to stop harassing and killing their relatives in rural areas.

A BBC contributor says that in Matabeleland province more than 60% of
young people work in South Africa and whenever they come home, there is
chaos in the villages as the crime rate increases.

This time, he says, their targets were the war veterans.

Last week the Injiva returned from South Africa and were told of the
destruction caused by the war veterans and the youth militia, our
contributor adds.

Some of the Injiva were armed with pistols which were brought into the
country illegally.

According to villagers in Plumtree, about 100km south of Bulawayo,
dozens of war veterans were injured during the raids on their bases by
Injiva.


---
Residents told to support ZANU PF if they want to feed!
---
Survival in Zimbabwe today
http://www.zimbabwetoday.co.uk

How one young nurse keeps body and soul together

Westerners and Europeans all pose the same question: how is it humanly
possible to survive in Zimbabwe in 2008, when there is nothing in the shops,
inflation is rocketing beyond belief, and wages are pitifully low? Here is
one personal story that might provide some, but not all, of the answer.

Docus Chririnda has been a nurse for 16 years. Her salary is Z$140 billion a
month. Her bus fare to work is Z$100 billion a day. So she walks. But why
bother to go to work at all, you may ask, when the new Zimbabwe $100 billion
note, just issued, this week buys little more than two loaves of bread?

The answer is, Docus is a dealer. Her  real income comes from poultry. She
breeds chicken, and sells them, and eggs, to her hospital colleagues.

She told me: "Yes, I'm a poultry dealer. If you are not a dealer you will
never surive in Zimbabwe. There is not a single person in this country
existing on their salary alone. We use our workplaces, and our colleagues,
to conduct our deals. And we hold on to our jobs, in the belief that one day
things will improve, and we will regain our dignity."

But Docus has another string to her bow. As a senior nurse, and with her
superiors turning a blind eye, she can take up to three months of unofficial
leave. This means she can slip across the border, quite legally, to take
temporary nursing work in South Africa.

This work will often be demeaning, with Docus being given the more
unpleasant jobs. But it is well paid. And when the time is up, she will
return to Zimbabwe with a big parcel of cheap South African groceries and
other necessities of life. Some she will sell, using the money to pay her
rent and other bills. The rest she will use herself, to survive.

Nearly everyone in Zimbabwe, especially those who have no food sent in from
relatives abroad, has some scheme or fiddle going. For example, civil
servants regularly charge individuals for items, such as birth certificates
and identity papers, which should be issued free.

Even our policemen earn less than necessary to live. They have now taken to
stopping individuals in public places, searching them, stripping them of any
edible goods they carry on a charge of illegal trading, and confiscating any
foreign currency they may have for the same reason. The currency goes
straight into their own pockets, the goods straight into their own stomachs.

These are a few of the ways the Zimbabwe people manage to live. And those of
you in the West should know that as Africans we have coped with extreme
poverty in the past, and we will do the same today. We can live on almost
nothing, if we must. We can find a way to survive.

You couldn't. But Docus can. And we can.

Posted on Wednesday, 23 July 2008 at 19:13

---
Freedom in a Fortnight? A View From the Trenches


Women of Zimbabwe Arise (Bulawayo)

PRESS RELEASE
23 July 2008
Posted to the web 23 July 2008

Jenni Williams

This view represents a consulted way forward recommended by Women and Men of
Zimbabwe Arise (WOZA/MOZA). We are an organisation owned by its 60,000
members who hold qualifications in daily survival and degrees in nonviolence
despite the deeply polarised political environment in Zimbabwe since 2000.
WOZA was born in the community and seeks to draw the attention of
preoccupied politicians to people's needs, namely bread and butter issues;
or as WOZA likes to put it, bread and roses issues - bread representing food
and roses representing the need for lasting dignity.

At the moment, the highway that is Zimbabwe has two 'vehicles' going in
opposite directions, Zanu PF, the so-called 'liberation war' party and the
Movement for Democratic Change (MDC). These parties speed along preoccupied
with their own importance, hardly ever taking the off-ramp to consult with
the suffering masses.

What do we want policy makers to focus on?

The reality on the ground for Zimbabweans right now is tantamount to
torture. For representatives of political parties to sit at the negotiating
table cutting an elite power-sharing deal whilst ignoring the crashing
economy and the undeclared civil war by Mugabe against ordinary people is a
crime against our humanity. We suspect that they do not understand the
day-to-day struggle of ordinary Zimbabweans. As a result WOZA is determined
to hold our placards up high to get their attention and demand that they
address our needs.

Our placards will be drawing attention to the following points:

1. Daily life is form of torture

· We cannot get food without being forced to take sides with the ruling Zanu
PF who currently controls access to all food in the country. As we have seen
before during election periods, they have also banned distribution of food
by international NGOs so that they can further control our fundamental need
to eat. Many of our members try to get humanitarian assistance but because
they speak out, are punished by Zanu PF and denied food or blackmailed into
support in exchange for food. Hunger is the price for their courage.

· As Zimbabweans go about their daily activities, youth militia, police,
army and war veterans subject them to harassment and intimidation. Even a
neighbour can no longer be trusted, as with the widespread hunger, one can
be sold out in exchange for food. Lists of names of all those that oppose
the regime exist at ward, district, province and national level. This highly
sophisticated 'reign of terror' was re-established between March 29 and June
27. It is an open secret that Zanu PF did not campaign in their normal
violent manner in the run up to March 29 and therefore lost the presidential
race. They reverted to type and put in place their structures of evil after
March 29, resulting in the farcical run-off and Mugabe inaugurating himself.

2. Undeclared civil war during Thabo Mbeki's watch

It was during the SADC mediation process, led by Thabo Mbeki, that Mugabe
has continued and intensified his campaign of murder, mutilation, abduction
and rape. As a result our placards will also state that we no longer have
confidence in Thabo Mbeki. During his watch, babies have been mutilated for
their parents' democratic beliefs - their blood is on his hands. The South
African mediation team stressed that the aim of the mediation was to have
'an election whose result cannot be contested'. Yet two elections have been
held and the results of both are contested. A second SADC team was mandated
to deal with the economic chaos but they seem to have disappeared or have
become too baffled by too many zeros to do anything.

We therefore demand that:

· The Africa Union and SADC have provided a reference group to the mediation
team and it is our view that the political parties also need an
on-the-ground reference group made up of civic society representatives who
can provide input and receive feedback.

· The status of the second SADC team dealing with the economy is clarified
and their recommendations be made public so Zimbabweans can know what is to
be done about the crashing economy.

· The United Nations is allowed to come in to assess humanitarian needs and
set up structures to address these urgently.

3. Zimbabweans have lost faith in politicians' ability to return life to the
living. We do not think power sharing or a government of national unity
(GNU) can work in Zimbabwe. We need an independent and impartial
transitional authority under African leadership.

African leaders should not dictate that a GNU be the only solution to our
crisis. Zimbabwe is not Kenya and their solutions cannot be imposed on us,
especially with our historical experiences of 1987. We need a solution to
address the specific of the Zimbabwe crisis. In Zimbabwe, the military elite
runs the show not only on military might but also on political partisanship.
For the ordinary soldier, police officer or prison officer to keep their job
they have to follow political orders. This is the situation at any police
station in the country. A transitional authority would be better placed to
address this problem. A neutral person from Africa must be found who,
supported by Zimbabwean technocrats, can form an interim authority that will
neutralise the pillars of state, including the police. The violence can only
be stopped when the victims can once again report abuses to an impartial
body and trust that the perpetrators will be arrested and put on trial no
matter who they are. For this to happen, magistrates and judges will also
need to know that they will also be watched to ensure that there is justice
through the courts for all equally.

We would want an engendered transitional authority to have the following
mandate during their eighteen-month term of office:

a. Stop the political violence. Depoliticise the police, army and other
defence forces. Any political violence must be reported, investigated and
prosecuted through the courts without any form of favour or political
influence.

b. Dialogue with the business and professional community to develop policy
designed to bring about economic recovery.

c. Supervise the addressing of the humanitarian crisis together with the
United Nations.

d. Even constitution making has become the sole preserve of politicians. It
was the constitutional referendum in 2000 that intensified political
violence with catastrophic results and therefore we need an independent
person to oversee the consultative process. A transitional authority must
neutralise this position and return constitution making back to the people
of Zimbabwe.

e. Depoliticise the issue of land reform, conduct a land audit and consult
on a fair and equitable land reform programme. If the economy is to be
stabilised, we need our land to be made productive fast.

f. Form a body to consult and develop a transitional justice plan of action
designed to bring healing and reconciliation and then deal with justice and
restitution for victims in the new Zimbabwe.

g. Bring about a truly independent electoral commission to oversee first a
referendum on the new constitution and then a truly free and fair election
process and a peaceful transition to the winner.

Thousands of WOZA members have been arrested for exercising their freedoms
of expression and assembly. Some were even denied bail and imprisoned for
marching to the Zambian Embassy to deliver a petition to the SADC chair,
Zambian president Levy Mwanawasa. They remain undaunted by this repression
and fully intend to continue to peacefully march for bread and roses,
placards held high until their messages are taken seriously at the
negotiation table and in the corridors of power. Of course if they had civic
representatives at the table, their voice would be better heard than from
the streets.

Woza Moya!

---
SADC Tribunal says Zimbabwe government violated interim order

By Tererai Karimakwenda
July 23, 2008

A regional court in Namibia has ruled that the Zimbabwean government
violated an interim order issued last December, which stipulated that they
would not evict any commercial farmers involved in the ongoing case, or
interfere with their operations, until the case is decided. Government
sponsored thugs have since evicted some of the farmers and tortured 3 others
who are key players in the case.

The ruling by the Tribunal was released on Tuesday as the 3 rival political
parties in Zimbabwe prepared for talks that are supposed to lead to a
resolution of the broader crisis. The judges said the finding will be
reported to the SADC summit due in South Africa in August, so that
appropriate action can be taken. A lawyer for the farmers told Newsreel last
week that SADC has the options of imposing sanctions on Zimbabwe, expulsion
or some other action. Whatever the SADC leaders decide, it will be a test of
their commitment to the SADC principles, which are laid out in the SADC
Charter that Zimbabwe is signatory to.

The court said there was abundant evidence that the Zimbabwe government had
breached the order. Mike Campbell, the farmer who brought the original case
challenging Zimbabwe's land reform policies, was recently abducted along
with his wife Angela and son-in-law Ben Freeth, and severely assaulted by
known government thugs. At least 6 farmers out of the 77 who were part of
the case have been evicted. Others are being harassed.

Lawyers representing the government walked out of a hearing earlier this
month when the farmers handed in the application for contempt. The main case
challenges the government's land policies, for being racially
discriminatory. The farmers are also challenging the Constitutional
Amendment # 17, which took away their right to challenge evictions in court.

SW Radio Africa Zimbabwe news

---
Zimbabwe's baby steps to peace
Business Day

23 July 2008

THE memorandum of understanding signed by the protagonists in the
Shakespearean tragedy that is today's Zimbabwe is clearly a significant
advance. For the first time in years of violent politically motivated
conflict, there is cause for hope that meaningful negotiations can at last
take place, and that democracy could ultimately triumph.

However, only those with short memories will be celebrating the end of
Robert Mugabe's tyrannical rule and Zanu (PF)'s prolonged grip on power just
yet. What has been happening in Harare over the past few days has laid the
groundwork for substantive talks between parties that have a long history of
distrust and confrontation. To use the parlance of SA's negotiated
settlement almost two decades ago, these were "talks about talks". Agreeing
on the basic rules to be followed when the real talks take place is
unquestionably an important step in the right direction, but should not be
elevated to something they are not.

As SA's own painful transition demonstrated, there's many a slip twixt cup
and lip and relationships of trust are not built overnight, especially when
there is a history of false starts, leadership failure, bad faith, betrayal
and outright duplicity emanating from both sides in the conflict. Overcoming
these obstacles will demand a degree of goodwill and statesmanship that has
not been evident, from Zanu (PF) in particular, for a long time.

It would be naive to believe that Mugabe has somehow mellowed overnight,
that the hawks that dominate Zanu (PF) have been converted to doves, or that
the two factions of the opposition Movement for Democratic Change (MDC) do
not harbour at least some bitter souls who will be unable to resist the urge
to either take revenge or take advantage. Although optimistically set down
for two weeks starting in SA this week, the negotiation period will
inevitably be difficult. Setbacks should be expected: you do not make peace
with your friends, and some of the compromises that will be required to make
the hoped-for settlement a lasting one are likely to prove a step too far
for some.

The past decade of gross misgovernance in Zimbabwe has allowed corruption to
become a way of life, and there are individuals in influential positions who
will not easily give up their privileges and ill-gotten gains. Let there be
no doubt that Mugabe was a reluctant signatory to the memorandum, and that
he did so only because he was under immense pressure. Notwithstanding his
"victory" in the farcical presidential runoff poll, what little credibility
he may have retained as a national leader evaporated, especially in Africa,
due to the blatant manner in which Zanu (PF) mobilised every remaining state
resource to rig the process.

With the country's economy and infrastructure in an advanced state of
collapse, the threat of intensified international sanctions hanging over his
head, African leaders distancing themselves from him and nobody but
President Thabo Mbeki prepared to give him the benefit of the doubt any
longer, Mugabe had little choice but to agree to a formal negotiation
process.

Critically, Mbeki was no longer the sole mediator by the time the agreement
was signed, otherwise it is unlikely the MDC would have agreed to
participate in Monday's event. It is surely no coincidence that the
breakthrough came shortly after representatives of the United Nations and
African Union joined the mediation team, giving it a credibility that was
evidently lacking before.

IT COMES as some relief that the prolonged debate over the merits or
otherwise of Mbeki's "quiet diplomacy" approach has been rendered
irrelevant. What matters now is that the mediators stick to their task
during the critical few weeks ahead. There will be setbacks, and posturing
from both sides will test everyone's patience, but Mbeki in particular will
have to be meticulously even-handed if he is to come out of this with his
reputation enhanced.

It is common cause that he has Mugabe's respect, but the MDC has had good
reason to doubt Mbeki's impartiality over the years and will need to see a
conscious effort on his part to show that he is willing to take a firm line
with any signatory who does not respect the rules of the game, no matter the
role they may have played in the liberation struggle.

Perhaps most importantly, Mbeki will have to brush up on his communication
skills, an area that has frequently let him down .

The memorandum of understanding includes a secrecy clause, which is par for
the course during the horse-trading stage of such negotiations when it comes
to the substance of specific sessions but should not be taken to mean that a
backroom deal can be concluded and foisted upon the world.

After all they have gone though in recent years, ordinary Zimbabweans
deserve to be kept in the loop every step of the way, including in the event
of talks collapsing.

This week's agreement speaks of constitutional change, the restoration of
the rule of law and measures to halt the decline of the Zimbabwean economy,
but there is no specific reference to new, free and fair, elections. That is
a potential flaw that needs to be corrected during the negotiations to avoid
this process mirroring that of Kenya and establishing a precedent of unity
governments being formed in Africa as an alternative to the will of the
people expressed through the polls.

Ending the violence and repression is obviously a priority, but this cannot
be at the expense of basic democracy.

---
Letter from the ZCTU to Gideon Gono, Governer of the Reserve Bank of Zimbabwe
Sokwanele

The Governor
Reserve Bank of Zimbabwe
Samora Machel Avenue
Harare

Attention: Dr. Gideon Gono

Dear Sir,

Re: Call for the Removal of the Maximum Cash Withdrawal Limit

We hereby write to you advising your office to remove the pegging of the
maximum figure one is allowed to withdraw from his or her bank account.

This call has been necessitated by the fact that as a Workers Representative
Board we are receiving numerous calls from our members who face serious
problems, simply because they cannot access available cash from their
accounts.

Whereas the Monetary Authorities pegged the maximum cash withdrawal
allowable at Z$100 billion and whereas this appeared "sufficient" in the
eyes of those who have "unfettered" authority over those accounts, the
amount is a joke, given the reality on the ground.

As you may be aware, transport alone, costs around Z$150 billion, on
average. How then do the Monetary Authorities expert an ordinary employee to
report for duty and go back home when he/she is allowed to only withdraw a
maximum amount of Z$100 billion?. This employee is also expected to make
available to his family, bus fare for his/her school going children, funds
for daily expenditure. It has also come to our attention that most employees
are now spending their productive time queuing for cash at the banks.

We are further reliably informed that members of the Armed Forces are
treated differently from the rest of the Society as far as cash withdrawal
rules are concerned. It is rumored that they are allowed to withdraw Z$1.5
trillion and above per day.

If the immediate above is true, what do you think workers would feel, when
they walk to and from work and also when their families go for days on empty
stomachs, when they know that they have fat Bank Accounts.

It is in this light that we are advising your office to either remove the
limit as you did with cheque transactions or at least allow account holders
to withdraw a minimum amount equivalent to two days transport fare, plus
necessary daily expenses.

Our cursory calculation reflects a figure of Z$2.5 trillion per day as at 21
July 2008 will be reasonable. The amount has to be reviewed after every 3
days, but still using the public transport cost as the entry point.

We trust you take our advice seriously and thus address the Workers and
Society's concerns, before they take the law into their own hands.

We remain available for any further engagements.

Yours sincerely,

Wellington Taylor Chibebe
Secretary General, Zimbabwe Congress of Trade Unions

This entry was written by Sokwanele on Wednesday, July 23rd, 2008 at 11:15
am

---
Tsvangirai's back to the wall ahead of talks
IOL

     July 23 2008 at 09:34AM

By Fiona Forde

Zimbabwe's chief negotiators have begun to arrive in South Africa for
a round of secret talks that are due to begin on Thursday, but which are
already heavily skewed in President Robert Mugabe's favour.

Commentators close to his rival, Morgan Tsvangirai, believe the leader
of the Movement for Democratic Change sold himself short on Monday after he
signed a memorandum of understanding that failed to deliver the demands he
had earlier outlined.

Tsvangirai failed to secure the release of political prisoners, the
appointment of an African Union envoy, access to the recently appointed
three-man Reference Group throughout the negotiations, or the recognition of
the right of the people of Zimbabwe to elect a government of their choice.

"They can forget about getting Mugabe to accept a ceremonial presidential
role after that," a Harare-based commentator close to Tsvangirai said on
Tuesday.

"The first prize at this stage would be Morgan as executive prime minister,
in charge of some ministries, but he might even have to accept a role as
senior minister, which is what Mugabe is pushing for."

Negotiating on Tsvangirai's behalf will be MDC secretary-general Tendai Biti
and Elton Mongoma, the party's deputy treasurer-general, while Mugabe will
be represented by Patrick Chinamasa, the acting justice minister, and
Nicholas Goche.

Arthur Mutambara, the leader of the smaller MDC faction, will be represented
by Welshman Ncube and Priscilla Misihairabwi-Mushonga.

About the next 14 days, at a secret location, they face the daunting task of
finding a middle ground that will satisfy their respective leaders and the
electorate of Zimbabwe.

Mugabe says he refuses to accept a ceremonial role of any sort, arguing that
in the eyes of the law, and based on the disputed June 27 run-off from which
Tsvangirai withdrew, he is the president of Zimbabwe.

For that reason, he wants to negotiate an inclusive government bringing the
MDC in from the cold.

Until Monday, Tsvangirai had pushed for a transitional authority of some
sort, with Mugabe in a ceremonial role.

However, in accordance with the wording of the memorandum, Tsvangirai then
agreed to establish "a framework of working together in an inclusive
government", in keeping with Mugabe's wishes.

The two rivals are equally divided on how long an inclusive or transitional
arrangement should last, with Tsvangirai pushing for a two-year limit, and
Mugabe insisting he should see out his five-year term.

This article was originally published on page 11 of The Star on July 23,
2008

---
A nation of billionaires

Photo: IRIN
Where there is a bank there is a queue

HARARE, 23 July 2008 (IRIN) - Where in the world could you be a multi-billionaire and still go hungry? The answer is, of course, Zimbabwe.

The Reserve Bank of Zimbabwe (RBZ) has fixed the daily withdrawal limit at Z$100 billion (roughly US$1.25) a day for individuals, but that comes nowhere near to covering the day-to-day costs of people living in the most inflationary environment in the world.

A loaf of bread costs Z$100 billion at the official rate, a kilogramme of meat Z$450 billion, (around US$5.60) and a half-litre sachet of milk sells for Z$200 billion (about US$2.50). On the parallel market, where most people shop, prices are far higher.

Ernest Nyandoro, 43, works as a casual labourer at a brick factory in Zimbabwe's second city, Bulawayo. He was in a bank queue for four hours before he finally got to the teller's window and was handed his two Z$50 billion notes.

Neatly folding them into his wallet, he headed outside to find his bike and begin his journey to work, angry at the sheer frustration of daily survival in Zimbabwe.

"The money the banks are giving out is not enough. I borrowed Z$500 billion so that my two children can get transport fare to and from school, and food for the coming three days, but with what the banks are giving out I will have to queue here for five days before I pay back the amount," Nyandoro told IRIN.

"What is further irritating me is that I will have to find another excuse to give to my boss for me to come and queue at the bank again." But with Zimbabwe's inflation rate now officially at 2.2 million percent, and rising every day, "If I do not collect the money instantly I am afraid it will lose value, and the more time I will take in withdrawing [it]."

It would take him six days, in theory, to withdraw his Z$600 billion (about US$7.50) salary - that's not counting the bank queues and cash shortages that can scupper the best laid plans. And at the end of the day, his salary would not buy him much more than a 20kg bag of maize-meal at current prices on the parallel market.
 
"I re-sell bricks that I buy cheaply as a staff member at my workplace, and with the extra that I make I get ready cash that augments my salary," said Nyandoro, explaining how he gets by. His wife also sells vegetables at a stall near his home to help support the family. 

Cash for sale
 
Charlotte Sibanda, 28, a nurse at a private clinic, turns to the parallel market when her superiors do not give her time off to get to the bank. Shops that have cash make it available to customers for a fee.

"The supermarkets charge a commission and a fee if one wants to write a cheque for them - just yesterday I signed a cheque for Z$400 billion and I received Z$300 billion in cash," she told IRIN. She said fees differ, but most shops in Bulawayo charge about 15 percent commission for cash.
 
A local businessman who runs a hardware store in the city, Collin Mandizvidza, said it was pointless banking his takings, given the difficulty of getting his hands on his money again. "The withdrawal limits are ridiculous, so the cash I make I sell to people who pay me in cheques," he said.
 
Reserve bank governor Gideon Gono said the bank was seriously considering increasing withdrawal limits. "The central bank is in the process of reviewing daily cash withdrawal limits following numerous representations from the public," he recently announced.
 
However, he blamed the business community for profiteering, forcing up prices. "The central bank notes with concern the unjustifiable and general increases in prices of goods and services, and we appeal to the business community to follow ethical business practices."



[ENDS]

[This report does not necessarily reflect the views of the United Nations]
---
Zimbabweans play the zero game
BBC
Quadrillion, quintillion, sextillion - crazy numbers with lots of zeros, that independent Zimbabwean economist John Robertson found himself chewing over with colleagues in the capital Harare this week.
In January, the bank introduced a Z$10m note

The financial throes of the country are now so severe, that some people are seeking a new language to understand it.

On Monday, the Zimbabwe government introduced the 100 billion Zimbabwe dollar note (for the uninitiated, a billion is nine zeros).

The counting of zeros had already become a nightmare for bankers and shoppers before the introduction of the new note - which at the time of writing would buy about two loaves of bread.

So far this year, the country ravaged by hyperinflation has been forced to print 100-million, 250-million and 500-million notes in rapid succession. All of them are now almost worthless.

It has become common now for Zimbabweans to talk of their daily expenses in trillions (one trillion is 12 zeros).

When John Robertson pinned a chart to the wall of office naming numbers up to twice as long, he says he "raised a bit of a laugh" from his colleagues.

But for many officials and accountants, a quadrillion - a million billion - is the number of the day.
BIG NUMBERS

Quadrillion: 15 zeros

Quintillion: 18 zeros

Sextillion: 21 zeros

Septillion 24 zeros

This formulation is from the widely-used US system
Only last week, the Harare Herald advertised the Lotto bonanza prize being offered was 1.2 quadrillion Zimbabwean dollars. At the time, that was equivalent to around 4,000 US dollars.
So how do Zimbabweans deal with such astronomical numbers?
"I actually Googled what comes after trillion about a month ago, and sent that out to all my friends so they'd be prepared," says 28-year-old Esther, a Harare resident who writes a regular diary for the BBC.
Day-to-day transactions for ordinary people have not reached the quadrillion stage, she says, but even trillions present difficulties.
"What is confusing is counting of the figures on your cheques as you try to make sure you are not under or over paying someone, or the struggling to read price tags in shops that have not yet knocked off zeros and so on," she says.
Hard currency
This practice - knocking off zeros - is the most common way of preserving sanity.
Most calculators simply cannot show enough digits.
The new note is three zeros short of Germany's 1924 100-trillion-mark note

Tills throughout the country have been struggling to cope, as have banking computers, and accounting systems.

As a result, the banks recently agreed to lop six zeros off transactions and documentation.

Economist John Robertson predicts that within a month they will be forced to drop another three.

The other main technique for keeping zeros under control, is to think in terms of a hard currency - in this case, US dollars.

It would be against the law to advertise your house in US dollars, Mr Robertson says, but in practice this is the currency used for big purchases.

"Nothing would be written down and on the day of exchange, that figure would either be paid in US dollars, or converted into Zimbabwe dollars. Then you would be talking big numbers - which will take a bit of getting used to."

While Zimbabwe is the only country suffering from currently suffering from hyperinflation its economic woes are not unprecedented.

Bundles of cash

History has shown that in countries experiencing hyperinflation - characterised by a monthly inflation of more than 50% - the central bank often prints money in larger and larger denominations as the smaller denomination notes become worthless.
Beyond a million it all becomes a blur

Marcus du Sautoy, Maths professor
In Yugoslavia, for example, the rate of inflation was five quadrillion per cent between October 1993 and January 1994. The government was forced to issue a 500 billion dinar note in 1993.
In Germany after World War I, prices were doubling about every two days and workers were paid daily or more often with bundles of cash. The highest value banknote issued by the Reichsbank had a face value of 100 trillion marks.
Marcus du Sautoy, professor of mathematics at the University of Oxford, says in general people are very bad at assessing numbers of this size.
"Beyond a million it all becomes a blur," he says.
"People are really looking for the ratio of one product to another, and then it's irrelevant how many zeros there are at the end of the number," he says.
If shops and banks don't drop the zeros, it's done instead by the human brain.
---
Zimbabwe entrepreneurs struggle with hyperinflation
http://www.thezimbabwean.co.uk


Wednesday, 23 July 2008 14:09
afrol News / Gender Links, 23 July - As hyperinflation has hit
Zimbabwe - with price increases in incalculable millions of percent - both
consumers and traders struggle to understand pricing, resulting in many
small entrepreneurs miscalculating and losing money instead of earning it
after a hard day's work.

Although leaders may have shaken hands, the pressing reality for
Zimbabweans today, four months down the line from the 29 March harmonised
polls, is coping with the economic crisis. The optimism for better lives -
characterised by more food, medicines, clean water, banks notes, transport
and all other basic necessities - has all but dissipated.

Instead, the aftermath of the two elections has seen most Zimbabweans
wallowing in deepening poverty. Inflation, now expressed in millions of
percentages, continues its upward spiral, essential services delivery
remains at a standstill, constant changes in prices and notes of legal
tender and shortages of everything from food to bank notes persist.

If anything, the post-election period is bringing the vulnerability of
women and children into stark focus. The economic going is getting tough in
Zimbabwe and only the tough - read men with above average educational
qualifications, strong business support networks and resources - are still
posting profits.

Nevertheless, even these tough businessmen and women with degrees in
economics and business management are the first to admit that it is a
struggle to remain viable let alone record profits. Pricing goods and
services has become a nightmare - just one miscalculation can render a
business insolvent. So confusing is the situation that some businesspeople
privately admit to resorting to thumb sucking figures and then hoping they
do not go bust.

So spare a thought for the average Zimbabwean woman with primary
education surviving on buying and selling basic goods. The prevailing
economic instability has rendered most of these hardworking women "busy
entrepreneurs" with nothing to show for their efforts. Without up-to-the
minute information on inflation figures and exchange rates, many street
vendors and cross-border traders are lagging behind in their pricing,
resulting in them toiling for nothing.

I woke up to the desperation of informal traders when an aunt who
sells agricultural produce came knocking on my door requesting for "istart"
[the colloquial term for start-up capital]. A month earlier, I had given her
millions of Zimbabwe dollars to capitalise her business, so I could not
understand why I had to do so again.

The penny dropped when she explained that despite having made billions
from the millions I had given her, she learnt she could not afford to travel
to Gokwe with the 100 billion dollars she had made when she got to the bus
terminus and learnt that a single trip would set her off by 200 billion
dollars. Although she had made a huge profit, the amount was not enough for
rent, food and bus fare to travel to Gokwe to buy more produce for resale in
Bulawayo.

Shortly after my aunt's visit, I shed a tear while in a supermarket
queue. In front of me was an elderly woman, "Gogo", as old as my maternal
grandmother. Gogo was struggling to count a multi-coloured wad of Bearer's
Cheques that Zimbabweans are using in place of bank notes. When she
eventually finished counting the money, it came to just over one and half
billion dollars. But it was not enough for the box of matches she needed.
Because of frequent power blackouts, matches are essential for meal
preparation even in towns.

I offered to buy her a carton of 10 boxes. While thanking me for the
gesture, she let slip her dilemma. Gogo had spent weeks walking up and down
her neighbourhood selling scouring powder and vegetables hoping to raise
enough money to feed several orphaned grandchildren under her care. Yet
after all the walking and calling out for customers she could not even
afford to buy a box of matches.

Added to the pricing challenge is the issue of keeping track of new
cheques and their growing number of noughts. The noughts keep on increasing
in batches of three. For the functionally literate traders who have managed
to do business simply from the colour of bank notes, completing a sale is
not easy.

The different denominations of Bearer's cheques have similar colours.
It is easy for example, to mistake a 10,000,000 bill for a 500,000,000
cheque. To be sure, you have to be able to read the value of the cheque.
Then, counting the noughts is another task altogether.

Even for women lucky enough to have partners and relatives working
abroad, making ends meet from the remittances is no longer easy. Prior to
the elections, those with access to foreign currency were able to stay just
a step ahead of inflation. The situation has changed.

Exchange rates on the lucrative parallel market are trailing behind
inflation. As a result, local families need more greenbacks, rands and pulas
to buy food and pay rent and rates. Additionally, black market dealers are
demanding foreign currency for locally produced foodstuffs such as sugar,
mealie-meal, beef and eggs effectively eroding the advantages of holding
foreign currency.

So, for the majority of Zimbabweans, especially women and children,
the ballot box has failed to deliver on their basic expectations of improved
welfare. Zimbabwean parents are hoping the country's leaders will quickly
get down to fixing the economy.

afrol News


---
Zimbabweans battle money shortages as collectors buy hundred billion dollar notes on eBay
International Herald Tribune

The Associated PressPublished: July 23, 2008

HARARE, Zimbabwe: Amid Zimbabwe's mind-boggling hyper inflation, a new 100
billion dollar bank note has more value as a novelty item on eBay than on
the streets of the capital.

The note, launched this week, is worth enough to buy a loaf of bread - if
you can find one on Zimbabwe's depleted store shelves. Meanwhile on eBay,
the bill was on offer for nearly US$80.

Notes in the millions of dollars are useful only as toilet paper and it's
cheaper to light a fire with low denomination bills than with newspaper.

In the political and economic turmoil since disputed March 29 elections,
prices have risen almost daily. Factories and businesses have shut down amid
empty order books and chronic shortages of gasoline, power, water and spare
parts for equipment repairs.

President Robert Mugabe and opposition leader Morgan Tsvangirai signed an
agreement Monday to hold talks about power-sharing to end the crisis and
restore economic stability. But the news failed to move the exchange rate,
since little cash is available.

House prices and lottery prizes are quoted in quadrillions - that's with 15
zeros. Zimbabweans says it's only a matter of time before big ticket items
will be priced in the quintillions, which have 18 zeros.
Official inflation is quoted at 2.2 million percent but independent finance
houses say it's closer to 12.5 million percent.

One major commercial bank said its automated teller machines are not
configured to dispense multi-zero withdrawals and freeze in what it called a
"data overflow error." Software writers are busy writing programs to try to
overcome the problem.

Urgent electronic transfers in trillions also take several days as
electronic accounting systems grapple with transactions in 12 zeros.

Bank transfers command a special rate. A hundred billion dollars is worth
US$5 at the official rate, US$1 at the black market rate - but just 30 U.S.
cents in a transfer because by the time the funds are processed the Zimbabwe
currency can be expected to be worth a lot less.

Shops have dropped six zeros from price tags, adding them again after totals
are tallied at tills.

Zimbabwe has 27 denominations of bills and no coins. Lower value bills - 10
million Zimbabwe dollars - are all but obsolete, even in brick-sized
bundles. Beggars and street urchins rarely bother to pick up such bills
dropped on the street.

But one recent day in Marondera town outside Harare, traffic stopped and
business came to a halt when someone - apparently upset by the dizzying rate
of inflation - started throwing 50-billion-dollar notes from a moving car.
Residents scrambled to collect the money.

The biggest bakery in Harare shut down this month and sent 1,200 workers
home on forced leave because flour stocks recently ran out. For years, the
bakery donated free loaves every week to a home for the handicapped and
charity-run hostels.

One Internet provider has invited customers to pay their fees in gasoline
coupons that hold their value.

A 58-year-old Harare financial director who asked not to be identified said
his monthly salary is paid in local money which converts to US$50 at the
bank rate. When available at his local sports club, a hamburger costs the
equivalent of US$12. He hasn't eaten out in a year.

A cup of coffee at a government-owned five-star hotel was 130 billion
Zimbabwe dollars, or US$5.30 this week. A waitress at the hotel said she
earns 100 billion Zimbabwe dollars, US$4 a month.

A German company stopped shipments of bank note paper to the central bank's
printers this month as the European Union looked to strengthen sanctions.
The release of new money slowed as the central bank said it was looking to
Indonesia and Malaysia to supply the specialized paper.

The daily grind for Zimbabweans to survive in the economic meltdown has won
them a rating as the world's unhappiest people in the World Values Survey of
the Michigan Institute for Social Research.

Zimbabweans were slightly unhappier than Armenians and Moldovans, also
victims poverty and "the legacies of authoritarian rule," the researchers
said.

Dereck Nhamo, who manages a warehouse, says he wants to join the teeming
ranks of unemployed because he can't afford to work any longer.

Nhamo earns less than his bus fare to the warehouse in Harare but adds to
his monthly income by selling firewood collected on weekends in outlying
woodlands.

"It doesn't make sense to go to work any more," Nhamo said.

---
Additions to the sanctions list
From The EU, 22 July

132. Gono, Gideon Governor of the Reserve Bank of Zimbabwe (central bank);
133. Kazembe, Joyce Deputy Chairperson of the Zimbabwe Electoral Commission;
134. Patel, Bharat Acting Attorney General; 135. Chiwenga, Jocelyn
Businesswoman, married to General Chiwenga, Commander of the Defence Forces;
136. Dube, Tshingo Head of Zimbabwe Defence Industries and Zanu PF candidate
in the parliamentary elections; 137. Huni, Munyaradzi Journalist on the
official pro-government newspaper 'The Herald', whipped up the terror
campaign before and during the elections; 138. Kereke, Munyaradzi Chief
Adviser to the Governor of the Reserve Bank of Zimbabwe; 139. Chiremba,
Mirirai Director of Financial Intelligence at the Reserve Bank of Zimbabwe;
140. Zvayi, Caesar Journalist on the official pro-government newspaper 'The
Herald', whipped up the terror campaign before and during the elections;
141. Chingoka, Peter Chairman of Zimbabwe Cricket, publicly supported the
campaign of terror waged before and during the elections;

142. Chimedza, Paul Dr. President of the Zimbabwe branch of the World
Medical Association, has refused assistance to injured members of the MDC
(opposition party); 143. Air Vice-Marshal Karakadzai Harare Metropolitan
Province, directly involved in the terror campaign waged before and during
the elections; 144. Col. C. Sibanda Bulawayo Province, directly involved in
the campaign of terror waged before and during the elections; 145. Brigadier
General Tarumbwa Manicaland and Mutare South, directly involved in the
campaign of terror waged before and during the elections; 146. Col. M
Mzilikazi (MID) Buhera Central, directly involved in the campaign of terror
waged before and during the elections; 147. Col. Mutsvunguma Headlands,
directly involved in the campaign of terror waged before and during the
elections; 148. Brigadier General Shungu Mashonaland Central, directly
involved in the campaign of terror waged before and during the elections;
149. Col. Chipwere Bindura South, directly involved in the campaign of
terror waged before and during the elections; 150. Col. F. Mhonda Rushinga,
directly involved in the campaign of terror waged before and during the
elections;

151. Air Vice-Marshal Muchena Midlands, directly involved in the campaign of
terror waged before and during the elections; 152. Air Vice-Marshal Abu
Basutu Matebeleland South, directly involved in the campaign of terror waged
before and during the elections 153. Brigadier General Khumalo Matebeleland
North, directly involved in the campaign of terror waged before and during
the elections; 154. Major-General E A Rugeje Masvingo Province, directly
involved in the campaign of terror waged before and during the elections;
155. Col G. Mashava Chiredzi Central, directly involved in the campaign of
terror waged before and during the elections; 156. Lt.-Col. Muchono Mwenezi
West, directly involved in the campaign of terror waged before and during
the elections; 157. Lt.-Col. Mpabanga Mwenezi East, directly involved in the
campaign of terror waged before and during the elections; 158. Major R
Kwenda Zaka East, directly involved in the campaign of terror waged before
and during the elections; 159. Brigadier General Sigauke Mash West Province,
directly involved in the campaign of terror waged before and during the
elections; 160. Col. Gwekwerere Chinhoyi, directly involved in the campaign
of terror waged before and during the elections;

161. Col. C T Gurira Mhondoro Mubaira, directly involved in the campaign of
terror waged before and during the elections; 162. Brigadier General D
Nyikayaramba Mashonaland East, directly involved in the campaign of terror
waged before and during the elections; 163. Brigadier General Rungani
Retired Brigadier General, directly involved in the campaign of terror waged
before and during the elections; 164. Chinotimba, Joseph Vice Chairman of
the Zimbabwe National Liberation War Veterans Association, leader of Zanu PF
militia; 165. Moyo, Gilbert 'War veteran' implicated in numerous crimes in
Mashonaland West (Chegutu), leader of Zanu PF militia; 166. Rangwani, Dani
Detective inspector involved in the torture and detention of MDC supporters,
directly involved in the March 2007 violence; 167. Jangara, Thomsen
Assistant Police Commissioner based in Southerton, responsible for Harare
South district, directly involved in the March 2007 violence;

168. Tonderai Matibiri, Innocent Deputy Police Commissioner; nephew or
African 'close cousin' of Mugabe; promoted to a senior position and tipped
to become the next Police Commissioner, directly involved in the March 2007
violence; 169. Zidco Holdings Zanu PF's financial holding company (a.k.a.
Zidco Holdings (PVT) Ltd), PO Box 1275, Harare, Zimbabwe; 170. Jongwe
Printing and Publishing Company (PVT) Ltd. Zanu PF's publishing arm (a.k.a.
Jongwe Printing and Publishing Co., a.k.a. Jongwe Printing and Publishing
Company), 14 Austin Road, Coventry Road, Workington, PO Box 5988, Harare,
Zimbabwe; 171. Cold Comfort Farm Trust Co-operative Owned by Didymus Mutasa,
Grace Mugabe also involved. 7 Cowie Road, Tynwald, Harare, Zimbabwe; 172.
Zimbabwe Defence Industries Wholly owned by the government of Zimbabwe.
Directors include Leo Mugabe and Solomon Mujuru. 10th floor, Trustee House,
55 Samora Machel Avenue, PO Box 6597, Harare, Zimbabwe.

---
SA hopeful of Zim crisis resolution but still wary of Mbeki's role

By Alex Bell
23 July 2008

As negotiations aimed at resolving Zimbabwe's political crisis are set to
get underway in South Africa on Thursday, South Africans remain hopeful that
the crisis in their neighbouring country will soon be resolved, despite
Mbeki's unsuccessful role as mediator.

The country's media hailed Monday's signing of the Memorandum of
Understanding with headlines portraying positive messages of hope and even
praise for President Thabo Mbeki. "Hope in a handshake" read the front-page
headline of the Star on Tuesday, over a picture of Robert Mugabe and Morgan
Tsvangirai together at Monday's signing ceremony in Harare, while Business
Day trumpeted a "New Dawn in Zimbabwe as Mugabe accepts deal."

The agreement was overseen by President Mbeki, who has previously been
widely criticised for his refusal to publicly condemn the 84-year-old
Mugabe. Mbeki also faced calls from Tsvangirai to be axed as the SADC
appointed mediator; a role that has so far yielded no resolution to the
ongoing crisis.

The Times said the signing has "finally bought Mbeki a moment in the sun,"
adding he now "needs our support as he pushes on with these critical talks."
In an editorial it said, "There is for the first time in more than a decade
real hope that Zimbabwe will move forward." The Star agreed that "credit
must go to President Mbeki, who has had to endure scathing criticism over
his quiet-diplomacy approach." However, the same paper said it was too early
to celebrate, citing the tense atmosphere between the political party
leaders at Monday's crucial signing of the MOU.

Micel Schnehage, a journalist for Talk Radio 702 in Johannesburg told
Newsreel on Wednesday that there has been mixed reaction to Mbeki's role in
facilitating the agreement between the Zimbabwean political parties, and
that "some media have been less forgiving of his failure to do more to end
the crisis." She said Mbeki will find it hard "to redeem himself in the face
of his recent failures," and that international pressure will not back off
now that an agreement for talks has been reached.

Schnehage said the South African public meanwhile has generally welcomed the
signing of the MOU because "they are as desperate to see a change in
Zimbabwe as Zimbabweans are." She added that whatever happens in Zimbabwe
"impacts negatively on South Africa and the lives of its citizens." She also
said that many Zimbabweans now living in the country are desperate to return
home and "they cannot wait for things to stabilise."

SW Radio Africa Zimbabwe news

---
Tide of violence subsides in rural areas

By Tichaona Sibanda
23 July 2008

Two days after the warring parties in the country signed the ground breaking
Memorandum of Understanding agreement, the deal has at least temporarily
staunched the tide of violence loosed on the country by Zanu-PF.

The bloody and barbaric violence of the past four months has left 115 MDC
activists dead and 10 000 injured. The daily abductions of influential MDC
activists that had become routine between April and June have stopped,
political assassinations have decreased, and the indiscriminate attacks on
rural folk, who bore the brunt of the violence have subsided.

Children and teenagers now play soccer along what were once some of the most
notoriously dangerous areas in villages, while adults can now venture out at
night without the fear of capture.

A few of the two hundred thousand people who were displaced from their homes
are returning to their dwellings amid reports things were starting to
improve. The MDC Tsvangirai demanded an end to political violence as a
condition for entering talks with Robert Mugabe on a unity government.

MDC MP for Makoni South in Manicaland, Pishai Muchauraya remains cautious
and warns people to remain vigilant despite the relative peace prevailing in
Zimbabwe over the past few days.

'We can never trust Zanu-PF. They've changed their tactics from killing and
beating our supporters to denying them food. Only those with Zanu-PF cards
are being given food but for all we know this is a temporary measure,'
Muchauraya said.

Though Tsvangirai signed the MOU, he still insists that Mugabe should stop
all the repression and political violence, release the 1 500 MDC officials
and supporters in detention, and let humanitarian aid resume. Most of those
injured in the rural areas, notably Gokwe in the Midlands are still being
denied medical care. Although there are reports militia bases are being
dismantled, most of them are still intact and operating.

SW Radio Africa Zimbabwe news

---
History making and historicity of political party MOU's in Zimbabwe
Takura Zhangazha
July 22, 2008
The memorandum of understanding signed by Zanu PF, MDC Tsvangirai and MDC Mutambara in Harare this week has been hailed in some quarters as historic, and its 'historicity' is tellingly in two parts. The first being that it is a reflection of historical traits since our national independence in 1980, where we have witnessed two processes that led to power sharing between belligerent political entities. These two would be the Lancaster House Conference of 1979 in tandem with a Unity government of the first year of independence and the Zanu PF/PF ZAPU Unity Accord of 1987. They were not identical in terms of content, or all of the issues raised, but as indicators of Zimbabwean political culture, they are the forebears of what we witnessed this week on 21 July 2008.
They indicate a general trait in which Zimbabwean political leaders have followed a pattern of undertaking national political missions that have caused tremendous suffering to the people and then either with claims of having shown magnanimity or put a rival in a corner he/she couldn't get out of , call for drawn out inter party negotiations. And in these two initial examples, there has been one common denominator, Robert Mugabe and Zanu PF, who has always, sad to say, emerged with an upper hand after protracted talks.
So the historic nature of the MOU, can at first be understood from the point of view of the fact that it has sort of been 'done' before and in its being done has not yielded results that address the problems of good governance, democracy and a people-centred national economy. It has, in the memories of many Zimbabweans, been about Robert Mugabe and Zanu PF brokering power for their sole benefit at the expense of the re-legitimization of the Zimbabwean State.
The second perspective on the historical nature of the MOU resides in the truth that the MDC Tsvangirai won the March 29 election with a sizeable majority in the local government and Presidential election ballot count, whereas in previous Zimbabwean negotiated settlements, Zanu PF had always been in the lead, especially in a context where an election had been held. This means that, historically, the context of this sort of negotiating between political parties is unique largely through the fact that Zanu PF is on the back foot, and is negotiating from a position of weakness. It has fewer seats in Parliament, and the Presidential election run-off of June 27 has been discredited by influential countries in both the world as well as in Africa. The presence of a SADC mediator has also made this MOU significant from the manner in which other eventually negotiated settlements have come to being. Never in the history of independent Zimbabwe, has the direct involvement of the regional, continental and international community been so apparent, and with full engagement of the United Nations as well as the African Union.
But be that as it may, why then would there be a mixture of both hope and skepticism on the part of Zimbabwean citizens around July 21 2008? The answers reside mainly in the fact that, the MOU, and its declarations of secrecy draw parallels with closeted power sharing agreements that suit more political expediency than democratic change. There is no doubt and perhaps even understandably so that the political leaders that are involved in these negotiations will be feeling a sense of entitlement about this secrecy, as was the case with Constitutional Amendment Number 18. And in addition, they might feel an urge to play out the politics of negotiations in clear and unmitigated pursuit of power for its own sake either to spite one side over the other or leverage themselves for eventual total victory.
In this vein, it is imperative that the political leaders be made conscious of the fact that Zimbabwe is not only in need of their sometimes brilliant political acumen when it comes to political cakes or sharing the spoils of a low scale mainly one sided war. In other words, this is not and cannot be allowed to be another round of talks that are akin to previous ones that merely sought to share power.
These post March 29 2008 election round of talks must be able to identify what exactly have been the problems with the ones that have occurred before and also be able to identify these as threefold.
In the first instance, the July 2008 MOU cannot merely be a prelude to a power sharing agreement fashioned along Kenya because this has been tried before without producing a democratic dispensation. In fact, the products of the Lancaster House Conference and the Unity Accord missed out on the critical point that in both instances, Zimbabwe was a society that had to grapple with a post conflict situation that needed to be addressed at its roots, as opposed to a political party 'sharing of spoils' agreement. And this partially explains why Zanu PF has always resorted to violence as a campaign strategy, even after negotiated agreements, in order to keep itself in power.
A second lesson that can be learnt from the past negotiated settlements is that those that Zanu PF has negotiated with were essentially being cornered into the negotiations in order to either end violence against their supporters or ordinary citizens. In this instance, whilst there has been an unacceptable loss of life, the critical difference is that Zanu PF is on the losing side in terms of the March 29 electoral results. Because of this, the opportunity must not be lost and the people's verdict must be vigilantly defended by all of the parties involved in the negotiations.
A third and final lesson that can be drawn from history and historicity is that in the past the input of civil society was minimal to such processes. In 2008, Zimbabwean civil society is ready and willing to input into these processes with the Zimbabwe People's Charter as its foundation stone. This means, civil society must as of necessity be included in these talks if mistakes of the past are to be avoided, and its input treated with the respect due to an equal stakeholder. If this is done, there will be no doubt that there will be a shift from the narrative of past negotiated settlements, where the apolitical but nationally important and comprehensive people's will was not taken into cognizance. There is now a critical need to ensure that if any negotiations do take place, they must depart from the political culture of the past while at the same time drawing lessons from it. To do this, they must include the seemingly apolitical will and intentions of a people that are living in a society that has seen four national violent conflicts unaccounted for, a national economy that is incapacitated to heal itself, and a political culture that has the nasty tendency of always seeking to repeat history.
 www.kubatana.net
---
A new approach on Africa
Chicago Tribune

  By Abdoulaye Wade
  July 23, 2008

The next U.S. president needs to urgently rethink America's relationship to
Africa. In the past, America has often treated Africa as a backward "Dark
Continent," a place bedeviled with poverty, tribalism, AIDS and
post-colonial conflicts. Africa is and should be a concern for all
Americans-and for the next U.S. president.

To be sure, not all of Africa's post-colonial problems have vanished.
Poverty is still a serious burden, as are AIDS and malaria in many African
nations. But in the U.S., Africa is still often viewed through the lens of
the exceptions: Yes, Darfur is a gruesome tragedy, but the conflict there is
no longer typical of Africa. In much the same manner, Zimbabwe's faulty
election hardly proves that Africa is unprepared for democracy. In fact,
Africa is far more democratic today than ever before.

From Mauritius to Botswana, Ghana to Uganda, African economies are growing
at a rate of 5 to 6 percent a year. The new prosperity and emerging middle
class in African societies are visible in the banking, building, and
automobile sectors as well as in communications, mining, and mobile
telephone penetration.

The three main challenges awaiting the next U.S. president in a new
partnership with Africa are building the global economy, balancing the
planet's energy and environmental needs, and promoting cultural and
religious understanding. But this partnership will not move into the 21st
Century without a sea change in media coverage and political attitudes
toward Africa.

The future of our continent will not be rooted in Western aid packages,
despite the generous and welcome boost in U.S. funding to combat AIDS.
Instead, African nations must also be recognized as creators of wealth, as
entrepreneurial engines.

Investment initiatives should thus be focused on reinforcing and developing
the infrastructure of the continent and bolstering support for the private
sector. China and India have understood the need for this shift.

Yet the U.S. is largely absent from the most dynamic sectors of Africa's
economic boom. The African Growth and Opportunity Act trade agreement has
helped to promote trade between Africa and the U.S., but the agreement is
limited and little used.

Much the same geopolitical co-dependency exists in confronting global energy
challenges. U.S. government studies show that 25 percent of America's oil
supply will come from Africa's Gulf of Guinea by 2015.

Africa's role as a source of oil and minerals makes it all the more
important that U.S. foreign policy help secure African stability. The impact
of Nigeria's volatile Niger Delta on the U.S. stock market is just the most
recent reminder of potential dangers that the U.S. and American
multinationals can no longer afford to ignore.

Africa, in fact, has the potential to lead the world in alternative energy
production-most notably solar, wind, and biomass. American and European
firms are at the forefront of developing alternative energy technologies.
But it is Africa that has the sun, vast swathes of uncultivated arable land
and a huge, rural work force waiting to utilize the new technologies. An
American-African compact on energy could reduce U.S. reliance on oil,
emissions of greenhouse gases, aid rural development in Africa and assist
Africa's adaptation to global warming.

Despite its difficulties, Africa has much to celebrate and can be of great
value to American foreign policy and private sector investors and
entrepreneurs. The next president of the United States should leave the old
Western mind-set about Africa in the dustbins of Hollywood.

Abdoulaye Wade is the president of the Republic of Senegal.

---
Supporting hostile democracy
News24

23/07/2008 08:09  - (SA)

Pitso Tsibolane, News24 User

Much has been said about the joint pledge by Mugabe and Zimbabwe opposition
that took place under the determined eye of President Mbeki. Many have
hailed this as victory for quite diplomacy and a positive step for Zimbabwe.
Some have even called this an indication that Africa can solve its problems.

As an African myself I feel flattered by the thought that Africans (SADC and
AU) have managed to achieve what the international world could never
achieve. Indeed, this is where Africa needs to be, strong and able to lead
itself.

However I am troubled by the sight of Robert Mugabe smiling, signalling that
he has managed to salvage a victory from the jaws of public defeat. I am
disturbed by the fact that losers in a democratic battle have turned into
victors, sharing the spoils of victory that is not rightfully theirs. Why is
it that when grumpy old men of Africa always seem to get a lifeline when
logic and fairness dictate otherwise?

Why is it that dictators always manage to secure a comfortable end after
violating the innocent? Today Kibaki of Kenya sits comfortably in a Kenyan
Government of National Unity, after having stolen an election from Raila
Odinga.

History repeats once again, this time Mugabe looks set to share the
presidency with Morgan Tsvangarai, the real winner of the Zimbabwe election.
Why conduct elections if the results will not mean anything ultimately? If
we cannot guarantee that election results mean something, then why bother
with the process anyway?

Warlords continue to rule

A Government of National Unity is a compromise that has to be agreed by two
parties willingly, not in the way that it has been forced down the throat of
Tsvangarai! I feel sorry for the MDC and the majority of the people of
Zimbabwe, like a defeated customer, they have to live with a "wrong order".

Many have stated that if there was no negotiated settlement then the
situation may have turned more violent at the instigation of Mugabe and his
warlords. We saw it happen in Kenya, many died and only when the warlords
were offered a settlement did the situation normalize. I call this "hostage
democracy", the whole nation held at gun point until they shake hands with a
criminal and accept him as leader.

With all due respect to Kofi Annan and President Mbeki, we have weakened our
determination to instil the values of freedom and democracy in Africa. Our
desperate need to seek peace at the expense of freedom has sent a message to
the rest of would-be dictators that the gun always guarantees victory in
Africa. Refusal to step down and handover power to the masses that
peacefully choose a preferred leader can land one a safe future.

Undermining the will of the people still guarantees a future! We have failed
future generations in this way, we have weakened the foundations of
democracy, and we have further violated and defiled the sanctity of the
ballot! The warlords continue to rule!

---
Honest broker
The Sowetan

23 July 2008
Sowetan says:

So sanity has prevailed and Robert Mugabe has signed an agreement with
Morgan Tsvangirai to discuss "an inclusive government".

Mugabe and his Zanu-PF lost the Zimbabwean elections. But, as in the past,
the brutal dictator and his cronies immediately launched a campaign of
violence to cow the nation into submission.

He claims he won the later run-off election, which no one accepts as free
and fair, and which Tsvangirai didn't even contest because of the brutality
visited on his supporters.

President Thabo Mbeki helped to broker this deal, though for years he has
been aggravating the problem by refusing to condemn Mugabe's growing
bellicosity as his nation increasingly rejected him.

That's water under the bridge and Mbeki might still emerge smelling of roses
if he digs in and plays the honest broker between the loser and the victor
of Zimbabwe's troubled elections.

The ultimate losers have been the people of Zimbabwe, battered by a failed
economy driven into the ground by a wounded tyrant

South Africa will have to pick up the pieces if Zimbabwe descends into civil
war and millions more of its citizens stream across our borders.

So let's finally knuckle down and help Zimbabweans realise the hope they
expressed for a new day in a revitalised democratic land. Aren't those our
values too?

---
Brown cautions on Zimbabwe MOU
Politicsweb

23 July 2008

British Prime Minister's remarks on visit by Raila Odinga July 23 3008

Only six months ago, Kenya stood on the brink of civil war. Kenya's friends
watched with fear as ethnic violence, displacement and insecurity gripped
the country.

But Kenya stepped away from the brink. Partly due to the leadership of
President Kibaki and Prime Minister Odinga. Partly due to the mediation
efforts of Kofi Annan. Partly due to strong international support for
reconciliation. But most of all because the Kenyan people turned their backs
on violence and chose to work together.

I want to say today, as I did six months ago, that Britain will stand by
Kenya as it opens a new chapter in its history. We welcome the government's
commitment to power-sharing. We welcome the strenuous efforts made by all
sides to live up to the expectations of the Kenyan people. And we will
fulfill our promise to help rebuild Kenya. I am therefore pleased to
announce today £2m of new UK support for peacebuilding. And I am delighted
that Britain is today hosting a business roundtable, which will send the
clearest signal that Kenya is once again back in business.

Neither we nor the Kenyan government under-estimate the challenges - further
action against corruption is vital to attract investment and improve
economic growth. But I am even more convinced by my talks today that Kenya's
leaders have the will and determination to take the steps necessary. I
applaud their commitment. Britain will continue to stand by them.

Our partnership is stronger than ever:

  a.. we are working together to counter drugs trafficking and terrorism
  b.. we are both working to ensure the WTO trade ministerial just underway
in Geneva will yield a breakthrough that will bring hope to millions in the
developing world. The coming days will be critical - the time for talk is
over. We must now do this deal.
  c.. we are supporting the creation of an Eastern Africa standby brigade to
promote peace in the region
  d.. and we share a determination to uphold democratic rights in Africa,
starting with Zimbabwe.
The signing of an agreement this week between Zimbabwe's leaders is a
welcome step forward, and I applaud those who worked to deliver it. But it
must be matched by an end to violence against the MDC, and full humanitarian
access for NGO's. Any transitional government must represent the will of the
people, as demonstrated so clearly at the end of march. In the meantime, we
will continue to take action against those responsible for the violence, as
the eu did yesterday in expanding sanctions against the regime.

Prime Minister Odinga recognises more clearly than most both the importance
of democracy's march through Africa, and the dangers should democracy fail.
I am delighted to welcome him to london as part of a new generation of
african leaders who are ready to build hope for Africa's future.

Text of speech by the Prime Minister Gordon Brown issued by British Foreign
& Commonwealth Office, July 22 2008

---