The ZIMBABWE Situation
An extensive and up-to-date website containing news, views and links related to ZIMBABWE - a country in crisis

---
Zimbabwe's equity law is recipe for economic disaster: analysts
Yahoo News

by Fanuel Jongwe Mon Mar 10, 11:03 AM ET

HARARE (AFP) - A new equity law passed by President Robert Mugabe to ensure
the population gets a majority stake in public-owned firms will plunge
Zimbabwe into deeper economic woes, analysts predicted on Monday.

Last week, Mugabe, who is facing elections this month, passed the
indigenisation and economic empowerment act which states that "indigenous
Zimbabweans shall own at least 51 percent of the shares of every public
company and other businesses".

"It will entail the destruction of the economy," Harare-based economist
Godfrey Kanyenze told AFP.

"We should have learnt from the blunders of the land reforms where people
who were not properly equipped rushed to grab farms.

"The result was a disaster in the agricultural sector and we are now
importing maize from the countries where the former farmers have migrated
to."

Eight years ago, the government launched land reforms which saw the state
seize some 4,000 white-owned farms for redistribution to landless blacks,
most of whom lacked the means and skills to farm.

Critics blame the seizures for the drop in agricultural production in the
former regional breadbasket.

"But those in power never seem to learn," Kanyenze said. "They repeat the
same mistakes over and over again, expecting different results. This is
insanity."

Under the new legislation the government will only allow firms to
restructure or merge if indigenous Zimbabweans hold 51 percent of shares.

New investment will not be approved unless a controlling stake is reserved
for locals.

Best Doroh, an economist with Harare-based financial group ZB, said the new
law would discourage investment.

"Those who are already on the ground may have prepared themselves for the
eventual passing of the act, but foreign direct investment will be slower,"
he told AFP.

The Zimbabwe National Chamber of Commerce chief executive officer Cain Mpofu
warned the law was ill-timed.

"The economy is in a tailspin, inflation is the highest in the world and
world perception of property rights in Zimbabwe is at its lowest," Mpofu
said in a paper submitted to parliament during debate on the law.

"The possibility of further capital flight from Zimbabwe is not far-fetched.
The real crisis facing this country is not about indigenisation but about
the crippling shortages facing the people."

Zimbabwe's economy has collapsed since 2000, with inflation officially over
100,000 percent and most people living below the poverty line, while
industries are operating at a fraction of their capacity or have shut down.

Mugabe, who will stand for a sixth term on March 29, says the indigenisation
drive will deliver economic independence to the majority of Zimbabweans who
were discriminated against by colonial laws.

But central bank chief Gideon Gono has already warned the law may be abused
by individuals with government contacts.

"We call upon the government to ensure that the empowerment drive is not
derailed by a few well-connected individuals ... to amass wealth for
themselves in a starkly greedy and irresponsible manner while the majority
remain with nothing as happened in the past with respect to government
empowerment schemes such as the lend reform programme," he said in a
statement in October.

Multinational firms that may be affected include Barclays Bank, Bindura
Nickel Corporation and mining giant Rio Zim.

According to the law, published in the government gazette on Friday, the
minister for indigenisation and empowerment will conduct a rating of every
company to ensure compliance.

The law also provides for the establishment of an economic empowerment board
to give loans to locals intending to acquire shares, start businesses or
expand existing ventures.

Last year, Mugabe warned his government would nationalise firms, accusing
them of pushing prices up to trigger anti-government protests.


---
EU raises concern over Zimbabwe polls
Reuters

Mon 10 Mar 2008, 13:47 GMT

BRUSSELS (Reuters) - The European Union raised concerns on Monday about the
fairness of elections this month in Zimbabwe, noting that European observers
had not been invited to monitor the vote.

"The (EU) Council remains very concerned about the humanitarian, political
and economic situation in Zimbabwe and conditions on the ground," it said in
a statement agreed by foreign ministers at a meeting in Brussels.

"(It) may endanger the holding of free and fair parliamentary and
presidential elections," the statement said, urging veteran President Robert
Mugabe to ensure the elections respect international standards.

The March 29 election presents Mugabe with one of the biggest challenges to
his rule since taking office in 1980.

Millions of Zimbabweans hoping for an end to a decade-long economic crisis
are due to vote in presidential, parliamentary and municipal elections
described by Mugabe and his opponents as a landmark poll in the
post-independence period.

EU relations with Zimbabwe have been tense for years, and have been a thorn
in EU-Africa relations.

The 27-nation bloc slapped visa bans and asset freezes on Mugabe and over a
hundred top officials after a controversial distribution of white-owned
commercial farms to mainly landless blacks and Mugabe's disputed re-election
in 2002.

"We want to see elections that are properly free and fair in Zimbabwe," said
British Foreign Secretary David Miliband. "The voice of the people of
Zimbabwe needs to be heard in free and fair elections."


---
US Concerned Over Conditions For Zimbabwean Poll
nasdaq

HARARE (AFP)--The U.S. expressed fears Monday that conditions were lacking
for fair elections in troubled Zimbabwe later this month, and deplored its
exclusion from a list of invited observer teams.

"The U.S. shares the concerns of many Zimbabweans and international
observers about the pre-election environment," Paul Englestad, spokesman for
the U.S. embassy in Harare, said in a statement.

He cited "reports of inadequate election preparations, evidence of
irregularities associated with registration and inspection of voters' rolls
and concerns that the violence and human rights abuses of the past year will
affect the campaign and election day voting".

Given such concerns, it was vital that the international community field
strong teams of election observers, said Englestad.

"Unbiased observation of the elections is essential to ensuring that the
voice of the Zimbabwean is heard."

Last week, Zimbabwe's Foreign Minister Simbarashe Mumbengegwi announced that
European Union member states and the United States have been excluded from a
list of observers that would be invited to monitor joint parliamentary and
presidential polls set for March 29.

He said only diplomats permanently resident in Zimbabwe would be allowed to
observe the elections.

"We understand that diplomats accredited to Zimbabwe will be accredited as
observers," said Englestad.

"But we strongly regret the government of Zimbabwe's efforts to otherwise
restrict those countries and organizations that would like to send observer
delegations."

Russia was the only European country which had been invited to send
monitors.

The U.S. and E.U. imposed sanctions on Zimbabwe's veteran President Robert
Mugabe and his inner circle after alleging he had rigged his re-election in
2002.

Mugabe, 84, faces challenges from his former finance minister Simba Makoni
and the leader of the main opposition Movement for Democratic Change, Morgan
Tsvangirai.

Tsvangirai, runner-up to Mugabe in 2002, has warned the octogenarian leader
was likely to try and rig the outcome as he seeks a sixth term in office.

  (END) Dow Jones Newswires
  03-10-081255ET
  Copyright (c) 2008 Dow Jones & Company, Inc.

---
Zim slams election smear campaign
Mail and Guardian

Pretoria, South Africa

10 March 2008 05:47

      A "virulent and vicious" smear campaign is being waged against
Zimbabwe over the list of observers invited to witness the country's
elections on March 29, the country's ambassador to South Africa, Simon Moyo,
said on Monday.

      The campaign is being driven by the West and certain sections of
the South African media, he said in a statement.

      "Much of the recent criticism is certainly not out of ignorance
of the facts, but out of sheer malice," Moyo said.

      The country's detractors are "trumpeting British falsehoods"
about the election process.

      "It is therefore disheartening, but not surprising, that certain
sections of the media, unfortunately including the South African
Broadcasting Corporation, have chosen to ignore the facts ... on the ground.

      "We are now [aware] that whatever good and positive happens in
Zimbabwe can never pass as newsworthy as long as such stories do not fit
into the well-known and publicly acknowledged broad agenda of 'regime
change'," Moyo said.

      He said election observers are invited on basis of reciprocity
as well as their objectivity and impartiality.

      "Our list of invitees excludes those countries with preconceived
ideas who believe that the only free and fair election is where the
opposition wins," he said.

      Moyo said that among organisations invited to send observers are
the African Union, the Southern African Development Community and the
Non-Aligned Movement.

      The only country in Europe to be invited is the Russian
Federation.

      All diplomats, including those from the West, accredited to
Zimbabwe on a full-time basis can observe the polls.

      'The voice of the people needs to be heard'
      The European Union raised concerns on Monday about the fairness
of the elections in Zimbabwe, noting that European observers had not been
invited to monitor the vote.

      "The [EU] Council remains very concerned about the humanitarian,
political and economic situation in Zimbabwe and conditions on the ground,"
it said in a statement agreed by foreign ministers at a meeting in Brussels.

      "[It] may endanger the holding of free and fair parliamentary
and presidential elections," the statement said, urging veteran President
Robert Mugabe to ensure the elections respect international standards.

      The March 29 election presents Mugabe with one of the biggest
challenges to his rule since taking office in 1980.

      Millions of Zimbabweans hoping for an end to a decade-long
economic crisis are due to vote in presidential, parliamentary and municipal
elections described by Mugabe and his opponents as a landmark poll in the
post-independence period.

      EU relations with Zimbabwe have been tense for years, and have
been a thorn in EU-Africa relations.

      The 27-nation bloc slapped visa bans and asset freezes on Mugabe
and over a hundred top officials after a controversial distribution of
white-owned commercial farms to mainly landless black Zimbabweans, and
Mugabe's disputed re-election in 2002.

      "We want to see elections that are properly free and fair in
Zimbabwe," said British Foreign Secretary David Miliband. "The voice of the
people of Zimbabwe needs to be heard in free and fair elections."

      'Extremely apprehensive'
       Meanwhile, the JSE in South African is not interested in working
with its Zimbabwean counterpart while Mugabe's "moronic government" is in
power, its chief executive said on Monday.

      While the JSE has courted other African stock exchanges to forge
a closer working relationship, CEO Russell Loubser effectively ruled out any
tie-up with Zimbabwe unless Mugabe's 28-year rule is ended at this month's
elections.

       "The Zimbabwe Stock Exchange would like to work much closer with
us yesterday," Loubser said at a press conference for the announcement of
the JSE's annual results.

      "We are just extremely apprehensive while you've got that type
of government in power because anything is possible ... We are very careful
about doing something there while that type of moronic government is in
place," he added.

      Loubser's comments come after Mugabe last week passed a new law
that will ensure that indigenous Zimbabweans will own at least 51% of
companies operating in the troubled Southern African nation.

      Analysts have warned that the new legislation will scare off
foreign investment in a country that has been in economic meltdown for the
last eight years and has an inflation rate of more than 100 000% -- the
highest in the world.
      -- Sapa, Reuters, AFP


---
The true cost of living in Zimbabwe - no food, no job and no hope
As Mugabe heads into a presidential election, a mother's desperation sums up the reality of 100,000% inflation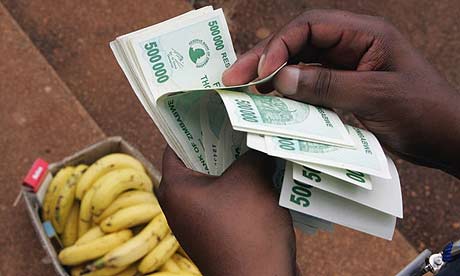 The numbers ceased to mean much to Sarah Chekani about the time inflation in Zimbabwe surged past 50,000% late last year. It has doubled again since then, to the alarm of Robert Mugabe heading into this month's presidential election. But that hardly matters to Chekani and others like her who survive in an orbit touched only fleetingly by cash or the spiralling exchange rate.
Nor do the other numbers that the central bank governor has called "an economic HIV" - half the population living on 50p a day, 80% unemployment and 45% of Zimbabweans malnourished - mean much when what you are worried about is your own young children.
To Chekani, 31, the figures now only represent desperation and death; one death in particular, but also the fear that more might follow.
"I try not to eat too much so there is enough food for my children, but even if I ate nothing there wouldn't be enough," she said. "I didn't think it was possible that people could starve in Zimbabwe or just die because the hospital has nothing. That's what we thought happened in Angola and Mozambique."
Chekani's home in Highfield, a crowded township on the edge of Harare, is bare. There are no chairs, only cloths on the floor. No bed, just a mattress for her and the two remaining children, boys of seven and eight.
She has a gas hob but no oven, and the only decoration is a print of a Jesus Christ - a white man with a golden halo.
It wasn't always this way. Chekani and her husband were relatively poor, but his labours as a casual construction worker and her trading in secondhand clothes filled their three-roomed home with the things that marked rising living standards in Zimbabwe after independence: a radio and then a television, a couch, armchairs, a bed.
Then, five years ago, shortly after the birth of her only daughter, Chekani's husband died. She says she doesn't know why - he just got sicker, and nothing could save him.
By then, his work had dried up as the economy crashed under Mugabe's maladministration, and they were selling off their belongings to those who still had means. The television fetched enough money to feed the family for a month. The bed went for almost nothing. Chekani even sold off most of her plates and cutlery, keeping only what the family needed for a meal.
With the money, she did what large numbers of Zimbabweans are doing to survive: she bought up basic foods, keeping some for her family and making a small profit from the rest.
There is almost nothing left in the house to sell, but Chekani gets by. Her latest acquisition is two litres of cooking oil which she sells at a pavement stall, five tablespoons at a time, in return for a handful of near worthless notes. Other women are selling bars of soap by the slice and flour by the cup.
But cash isn't something you keep for very long with 100,000% inflation and the Zimbabwe dollar diving from 15m to the pound a month ago to about 50m today as the government furiously prints money to fund pay rises for the army and civil servants in advance of the March 29 general election.
Dealing with cash is like a torrid game of pass the parcel. Everyone wants it but then unloads it as quickly as possible in exchange for something worth having. Chekani gets rid of the money from selling her oil by buying two eggs. Sometimes the police and soldiers take the street hawkers' wares, claiming it is illegal to sell on the pavement. The women say it is another form of state looting.
Chekani's trading kept her children alive until last November. Then her five-year-old daughter fell sick with diarrhoea and fever. Chekani hesitated to take her to Highfield's government clinic because charges have risen several times over, but as the child's condition worsened she carried her there.
The nurse said there was nothing she could do. There were no antibiotics to treat the child's condition. All she could offer was a spoonful of syrup to help bring her temperature down.
"The nurse said she was sure she would be fine. She said lots of children were coming in with diarrhoea because of the sewers," said Chekani.
Burst sewer lines are increasingly common in Highfield and other Harare townships as the infrastructure collapses from lack of maintenance. On occasion, groups of women with babies strapped to their backs have marched to Highfield clinic to demand treatment for their children, sick from the filthy water.
The situation is not helped by months without clean water in the taps in most of Harare. Even residents of wealthy suburbs are collecting water in buckets and jerry cans from borehole stand pipes. Swimming pools are now mostly used for water to flush toilets.
Chekani's child did not get better. "I took her back to the clinic three times," she said, "but every time they said that she would get better soon if I give her food and lots of water - that it was just the fever and there was nothing they could do because they had no drugs.
"I thought about taking her to the Harare central hospital, but it costs so much money and people said things are no better there. I just hoped."
A week later the child was dead.
The death rate for children under five in Zimbabwe has almost doubled over the past decade. So has the number of women dying in childbirth because, doctors say, so many more are giving birth at home because they can no longer afford hospital charges.
There is a desperate shortage of vaccines to protect children from measles and other diseases. Thanks to foreign donations, some of those with HIV get antiretroviral drugs to keep full-blown Aids at bay, but most who need them do not, and the supply is often irregular, which undermines their effectiveness.
The biggest government hospital in Harare, the Parirenyatwa, has ceased operations because of the shortages. The two hospitals share a single radiologist because so many medical staff have decamped to South Africa or Europe to find work that can feed their families.
That is not an option for Chekani.
"I don't know what to do if my other children get sick. Where can we go? The hospital tells you to buy the drugs yourself, but where do I get the money?" she said. "Some people say this election will change things. I don't know. I don't have hope. It will not bring back the dead."
---
President Robert Mugabe accused of taking company cash to buy votes
The Times
March 10, 2008

Jan Raath in Harare
President Mugabe has shored up his election campaign with a handover of
millions of pounds of imported vehicles, machinery and cattle paid for with
money seized from private companies and local and international aid
agencies, business sources say.

On Saturday Mr Mugabe, 84, presided over the distribution of 500 tractors,
20 combine harvesters and an array of modern farm equipment as well as
50,000 ox-drawn ploughs, 60,000 ox carts, tools, cattle, buses, motorcycles,
generators and diesel.

The goods were to be distributed around the farming districts, he said,
under the agricultural mechanisation programme, which would produce "the
sound of machinery tilling the land in places far and wide and announcing
with an irreversible finality that our land has returned to us".

In two similar handouts last year -- of £12.5 million of equipment -- the
main recipients of the modern machinery were members of the ruling elite in
Zimbabwe. Human rights organisations said that peasant farmers were forced
to chant party slogans to qualify for the manual implements.

No indication was given of the value of the handout on Saturday. John
Robertson, an economist, said: "They must have paid cash [in hard currency]
because no one anywhere will give the Government credit. It's a desperate
attempt at vote buying."
Mr Mugabe, after 28 years in power, is standing for another term in
elections on March 29. He is challenged by Simba Makoni, his former finance
minister and Morgan Tsvangirai, the pro-democracy leader. Mr Makoni hopes to
capitalise on the despair within the ruling Zanu (PF) party.

With the agricultural and mining industries in ruins, the coffers drained by
excess and its international credit ratings exhausted, there is one source
of finance left -- the foreign currency bank accounts of private companies.

The money is routed into commercial banks via the central bank, which is
under the control of Mr Mugabe.

"Every company that has tried in the last two months to draw on its export
earnings has been told by their bank that the Reserve Bank of Zimbabwe [the
central bank] says it can't be done at the moment because they don't have
the money," Mr Robertson said.

Bankers said that central bank agents have been buying foreign currency from
black market dealers in the past month to pay for the re-election costs of
Mr Mugabe.

At the time of the latest acquisition the Government has been struggling to
pay for imports of grain and electricity and to supply drugs for hospitals.

A Cabinet minister complained last month that the equipment handed out last
year was being used as transport and parked outside beer halls "instead of
tilling the land".

---
Jail for defacer of Mugabe poster
BBC
Monday, 10 March 2008

A man has been jailed for a month for destroying an election poster of
President Robert Mugabe, Zimbabwe's Herald newspaper reports.
The report says Tichaona Sande tore up a poster of President Mugabe and
threw the pieces on the floor after an argument at a Harare shop.

He was arrested after witnesses reported him to the police.

The magistrate said his behaviour could have provoked violence and jailed
him until after the 29 March election.

Mr Sande was found guilty of breaching a section of the electoral law which
prohibits destroying or defacing campaign materials.

The forthcoming elections see Mr Mugabe pitted against former Finance
Minister Simba Makoni and long-term opposition leader Morgan Tsvangirai.


---
Zimbabwe inflation seen hitting 150 000 percent
Zim Online

by Thenjiwe Mabhena Tuesday 11 March 2008

HARARE - Zimbabwe's out of control inflation could hit a new record 150 000
percent, one of the country's biggest industrial conglomerates has said.

The Zimbabwe Stock Exchange (ZSE)-listed Radar Holdings said in a commentary
to its financial released at the weekend that inflation - which President
Robert Mugabe has labeled the country's enemy number one - had continued
surging in the month of February.

"The monthly inflation rate from December 2007 to January 2008 was 120
percent. The forecast annualised inflation rate for February 2008 is 150 000
percent," said the diversified corporation with massive interests in
forestry, building supplies and brick making.

Inflation was officially pegged at 100 580.2 percent in January. The
government's Central Statistical Office has not yet released figures for
February. CSO acting director Moffat Nyoni was not immediately available for
comment on the Radar estimates.

Inflation, which is the highest in the world, is the most visible sign of
Zimbabwe's deep recession that has left more than 80 percent of the labour
force without jobs and shortages of food, fuel and foreign currency.

The government, in a desperate attempt to halt inflation, last June ordered
businesses to halve prices of all commodities but the controversial measure
terribly backfired as shop shelves were emptied of basic goods as consumers
took advantage of lower prices to stockpile while manufacturers scaled down
production to minimise losses.

Echoing the views of many of Zimbabwe's embattled industries, Radar said the
controversial price freeze coupled with current failures in the banking
system, fuel and electricity shortages makes it difficult to forecast the
future.

Analysts say the continued weakening of the local dollar and surging
inflation would ignite protests anywhere else in the world and would have
meant certain defeat for Mugabe's government in local government,
parliamentary and presidential elections on March 29.

However, they say Mugabe looks set to win another five-year term in office
to take his time at the helm to more than three decades, thanks to an
opposition torn apart by divisions over strategy and leadership wrangles,
which undermines its ability to exploit Zimbabwe's economic crisis. -
ZimOnline


---
MDC says Mugabe using food to buy votes
Zim Online

by Nqobizitha Khumalo  Tuesday 11 March 2008

BULAWAYO - Zimbabwe's opposition on Monday accused the government of using
scarce food to buy votes, barely 48 hours after President Robert Mugabe
distributed millions of dollars worth of farm equipment in what critics said
was an attempt to placate a disgruntled electorate.

Both factions of the divided main opposition Movement for Democratic Change
(MDC) party said politicization of food had become rampant in rural areas
where in some cases entire communities rely on grain from the state-run
Grain Marketing Board (GMB).

Some villagers who spoke to ZimOnline said the GMB - the only firm permitted
to trade in maize and wheat - had since campaigning for the March 29
elections started in earnest about three weeks ago distributed food through
traditional leaders known for supporting Mugabe and his ruling ZANU PF
party.

"We have received reports from Manicaland province and in most rural areas
that ZANU PF is using grain from the GMB as a campaign tool," said Nelson
Chamisa, spokesman of the main grouping of the MDC led by Morgan Tsvangirai.

"ZANU PF should not use food to punish those who are seen to be in
opposition and rewarding those sympathetic to the ruling party. We say this
is wrong," he added.

ZANU PF spokesman Nathan Shamuyarira was not immediately available for
comment on the matter. The ruling party has in the past denied using food to
punish opposition supporters, insisting food is distributed to all hungry
people regardless of political affiliation.

Gabriel Chaibva, spokesman of the Arthur Mutambara-led MDC faction,
described politicisation of food as an old habit that ZANU PF finds hard to
drop.

"Year after year and election after election, ZANU PF abuses food to punish
its opponents and we are saying there is a need to develop counter
strategies to deal with that," he said.

Zimbabwe, also in the grip of its worst ever economic crisis, has battled
severe food shortages for the past eight years after Mugabe's controversial
land reforms displaced established white commercial farmers and replaced
them with either incompetent or inadequately funded black peasant farmers.

International relief agencies say up to four million Zimbabweans or a
quarter of the country's 12 million people require food aid between now and
the next harvest in about a month's time.

Villagers in the southern Lupane rural district, one of the worst hit by
hunger, said the GMB was selling cheaper-priced maize through traditional
chiefs and village headmen who sold it to ZANU PF supporters.

"The food is delivered almost daily but is sold by headmen and chiefs who
give it to ZANU PF supporters and we are never given a chance to buy as they
always have a list of known ZANU PF supporters," said one villager who
preferred not to be named.

The villager said the ZANU PF supporters re-sell maize at inflated prices.
Other villagers said they had slept outside GMB offices in Lupane for days
hoping to get maize but to no avail.

Zimbabweans vote for a new president, parliament and local councils at the
month-end.

Mugabe, in power since Zimbabwe's 1980 independence from Britain, at the
weekend handed out tractors, motor cycles, combine harvesters, generators,
small farm implements and cows to beneficiaries of his land reform
programme.

The ageing Mugabe - still adored by some on the African continent but
equally loathed by many over rights abuse charges - has in past weeks raised
allowances and salaries for traditional leaders and soldiers, who have
backed his government.

He has also promised to hike salaries for striking teachers, in what critics
have described as a massive vote-buying exercise ahead of a tricky election
in which he faces former ally Simba Makoni and old foe, Tsvangirai. -
ZimOnline


---
SADC chief expected in Zim for polls
Zim Online

by Patricia Mpofu & Prince Nyathi Tuesday 11 March 2008

HARARE - Southern African Development Community (SADC) executive
secretary Tomaz Salomao is expected in Harare today to launch the regional
bloc's observer mission to Zimbabwe's month end elections.

The head of SADC election observer mission from Angola, which chairs
the regional Organ on Politics, Defence and Security (OPDS), is also
expected in Harare. But the SADC Parliamentary Forum excluded from observing
Zimbabwe general elections three years ago said it was yet to be invited.

"We are here at the invitation of Zimbabwe but we will make our
presence official during the launch to be held at 1600 hours at Rainbow
Towers (a Harare hotel)," OPDS director Tanki Mothae who is already in the
country facilitating accreditation of observers.

Zimbabwe - which in 2002 expelled the leader of an European Union
election observer team forcing the bloc to withdraw the entire mission and
impose sanctions against President Robert Mugabe and his top officials - has
invited what it says are friendly African and Asian governments to observe
the polls.

Such friendly observer missions have in the past declared Zimbabwe
elections free and fair despite politically motivated violence and gross
human rights abuses in the run-up to polls.

The SADC Parliamentary Forum, which was excluded from observing the
2005 general elections after criticizing Harare's conduct of elections, said
it was yet to receive an invitation from the Zimbabwean authorities.

"Regarding your question whether the SADC Parliamentary Forum has been
invited to observe the harmonised elections in Zimbabwe, please be advised
that we have not yet received an invitation," said Forum secretary general
Kasuka Mutukwa.

Mutukwa said the Forum only sends observer missions on invitation,
adding it was ready to dispatch a delegation to Zimbabwe when and if they
are invited to do so.

Zimbabwe, which is grappling with its worst ever economic crisis,
holds local government, parliamentary and presidential elections on March
29.

Analysts say an unfair playing field coupled with political violence
and intimidation of opponents guarantees Mugabe's government victory at the
polls despite clear evidence it has failed to break a vicious inflation
cycle that has left consumers impoverished and the economy in deep crisis. -
ZimOnline


---
Chief faces boot for not backing Mugabe
Zim Online

by Prince Nyathi Tuesday 11 March 2008

CHIPINGE - A Zimbabwe traditional leader in Chipinge district could be
stripped of his post for standing in month-end elections on an opposition
Movement for Democratic Change (MDC) party ticket, ZimOnline has learnt.

Mukayi Joseph Rimbi, a sub-chief under Chief Musikavanhu, stunned the ruling
ZANU PF party in Manicaland province when he filed his nomination papers to
represent the Morgan Tsvangirai-led MDC in elections on 29 March.

Sources within ZANU PF told ZimOnline that the party leadership in the
province was so incensed with Rimbi's decision to stand in the polls and had
sounded out President Robert Mugabe on the decision to strip him of his
post.

The sources said Manicaland governor, Tinaye Chigudu, told Mugabe at an
election campaign rally at Checheche rural business centre last Tuesday that
they could not just fold their hands and watch as a traditional leader
"joined the enemy."

"Chigudu told the President (Mugabe) that sub-chief Rimbi was contesting the
elections under an opposition ticket and that they were planning to find a
way of stripping him of his post," said the source.

The sources said Mugabe had given the green light to the ZANU PF provincial
leadership to take whatever action they deemed fit "to preserve the
integrity of chiefs and the government."

Speaking to ZimOnline yesterday, Chigudu confirmed that he had discussed
Rimbi's candidature with Mugabe adding that as a traditional leader, he
should stay away from national politics.

"I had to brief the President because I don't want to be accused of
negligence," said Chigudu.

The Manicaland governor said Rimbi should have first relinquished his post
as sub-chief before filing his papers to stand for the MDC.

Zimbabweans go to the polls on 29 March to elect a new president,
parliamentarians and local government representatives.

Zimbabwe's elections come amid serious concerns from human rights groups and
the opposition that the electoral playing field was still heavily tilted in
Mugabe's favour.

Although traditional leaders have largely ceremonial powers, they still
wield immense influence over their subjects in rural areas that remain the
bedrock of Mugabe's support.

The MDC and pro-democracy groups have in the past blamed chiefs and headmen
of intimidating their subjects to back Mugabe and ZANU PF during election
times. - ZimOnline


---
Opposition wants SA firms protected
Zim Online

by Own Correspondent Tuesday 11 March 2008

JOHANNESBURG - South Africa's Democratic Alliance (DA) spokesman on foreign
affairs, Tony Leon, says Pretoria should explain what it is doing to protect
South African-owned firms from being expropriated in Zimbabwe.

Media reports at the weekend said President Robert Mugabe had assented to a
controversial Bill that would grant indigenous Zimbabweans the right to
seize controlling stake in all foreign-owned companies.

Analysts say the Indigenisation and Economic Empowerment Bill could frighten
away foreign investors and deliver a sucker punch to Zimbabwe's struggling
economy.

Speaking to the media yesterday, Leon said foreign affairs minister
Nkosazana Dlamini-Zuma should be summoned to parliament to explain what the
government was doing to protect South African businesses in Zimbabwe.

He said Dlamini-Zuma should also explain why President Thabo Mbeki's
government had failed to conclude the Bilateral Investment Promotion and
Protection (BIPA) agreement with Zimbabwe.

"The nationalisation of foreign-owned businesses in Zimbabwe will not only
have a negative impact on investment in the ailing Zimbabwean economy, it
will also have especially negative consequences for South African companies
with substantial mining interests in Zimbabwe, such as Impala Platinum
Holdings and Anglo American," Leon said.

Zimbabwe is in the grip of a severe economic crisis that has manifested
itself in the world's highest inflation rate of over 100 000 percent,
massive unemployment and poverty.

Mugabe, who is seeking a new five-year term in elections at the end of the
month that could take his rule to 33 years, denies responsibility for the
country's economic collapse.

Meanwhile, Johannesburg Stock Exchange (JSE) chief executive has described
Mugabe's government as "moronic" and said the South African bourse would not
seek closer ties with its Zimbabwean counterpart for as long as the veteran
leader was in charge.

JSE boss Russell Loubser said the Zimbabwe Stock Exchange had pursued closer
ties with its South African counterpart but said this could not be possible
unless Mugabe's 28-year rule is ended at elections this month.

"The Zimbabwe stock exchange would like to work much closer with us,"
Loubser said at a press conference for the announcement of the JSE's annual
results.

"We are just extremely apprehensive while you've got that type of government
in power because anything is possible . . . We are very careful about doing
something there while that type of moronic government is in place," he
added. - ZimOnline

---
Zimbabwe Opposition Reports More Than 100 Politically Inspired Arrests
VOA

By Patience Rusere
Washington
10 March 2008

More than 100 members of Zimbabwe's opposition Movement for Democratic
Change were arrested or beaten up around the country this weekend in
politically motivated incidents, MDC sources said Monday.

In the province of Mashonaland Central alone, sources in the MDC grouping
headed by Morgan Tsvangirai said some 100 activists including the
formation's candidate for Bindura North, Peter Mabika, were arrested on
their way to a rally.

All were released except 13 who were expected to be arraigned soon.

In Matabeleland South Province, suspected Central Intelligence Organization
agents and youth militia of the ruling ZANU-PF party smashed the automobile
of Insiza South parliamentary candidate Siyabonga Ncube late last week, MDC
sources said.

In Bulawayo, ZANU-PF supporters made a "citizens arrest" of MDC activist
Duduzile Sibanda, saying she had defaced a poster of President Mugabe,
seeking another term in the March 29 elections. She was released Monday
after a weekend in jail.

In a similar incident, the state-controlled Herald newspaper said Tichaona
Sande of Epworth, a Harare high-density suburb, had been sentenced to a
month in jail for tearing down a poster of President Mugabe.

In a more disturbing case of suspected political foul play, a candidate for
the local council for Rushinga, Mashonaland Central, Edson Muwengwa, has
been missing since mid-February after receiving death threats from local
ZANU-PF members.

Deputy Organizing Secretary Morgan Komichi of the Tsvangirai MDC formation
said there has been no serious investigation by police into Muwengwa's
disappearance.

---
Zimbabwe Junior Hospital Residents Strike Again, Seek Transport Deal
VOA

By Carole Gombakomba
Washington
10 March 2008

Junior doctors in Zimbabwean state hospitals in Harare and Bulawayo have
gone on strike again demanding higher allowances for cars and public
transport.

Medical sources said nurses at the four main state hospitals in the two
cities are also showing up for work irregularly due to the soaring cost of
transport.

Hospital Doctors Association President Amon Siveregi told reporter Carole
Gombakomba of VOA's Studio 7 for Zimbabwe that the doctors are dissatisfied
over a disproportionate allocation of car allowances to senior consulting
physicians.

Junior doctors meanwhile must travel to work using expensive public
transport.

Siveregi declined to state what junior doctors earn, but sources told VOA
they make Z$700 million (US$20) to Z$900 million (Z$25) a month.

---
Zimbabwe Cabinet Agrees Pay Increase For Restive Civil Servants
VOA

By Jonga Kandemiiri
Washington
10 March 2008

A pay increase is in the works for Zimbabwean civil servants, the state-run
Bulawayo Chronicle newspaper reported on the weekend.

Education Minister Aenias Chigwedere told the Chronicle that the government
has approved salary increases following a meeting last week of an
inter-ministerial task force. He said the panel made recommendations on how
to prevent strikes and staunch brain drain of key professionals from the
country.

In a related development, the Zimbabwe Teachers Association, whose members
went out on strike recently, was set to meet with the Public Service
Commission

But sources said the government has excluded the Progressive Teachers Union
of Zimbabwe from the talks. The PTUZ was the first teachers union to call a
strike.

Progressive Teachers Union General Secretary Raymond Majongwe told reporter
Jonga Kandemiiri of VOA's Studio 7 for Zimbabwe that the government is not
helping matters by talking only to the Zimbabwe Teachers Association.

---
Commonwealth chief says Zimbabwe wanted isolation
Reuters

Mon 10 Mar 2008, 15:35 GMT

By Adrian Croft

LONDON (Reuters) - Commonwealth Secretary-General Don McKinnon likened
Zimbabwe on Monday to North Korea or Myanmar, saying the southern African
country wanted to be isolated.

McKinnon, who steps down next month after eight years at the helm of the
53-nation group of mostly ex-British colonies, said the Commonwealth had
done all it could over Zimbabwe.

Zimbabwe's President Robert Mugabe left the Commonwealth in 2003 and calls
the organisation a stooge of British neo-imperialism. He is standing for
re-election on March 29, accused by rivals of wrecking Zimbabwe's economy.

The United Nations, the World Bank, Britain and the United States had also
done all they could over Zimbabwe, McKinnon said. "Everyone was limited by
what Zimbabwe did or did not want to do," he told reporters at an event
marking Commonwealth Day.

"Regretfully, Zimbabwe, for many countries, has pushed themselves into this
situation not dissimilar to Myanmar or North Korea where they just want to
be isolated," he said.

North Korea agreed last year to dismantle its nuclear programme in exchange
for aid and steps to end its isolation. Myanmar's military rulers remain cut
off from the West.

New Zealander McKinnon, who hands over on April 1 to Indian diplomat
Kamalesh Sharma, said he believed significant change in Zimbabwe could only
come from within. He did not know when it would happen.

"The world could not change North Korea until recently, the world has not
been able to change Myanmar. Sometimes a sovereign state can just stand out
against this sort of thing for a long, long time and that is very
unfortunate," he said.

McKinnon said the Southern African Development Community was probably the
most influential group that could achieve change in Zimbabwe.

But he said South African President Thabo Mbeki, who mediated between
Mugabe's government and the opposition at the urging of SADC countries, "has
put his reputation on the line, seven, eight, 10 times since 2000 and
regretfully has to admit that nothing has actually changed."


---
S Africa Stock Market Chief Says Zimbabwe Government Is "Moronic"
nasdaq

JOHANNESBURG (AFP)--The Johannesburg Stock Exchange isn't interested in
working with its Zimbabwean counterpart while President Robert Mugabe's
"moronic government" is in power, its chief executive said on Monday.

While the JSE has courted other African stock exchanges to forge a closer
working relationship, CEO Russell Loubser effectively ruled out any tie-up
with Zimbabwe unless Mugabe's 28-year rule is ended at elections this month.

"The Zimbabwe stock exchange would like to work much closer with us
yesterday, " Loubser said at a press conference for the announcement of the
JSE's annual results.

"We are just extremely apprehensive while you've got that type of government
in power because anything is possible ... We are very careful about doing
something there while that type of moronic government is in place."

Loubser's comments come after Mugabe last week passed a new law that will
ensure that indigenous Zimbabweans will own at least 51% of companies
operating in the troubled southern African nation.

Analysts have warned that the new legislation will scare off foreign
investment in a country that has been in economic meltdown for the last
eight years and has an inflation rate of more than 100,000% - the highest in
the world.

Loubser said the JSE, the largest stock exchange on the African continent,
which has itself been listed since June 2006, had enjoyed an increase in
revenue of close to 40% despite what he called a "volatile" year.

  (END) Dow Jones Newswires
  03-10-081209ET
  Copyright (c) 2008 Dow Jones & Company, Inc.

---
Ousted Bishop Kunonga Urges Vote for Mugabe


SW Radio Africa (London)

10 March 2008
Posted to the web 10 March 2008

Lance Guma

The ousted Anglican Bishop of Harare Nolbert Kunonga has urged Zimbabweans
to vote for Robert Mugabe in the March 29 election. Kunonga who continues to
defy his dismissal from the Anglican Church and is blocking worshippers from
the cathedral in Harare, claimed Mugabe was Zimbabwe's anointed leader. The
remarks came as no surprise, given the former bishop has relied on state
security for protection and continues to receive immunity from arrest
despite violating three court orders governing the use of the cathedral. He
has on several occasions assaulted parishioners trying to access the
cathedral for Sunday services.

Kunonga justified his support for Mugabe by saying; 'As the church we see
the President with different eyes. To us he is a prophet of God who was sent
to deliver the people of Zimbabwe from bondage.' The former bishop, who
received a farm from Mugabe's regime, wasted no time in talking about the
controversial land reform programme. Referring to Mugabe Kunonga said, 'God
raised him to acquire our land and distribute it to Zimbabweans; we call it
democracy of the stomach. There is no Government without soil. As the church
we are totally against sanctions for they are destroying our country."

Bishop Sebastian Bakare, who replaced Kunonga, told Newsreel they were not
surprised by his comments. He says the church has always suspected Kunonga
was more interested in politics than the church. Bakare said the church was
home to people from different political parties and it was not proper for
its leaders to urge support for a particular candidate in the election.
Meanwhile Bakare says he has advised his parishioners not to use the
cathedral because Kunonga 'defiled it' by sleeping, cooking and eating
inside. 'We will need a ceremony to cleanse the cathedral before we can use
it,' Bakare said.

---
Three Woza Members Detained And 50 Injured By Riot Police


SW Radio Africa (London)

10 March 2008
Posted to the web 10 March 2008

Tererai Karimakwenda

Women Of Zimbabwe Arise report that 3 members were briefly detained and 50
had to receive medical attention after they were brutally assaulted by riot
police during a march to commemorate International Women's Day on Saturday.
They say about 1,000 members, including MOZA, took part in the event on the
streets of Bulawayo.

WOZA coordinator Jenni Williams said the march was peacefully in progress
when a police officer approached them as they arrived near the offices of
the Chronicle newspaper, where they intended to disperse. As they attempted
to do so, riot police appeared from behind the march and a signal was given
for them to beat the protestors. Williams said they heard what sounded like
a gunshot but none of their members had bullet wounds.

Eva Tanyanyiwa from Pumula, was beaten to the ground by two police officers.
They dragged and pulled her towards a police vehicle where she fainted.
Williams went to assist her, pleading with the police to release her since
she was seriously injured. This led to her arrest. Coordinator Magodonga
Mahlangu joined them in solidarity and was detained as well. The 3 were
taken to Bulawayo Central Police Station where their details were recorded.

Williams said the remaining members regrouped and began marching towards the
police station to support those who were detained. But before they reached
the station riot police caught up with them and continued the assaults.
Those in detention were released with no charges after about 30 minutes.

Their release after such a brief period contradicts information that WOZA
say they received from reliable sources. On Friday Williams said WOZA had
found out that all uniformed police departments had been briefed on WOZA
activities and instructed to detain the leaders until after the elections.
The Saturday demonstration presented the police with that opportunity as
both WOZA coordinators were in police custody.

A statement from WOZA said: "Eva has serious bruising on her upper arm and
lower body. Another woman got stitches to her neck after she was pushed by a
police officer into a stationery vehicle. Another was pushed into a pole by
a police officer, receiving a deep cut across her forehead. Other injuries
included a woman who developed a haematoma just above her kidneys as a
result of being beaten and many others with deep tissue bruising from being
beaten with baton sticks."

The demonstrators held placards and balloons with the message "Stand up for
your Child" which is the WOZA theme this year. They also distributed flyers
urging people to make sure they are informed about the candidates running in
the elections this month, so they can choose leaders capable of delivering a
socially just future.

Despite continued beatings and arrests, these defiant WOZA activists say
they will keep bringing their message demanding social justice and peace to
the streets.

---
Tsvangirai 'Roadshow Rumbles On'


SW Radio Africa (London)

10 March 2008
Posted to the web 10 March 2008

Tichaona Sibanda

MDC President Morgan Tsvangirai has urged Zimbabweans to vote his party into
power in the forthcoming elections because 'it has the best policies that
will resolve the country's crisis.'

Addressing a record-breaking crowd at the White city stadium in Bulawayo at
the weekend, the MDC leader outlined the five key issues his party regards
as fundamental after the crucial elections.

Our correspondent Lionel Saungweme said Tsvangirai, whose speech was
delivered passionately, said an MDC government will prioritise issues of
governance and a new, people-driven constitution. Next would be a working
economy, a people-centred land and agrarian reform agenda, social services
and national integration and reconciliation.

On the upcoming elections Tsvangirai said; 'It's not the personality that
you are choosing, you are choosing the best policies that will resolve the
crisis in Zimbabwe. As we go to the 29th March election, it is very simple.
Do you choose a man who has promised you independence, but given you no
freedom? Do you choose a man whose time has expired? Do you choose a man who
has isolated Zimbabwe from the rest of the world?

A statement from the MDC press unit said 40,000 attended the rally.

'The carnival atmosphere was punctuated by song and dance. The people
arrived from all corners of Bulawayo; from Pumula, Makokoba and Magwegwe.
They came to make a bold statement against the Zanu PF dictatorship. They
came to make an unequivocal support for President Tsvangirai,' the statement
added.

The MDC leader vowed that never again in a new Zimbabwe would a government
unleash the military against a defenceless people. He also said his party
would set up a Gukurahundi fund.

'We must never tolerate a government that regards one tribe as inferior to
others. We must have a situation where everyone, irrespective of their
tribe, aspires to hold any office in the country of their birth,' the MDC
leader said to a tumultuous applause from the crowd.

On Tuesday Tsvangirai will launch the MDC's policy document at a breakfast
meeting at Northside Community Church in Borrowdale. Senior party officials,
diplomats and journalists will attend the launch.

---
Chiwenga Threatens Coup If Mugabe Loses Election


SW Radio Africa (London)

10 March 2008
Posted to the web 10 March 2008

Lance Guma

Army commander General Constantine Chiwenga has said the army will not
support an opposition led government, in the event of Robert Mugabe losing
the March 29 election. Speaking to the Zimbabwe Standard newspaper Chiwenga
said, 'elections are coming and the army will not support or salute
sell-outs and agents of the West before, during and after the presidential
elections.' The General argued that Mugabe had sacrificed a lot for the
country and deserved support. When questioned about the role of the army in
protecting a democracy Chiwenga burst out, 'Are you mad? What is wrong with
the army supporting the President against the election of sell-outs?'

Not to be outdone, a woman thought to be Chiwenga's wife Jocelyn took the
phone and snapped, 'we can come and take you, and deal with you.' Only last
year Jocelyn sought to confront MDC leader Morgan Tsvangirai during his tour
of empty supermarkets and shops in Harare. The incident at Makro Supermarket
ended in her assaulting photographer Tsvangirai Mukwazhi who was part of the
press corps accompanying Tsvangirai. Meanwhile General Chiwenga's outburst
seems to betray the level of anxiety within the ruling Zanu PF party over
their chances of winning the election. A fledgling rebellion led by former
finance minister Simba Makoni has perhaps put the party into panic mode.

Last week Zimbabwe Prisons Service chief, retired major Paradzai Zimondi
vowed he would resign and, 'go back to defend my piece of land,' if Mugabe
lost the election. In 2002 all the service chiefs, including retired army
general Vitalis Zvinavashe, came together at a press conference where they
vowed they would not salute Tsvangirai if the MDC leader was elected
president. This time around no such unity exists and the service chiefs are
speaking out individually, as if being pushed into doing so. Zvinavashe has
openly told journalists that Mugabe is now a liability for the party and has
to step down. Retired General Solomon Mujuru has refused to be publicly
drawn into the power struggles, but those close to him say he is behind the
Makoni rebellion.

---
Mining firms won't budge
News24

10/03/2008 21:09  - (SA)

Harare - Two heavyweight foreign mining companies said on Monday they would
press ahead with operations in Zimbabwe despite a nationalisation law that
analysts warned could deepen an economic crisis ravaging the country.

The world's largest platinum miner, Anglo Platinum and Rio Tinto have said
they will continue mining after President Robert Mugabe signed into law on
Sunday a bill giving locals the right to take majority control of foreign
companies, including mines and banks.

"We will continue to engage Zimbabwe's government," Trevor Raymond,
Angloplat's head of investor relations told Reuters.

Nationalisation has not discourged Rio Tinto, which has diamond interests in
Zimbabwe.

"Rio Tinto is supportive of the move towards indigenisation provided that it
is done at the right pace and in a way that does not discourage much needed
overseas investment in the Zimbabwe mining industry," it said in a
statement.

Zimbabwe is already suffering from foreign investor flight, the world's
highest inflation rate of over 100 000% and severe food, fuel and foreign
currency shortages.

Digging in

Mugabe is digging in for March 29 elections, facing one of the biggest
political challenges in his 28 years in power after former finance minister
Simba Makoni broke ranks with him.

Makoni's chances of victory in the polls were boosted when Dumiso Dabengwa,
a senior member of Mugabe's ruling ZANU-PF, endorsed him. Makoni is running
as an independent.

Mugabe also faces long-time rival Morgan Tsvangirai, leader of the biggest
faction of the opposition Movement for Democratic Change (MDC), in the
polls.

Mugabe may be dangling shares in foreign-held companies to those who may
seek to back his opponents, analysts say.

There is constant talk of more defections by senior ZANU-PF officials
although most of them have rallied behind Mugabe.

'Move will backfire'

Analysts warned the nationalisation drive could hit the mining sector, now
the major pillar of the economy, which makes up more than a third of
Zimbabwe's foreign currency inflows.

"He (Mugabe) appears to have signed the law to improve his prospects in the
election," John Robertson, an independent Harare economic consultant, told
Reuters.

"But that's a short-sighted move, one that will backfire and the broader
economy will suffer badly as long as this law remains on the statute."

The world's second biggest platinum producer, Impala Platinum Holdings, is
the foreign mining firm with the most operations in Zimbabwe,

Its shares fell more than 5 percent on Monday on worries about the
nationalisation law as well as a fall in the platinum price. Larger rival
Anglo Platinum lost 1.3%. The Confederation of Zimbabwe Industries (CZI)
said the new law could also hurt manufacturing, which operates at less than
a third of its capacity.

"We are not opposed to indigenisation, but we would want it to be
implemented as smoothly and practically as possible, taking note that we are
part of a global marketplace," said CZI president Callisto Jokonya.

---
Airplay is only for the "patriots"
freemuse.org

10 March 2008

Zimbabwe before the elections:

Zimbabwean musicians are bracing for a crucial election set for the
end of March 2008. While the radio keeps rotating songs that praise the
current regime, opposition and dissenting voices are silenced, and things
fall apart, writes Freemuse executive committee member Maxwell Sibanda in
his review of the situation.

By Maxwell Sibanda, journalist, writing from Harare, Zimbabwe

In Zimbabwe the country's president, 84-year-old Robert Mugabe,
features in songs while ministers jostle to compose or sing songs in praise
of him and his ruling Zanu PF party. For instance, he features in a song
titled 'Beitbridge' which is a favourite on the sole state-controlled radio
Zimbabwe Broadcasting Corporation.

Song bird Nonsi sings the song's lead vocals which are spiced with
sections of a speech by Mugabe sometime ago while on a visit to Beitbridge,
a town on the border with neighbouring South Africa. The song is produced in
local pop fashion fused with some traditional jiti.

Like previous propaganda songs, it is played with nauseating frequency
on all stations. Nonsi sings:

  "...Come to Zimbabwe and see the city of Beitbridge
  A symbol of a lovely country
  The future of our children lies in our hands..."
Mugabe complements in local Shona language:
  "...Forward with developing Beitbridge
  Food to the people of Beitbridge..."

This new release follows a 2005 CD and cassette compilation entitled
'Mugabe Speaks' which was released through recording firm Gramma Records.
The compilation comprise some of his landmark speeches since black
independence in 1980. Then, the Minister of Policy Implementation, Webster
Shamu told the state-controlled Herald newspaper the recordings "would not
only provide good home entertainment but would be useful to scholars".

Some of the speeches date back to the late 1970s, when Mugabe and
other key nationalists were waging a guerilla war against the former white
minority government of then Rhodesia. Shamu said the record "will assist our
children and will also educate people on where we came from and where we are
going".

While it is Mugabe or his ministers' democratic right to participate
in any recordings, the sad aspect in Zimbabwe as the global Music Freedom
Day was marked on 3 March is that other independent voices have been
suppressed completely. The opposition MDC party has released albums that
have never seen the day at the state broadcaster, and so has Jonathan Moyo
and the National Constitutional Assembly. Several songs and individual
musicians have been blacklisted on state radio in which government enjoys a
monopoly.

Patriotic musicians
When Mugabe celebrated his 84th birthday on 21 February this year
(2008), "patriotic musicians" led by gospel musicians Zexie Manatsa and Amos
Mahendere recorded a birthday song for him - a remix of the traditional
"happy birthday". Minister Shamu coordinated the recording with the
assistance of popular DJ Tich Mataz. The birthday song which included a
video has been receiving a lot of airplay on the state broadcaster.

Manatsa, one of the country's veteran musicians of the
pre-independence era and now a church pastor said during an interview while
commenting on the production of the song that there were two fathers, one
who was in heaven (God) and the other (Mugabe) who was on earth.

This year Mugabe celebrated his birthday party in Beitbridge, the
inspiration of the before mentioned song, 'Beitbridge'. His birthday
celebrations, spiced with revolutionary songs and dances, where beamed live
on state television and radio.

Just recently the ruling party held what it called the Patriotic
Musicians' Workshop at its headquarters in Harare. The workshop was
organised by the Zanu PF information department and held under the theme
"Music as a tool for mobilising the people".

Speaking at the workshop Zanu PF Secretary for Information and
Publicity, Nathan Shamuyarira, said it was "our policy that workers who are
patriotic have better lives and the media and artists should work towards
the dissemination of information that promotes the development of the
country."

Minister of State for Indigenisation and Economic Empowerment,
Munyaradzi Paul Mangwana, said the government was committed to the
development and empowerment of musicians. But the only musicians benefiting
in Zimbabwe today are those who are "patriotic". They receive massive
airplay on state radio and get invitations to play at state functions and
music galas.

New government stations
While government is refusing to let new players into the broadcasting
sector, it recently launched a new 24 hour radio station, Voice of Zimbabwe.
The propaganda radio news channel has been on the drawing board since 2000
and it was the brainchild of now sacked Minister of Information and
Publicity, Jonathan Moyo.

According to the general manager of Voice of Zimbabwe, Happison
Muchechetere, broadcasts will be intended to reach target audiences in South
Africa, Australia, the United Kingdom and USA.

Officiating at the switch-testing ceremony in Gweru on 25 May 2007,
George Charamba, the permanent secretary in the Ministry of Information and
Publicity said the project was designed to reach out to Zimbabweans in the
diaspora, remote parts of the country and the broader international
audience, thus providing them with first hand news about Zimbabwe.

The government accuses SW Radio Africa, Voice of America's Studio 7
and Voice of the People based in London, Washington and Netherlands
respectively of broadcasting propaganda aimed at inciting Zimbabweans to
rise against the government.

"We have hastened the project because of the onslaught from the west
that has reached alarming levels. The station would be a way of telling our
story and to react to hostile Western machinations aimed at undermining the
credibility and legitimacy of our government," the Minister of Information
and Publicity, Skhanyiso Ndlovu, told the state media.

The government has over the past few years tried to shut out the three
independent radio stations claiming that they beam hostile Western
propaganda. The three have however gained popularity among Zimbabweans eager
to hear alternative voices. In 2000, the police closed Capital Radio and
seized its equipment. Radio Dialogue a Bulawayo-based community radio
station met the same fate.

Singing ministers
The trend of using music as a tool for promoting party politics began
back in 2001 when two cabinet ministers, Jonathan Moyo (Information) and
Elliot Manyika (minister without portfolio and the party's national
commissar) decided to compose and record propaganda songs for Zimbabwe's
ruling Zanu PF party. Between them they coordinated the recording of more
than 10 propaganda music albums with Manyika singing in one of the "most
popular" songs, Nora.

The recording project, whose songs were to help in election campaigns
involved the Police and Airforce musical bands. Popular musicians
sympathetic to Zanu PF took part in the recordings.

In contracting the musicians, government set them against opposition
party supporters who felt agitated by the deep economic crisis engulfing all
fabrics of Zimbabwean life. Inflation alone stands at more than 100,000 per
cent.

And the urban population's response to these musicians was swift, with
many boycotting shows, while nightclubs refused to book them. Some had to
hire bodyguards for their security.

The musician has to be free and that refers to both the ruling party
and the opposition. But in having cabinet ministers sing, the ruling Zanu PF
was killing two birds with one stone. The first being to instill fear among
state controlled radio and television station's DJs and producers. These had
to be patriotic as well and could not be seen promoting hostile and
politically hard hitting compositions rebuking the Presidum. And the second:
by using ministers who happen to be civil servants, all production costs
would be paid by the ordinary taxpayer.

Record company take-over
The biggest record company in Zimbabwe, Gramma Records was bought by
Zanu PF faithfuls. Josiah Tungamirai, the late and former Minister of State
for Indigenisation and the Zanu PF MP for Gutu North was a shareholder in
the company. Musician Elias Musakwa, who is standing in coming parliamentary
elections on the ruling party ticket is also a shareholder of Gramma
Records.

Musakwa was also the producer of Minister Manyika's 2005 campaign
album. This automatically means that another record company, Ngaavongwe
Records is now under Zanu PF influence because Musakwa owns it. Musakwa sits
on the board of the state-controlled Broadcasting Authority of Zimbabwe
(BAZ) which issues broadcasting licences and is an official at the Reserve
Bank of Zimbabwe.

Is there any freedom in such record companies for independent voices?
Indeed things have fallen apart as politicians try to control all dissenting
voices.

Protest theatre
In a bid to counter government's shutting out of critical voices,
Zimbabwe's leading playwright Cont Mhlanga launched the Voices For Change
aimed at promoting protest arts.

Speaking to the media, Mhlanga said Zimbabweans no longer had a voice
as the media was tightly controlled "the only independent radios operate
over short-wave frequency, only for a few hours and it is expensive to find
a receiver."

Mhlanga said silence and fear had replaced dialogue and discussion in
Zimbabwe and that artists in Zimbabwe had a duty to restore the voice of the
people through art forms. Mhlanga's recent play 'The Good President' was
banned when armed police stormed Bulawayo Amphitheatre before its premiere.
The play is critical of Mugabe and his government.

Government music galas
As a way to reward "patriotic musicians" the government launched state
sponsored music galas. There are several of these state galas, among them
two that commemorate the deaths of Zimbabwe's two vice-presidents, Simon
Muzenda and Joshua Nkomo. The Unity Gala commemorates the unity agreement
between the ruling party and ZAPU, led by Nkomo. Another one celebrates the
Heroes Day on a day that honours Zimbabwe's fallen heroes while the other
one is on Independence Day.

The country's information ministry has the budget readily for these
programmes, hosting more than 30 bands in a single concert. The concerts are
broadcast live on television for 12 straight hours - 6pm to 6am - the
longest uninterrupted live televised musical show ever seen in Zimbabwe. The
galas are merely the ruling party's propaganda vehicle where party officials
get together to drink and dance the night away with the crowds.

The galas are popular with a helpless populace who are happy to dance
their worries away and also the fact that most musicians are gathered
together for a single show. At the galas most of the "patriotic musicians"
have the chance to play their propaganda songs to wider audiences.

Unfortunately for most of the musicians who sing independently, these
galas are out of bounce. Such is the music freedom and association in
present day Zimbabwe.

Maxwell Sibanda is a former Arts & Entertainment Editor of the Daily
News newspaper in Zimbabwe


---
Crisis equals zero opportunity for women
Nehanda Radio

10 March 2008

By Grace Kwinjeh

"IF anyone tries to remove President Robert Mugabe from power, we will march
in the streets and we are prepared to remove our clothes in support of his
candidature in next year's elections," said Oppah Muchinguri, leader of
Zanu-PF women's league at a meeting held at the party's Harare headquarters
early this year.

The Chinese proverb: "Crisis equals opportunity", seems to be a reverse of
what happens in Zimbabwe's politics in which "crisis equals zero
opportunities" especially for women aspiring for political office.

After the horrific 1994 genocide, Rwanda's first general election, in 2003,
resulted in the election of the highest number of women in Parliament in the
world, a record 48 percent. South-Africa and Mozambique after Apartheid and
the civil war respectively managed to attain at least 20 percent of women in
Parliament - a high percentage at that historic moment.

These countries were ready for healing and forgiveness. They were ready to
put the past behind and to move on - the women themselves were also ready to
unite and move on, much to their advantage.

Sadly, in Zimbabwe another reality is playing itself out in the absence of a
united front of women to push the 'women's agenda" strategically in the
coming election. The volatile political environment has meant parties have
had a higher hand in shaping and influencing women's participation in the
election more than the women themselves in a united front out of their
various political contexts that would ensure a strategic increase in their
numbers in the contested seats.

Open Society for Southern Africa, (OSISA)'s gender advisor, Alice Kanengoni
says: "The polarized political environment manifests itself in elections and
electoral processes and unfortunately that also impacts on women's
participation. And to also say some of these women will represent Zimbabwean
women might be an anomaly as they represent their political parties. And so
it becomes a party agenda as distinct from a Zimbabwean women's agenda."

Under Robert Mugabe's dictatorship the political environment is highly
polarized, the shrinking political space has meant the opposition and its
leadership fighting for survival - more so for the women.

The above statement by Muchinguri in her proclamation and backing of the
aging dictator, Mugabe, is ample testimony of the kind of environment women
go into this election as they stand behind the BIG MEN, representing their
political parties. Participation is therefore through a male symbol and
given the patriarchal nature of the
political systems it means even within the party women are not able to
wrestle out of that context that will by and large result in their continued
subjugation and marginalisation.

There are four male Presidential aspirants in the elections to be held in
three weeks time. The three main contenders being the incumbent, Mugabe,
opposition Movement for Democratic Change, (MDC), leader Morgan Tsvangirai
and Independent candidate Dr Simba Makoni. Each of these males has attracted
strong female candidates to his side.

But then the question is when push comes to shove who gets shoved?

While no women have put their names forward for the highest office in the
land, certain dynamics are at play in terms of the diversity of the women
candidates, their quality and caliber and the value they add to Zimbabwe's
politics, at the senatorial, parliamentary and council levels. There are
credible women with a good background or political history, in some cases
going back to Zimbabwe's liberation struggle. Some have been leaders in the
women's movement; some in the labour movement; while others carry Government
experience.

They have a collective track record and history of participation in politics
or public life that qualifies them to win their constituencies and serve the
people of Zimbabwe.

Behind Morgan Tsvangirai are his deputy Thokozani Khupe, trade-unionist
Lucia Matibenga, war veteran Sekai Holland, Lawyer Jessie Majome, trade
unionist Thabita Kumalo and former MP Hilda Mafudze.

Makoni has attracted the support of former education minister Dr Fay Chung,
Feminist Dr Rudo Gaidzanwa, war veteran Margaret Dongo and members of
parliament, Priscilla Misihairabwi-Mushonga and Trudy Stevenson have also
put their weight behind him.

"For me it is delightful to see a young woman like Jessie on this list. That
means inter-generational continuity; those are the veterans of tomorrow":
says Kanengoni while lamenting the fact that the best of Zimbabwe's women
are going to be up and against each other.

While it also seems more women have been given room to come out to
participate in the harmonised election analysts warn that it is the campaign
environment and the voting that will determine the number of women
represented in the contested seats - after the final vote count.

In any event technically there are more seats up for grabs - for instance
parliamentary seats have been increased from 150 to 210- that has simply
meant higher numbers both of men and women, contesting in the various levels
of the election, not that women have been accorded higher representation.

Feminist Thoko Matshe says there should be no surprises in this election.

"Do you anticipate any surprises in this one?" she asks. "No, same old, if
they increase its more about having four different formations than that the
political parties have deliberately increased, the numbers of women."

However a perusal of the candidate list makes an interesting analysis. In
some cases women are standing against women, while in others political
parties have fielded strong female candidates in opposition strongholds and
in others female candidates have been
'imposed', apparently in a bid by the parties to attain a one third quota as
stipulated in their constitutions.

Explaining the incidence of women standing against fellow women, Matshe
says: "Personally I have a problem because I think they are set up, but then
if it has to be I then lament that they do not do it with dignity they end
up on each others throats."

However, parliamentary candidate Jessie Majome has a different take.

"I think to have women standing against women is an indicator of the success
of the women's lobby for more women standing- it's pretty much like the
ladies' tennis or other sports where women compete against women. It's also
good because it gives the electorate a chance to vote for women for the sake
of it, but based on issues."

In Zimbabwe there are no constitutionally guaranteed quotas for women in
decision-making positions. The only guarantees are at political party level.
Both Zanu-PF and the MDC have one third quotas. Since the 2000 General
election the percentage of women in parliament has been going down
significantly after each election, the last parliament
had 10.6 percent female representation a drop from 14.6 percent in the
previous parliament.

Sadly, the environment in which these brave women have decided to take a
plunge into the turbulent political waters is hardly woman- friendly, let
alone person-friendly. The backdrop of a dictatorship that has strengthened
its grip on power over the years, accompanied by the deep entrenchment of
patriarchy as women are pushed further to the
periphery of political and public life would complicate any campaign. Not to
mention those like Sekai Holland who are still on therapy, healing the
wounds of Mugabes' brutality.

In an environment in which at times a good campaign simply means cash not
your political track-record, it is a known fact women often go into politics
with very little resources a source again of their perpetual
marginalisation. The use of money has already been reported in the way the
different parties ran their primary elections meaning the elimination
process of some deserving women to stand as candidates started at that party
level.

The shrinking political space has further poisoned the environment as
campaign issues or manifestos are thrown out of the window, it is now about
personalities.

The poison or polarization can be felt even in the media in which now most
discussions hardly make sense for Zimbabweans who just want change - a
situation in which at times professional journalists, have been reduced to
information officers for the various male aspirants.

Again, this is an environment in which women's voices are muted. What do the
women want out of this election as the majority 52 percent voters? We do not
know. And then as candidates what do they have to offer? Again we do not
know. Their visions and aspirations have been eclipsed by the men who are
majority of the news makers and news sources.

A situation further compounded by the fact that the women are going to be
fighting in different camps and on completely different agenda's and
platforms. There is no united front of women across political party and
class divide that is going to battle it out in this
election. The women have been parceled according to the different agenda's
based on their political formations and persuasions.

Over the years of fighting for freedom and democracy Zimbabweans have had
moments of recall and reflection on the future Zimbabwe they want to see.
One such recent event is the Working People's Convention, which adopted a
People's Charter which states: "That gender equality is the responsibility
of women and men equally, we recognise the role that our mothers and sisters
played in the liberation of our country from colonialism and their
subsequent leading role in all struggles for democracy and social justice."

That is the common denominator amongst most of the women on the participants
list -therefore their participation is not out of charity or the largess of
our patriarchal society but a right they earned, squarely side by side with
the men. What is unfortunate is how
the poisoned political environment seeks to disenfranchise some of the above
women simply on the basis of political choices they have made.

The Zimbabwe Women's Charter goes further in as far as the promotion of
women in politics and decision-making: "Government and all political parties
must ensure that women participate equally and are represented equally in
all national and local decision-making bodies. They must have a system so
that women hold the same number of
positions as men."

Again going back to the South-African experience the Women's Charter adopted
in 1994 after months of consultations by the women across class, race and
political divide under the National Women's Coalition, resulted in them also
influencing the new constitution in the which their rights are not only
guaranteed but are also safe guarded. This process happened at a time when
the wounds of oppression under apartheid were still fresh in the minds of
many women who had suffered these.

Kanengoni, however, says what is needed for such an outcome is leadership:
"There is a lot of potential in the women. Maybe because I have never really
been a politician, but I feel that women have to rise above their party
affiliations." Kanengoni believes there is need for a strong women's
leadership to unite the women and move the country forward.


---
UK poised to resume Zimbabwe deportations
New Zimbabwe

By Taffy Nyawanza
Last updated: 03/11/2008 05:39:24
IT HAS been brought to our attention that the Home Office may soon resume
enforced removals of failed asylum seekers to Zimbabwe.

We have been shown what appears to be a standard letter from the Border and
Immigration Agency of the Home Office. The letter gives notice of impending
enforcement action. It states in part that ".the Border and Immigration
Agency is expecting shortly to be able to enforce returns to Zimbabwe".

We understand that those who have made asylum claims are also receiving
refusal letters with that standard statement. In effect of course, the
majority of refusals, at least in the Zimbabwean context, should come with
the right of an in-country appeal. If such an appeal is lodged in time, an
individual cannot be removed until all the appeal rights have been
exhausted.

For failed asylum seekers generally, however, enforced returns should follow
as a matter of course unless there is a moratorium on returns as has been
the case for Zimbabweans.

In the Zimbabwean context, if it is true that there is now an official
position to return failed asylum seekers to Zimbabwe, the timing is as
unfortunate as it is baffling. This is because there is a high stakes
election which is scheduled for March 29, 2008. There has already been wide
publicity of the rising political temperature, Mugabe's ominous threats to
the opposition, as well as the beatings of opposition activists and
teachers.

The main Country Guidance cases, in particular SM (Zimbabwe), already
confirm the existence of an 'election cycle' with reference to the
heightened risk during election periods and the period immediately after the
election. The tribunal has also accepted that this is a pattern which has
been followed since 2000 and that before an election, there is intimidation
of real or perceived opposition supporters particularly teachers and civil
servants. It also confirms that following an election, there is well
documented evidence of the post-election retribution on political opponents.

So what the options to failed asylum seekers?

Where enforcement action is threatened, it is important to act fast. It
might be useful to contact an MP and request urgent representations. There
are also pressure groups and other specialised organisations that may be
useful in raising publicity. One such an organisation is the National
Coalition of Anti-Deportation Campaigns (NCADC) which has a huge mailing
list of partner-activists and solicitors who may be able to assist at short
notice.

But the obvious option for individuals who do not want to return to Zimbabwe
is to lodge a fresh asylum claim. A fresh asylum claim is defined in Rule
353 of the Immigration Rules which states that;

"When a human rights or asylum claim has been refused and any appeal
relating to that claim is no longer pending, the decision maker will
consider any further submissions and, if rejected, will then determine
whether they amount to a fresh claim. The submissions will amount to a fresh
claim if they are significantly different from the material that has
previously been considered. The submissions will only be significantly
different if the content:

(i) had not already been considered; and

(ii) taken together with the previously considered material, created a
realistic prospect of success, notwithstanding its rejection."

It is important therefore, to demonstrate in submissions that the materials
submitted are significantly different from the material that has previously
been considered. This could be by reference to a change in the law, or a
change in country circumstances, or individual circumstances.

An example would be a failed asylum seeker whose last determination accepted
that he was a teacher in Zimbabwe but a low level MDC activist and therefore
not at risk. If such a decision pre-dates 2005, SM (Zimbabwe) and other
recent case law could be used to argue that there is now new evidence that
teachers face a risk of persecution on return to Zimbabwe for simply being a
teacher.

Another typical example could be that since a refusal, an individual has
become active in a civic organisation or opposition party the UK. The latest
Country Guidance case of HS accepts that the Central Intelligence
Organisation is known to act extra-territorially and has infiltrated civic
organisations in the UK with the obvious aim of passing on intelligence to
their Zimbabwe masters. An obvious example is the speed with which the
Herald, Zanu PF's mouthpiece, reported a recent pro-Simba Makoni meeting
which took place in London.

The important thing about a fresh claim is that an individual who has made
further submissions to the Home Office cannot be returned to their country
of origin before the Secretary of State has considered the submissions made
in terms of paragraph 353 or otherwise.

It should, therefore, be enough to produce proof that a fresh claim has been
submitted in order to stop removal. The Home Office can, however, decide
that the evidence submitted does not amount to a fresh claim. A lot depends,
therefore, on the quality of the evidence submitted, and the presentation of
the supporting arguments.

Ultimately, what is useful is that case law has interpreted Rule 353 as
imposing a modest test that the fresh claim has to meet before it becomes a
fresh claim. There are three requirements to the test:

One: The fresh claim must have a realistic prospect of success, but not more
than that.

Two: There is no requirement that the evidence submitted must make the Home
Office achieve certainty of what is alleged, but only to think that there is
a real risk of the applicant being persecuted on return.

Three: The Home Office, the adjudicator and the court, must exercise what is
called 'anxious scrutiny' of the material presented to them because if the
preliminary decision is made incorrectly, it may lead to the applicant's
exposure to persecution.

This appears to be a very low threshold and easy test to meet and you would
think that the majority of fresh applications should easily pass the first
hurdle. The reality is somewhat different, hence the need for
representation.

An acceptance by the Home Office that an application is a fresh asylum claim
is of course just the beginning. The asylum process will then begin all
over, with interviews, NASS entitlement, decisions and the entire appeal
process kicking in.

Taffy Nyawanza works for Bake & Co Solicitors of Birmingham. He can be
contacted on info@bakesolicitors.co.uk, ph. 0121 616 5025 or visit Bake & Co
Solicitors' website at www.bakesolicitors.co.uk.

Disclaimer: This article only provides general information and guidance on
immigration law. It is not intended to replace the advice or services of a
solicitor. The specific facts that apply to your matter may make the outcome
different than would be anticipated by you. The writer will not accept any
liability for any claims or inconvenience as a result of the use of this
information.

---
Zimbabwean Journalists Committing Electoral Fraud Too
The Southern African

Written by Innocent Madawo
Monday, 10 March 2008

Journalists of my generation at Ziana - between 1992 and 2000 - will
agree that the best way to incur the wrath of the news agency's editors was
to submit a story without background, cross-references or with figures that
did not add up.
Being a student of some of Zimbabwe's best editors of that era, like
Tarcey Munaku, Ndaba "Ndasto" Nyoni and "Sekuru" Tambayi Nyika (may their
souls rest in peace), I cringe when I read some of the stories being churned
out from Zimbabwe, particularly at this time of elections.

Very few reporters - and editors - produce complete stories that would
make a reader understand an issue even if they have missed earlier accounts
and I find it very frustrating.

Coverage of the highly contentious presidential election is the case
in point here. Ruling Zanu PF candidate, President Robert Mugabe is quoted
extensively by both the government-owned and private press as he bashes his
opponents Dr. Simba Makoni and the opposition Movement for Democratic Change
leader, Morgan Tsvangirai.

We read that at almost every rally, Mugabe accuses Makoni and
Tsvangirai of being funded by British and American businesses. The Herald
even published names of companies alleged to be funding Makoni.

The reporters doing these stories may be young and without much
knowledge of what happened in the 1980s and 1990s, but their editors will
definitely recall that every election before 2000, Mugabe received public
financial donations (solicited and unsolicited) from mostly British
individuals, companies and organisations.

I recall vividly that in preparation of the 1996 presidential
election, Mugabe dispatched the late Eddison Zvobgo to go and fundraise in
London, no less. Zvobgo raised more than 1 Million Pounds from the likes of
Tiny Rowland and others.

I made several trips to London and other European destinations with
Mugabe as a presidential reporter. There were meetings with white
businessmen, which we would not be allowed to report on. I don't suppose
Mugabe discussed cricket with these men.

Lately, Tsvangirai has ganged up with Mugabe in accusing Makoni of
being funded by foreign "embassies" in Harare. This sounds to me like a
jilted lover venting on a rival suitor.

Was it not a few short years ago that Tsvangirai prided himself with
being seen in the company of the same diplomats and even travelling to their
countries to seek (and receive) endorsement and funding as the next
president of Zimbabwe.

Could it be that after failing to deliver in three attempts, his
former backers have decided to pursue a new and perhaps more acceptable
option and Tsvangirai is lashing out in bitterness?

Whatever the case, the point is that Zimbabwean press (and to a large
extent Diasporan and foreign press too) has been complicit in not being
diligent enough to provide this background and cross-referencing or
balancing their reports.

And the funding issue is not the only problem. There is the fact that
Mugabe's message at this year's election rallies is exactly the same as he
delivered at every other election campaign since the 1980s. He would give
people land and food, increase salaries of government workers and make sure
"bad ol' whitie" doesn't come back.

Yet, not a single reporter has raised this background in the thousands
of stories we read each election period. No effort is made to go to the
people and ask them if they ever received the things Mugabe promised them
every election period.

Then there is the issue of rally attendances. Last weekend when Makoni
addressed a rally at White City stadium in Bulawayo, depending on the
newspaper one read, the number of his audience ranged variously from 4,000
to 7,000. That's understandable.

Then this weekend, it was Tsvangirai's turn and the range was 12,000
to 40,000.

I covered many rallies and other functions at White City stadium and
unless its carrying capacity was increased in the years that I have been
away, I know that there is no way 20,000 people can fit into White City; let
alone 30,000 or 40,000 which is the capacity for Barbourfields or Rufaro.

Then there is the issue of generals who declare that they will not
salute any leader other than Mugabe. Why doesn't anybody tell these
gentlemen the truth that if Makoni or Tsvangirai are elected by the people
of Zimbabwe, it is a simple fact of military rules that they will perform a
crisp salute to their new Commander-In-Chief or else they will be court
marshaled.

In any case, President Makoni or Tsvangirai will remove them from the
positions they hold now and replace them with generals befitting that rank.

These are just a few of many inadequacies I notice in reports from
Zimbabwe and I wish someone could ensure that we get backgrounded and
balanced news.

Neglecting these ground rules of good journalism is, in itself, an act
of electoral fraud.

---