The ZIMBABWE Situation
An extensive and up-to-date website containing news, views and links related to ZIMBABWE - a country in crisis

---
Zimbabwe referendum 'delayed to September'


(AFP) – 10 hours ago

HARARE — Zimbabwe's draft constitution is only expected to be ready for a
referendum by September and not in June as originally scheduled, the
constitutional affairs minister said on Thursday.

The new charter is meant to clear the way for fresh polls following the
country's bloody 2008 elections, but the drafting process is running months
behind after public outreach meetings were repeatedly postponed over
outbreaks of violence.

"I do not see us going to referendum earlier than September this year,"
Constitutional Affairs Minister Eric Matinenga told the state-run Herald
newspaper.

Matinenga said officials expected to begin compiling input gathered during
the outreach programmes in April.

Veteran President Robert Mugabe has said Zimbabwe should push ahead with
elections even if the parties to the country's shaky power-sharing
government fail to agree on a new constitution.

Prime Minister Morgan Tsvangirai earlier this month also called for a
"divorce" in the unity government, urging elections under a roadmap devised
by the Southern African Development Community, which is expected to take up
the issue at a security summit next week.

Mugabe and long-time rival Tsvangirai formed the power-sharing government
two years ago in a bid to stop the conflict sparked by the 2008 elections
and mend the shattered economy.

The agreement included plans for a new constitution and amended media and
election laws to ensure free and fair polls.

The constitution committee had originally set a date of June 30 to hold a
referendum on the draft constitution.

But the public consultation process was repeatedly disrupted by violent
attacks, including one in which a Tsvangirai supporter was killed when
militant Mugabe backers stoned a meeting.

---
Zimbabwe Makes Progress Towards New Constitution
http://www.voanews.com/

Peta Thornycroft | Johannesburg  March 24, 2011

Despite a troubled start, Zimbabwe is making  progress towards producing a
new constitution. There is broad agreement on most constitutional principles
between the majority party in the legislature, the Movement for Democratic
Change, and President Robert Mugabe's ZANU-PF party.

A key stipulation in the political agreement that brought the MDC and
ZANU-PF into Zimbabwe's coalition government two years ago was that a
mechanism to draft a new constitution should be put in place.  This led to
the formation of a multiparty Constitutional Parliamentary Committee that
was to seek the views of Zimbabweans, at home and abroad, about a new
constitution.

The process stalled and deadlines slipped, evaporated and only resumed
several months later when Mr Mugabe and Morgan Tsvangirai, MDC leader and
prime minister in the inclusive government called on the public to attend
consultation meetings to say what they wanted in a new constitution.

From July to October last year nearly 5,000 meetings attended by a million
people were held around the country.   Most of those who attended were
members of ZANU-PF.  One MDC loyalist died after being attacked at a public
meeting in Harare and independent observers say other meetings were
disrupted by ZANU-PF supporters.

Co-chairperson of COPAC Douglas Mwonzora, a lawyer and an MDC legislator was
arrested last month and charged with public violence at a rally in rural
Zimbabwe, released on bail three weeks later.  He denies the charges.
Mwonzora told VOA he hopes there will be no further delays.

"Assuming that we get enough funding, secondly [assuming] that the MDC
leadership in COPAC is not continuously arrested.  We have lost about a
month because of the continued detention of an arrested person," he said.

Paul Mangwana, also a lawyer and legislator is ZANU-PF's COPAC
co-chairperson.  He says Zimbabwe needs a new constitution because the
existing charter was written in London in 1979 to end the liberation war.

"It became a compromise document to achieve a cessation of hostilities," he
said. "People were killing each other at that time, so people did not get an
opportunity  to write their  own constitution, they were not consulted, it
was simply imposed on them and it had some of the clauses which have led to
the current problems Zimbabwe is going through."

He says ZANU-PF and MDC have agreed on most key principals for a new
constitution, including an executive president.  He said there was
continuing disagreement about dual nationality.  He said no one in the MDC
would oppose ZANU-PF's campaign for black empowerment of Zimbabwe's
companies.

He said the MDC also accepted that ZANU-PF's policy of land reform that has
evicted about 4,000 white farmers since 2000 was necessary. He said the
future tenure of the confiscated land still needs to be decided.

"Land reform has taken place and is irreversible," he said. "The majority
view, which has been arrived at, is 99-year leases transferable, which can
be mortgaged with real rights, more like title deeds."

Douglas Mwonzora agrees MDC and ZANU-PF  supporters broadly agree on many of
the constitutional principles.  But he says there will have to be further
negotiations on some issues before a new charter is drafted and presented to
the public in a referendum.

"Most of the areas in  the constitution are  basically agreed, but there
[are] a few contentious issues, the issue of land of course, the issue of
the  executive presidency, the issue of dual citizenship.  All these are
going to have to be negotiated and we have put in mechanisms for the
negotiations," said Mwonzora.

MDC legislator Eric Matinenga, the minister in charge of parliamentary and
constitutional affairs, says public input for a new charter was more about
current political differences than constitutional principles.

"For an example, do you want an executive president?  People were looking at
constitution making through the political eyes of what the current situation
was," he said. "As MDC they will say we want a prime minister because they
have got a prime minister in place.  ZANU-PF will say they want an executive
president because they have got an executive president in place.  From a
technical point of view there is not such a wide difference."

Matinenga said Zimbabwe's political crisis did not result because the
present constitution is deficient nor because there are insufficient laws.
He said the main problem was "malicious" application of the law.
Human-rights monitors say the MDC has been persecuted by partisan police and
misuse of the law since it nearly beat ZANU-PF in elections in 2000.

"If you go back to the past 10 years to the state-sponsored murders, it is
not that we did not have the law, it is the application of these laws.  It
is very sad," he said. "What is really important is to change the mind-set,
to change the culture."

Mangwana said most Zimbabweans, led by the then-new MDC party, rejected a
new constitution in 2000.  But he says the one being drawn up now is not
substantially different to rejected charter. Mwonzora says a draft should be
ready for a referendum by the end September.

---
Special cabinet meeting held Thursday
http://www.swradioafrica.com

by Lance Guma
24 March 2011

A special cabinet meeting was held on Thursday, in an effort to defuse
worsening tensions in the coalition government. Tight-lipped ministers from
all three parties in the coalition confirmed the meeting took up the whole
morning, but refused to disclose what was discussed, saying cabinet rules
barred them from doing so.

It had been reporter earlier that the meeting would discuss the disastrous
few weeks that have seen the coalition government virtually collapse. The
arbitrary arrest of MDC-T MP's, including Energy Minister Elton Mangoma, and
state sponsored violence and intimidation targeting MDC-T supporters have
all heightened tensions between the parties in the coalition.

Last week Prime Minister Morgan Tsvangirai said; "It appears the civilian
authority is no longer in charge and dark and sinister forces have engaged
in a hostile take-over of running the affairs of the country.' A cabinet
minister in the smaller MDC faction, Priscilla Misihairambwi Mushonga,
claimed a 'smart coup' had taken place.

Several Ministers we spoke to refused to disclose the agenda of the meeting.
One report suggested the agenda would include previous scuffles in cabinet,
an audit of diamond sales, controversial indigenisation regulations, an
audit of the civil service which unearthed thousands of ghost workers,
interference in local government affairs by Minister Ignatius Chombo and
police bias in dealing with political violence in the country.

SW Radio Africa read this list to one Minister and he told us; 'I can
confirm none of those issues were discussed." With no information
forthcoming to journalists it is being speculated the one issue that could
not escape discussion was the arrest of Energy and Power Development
Minister Elton Mangoma, on trumped-up charges of 'abusing his office.'

Last week Friday Mangoma blamed Mugabe for his arrest saying he was shocked
at the move, coming as it did after he had cleared the air with him on the
3rd March and to cabinet on the 1st March. Other reports indicate that Prime
Minister Morgan Tsvangirai and Robert Mugabe met on a Thursday two weeks ago
and discussed the issue of Mangoma's arrest. No details were given.

It's also being suggested by other sources that the ZANU PF faction led by
Defence Minister Emerson Mnangagwa, was behind Mangoma's arrest. Throwing
this theory into the water however is a suggestion that a cabinet minister
can only be arrested with the authority of the President, and this means
Mugabe would have had to authorize the arrest.

Meanwhile Pedzisai Ruhanya from the Crisis in Zimbabwe Coalition has
questioned why Africa and the United Nations were intervening in conflicts
in Libya and Ivory Coast, while turning a blind eye to events in Zimbabwe.

Addressing a media briefing in South Africa, Ruhanya said elections in
Zimbabwe presented an opportunity for South Africa, SADC, the AU and the UN
to be proactive in helping restore stability. Ruhanya also urged the
deployment of monitors with peacekeeping powers, rather than just observers
arguing; "We don't want to come to the point of Libya and see rivers of
blood."

A key component of any election has been cited as the need for a new
constitution, but Mugabe's party has already shown a reluctance for this and
they have done their best to delay completion of the process. Violent
disruptions of meetings and the arrest of key leaders driving the
constitutional process have seen it failing to meet deadlines.

On Thursday Constitutional Affairs Minister Eric Matinenga confirmed that a
draft constitution is only expected to be ready for a referendum by
September, and not in June as originally scheduled. He said they expected to
begin compiling input gathered during the outreach programmes only in April.


---
War vets besiege finance ministry headquarters
http://www.thezimbabwean.co.uk

Written by Gift Phiri
Thursday, 24 March 2011 11:21

HARARE - The Finance ministry headquarters was besieged by a rowdy
demonstration by guerrilla war veterans, charging at the gates of the new
government complex and demanding to talk to the Finance minister. The war
veterans seem piqued by remarks the minister made in a local daily that if
anyone wanted war with him, they must bring it on.

Security controlling the gates at the complex had a torrid time dealing with
the boisterous war veterans, who refused to leave the Finance ministry
headquarters, breaking into independence war songs and vowing to show Biti
that they liberated the country.
Biti watched the war veterans fron his 6th floor office briefly, before
retreating into his office. The war veterans literally
"besieged" the Finance ministry offices all day.

The incident is the most serious affront to Biti since he became Finance
minister two years ago. It is just the latest incident to blight the the GNU
in Zimbabwe, where rights groups accuse President Mugabe of using military
and police to arrest a cabinet minister and lawmakers, to intimidate civil
society and to jail journalists.

The notorious war veterans' movement, which have been harnessed by Zanu PF
for a savage election campaign, is now seen as a serious challenge to the
MDC Finance minister, credited with stabilising the economy - wrecked by a
decade of contraction characterised by record beating hyperinflation.

The mob tried repeatedly to force their way into the 6-storey building,
where Biti works. Some had a copy of the independent daily NewsDay with a
front-page splash of a story on Biti saying 'If they want war, they will get
war.' The paper quoted Biti challenging Zanu PF to come clean on diamond
revenue and stop politicking over sensitive issues like civil servants'
salaries for political expediency.

Biti said: "If they want war, we will give them war. They are creating
deliberate dishonesty. They are simply trying to divert attention from real
issues to do with the manner over how diamond money is being handled."

"We want to know what he means when he says if we want war, because we are
ready," said one of the wear veterans, toyi-toying.
Biti seem to have touched a raw nerve with demands for a full audit into
missing US$313.5million Marange diamond revenue.

No action was taken against the war veterans by the police, although they
spent the whole day occupying the official Finance ministry offices. Critics
say unless the police move quickly to restore law and order throughout
Zimbabwe, they risk losing the opportunity to regain the peoples' trust and
confidence for ever.

Police have previously been accused of standing by or supporting the illegal
occupations of hundreds of white farms by the war veterans, whose land
invasion campaign have the open encouragement by President Robert Mugabe.
The war veterans accused Biti of imposing sanctions on the country, citing
classified US diplomatic cables that have been
published by the secrets-spilling WikiLeaks website.
Rights activists say the situation is spiralling out of control. "We are
bracing ourselves for a difficult time in Zimbabwe. Every time there are
elections there is violence," Crisis in Zimbabwe Coalition spokesman Dewa
Muvhinga told journalists. "Those we expect to uphold the rule of law are
not independent, they are partisan to Mugabe," he said.

The faith-based rights group Zimbabwe Peace Project reported on Tuesday that
a snap look at the human rights violations figures for the month of February
2011 clearly shows that the continued bickering by politicians in
implementing reforms as enshrined in the GPA "has led to many people's
rights being continuously violated at the hands of war veterans, Zanu PF
militias and state security agents."

---
Hundreds stranded as Air Zimbabwe pilots walk out
http://www.newzimbabwe.com

24/03/2011 00:00:00
    by Staff Reporter

AIR Zimbabwe appealed to its striking pilots to return to work as the
walk-out, which began on Tuesday, entered a third straight day on Thursday,
disrupting travel plans for hundreds of its domestic and international
customers.

The state-owned airline was forced to cancel its Harare-London flight on
Wednesday, and the return flight departing London Gatwick on Thursday
evening, as pilots stayed away from work for the second time in less than
six months over a pay dispute.

Pilots, engineers and cabin crew say they are owed as much as US$9 million
by Air Zimbabwe accrued over several years. They say financial commitments
made to them by the government during the last strike have not been met.
But airline bosses say the struggling company, burdened with an ageing
fleet, is incapable of paying them.

"We lost a lot of business and confidence the last time they went on strike.
We were only beginning to pick up business and confidence from travellers
and they strike, it's really unfortunate," said Air Zimbabwe chairman
Jonathan Kadzura. "I would like to apologise to our travellers for the
inconvenience."

"The only way forward is for them to get back to work because there is no
money, that is the reality," added Kadzura. "I do not have the money and I
hope they understand and get back to work because the fact of the matter is
that the airline does not have the money at the moment."

The strike on Tuesday disrupted Air Zimbabwe domestic and regional flights,
and by Wednesday it was affecting overseas travellers with the cancellation
of its cash-cow flight to London.

Calistus Mpofu, whose wife and child were due to fly out of Harare for
London on Wednesday evening, said she was unaware her flight was cancelled
until she arrived at the airport.

"Air Zimbabwe have been unhelpful because they said the tickets were not
bought directly from them. I have had to rebook my family on Ethiopian
Airways at an extra cost of £1,300. As it stands, we don't know whether Air
Zimbabwe will refund us," Mpofu, a social worker from Cardiff, told New
Zimbabwe.com.
But Air Zimbabwe's General Manager for Europe David Mwenga said refunds
would be offered to customers who request them.

"When tickets are bought directly from Air Zimbabwe, we pay back the
customers by cheque, it's a quick process. But when a ticket is bought from
a travel agent, it's a lengthier process and we pay back the travel agent
not the traveller. It's an industry practice," Mwenga said.

"We are trying our best to keep our customers informed because as it stands,
we have an open-ended strike which no-one knows when it will end."

Apart from the Harare-London route, Air Zimbabwe services regional routes
including Harare-South Africa, Harare-Zambia and Harare-Democratic Republic
of Congo. Every Friday, Air Zimbabwe flies to China via Malaysia, the plane
turning back and arriving in Harare on Sunday.

---
Over 200 MDC flee ZANU PF attacks in Chimanimani
http://www.swradioafrica.com

By Tererai Karimakwenda
24 March, 2011

The MDC-T has reported that hundreds of their supporters have fled from ZANU
PF sponsored violence in the Chimanimani East districts of Cashel Valley and
Kubvumbura, in Manicaland province. At least 20 are being sheltered at the
MDC head office in Mutare, with others seeking medical treatment at local
clinics.

Party provincial spokesperson Pishai Muchauraya told SW Radio Africa that
violent assaults on their members started on Saturday after ZANU PF held an
anti-sanctions rally. Those who did not attend were hunted down and many
were severely assaulted, causing them to flee to surrounding districts and
across the border into Mozambique.

Muchauraya explained that ZANU PF youth militia, war veterans and CIO's
assaulted innocent villagers using knobs, whips and logs. He said the
campaign is being led by a soldier named Muresherwa and ZANU PF deputy
Minister, Samuel Undenge.

Villagers are also being ordered to pay fines for not attending the rallies.
Many have lost goats, chickens and other livestock as fines, for not
attending. Muchauraya said ZANU PF has established a register that villagers
are being made to sign in the morning and evening, as a way of keeping track
of them.

---
Clash Of The Moyos For Zimbabwe's Speaker Post Expected As MDC Goes To Court
http://www.radiovop.com

24/03/2011 08:02:00

Harare, March 24, 2011 - Prime Minister's Morgan Tsvangirai's Movement for
Democratic Change (MDC-T) party on Wednesday filed an urgent chamber
application in the High Court seeking to compel Austin Zvoma, the Clerk of
Parliament to re-convene sittings in Parliament and to declare as "null and
void the purported adjournment of the House of Assembly.

This came as Zanu (PF) held a politburo meeting on Wednesday evening in
which it was decided to field the party's national chairman Simon Khaya Moyo
as its candidate for the vacant post of Speaker of Parliament.

Zvoma on Tuesday unilaterally suspended the sitting of the House of Assembly
indefinitely saying he will announce a date for the election of a new
Speaker of Parliament once necessary preparations have been made.

The MDC-T said in a statement on Tuesday that it suspected the elections for
the new speaker had been cancelled by Zvoma due to divisions in Zanu (PF)
over the choice of a candidate.

Zvoma's adjournment of Parliament followed the Supreme Court's decision
nullifying the election of Lovemore Moyo, who belongs to (MDC-T) as Speaker
of Parliament after his appointment was challenged by Jonathan Moyo, a
politburo member in President Robert Mugabe's Zanu (PF) party.

But the MDC and its Chief Whip in Parliament, Innocent Gonese on Wednesday
filed an Urgent Chamber Application seeking to declare as null and void the
adjournment of Parliament on Tuesday and to set aside Zvoma's decision
suspending Parliament.

In the application which was filed by prominent human rights lawyer Beatrice
Mtetwa of Mtetwa and Nyambirai Legal Practitioners, who is a member of
Zimbabwe Lawyers for Human Rights (ZLHR), Gonese and the MDC party want the
High Court to order the House of Assembly to resume sitting on the first day
as provided for in Order No. 21 of the
House of Assembly Standing Orders after the granting of the order which they
are seeking.

The MDC and Gonese said upon Parliament's sitting, Zvoma must report the
vacancy in the office of the Speaker as provided for in Order 16 (1) of the
House of Assembly Standing Orders.

Zanu (PF) chief whip of Parliament, Jorum Gumbo confirmed the party's
politburo had met on Wednesday evening at the party's headquarters and
nominated SK Moyo as its candidate for the vacant post of speaker.

"The politburo met and have nominated S. K. Moyo," said Gumbo. "... we have
agreed as legislators to support that candidate because the politburo looked
at seniority. We are going campaign for our winning candidate."

SK now faces Moyo, the former speaker after the MDC led by Welshman Ncube
said it will not be fielding a candidate.

---
Police lied about ZANU PF booking rallies says Mayor
http://www.swradioafrica.com

By Tererai Karimakwenda
24 March, 2011

It has been confirmed by the Mayor of Harare that the police lied in order
to block the MDC from holding a rally at the Zimbabwe Grounds in Highfield
last weekend. Mayor Muchadeyi Masunda confirmed to SW Radio Africa that the
city of Harare "does not permit block bookings of any of its facilities."
The Mayor said there is not a grain truth in any claim of a block booking.

This is proof that the police lied when they told MDC-T officials that ZANU
PF had booked the Zimbabwe Grounds for a whole year.

"Facilities under the control of the city of Harare are available for use by
any legitimate stakeholder with police clearance. The facilities cannot be
booked on a block basis, particularly Glamis Arena, Zimbabwe Grounds or any
such spaces," said Masunda.

The Mayor explained that it is just simple common sense, because it would
create a monopoly of the space by a single organization.

The MDC-T originally scheduled a rally for March 13th at Zimbabwe Grounds
but were told by police that the venue was booked by ZANU PF. The MDC then
postponed their rally to March 19th. But a letter from the officer
commanding Harare central district, Chief Superintendent Garikai Gwangwava,
sent to MDC-T secretary-general Tendai Biti, told the party that ZANU PF
would be holding a rally less than 500 meters away on the same day.

Mayor Masunda said all that is needed is a letter of clearance from the
police, "from a security perspective", and not police permission. The police
have on many occasions denied the MDC permission to hold rallies, while ZANU
PF has no such restrictions.

Mayor Masunda is the third official in a week whose statement shows that
the unity government is not functioning and the balance of power lies in
favour of ZANU PF. Last week Prime Minister Morgan Tsvangirai told
journalists the coalition government was not working and this week Priscilla
Misihairabwi-Mushonga, co-chairperson of JOMIC, said a 'coup' had taken
place in Zimbabwe.

---
Farm attacks on the rise again
http://www.swradioafrica.com

By Alex Bell
24 March 2011

Attacks on the remaining handful of commercial farmers in Zimbabwe are once
again on the rise, as ZANU PF's election campaign continues to intensify.

Most recently, Chegutu farmer Bruce Campbell has been fighting off land
invaders for several days. Details remain scarce but it is understood that a
mob of land invaders have been trying to force him off his property this
week.

Campbell's father Mike, and brother-in-law Ben Freeth, led a groundbreaking
legal challenge against Robert Mugabe's violent land seizures in the
regional human rights Tribunal in 2008. The court ruled in the farmers'
favour, saying that Mugabe's land-grab campaign was unlawful. But the ruling
has done nothing to protect the remaining commercial farming community in
Zimbabwe, with Mugabe's regime openly snubbing the rulings of the court.

John Worsley-Worswick from Justice for Agriculture (JAG) told SW Radio
Africa on Thursday the current threats and ongoing 'jambanjas' against
farmers are linked to talk of an upcoming election. He explained how "it has
always been a trend in the past in ZANU PF's election campaign to start
grabbing properties."

"There's no reason to believe that it will be any different now, in fact it
is likely to be worse," Worsley-Worswick said.

The JAG official explained how only about 100 original title holders are
still on their farms, while a majority of working farmers are leasing
properties. Along with other observers he feels that a portion of the
farmers have been deliberately left alone by land invaders, in preparation
for ZANU PF's election campaign.

"There's always a tremendous amount of political mileage with white farmers
being on these farms," Worsley-Worswick said, adding: "It is one way of
feeding the patronage machine in an election, and it is what we are seeing
now."

Meanwhile an elderly couple who own a small farm in Somabuhla, have been
forced to pack up their belongings and flee the property, despite numerous
court orders meant to protect them. Philip and Ellen Hapelt have been under
threat from local MP Jabulani Mangena, who has led a campaign of harassment,
vandalism and violence against the farmers since late 2009.

Many years ago the Hapelts voluntarily gave up the majority of their land
for the sake of 'reform', under an agreement that allowed them to remain on
their homestead with a small portion of farming land. They have two court
orders that entitle them to live on this farm, without fear of invasion or
persecution, but they were forced to seek two successive evictions orders in
an effort to get Mangena's men off their land last year. Mangena has openly
disregarded the rulings of the courts and has previously threatened the
Hapelts with violence.

Last week Thursday, Mr Hapelt was forced to lock himself in his farm house
while a gang of about fifteen youths rampaged around the perimeter fence.
The youths had accompanied Mangena to the property, along with a delegation
from the Ministry of Lands, who insisted they had an eviction notice for the
Hapelts. The eviction notice, signed by Joseph Shoko from the Lands
Committee, was a poor photocopy of an old notice for another farmer. That
farmer's name had been crossed out, with Mr Hapelt's name written over it.

Mangena then told Hapelt he would arrive at the farm the next day to
forcefully remove him and his cattle from the farm, adding that if his men
decide to get violent, "he would look the other way." Mangena also insisted
that the eviction notice he carried superceded all previous court orders
which stated that the Hapelts are the rightful owners of the property.

Last Friday, as promised, Mangena and his gang of youths arrived back at the
farm and once again besieged the farm house. Mangena said he had given the
Hapelts plenty of time to move and he would no longer wait for them. Mrs
Hapelt, who was in Gweru when she heard the news, immediately called the
police, who were dismissive and refused to help her. The police eventually
went to the Grasslands farm but returned to Gweru, saying they could not do
anything to help. The Hapelts, under duress and fearing for their safety,
eventually agreed to start vacating the farm.

Mangena meanwhile has insisted that the Hapelts attend a meeting this Friday
at the Lands office in Gweru. He warned them that if they did not show up
for the meeting the consequences would be 'dire'. The Hapelts have said that
they are not sure why they have to attend this meeting but they are fearful
of what may happen if they don't make an appearance.

Meanwhile, the Hapelts' daughter has been trying to get intervention from
the South African Embassy, because Hapelt is a South Africa citizen and
Zimbabwe and South Africa have signed agreements that are supposed to
protect citizens. But the Embassy has so far done absolutely nothing to help
the family, only expressing their sympathies about the situation.

SW Radio Africa has been trying to contact the Embassy, with little success.

---
State Blocks Mthwakazi Leaders' Release
http://www.radiovop.com/

24/03/2011 15:45:00

BULAWAYO,March 24,2011 ---Three Mthwakazi Liberation Front (MLF) leaders
facing treason charges will continue wallowing in remand prison despite the
granting of bail by High Court after the state blocked the bail today
(Thursday).

On Thursday morning Bulawayo High Court Judge Justice Maphios Cheda who was
standing in for Justice Nicholas Ndou granted US$2000 bail with strict
conditions to the three MLF senior executive members Charles Thomas, John
Gazi and Paul Siwela who are facing treason charges after arrested three
weeks ago in different locations in the city for distributing party flyers.

However soon after  the bail granting the state  prosecution team  led  by
Whisper Mabhaudi and  Martha Cheda told the  judge that there invoking
Section 121 of the Criminal Procedure and Evidence Act (CPEA)  to suspend
the MLF leaders' release claiming investigations on the treason case were
still on.

This means the three MLF leaders will remain detained at Khami Maximum
Remand prison where there are being kept in solitary confinements for the
next seven days.

Speaking to journalists after the court ruling Matshobana Ncube one of the
lawyers representing MLF leaders said there were disappointed   by the
blocking of the bail by the state.

"As the defence team we are very disappointed by the state's latest move.
But we are not giving up, were now going to Supreme Court," said Ncube.

On Monday the state prosecutors had pleaded with High court not to grant MLF
leaders bail describing them as a bunch of criminals who have criminal
records dating back to 1982.

The militant and radical MLF was launched in January this year and is
advocating for the independence of the Matabeleland region located in the
southern part of Zimbabwe saying the Ndebele speaking people of have been
marginalised by the government for too long and also face discrimination
every day at work places and tertiary institutions.

The call for Matabeleland secession from Zimbabwe appeared to have been
encouraged by events in South Sudan where people there voted overwhelmingly
to break away from mainland Sudan in a referendum.

---
Supreme court readies itself for artist Owen Maseko's case
---
SPT-Zimbabwe Update No.2. March 2011: The Silencing of the Bones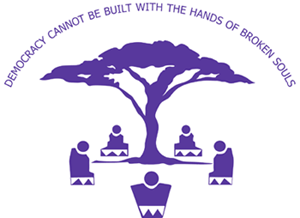 Solidarity Peace Trust
---
SPT-Zimbabwe Update No.2. March 2011: The Silencing of the Bones
24 March 2011
By Shari Eppel - Solidarity Peace Trust
Over the last few days, I have watched, listened to, and read with growing horror and dismay, about events unfolding in Mount Darwin, Zimbabwe, where human remains are currently being hauled out of mine shafts by completely unqualified individuals. I have examined with great sadness, photographs of dishevelled piles of skulls, long bones and other indiscriminately exhumed human remains.

There are 206 bones in each human body – each hand has 27 bones and each foot has 26, meaning half of our bones are in our hands and feet – does the average war veteran currently hurling around the dead in Mount Darwin know this, or care? What is happening to all those delicate wrist and hand bones, in the chaos that is going on?

Does the average Mount Darwin exhumer understand that in order to age, or sex, a set of human remains, they need to be complete – an expert will consider various indicators on a human skull, pelvis, long bones and a particular rib, before drawing a probable conclusion on whether the deceased is male, or female, and 18 years or 65 years old. Knowing that the majority of people in a particular site are of a certain age and sex, for example, could help unravel the circumstances of their deaths. But this opportunity has already been largely taken away by the fact that it is not possible to be sure which bones make up which person at this stage.

An expert forensic anthropolist will be able to tell you not only that a certain set of remains is a woman, but will be able to tell you whether she was pregnant or not at the time of murder, and whether she gave birth during her life time. An expert will be able to tell you that a particular man was 1m 78cm tall when alive, that he was left handed, and that he broke his leg as a child. In short, an expert can give an unusual voice to the dead – can return identity and life experiences to an otherwise silent pile of bones.

Bodies decay in different ways and at different rates depending on the circumstances of the site. There is talk at the moment of apparent soft tissues on some of the bones – but this is not necessarily an indicator that these bones entered the grave more recently, although it could be. A process of mummification can occur when bodies are piled in such massive numbers one upon another, and to all but the most expert of eyes, mummified flesh will look the same as rotting soft tissues from a more recent era.

A forensic anthropologist can very often identify precise cause of death, even decades later, and can also identify era of death. The latter is very often identified by personal effects either in the pockets or in the vicinity of the bones in the original burial site – coins, ID documents or situpas, litter indicative of products that were made during a certain era only – these items can help date the moment in which the body entered the site, to within a few years at least. Totems to fend off death, commonly worn by ex combatants, could be indicators of who these dead are – and there could well be particular amulets, or types of equipment or clothing, that could help solve the riddle of whether these dead are ZIPRA or ZANLA, in the event of them being combatants and not civilians. And personal effects, such as wedding rings, distinctive cigarette lighters, or even a particular pair of shoes or belt buckle, could help distinguish Peter from Paul. But for this to be possible, extensive interviews with possible relatives of the deceased have to take place – preferably prior to exhuming – and relatives ought to be consulted and involved at every step of the way, to ensure that the process of exhumation is done in a way that respects their wishes and cultural needs.

I have seen personally, how exhumations can result in healing of individuals and communities. I have heard the bones speak, as a result of experts listening very carefully to what they are trying to say. I have seen the voices of bones giving back the historical past to their families and villages – indeed, giving themselves back with definite identities, to be buried where they are supposed to lie, so that at long last, after decades of silence, their spirits can rest in peace – and the living, that have mourned them for so long, can have closure.

What is happening in Mount Darwin is a travesty – the dead are being forever silenced by the disrespectful way in which they are being treated right now. These bones were once human beings, people who apparently died brutally. It is an abdication of responsibility for the government to simply say – we are not involved so far.

Yes, Zimbabwe desperately needs exhumations, most likely in every province of the country – but there are experts in the world who are ready and willing to help, if invited, such as the Argentinean Forensic Anthropology Team, who have exhumed in more than 20 countries around the world and who have thirty years experience in expertly giving a voice to the dead. Before the voices of the Mount Darwin dead are irretrievably lost, we need to call a halt to what is happening there and seek expert help. Bones speak quietly and in a language only an expert can hear – let's not silence them forever, but bring them the help they need to be heard.
Rights reserved: Please credit the author, and Solidarity Peace Trust as the original source, for all material republished on other websites unless otherwise specified. Please provide a link back to http://www.solidaritypeacetrust.org

This article can be cited in other publications as follows: Eppel, S. (2011) 'SPT-Zimbabwe Update No.2. March 2011: The Silencing of the Bones', 24 March, Solidarity Peace Trust: http://www.solidaritypeacetrust.org/1004/spt-zimbabwe-update-no-2/
For further information, please contact Selvan Chetty - Deputy Director, Solidarity Peace Trust
Email: selvan@solidaritypeacetrust.org
Tel: +27 (39) 682 5869
Fax: +27 (39) 682 5869
Address:
Suite 4
3rd Floor
MB Centre
49 Aiken Street
Port Shepstone 4240
Kwazulu-Natal South Coast
---
Kimberley Process In Turmoil After Chairman Clears Zimbabwe Diamond Sales
http://www.voanews.com/

The US State Department has warned that it will publish the names of firms
that receive Marange diamonds on a government website and will ask the US
Treasury Office of Foreign Assets Control to scrutinize diamond transactions
more closely

Sandra Nyaira | Washington  23 March 2011

The Kimberley Process Certification Scheme is in turmoil following the
declaration by its chairman, Mathieu Yamba of the Democratic Republic of
Congo, saying Zimbabwe is cleared to sell diamonds from the Marange field
into the global marketplace.

There was no debate among Kimberly Process members before Yamba's
announcement, which has drawn opposition from the World Diamond Council and
the governments of the United States, the European Union, Canada and Israel,
which have warned off buyers.

In his directive authorizing Zimbabwe to resume export sales of diamonds
from the highly controversial Marange field in the east of the country,
Yamba said all unresolved issues concerning Marange would be addressed at a
Kimberley meeting in November.

In the United States, Jewelers of America and the Diamond Manufacturers and
Importers Association of America have urged members not to trade in diamonds
from Marange. The groups say suppliers should provide additional written
assurances beyond the World Diamond Council's usual warranties statement
that the diamonds they supply did not originate in Marange and were not
obtained in violation of laws or sanctions.

The US State Department has warned that it will publish the names of firms
that receive Marange diamonds on a government website and will ask the US
Treasury Office of Foreign Assets Control to scrutinize diamond transactions
more closely.

The Treasury office administers US sanctions targeting President Robert
Mugabe and many other ZANU-PF officials. It has listed the Zimbabwe Minerals
and Development Corporation, the state-run parent company of Marange
Resources, for sanctions.

World Diamond Council President Eli Izhakoff told VOA Studio 7 reporter
Sandra Nyaira that Yamba's statement came as a surprise to many Kimberley
members.

"While the World Diamond Council welcomes and applauds Mr. Yamba's efforts
to bring an end to the apparent impasse that currently exists regarding the
status of production and stocks from Marange, the WDC advises members of the
international diamond industry to refrain from trading in and exporting
goods from the region until the situation and the status of these goods
becomes clearer," Izhakoff said.

"In the meantime, the WDC would like to assure all parties involved that it
remains at their disposal to lend assistance and contribute to any
initiative that will resolve outstanding issues, while protecting the
credibility of the Kimberley Process."

Zimbabwean Mines Minister Obert Mpofu said Zimbabwe doesn't care about
statements from those who seek to block international trade in Marange
diamonds.

Mpofu said countries like Canada, Australia and Britain are hypocritical
because their companies are currently benefiting from mining ventures in
Zimbabwe.

"What makes us more worried is that the same countries are the major
beneficiaries of our minerals," he said. "Canada has a big gold mining
concern exploiting our gold on a daily basis. We've got the Australians
exploiting our diamonds at Murowa plus even Zimplats is partly British and
Australian."

Dismissing the so-called violence clause in a recent Kimberley agreement
that would have cleared the way for Harare to market Marange diamonds, Mpofu
said the clause was "nonsensical." The impasse over the clause led to
Yamba's directive.

But Mpofu said Zimbabwe will remain a member of the Kimberley Process.

Crisis in Zimbabwe Coalition Regional Coordinator Dewa Mavhinga, a member of
the Kimberley Process local focal point for Zimbabwe, said that his panel is
still reviewing Yamba's directive but backs those urging world buyers to
avoid Marange stones.

---
Harare Governor And Politburo Member Karimanzira Dies
http://www.radiovop.com

24/03/2011 14:29:00

HARARE, March 24 – Harare metropolitan province governor and Zanu PF
politburo member David Karimanzira has died.

Zanu PF spokesperson Rugare Gumbo confirmed Karimanzira's death through an
unconfirmed illness.

"He died at West End Clinic around 5am this morning. He was sick," said
Gumbo, who could not supply more details.

Asked if the party has made any arrangements so far, Gumbo said," he died at
5am this morning and the time is still so short for any meaningful
arrangement to be put in place."

Karimanzira was Zanu PF's secretary for finance and was among top allies to
President Robert Mugabe who were put on the western sanctions list.

Zanu PF politicians say Karimanzira sat through during a party politburo
meeting on Wednesday and left thereafter saying he was going
to collect his medication at Harare's West End Clinic where he was
subsequently admitted.

He is one of the longest serving officials in Mugabe's government.

His and other governors' appointment by Mugabe is among issues that are
hotly being disputed by coalition government partners, the Movement for
Democratic Change (MDC).

---
IMF tells Zimbabwe to keep state wages in check
http://af.reuters.com

Thu Mar 24, 2011 11:55am GMT

* IMF warns on wage pressures, inflation

* Resumption of IMF lending "far off"

By MacDonald Dzirutwe

HARARE, March 24 (Reuters) - The IMF has told Zimbabwe to contain public
sector wage demands to avoid stoking inflation and reiterated it will not
resume lending until Harare clears its arrears, a Finance Ministry official
said on Thursday.

State workers, who earn an average $200 a month, are pressing for a doubling
of their salaries, putting pressure on authorities already spending 70
percent of revenues on wages.

An International Monetary Fund (IMF) team is in Harare for annual
consultations with the government and has warned that the wage demands could
push the southern African nation back into an inflation spiral. The team
ends its mission on April 1.

"The mission noted progress in the economy but is very worried by public
sector wage demands. They want the government to exercise restraint in this
area to avoid inflation shocks," a Finance Ministry official who attended
some meetings with the IMF team told Reuters.

Hyperinflation was the hallmark of a decade of economic collapse in the
southern African nation but price increases are now in single digits after
the government scrapped the worthless Zimbabwe dollar and started to use
foreign currencies.

A unity government under President Robert Mugabe and rival Prime Minister
Morgan Tsvangirai has stabilised the economy but has not managed to attract
the billions of dollars in aid and investment it needs to rebuild the
devastated economy.

The pair are divided on how to implement an empowerment law which requires
foreign-owned companies, including banks and mines, to sell 51 percent of
shares to locals.

The IMF team has asked the government to clearly spell out how it plans to
implement the law, which has already rattled investors seeking a share of
Zimbabwe's mineral resources, that include the world's second largest
deposits of platinum.

The finance ministry official said resumption of lending by the IMF, which
last lent Zimbabwe money in 1999, was "still far off". The Fund wants Harare
to clear arrears of more than $140 million before it contemplates any
funding programme.

Zimbabwe owes foreign lenders $7 billion, more than its estimated $6 billion
GDP this year, and is discussing plans for debt relief with the IMF team,
the official said.

---
Thanks to Robert Mugabe, Zimbabwe is on a knife edge
http://www.telegraph.co.uk

Two years of economic recovery and relative peace in Zimbabwe may be the
calm before the storm, writes Roland Rudd.

By Roland Rudd 12:37PM GMT 24 Mar 2011

Britain has recently invested heavily in flooding Zimbabwe's schools with 13
million new books. Since David Coltart became the Education Minister for the
faction of the Movement for Democratic Change led by the student leader
Arthur Mutambara as part of the government of national unity, most of the
country's schools are open every day of the school year, compared to being
chaotic and closed for over a hundred days in the previous one.

After years of chronic hyperinflation, the use of foreign currencies was
legalised in January 2009 and the ruined Zimbabwe dollar fell almost
entirely out of use. This masterstroke by Tendai Biti, the MDC Finance
Minister, means that shops and supermarkets throughout Harare are now full.
The economy grew for the first time in a decade last year by 4.5 per cent,
and annular inflation fell from 3.3 per cent in January to 3 per cent in
March.

For a country that had been on the brink of collapse in 2008, facing mass
starvation, political suppression and brutality, this is part of a
remarkable bounce back.

But the last two years of economic recovery and relative peace may be the
calm before the storm. Political suppression and the climate of intimidation
are back, as well as Robert Mugabe's familiar rhetoric of bashing British
and American "imperialists".

Elton Mangoma, the MDC Energy Minister and an important ally of Prime
Minister Morgan Tsvangirai, was recently arrested on charges of abuse of
office and released on bail. The number of MDC officials and MPs being
targeted and followed by the feared Central Intelligence Organisation is
again increasing. In the open air markets of Harare, people are only willing
to voice opposition to Mugabe in hushed tones, and away from prying eyes.
The climate of intimidation is back.

Elections in Zimbabwe are synonymous with violent beatings, intimidation and
vote-rigging. Rumours abound that Mugabe is very ill with advanced prostate
cancer and that he is keen to bring forward elections which were not due
until 2013 to this year. He wants to secure enough votes for Zanu PF to rule
without the MDC, and without agreeing to a new constitution that was
promised in the 2008 political agreement.

Added to this, Mugabe's government has had a huge windfall from diamonds in
the south of the country, claiming to have stockpiled some 4.6m carats worth
up to $1.7 billion. China has been steadily increasing its influence there,
building a new military base to gather intelligence for Mugabe, and recently
announcing about $700 million worth of lending.

Britain has an absolute moral duty to ensure that Zimbabwe is high on the
international agenda. Recent tragedies in Japan and New Zealand, and the
uprisings in North Africa have obviously focused the world's attention away
from southern Africa, but we must not allow Zimbabwe to be lost to another
half decade of sclerotic and violent rule. Given our historical relationship
with Zimbabwe, we have a special responsibility.

Practically, we need to do three things. First, we need to ensure that Jacob
Zuma prevents Mugabe from cutting and running on the deal that South Africa
helped negotiate in 2008 by holding premature elections. As South Africa's
president, he holds all the power in this situation.

Perhaps the most important element of that deal was the agreement to draft a
new and fully democratic constitution before elections in 2013. This has not
happened, and it now looks like Mugabe is trying to wriggle out of it.
Zimbabwe's powerful Defence Minister, Emmerson Mnangagwa, is also pushing
Mugabe to hold early elections, fearing that the unity government's success
in stabilising the economy could be a boon for the MDC. This could well be
the case, and would be good for the MDC if free and fair elections were held
in 2013 under a new constitution.

Secondly, we need to end the sporting boycott. England missed an opportunity
to support democrats in Zimbabwe when it cancelled a cricket tour in 2009.
The MDC needs to be able to show that their presence in government is making
a difference. Isolating Mugabe with sporting boycotts and sanctions makes it
easier for him to argue that all of the world is against him, and blame his
self-made troubles on Britain and the west.

Thirdly, we may have to be prepared to drop some economic sanctions,
especially those that prevent companies investing. Jacob Zuma has said that
the sanctions are not helping, and that the unity government is being
"suffocated". The opposition in Zimbabwe is divided on the issue. Some
believe that the end of sanctions would lead to Mugabe flying straight to
London and declaring victory over the UK. However, if the price of doing a
deal with Zuma is to end some travel restrictions, then the price has got to
be worth paying.

In turn, Mugabe is threatening to nationalise foreign companies based in
Zimbabwe if sanctions are not dropped. Many domestic companies are in such
an appalling state that they have not made money in ten years, and exist
solely to pay the pensions and salaries of their employees. Foreign owned
assets therefore present a tempting target. Sanctions will be the main plank
of any future Mugabe election campaign, and the way they are currently set
up is doing more harm than good.

Zimbabwe is on a knife edge and this is a crucial moment. Mugabe is trying
to goad the MDC into pulling out of the coalition so he can call elections
which he may win through sheer intimidation. Britain needs to keep Zimbabwe
on the global political agenda, neutralise the sanctions issue as an
electoral advantage for Mugabe, and do a deal with Zuma to stop Zanu PF from
fighting dirty. Today's generation of Zimbabwean children will not thank us
if we allow Mugabe and Zanu PF to keep their stranglehold on Zimbabwe
because we stubbornly insisted on maintaining a sanctions programme that did
not move the country towards full democracy.

Roland Rudd is Senior Partner at Finsbury and Chairman of Business for New
Europe.

---
Chinese doctors restore sight to 500 cataractous Zimbabweans
13:59, March 24, 2011     
Picture shows patients registering for an operation at the Chitungwiza Central Hospital in the suburbs of Harare, the capital of Zimbabwe on March 21. The Chinese medical team arrived at Harare by charter flight on March18 to start the one-week medical treatment. Their mission is to conduct the eyesight restoration operations on 500 cataractous Zimbabweans for free. This is the second time that the Chinese doctors have delivered this sort of aid to Africa. (Photo by Li Ping, Xinhua)
By Li Yancheng, People's Daily Online
---
More Clothing Makers in Bulawayo, Zimbabwe, Close Their Doors
http://www.voanews.com

Zimbabwe National Chamber of Commerce President Trust Chikohora said
capacity utilization in manufacturing has hovered around 40 percent since
early 2010 after recovering from around 10 percent in 2009

Gibbs Dube | Washington  23 March 2011

Companies in Bulawayo, the second-largest city in Zimbabwe, continue
shutting down factories under pressure from harsh economic conditions, a
lack of working credit and competition from cheap imports, particularly in
the clothing sector.

Experts said this week's closure of Labels (Pvt) Limited and the placement
of Security Mills (Pvt) Limited under judicial management signal more
companies will fail.

Sources said the two firms halted manufacturing on Tuesday amid reports they
could not make payroll and were unable to access credit to continue
operations.

Experts said companies have not been able to tap a credit line extended by
the African Export-Import Bank.

Zimbabwe National Chamber of Commerce President Trust Chikohora said
capacity utilization in manufacturing has hovered around 40 percent since
early 2010.

"Capacity utilization increased from 10 percent in early 2009 to 40 percent
in the first quarter of 2010 but has been stagnant since then due to lack of
credit lines and the current harsh economic conditions," Chikohora said.

Economic commentator Rejoice Ngwenya said struggling companies should be
granted tax exemptions to help them lower costs and remain in business.

Firms that have shut factories in Bulawayo include Cotton Printers, National
Blankets and National Foods, while Hunyani Printopak is considering
relocating to Harare.

---
Zimbabwe's potential should not be ignored: Analysts
http://www.newzimbabwe.com

24/03/2011 00:00:00
    by

INVESTORS should not ignore Zimbabwe's economic potential following the
announcement of the $30 million facility agreement between the IDC and the
Agricultural Bank of Zimbabwe, the founding partner of SA-based Musa
Capital, Antoine Johnson has said.

Along with Zimbabwe's Neverseez Capital, Musa Capital was a co-adviser for
the deal, as well as the lead arranger.

The transaction was the first of its kind since the signing of the Bilateral
Investment Promotion and Protection Act between SA and Zimbabwe in 2010.

AgriBank intended to use the six-year term facility from the IDC to on-lend
to its blue-chip and medium-sized clients, some of which were listed on the
Zimbabwean Stock Exchange - with a focus on increasing their production
capacity.

"The deal has a couple of different influences," Johnson said.

"Firstly, it's an endorsement - albeit a cautious one - of the recognition
of some of the efforts both government and the commercial sector of Zimbabwe
have made over the past 24 months or so.

"So, at the macro-level, I see the deal as a signalling device," he added.

At the micro-level, he noted that the AgriBank played an important role in
the economy, particularly in funding the agricultural sector.

"It also plays a role in the development of SMMEs (small, medium and micro
enterprises) as well as light manufacturing and light mining."

According to Johnson, the IDC/AgriBank loan deal must be seen as a win-win
situation for both SA and its neighbour.

"The deal has been structured to ensure that a large portion of the funding
will be used by Zimbabwean companies to purchase South African goods and
services.

"This is an important aspect as the IDC has a lot of issues at home and
people will ask how the loan to Zimbabwe will help SA."

Johnson hoped that the existence of the Bilateral Investment Promotion and
Protection Act would lead to a realisation that there was a law in place
that provided security of tenure to South African investors.

Turning to the various sectors in the Zimbabwean economy, he said that
mining had first place on the list. "The country probably has 90 percent of
all its resources still in the ground. There are diamonds, but less
controversially there is platinum gold and coal. In fact, the most
profitable platinum mine in the world is in Zimbabwe."

Agriculture was another important sector as the country had a long history
of providing food in the region and could do so again. "The tobacco industry
has already started to recover."

There were also "huge" opportunities in the financial services space,
Johnson said. "As a result of hyperinflation, consumers have had to survive
without liquidity - you couldn't get a home loan in Zimbabwe in the last
decade, so people with houses are unleveraged and have a 100 percent equity
position in their homes.

"If only a 20 percent loan to value was given, you'd be unlocking a lot of
capital."

Johnson added that the Zimbabwean telecoms sector had shown phenomenal
growth. "In fact, in the past 24 months, it has grown three times, mainly
because of dollarisation and some limited liquidity."

He forecast that internet penetration would skyrocket in the country because
of its high literacy rate. "Zimbabwe has some of the best human capital on
the continent."

Johnson confirmed that Musa Captal was looking at private equity investments
in Zimbabwe, particularly in the mining sector.

Asked about the Zimbabwean government's policy of so-called indigenisation,
whereby the government intended to nationalise more than half its mining
resources sector by setting up a sovereign wealth fund that would own 51
percent of all mining companies, Johnson said he was more concerned about
stability.

"If there is clarity and stability, I think as a financial services firm we
know how to structure a win-win deal for all parties in that capital comes
in and gets the return it's looking for and local entrepreneurs gain the
opportunity to benefit.

"If the government of national unity that exists now continues to deliver
positive results and if dollarisation continues then indigenisation becomes
a restructuring question."

Musa Capital has been operating in Africa since 1994 and Johnson said its
first investment had been in real estate in Zimbabwe.

Turning to the present $30 million deal, he paid tribute to the parties
involved. "A deal of this nature can be difficult to transact, but we had
the help of local advisers and I'd like to acknowledge their assistance."

He added that it was also helpful in that the government was a shareholder
of AgriBank.  "The government's commitment to this agreement was part of the
reason that the deal was done and despite political differences in
government, all players seem to be on board when it comes to improving
Zimbabwe's economic climate."

Johnson quipped: "Zimbabwe on a bad day is better than the rest of Africa on
a good day!"

---
IDC invests in Zim's Agribank
http://www.iol.co.za/

March 24 2011 at 11:21am

The Industrial Development Corporation of South Africa (IDC) has signed a
US$30 million facility agreement with Agricultural Bank of Zimbabwe
(AgriBank), the parties said on Thursday.

The deal was arranged by SA's Musa Capital and Zimbabwe's Neverseez Capital
and the signing took place on March 18.

This was the first transaction of its kind since the signing of the
Bilateral Investment Promotion and Protection Act (BIPPA) between South
Africa and Zimbabwe in 2010, the statement said.

"BIPPA seeks to create favourable conditions for investment between South
Africa and Zimbabwe; provide security of tenure to South African investments
in Zimbabwe; and unlock opportunities for the Zimbabwean local industry to
access lines of credit from South Africa.

"In that context, the IDC Agribank deal is a significant step towards easing
for the Zimbabwean financial services sector the liquidity constraints
resulting from years of hyper-inflation and will, overall, assist in
boosting economic activity in Zimbabwe," the statement added.

AgriBank said it would use the six-year term facility from the IDC to
on-lend to its blue-chip and medium-sized clients, some of which were listed
on the Zimbabwean Stock Exchange - with a focus on increasing their
production capacity.

However, US$20 million of the facility was allocated to firms who operated
in the agri-business, manufacturing, and mining sectors while US$10 million
would be on-lent to the Industrial Development Corporation of Zimbabwe.

The loan was structured to ensure that a large portion of the funding would
be used by Zimbabwean companies to purchase South African goods and
services.

"The IDC facility will, therefore, also provide revenue opportunities to
South African firms," the parties said.

"Because it will help to induce productive capacity in several key sectors,
we see the IDC facility as a watershed transaction," Zimbabwe's finance
minister, Tendai Biti commented.

"It will also signal that Zimbabwe truly is open for business and that South
Africa continues to play a supportive role in Zimbabwe's economic recovery."

Somkhosi Malaba, CEO of Agribank, agreed that the transaction was
significant in addressing the disablement of the banking sector resulting
from the past ten years of the country's economic history.

"Obtaining capital from sources such as the Afrieximbank, which has just
provided US$70 million to the banking sector, and from institutions like
IDC, will add momentum to the positive trend in Zimbabwe's economic
recovery," Malaba said.

The IDC's divisional executive, resources sectors, Ufikile Khumalo said:
"The financial services sector plays a critical role in any economy and,
given the central role that Agribank has historically played inthe
agricultural and industrial sectors, in enterprise development, and in job
creation, IDC views this investment with optimism in respect of accelerating
the progress of the Zimbabwean economy." - I-Net Bridge

---
Threats and acts of intimidation against members of the Zimbabwe Human Rights NGO Forum and ZIMRIGHTS
---
MDC calls for care, sensitivity in exhumations
http://www.swradioafrica.com/

Thursday, 24 March 2011

Zanu PF's exhumations, currently taking place in the Mt Darwin area,
represents a stark betrayal of all Zimbabweans; a serious lack of care and
concern; and a harsh display of political insincerity, in that for three
decades nothing was done to handle this extremely sensitive issue.

Zimbabwe's liberation war and its aftermath remain deeply etched inside the
heart of every citizen. That a single political party would be so brazen to
ignore the fate of thousands of our war heroes and heroines; to abandon
them – as it turns out -- in known mine shafts and in shallow graves; and to
grandstand 32 years afterwards about their remains is as regrettable as it
is unfortunate.

The MDC, a party that legitimately mirrors Zimbabwe's national feelings
today, welcomes the exhumation, identification and proper documentation of
any Zimbabwean whose fate was determined by the liberation struggle – a
national project in which we all took part.

For the exercise that is above party and sectional selfishness, a national
budget administered by the relevant state institutions, led by the Ministry
of Home Affairs, is imperative to cover the necessary costs of tracking down
the genealogy and family trees of the victims through forensic science,
carbon-dating and indisputable DNA sampling. Such a process would reveal
death details and murder methods.

Zimbabweans have endured violence since colonialism and yearn for the day
when the truth about the liberation war, Gukurahundi, Operation
Murambatsvina, the 2008 atrocities – among others – is brought onto the
surface for informed debate and reflection. Without such a concerted,
nationally sensitive process, national healing and reconciliation shall be
impossible.

The MDC calls on Zanu PF to stop what it is doing and leave it to the nation
to work out an appropriate way forward, beyond amateur propaganda antics and
political carelessness.

Say NO to violence, YES to peace

Together, united, winning, voting for real change!!

--
MDC Information & Publicity Department
Harvest House
44 Nelson Mandela Ave
Harare


---
Kucaca Phulu Behind the Headlines
http://www.thezimbabwean.co.uk

Written by SW Radio Africa
Thursday, 24 March 2011 17:52

Following reports that the Zimbabwe Lawyers for Human Rights (ZLHR) had
refused to represent three officials from the Mthwakazi Liberation Front
charged with treason, Lance speaks to Bulawayo lawyer and ZimRights
chairman, Kucaca Phulu (pictured). He is one of 5 lawyers who objected to
the decision and formed the Abammeli Lawyers for Human Rights group in
protest. We also have a statement from Irene Petras, the Executive Director
of ZLHR, on the matter.

Lance Guma: Hello Zimbabwe and welcome to Behind the Headlines my guest this
week is Bulawayo based lawyer and also chairman of ZimRights Kucaca Phulu.
Mr. Phulu, thank you for joining us on the programme.
Kucaca Phulu: Well thank you, thank you Lance for inviting me to Behind the
Headlines.
Guma: The reason why we have done this, the past few weeks have of course
been dominated by the talk surrounding the Mthwakazi Liberation Front trio
of Paul Siwela and his colleagues and subsequent reports that the Zimbabwe
Lawyers for Human Rights had refused to represent them. Let's go straight
into this Mr. Phulu, what happened?
Phulu: Well Lance you see as these matters unfolded I was actually in
Geneva. So I got an e-mail from my colleague saying, well look we are
representing Paul Siwela and two others and in fact we did get in touch with
the Zimbabwe Lawyers for Human Rights through their representative in
Bulawayo who had said to these lawyers, who obviously had been contacted
because they are known to these individuals.
And Matshobana Ncube of Zimbabwe Lawyers for Human Rights contacted Lizwe
Jamela who said, look we cannot represent these people because of what they
stand for. One of the things they are said to stand for is, they want to
chase all the Shona's away from Bulawayo and the second thing is that they
want to use violent means in order to divide the country.
So this is a matter which of course I was concerned about and then I said I
said look I'm with Irene (Petras), I was with Irene in Geneva. So I raised
the matter with them and they said are you talking about the guys who want
to use violence and so forth and therefore do not fall within the definition
of a human rights defender.
I was cautious enough to say look, I'm sure they don't use violence and so
forth but in any case those are not the charges that have been placed before
the courts. The charges at the court do not say they are using violence and
they did not say they want to chase away Shona's from Matabeleland.
I double checked this with my colleagues who then wrote to me and in turn I
wrote a letter to Irene and Rose putting the matter clearly saying look
indeed they want to secede but they don't want to it violently and they don't
want to chase all the Shona's away. And in any case I did say we must not
pre-judge the matter at least people must be given a right to be heard
before we as human rights lawyers begin to condemn them.
Guma: So in this case was this an official position adopted by the Zimbabwe
Lawyers for Human Rights or it was simply the representative in the Bulawayo
office taking a unilateral decision or just airing his views.
Phulu: The representative in the Bulawayo office did communicate about our
inquiry to his superiors and he said, I will take it up with my superiors.
And I did communicate with the Director of the organization and at the end
of the day if someone is sitting in custody and is not being attended to by
those lawyers who represent human rights. We act on the feedback that we
get.
And so on the basis of that, because they didn't issue a statement to say,
oh we won't represent them but we did communicate with them, they indicated
that they were not prepared to deal with the matter and in fact it got to a
point where, when, after I wrote an e-mail to them I said look did you guys
see my e-mail, they refused to talk to me about it.
So on that basis lawyers in Bulawayo proceeded to act on their behalf
because we could not wait for the resolution of this matter before they
could get representation. It was almost a week down the line when we were
still talking and because lawyers from different law firms and different
walks of life came together to represent these people.
And remember it's not just Siwela and two others, there were
about …(inaudible) who were then subsequently released because there was no
case against them. There were three other people who subsequently got
arrested at an even later date. There is now Mrs. Siwela who was also
invited to the police station and is being persecuted.
So we found ourselves doing all these cases but no one was interested in
those, absolutely no advocacy about the matter at international level and
even at a local level. We decided look, why don't we form a loose coalition
of our own where we can formally be able to communicate and represent these
people. That is what it comes down to.
Guma: Okay you have spoken there about Irene (Petras). Let's just let our
listeners know that Irene Petras is the Executive Director of the Zimbabwe
Lawyers for Human Rights. We did speak to her last week and she denied press
reports that their organization had refused to represent the three officials
and in fact Mr. Phulu I will ask you to respond to this.
We asked her whether they would have represented the trio and she said that
this was a 'moot point' as they were never approached and Siwela and his
colleagues had already engaged their own lawyers. Your reaction to that?
Phulu: First before I even respond to that, our focus is not to demonize the
Zimbabwe Lawyers for Human Rights or to say bad things about them. Our focus
is to ensure that these people are represented and thereafter our focus is
to ensure that other people who find themselves in that similar position are
represented.
And also perhaps we find that maybe we are the ones who are best placed to
represent people here because we are in touch with their issues, we won't
condemn them before the courts do. Getting back to the issue of whether
Irene denies that all those things, in such a bold statement. Clearly that
is not true because I personally spoke to her about it.
My colleague who is a legal practitioner, in fact when approached by these
people his first…(inaudible) as we always do was to refer those people to
the Zimbabwe Lawyers for Human Rights as we always do and they were so, his
attempt to refer them to the Zimbabwe Lawyers for Human Rights by contacting
Lizwe Jamela was rebuffed. I subsequently talked to Irene on two occasions
about this and I also sent an e-mail which I copied to our clients and my
colleagues.
So the e-mail is there and that e-mail will bear us out. But in any case for
us that is not the issue. Our organization is not about a split, it's not
about justifying why we decided to take the action that we did. Our
organization is about representing our target group. Our organization is
about being lawyers for human rights and standing up for human rights
issues.
And our organization is not going to be driven by what Zimbabwe Lawyers for
Human Rights say and what they don't say.
We will continue forward with the decision that we have taken, small as we
are, we believe we are right and sometimes when decisions that are correct,
that are justified, that are moral, always have these tough consequences
that you will be pitted against these big giants who have all the money,
with all the voice, with all the clout, but that we don't mind, we are
prepared to move ahead.
Guma: Now we also posed the question why the Zimbabwe Lawyers for Human
Rights were not detailing the Siwela case in their e-mail updates and Petras
who is the Executive Director told us this was because they were not being
given any information from the lawyers representing the trio, is this true?
Phulu: Again the first port of call is to say any human rights lawyer and we
know Zimbabwe Lawyers for Human Rights is a big institution, they have got
the ability, they are very good at their job, they do it well and I wouldn't
believe that people will be charged, arrested for having a meeting, high
profile people like Paul Siwela, Gazi and others, charged with treason, put
in custody and they (ZLHR) would not get to know about it.
In fact we even told them about it on many occasions and even when they
choose not to represent them surely they should go to court and hear what
happens. There have been many different court appearances that have been
reported in the local papers, so does it mean they failed to pick those up
and actually report about them?
And what of my e-mail that I sent to them, after that did not get any....in
fact one of the things that infuriated me really, is the fact that even
after that e-mail you still get an update that says, oh there is a treason
case where, there is only one treason case, when I've given you the facts
that there is also another treason case that taking place. Human rights
lawyers find things out, human rights lawyers don't let things come to them.
Guma: Now listening to you talk Mr. Phulu it does sound like there seems to
be a communication breakdown somewhere. I'm sure even our listeners are
still struggling to understand why a decision would be made not to represent
this trio.
Phulu: The decision is based on the pre-conception that people have,
preconceived ideas that people have about others. Let me give you an
example. People from Matabeleland are violent and they stab you at every
opportunity where you have their back to them. And you get the same decision
being made by a judge an immigration judge in the UK which has the same
import to say that if people are deported to Matabeleland and they are not
from there, they will face violence.
So it is on the basis of those pre-conceived ideas that people from the
Mthwakazi Liberation Front, merely because they are calling for secession it
means that they want to chase away Shona people, its means they want to take
up an armed struggle, that is not correct.
And even if you look at the record in that case and I'm not a member of this
political party, if you talk to Paul Siwela or anyone they will tell you, we
don't agree with Phulu and his devolution and I always choose to disagree
with them but they will tell you that in terms of their constitution it says
that they want to achieve these things peacefully. In terms of the limits,
in terms of which they are charged they have said we want to dissociate
ourselves from violence.
They have purportedly written a letter to the president to say look we want
to dissociate ourselves from violence. In terms of the posters themselves,
they say we want a Mthwakazi nation made up of all different people
including the Shona people in terms of the very same posters they have been
charged with and they call upon the army to put down their guns and refuse
to shoot people.
How can you reach a decision that these people are violent? It is because
you make decisions before you actually go and look at the facts, the hard
facts on the ground. You make a decision based on a pre-conceived idea about
people and that is wrong.
Guma: In terms of the decision making within the Zimbabwe Lawyers for Human
Rights, how would a decision like this be arrived at, would a committee sit
to decide, would an individual decide, is it the executive director that
makes a decision.
Phulu: In terms of a decision like this, look, I wouldn't want to start
detailing the structures of the Zimbabwe Lawyers for Human Rights. But there
is something called a rapid reaction with the Zimbabwe Lawyers for Human
Rights. When people are arrested, the person on the ground in Bulawayo was
supposed to make the decision, a snap decision whether or not he was going
to be representing people or not. Assuming he felt he could not make the
decision. I think he was really right to say, I want to consult.
But that consultation must have been done quickly and reached a result that
said look whether these people are human rights defenders or not. In this
case they reached the decision that these people were not human rights
defenders. Now in terms of the overall decision making, you know, regarding
these processes. When you reach the director, the director is able to make a
definite decision about this. And the fact that I talked to her and after I
talked to her nothing happened. So that in itself was an indication that
they were not interested in the case at all.
Guma: Now you have since formed the Abammeli Human Rights Network to
represent people in your area. Does this mean you have reached a point of no
return where this matter cannot be amicably resolved?
Phulu: Well there are a number of lawyers that were involved in coming up
with that decision it really was not my decision or any one person's
decision. But when the decision was made, it became clear that look, we
believe in representing people without discriminating about them.
The other people I'm sure they believe in the same things as well but in
terms of the way things unfolded on the ground, we did believe we cannot
form our own human rights organization and remain members of the Zimbabwe
Lawyers for Human Rights, that would simply not be proper, we had to make a
decision that clearly sets us apart.
But however at an organizational level we remain open to working with anyone
including the Zimbabwe Lawyers for Human Rights because perhaps our
different perspectives, our different points of view can complement each
other. However if people don't wanna work with us again there is nothing
that we can do about it.
So I wouldn't look at it from the point of an irretrievable break down but
the fact on the ground is that there is another organization that has been
formed, we have done our advocacy with the people and civil society on the
ground and they have accepted us overwhelmingly and there is nowhere we can
go back to them and say look, we are now dissolving our organization, it
really would not augur well.
And we expect that there will be cases in future where we don't agree on who
is a human rights defender and who is not.
Guma: And finally Mr. Kucaca Phulu you are of course the chairman of a very
respected human rights group ZimRights. In terms of your work do you think
now we are going to have this North-South divide that will prove problematic
in the execution of whatever mandate that you have?
Phulu: Ah well Lance, fortunately I don't think that there is a North-South
divide in civic society, certainly there is no North-South divide in this
case. In fact that is why you have many organizations having different
chapters in different regions because they realize that each region comes
with its own terrain which may be different from the other regions. So we
are just an organization that has been formed.
And remember the organization has been formed, yes in Matabeleland by an
issue  that happened in Matabeleland. But remember we are not the
Matabeleland Human Rights Lawyers Network, we are Abammeli Human Rights
Lawyers Network and that does not necessarily restrict us to the South. Any
like minded people who want to work with us.
In fact we have one or two members in Harare as I speak, because they
identify with what we stand for and as the organization grows you will find
we will be able to cover as wide an area as possible. But if we find that in
other areas people do not want to work with us or they don't agree with us
then obviously we will not be found there.
But right now the people who need us, the area where there is a knack of
representation for our people is right here in Matabeleland. That's where we
are starting. Unlike many organizations, many people who sit down and say
hmmm, I would like to start an organization, we haven't done that, we are
just a network of lawyers who are dedicated to representing human rights
defenders.
Guma: Well Zimbabwe that was Kucaca Phulu the ZimRights chairman joining us
on the programme to talk about the case involving the Mthwakazi Liberation
Front trio, a case of course which saw prominent lawyers in Bulawayo teaming
up to form the Abammeli Human Rights Lawyers Network to represent activists
in that part of the country. Mr. Phulu thank you for joining us on Behind
the Headlines.
Phulu: Thank you Lance
Guma: Well soon after the interview with Kucaca Phulu we got a statement
from Irene Petras, the Executive Director of the Zimbabwe Lawyers for Human
Rights. The statement reads as follows;
As a professional law-based organisation with limited funding for
litigation, ZLHR has strict standardised procedures for the take-up of cases
by lawyers on its behalf.
The organisation does not cover cases in which lawyers deploy themselves and
then ask, or expect, ZLHR to cover their legal fees after the fact. Genuine
and dedicated ZLHR members are quite alive to, and aware of, such procedures
which are undertaken for ZLHR to represent any Human Rights Defender.
These procedures were not followed in the case at hand. Any additional
allegations as to why ZLHR did not take up this case are therefore malicious
and unfounded. We are reliably informed that the MLF accused are already
represented by 5 lawyers of their own choice, as is their constitutional
right, and we wish them the best of luck.
We believe that the unsubstantiated complaints and allegations against ZLHR
are being raised by some people who have an unfortunate and regrettable
misconception that human rights lawyering is an industry and not a passion.
ZLHR has a long and proud record of service over the last 15 years to tens
of thousands of Zimbabweans from all walks of life. Our work, values and
commitment to promotion and protection of the rights of all Zimbabweans
speak for themselves and require no justification.
We view Abammeli not as competitors, but as compatriots. We wish them all
the best in their endeavours and hope that their work will contribute
further to the promotion and protection of the human rights of an increased
number of Zimbabweans, particularly as we struggle to achieve access to
justice for all.
Irene Petras, Executive Director, Zimbabwe Lawyers for Human Rights
Feedback can be sent to lance@swradioafrica.com
http://twitter.com/lanceguma
SW Radio Africa is Zimbabwe's Independent Voice and broadcasts on Short Wave
4880 KHz in the 60m band

---
OPINION: Thugtatorship -- the highest stage of African dictatorship
http://www.zimonline.co.za

by Alemayehu G. Mariam     Friday 25 March 2011

If democracy is government of the people, by the people and for the people,
a thugogracy is a government of thieves, for thieves, by thieves. Simply
stated, a thugtatorship is rule by a gang of thieves and robbers (thugs) in
designer suits. It is becoming crystal clear that much of Africa today is a
thugogracy privately managed and operated for the exclusive benefit of
bloodthirsty thugtators.

In a thugtatorship, the purpose of seizing and clinging to political power
is solely to accumulate personal wealth for the ruling class by stealing
public funds and depriving the broader population of scarce resources
necessary for basic survival. The English word 'thug' comes from the Hindi
word 'thag' which means 'con man'.

In India 'thugees', well-organised criminal gangs, robbed and murdered
unsuspecting travelers over a century ago. Africa's 'thugees' today mug,
rob, pillage, plunder and rape unsuspecting nations and peoples and secrete
away their billions in stolen loot in European and American banks.

Today, we see the incredibly extreme lengths Libyan thugtator Muammar
Gaddafi is willing to go to preserve his thugocratic empire floating on
billions of stolen oil dollars hidden in foreign bank accounts and corporate
property holdings.

The British government recently announced that it expects to seize 'around
£20 billion in liquid assets of the Libyan regime, mostly in London.' The
Swiss government has similarly issued an order for the immediate freeze of
assets belonging to Gaddafi and his entourage.

The Swiss central bank announced that it will freeze Gaddafi's 613 million
Swiss francs (USD$658 million), with an additional 205 million francs
(USD$220 million) in paper or fiduciary operations.

In 2008, before a diplomatic incident involving the arrest of one of
Gaddafi's sons for assault in Switzerland, Gaddafi's Swiss holdings amounted
to 5.7 billion in cash and 812 million francs in paper and fiduciary
operations. In 2006, the Libyan Sovereign Wealth Fund had investments of $70
billion. The US closed its embassy in Triopli and slapped a freeze on all
Libyan assets described as 'substantial'.

To protect his empire of corruption, Gaddafi has ordered his air force to
bomb and strafe unarmed civilian demonstrators demanding an end to his
42-year rule. His son Saif al-Islam threatened to dismember the country and
plunge it into a civil war. Gaddafi himself has vowed to fight on and die
'like a martyr'. It is not enough for Gaddafi and his thugs to have bled the
Libyan people dry for 42 years, they now want to burn down the whole country
to ashes.

The Ivory Coast is on the verge of civil war, according to UN Secretary
General Ban Ki-moon. In December 2010, Laurent Gbagbo refused to step down
after he was decisively defeated in the presidential election. In 2000,
Gbagbo imposed a curfew and a state of emergency and ordered security forces
to shoot and kill any demonstrators in the streets: 'Police, gendarmes and
soldiers from all branches of the armed forces are ordered to use all means
throughout the country to oppose troublemakers.'

Like Gaddafi's mercenaries today, Gbagbo's troops back then went on a
killing and beating rampage. The European Union, the Swiss and United States
governments have frozen Gbagbo's assets in their countries.??In May 2010,
Meles Zenawi said he won the parliamentary election by 99.6 per cent. The
European Union election observer team said the election 'lacked a level
playing field' and 'failed to meet international standards', a well-known
code phrase for a 'stolen election'. In its 2005 report, the team said
exactly the same thing.

Zenawi's EPDRF party pretty much owns the Ethiopian economy. 'According to
the World Bank, roughly half of the rest of the national economy is
accounted for by companies held by an EPRDF-affiliated business group called
the Endowment Fund for the Rehabilitation of Tigray (EFFORT).

EFFORT's freight transport, construction, pharmaceutical, and cement firms
receive lucrative foreign aid contracts and highly favourable terms on loans
from government banks.' The regime's own anti-corruption agency reported in
2008 that 'USD$16 million dollars' worth of gold bars simply walked out of
the bank in broad daylight.

In 2005, Zenawi demonstrated the extremes he will go to protect his empire
of corruption. Zenawi's own inquiry commission documented that troops under
Zenawi's direct command and control mowed down 193 documented unarmed
protesters in the streets and severely wounded nearly 800. Another 30,000
suspected opponents were jailed.

In a meeting with high level US officials in advance of the May 2010
election, Zenawi told them in plain words what he will do to his opposition
if they try to 'discredit the election'.

'If opposition groups resort to violence in an attempt to discredit the
election, we will crush them with our full force; they will all vegetate
like Birtukan (Midekssa) in jail forever.' If Zenawi will 'crush' those who
'attempt to discredit an election', it does not leave much to the
imagination to figure out what he will do when the people ask him peacefully
to leave power.

In April 2010, Omar al-Bashir of the Sudan claimed victory by winning nearly
70 per cent of the vote. The EU election observer mission declared the
'deficiencies in the legal and electoral framework in the campaign
environment led the overall process to fall short of a number of
international standards for genuine democratic elections.' Another election
stolen in broad daylight; but that is not all Bashir has stolen.

According to a Wikileaks cablegram, 'International Criminal Court (ICC)
Prosecutor Luis Moreno-Ocampo told (US) Ambassadors Rice and Wolff on March
20 (2009) that (Ocampo) would put the figure of Sudanese President Bashir's
stash of money at possibly $9 billion.'

After the ICC issued an arrest warrant for Bashir on charges of war crimes
and crimes against humanity in Darfur, the first warrant of its kind for a
sitting head of state, a sneering Bashir flipped his middle finger at the
ICC: 'They will issue their decision tomorrow, and we are telling them to
immerse it in water and drink it', a common Arabic insult.

In February 2010, a group of soldiers in Niger calling itself the 'Supreme
Council for the Restoration of Democracy' stormed Niger's presidential
palace and snatched president Mamadou Tandja and his ministers.

In 2009, Tandja had dissolved the National Assembly and set up a
'Constitutional Court' to pave the way for him to become president-for-life.
Niger's state auditor reported that 'at least 64 billion CFA francs
(USD$128-million) were stolen from Niger's state coffers under the
government of former president Mamadou Tandja.' Tandja is sitting in jail in
southwestern Niger.

In March 2008, Robert Mugabe declared victory in the presidential election
after waging a campaign of violence and intimidation on his opponent Morgan
Tsvangirai and his supporters.

In 2003, Mugabe boasted, 'I am still the Hitler of the time. This Hitler has
only one objective: justice for his people, sovereignty for his people,
recognition of the independence of his people and their rights over their
resources. If that is Hitler, then let me be Hitler tenfold. Ten times, that
is what we stand for.' No one would disagree with Mugabe's self-description.

In 2010, Mugabe announced his plan to sell 'about $1.7 billion of diamonds
in storage'. According to a Wikileaks cablegram, 'a small group of
high-ranking Zimbabwean officials (including Grace Mugabe) have been
extracting tremendous diamond profits.' Mugabe is so greedy that he stole
outright '£4.5 million from [aid] funds meant to help millions of seriously
ill people.'

In December 2007, Mwai Kibaki declared himself winner of the presidential
election. In 2002, Kibaki, criticising the regime of his predecessor Daniel
Arap Moi, urged the people to 'remain calm, even when intimidated or
provoked by those who are desperately determined to rig the elections and
plunge the country into civil war.'

In 2007, Kibaki and his thugs unleashed such violence against the civilian
population that 1,500 Kenyans were killed and some 600,000 displaced, almost
plunging Kenya into civil war.

The Kroll Report revealed that Moi stole billions of dollars using a 'web of
shell companies, secret trusts and frontmen' and secreted the loot in 30
countries. Kibaki stonewalled further action on the report, including
prosecution of Moi.

The story of corruption, theft, embezzlement and brazen transfer of the
national wealth of African peoples to European and African banks and
corporate institutions is repeated elsewhere in the continent.

Ex-Nigerian President Sani Abacha, who was judicially determined to be a
member of a criminal organisation by a Swiss court, stole $500 million. Ben
Ali of Tunisia and Hosni Mubarak of Egypt also have their stolen assets in
the hundreds of millions of dollars frozen in Switzerland and elsewhere.

Other African thugtators who have robbed their people (and pretty much
gotten away with it) include Nigeria's Ibrahim Babangida, Guniea's Lansana
Conte, Togo's Gnassingbe Eyadema, Gabon's Omar Bongo, Equatorial Guniea's
Obiang Nguema, Burkina Faso's Blaise Campore and Congo's (Brazaville) Denis
Sassou Nguesso, among others.

In previous commentaries, I have argued that the business of African
governments is corruption. African thugtators cling to power to operate
sophisticated criminal business enterprises to loot their national
treasuries and resources. These African 'leaders' are actually 'godfathers'
or heads of criminal families.

Just like any organised criminal enterprise, African thugtators use their
party apparatuses, bureaucracies, military and police forces to maintain and
perpetuate their corrupt financial empires.

When the US first announced its 'kleptocracy asset recovery program' to the
world in July 2010, US Attorney General Eric Holder delivered the message,
not at some international anti-corruption forum, but at the African Union
Summit in Kampala, Uganda.

Holder told the gathered African thugtators:??'Today, I'm pleased to
announce that the US Department of Justice is launching a new Kleptocracy
Asset Recovery Initiative aimed at combating large-scale foreign official
corruption and recovering public funds for their intended - and proper - use
for the people of our nations.

'We're assembling a team of prosecutors who will focus exclusively on this
work and build upon efforts already underway to deter corruption, hold
offenders accountable, and protect public resources.'

Holder's announcement was nothing short of breathtaking. In Kampala, Holder
was talking directly to the African equivalents of the Godfathers of the
Bonnano, Columbo, Gambino, Genovese and Lucchese crime families in one
place.

Political economy of thugtatorships

Thugtatorships in Africa thrive in the political economy of kleptocracy.
Widespread corruption permeates every corner of society. Oil revenues,
diamonds, gold bars, coffee and other commodities and foreign aid are stolen
outright and pocketed by the thugtators and their army of thugocrats. Public
funds are embezzled and misused and state property misappropriated and
converted to private use.

Publicly-owned assets are virtually given away to supporters in
'privatisation programs' or secretly held in illegal transactions. Bank
loans are given out to front enterprises owned secretly by the thugtators or
their supporters without sufficient or proper collateral.

Businessmen must pay huge bribes or kickbacks to participate in public
contracting and procurement. Those involved in the import/export business
are victimised in shakedowns by thugocrats. The judiciary is thoroughly
corrupted through political interference and manipulation.

One of the common tricks used by thugtators to cling to power is to
terrorise the people with warnings of an impending Armageddon. They say that
if they are removed from power, even after 42 years, the sky will fall and
the earth will open up and swallow the people. Thugtators sow fear,
uncertainty and doubt in the population and use misinformation and
disinformation to psychologically defeat, disorient and neutralise the
people. ??

Both Gaddafi and his son have warned of chaos. Zenawi has been talking about
'genocide' for years. The 2005 European Union election observer mission in
its final report strongly chastised Zenawi and his associates for morbid
genocide rhetoric. If Africa's thugtators plan to use the 'nuclear option'
and bring Armageddon on their societies, they would be wise to know who is
destined to win the final battle between good and evil.

Gaddafi's fate now dangles between what he wants to do to bring this
unspeakable tragedy to a swift conclusion, the will of the Libyan people
once they vanquish his mercenaries and the International Criminal Court to
whom the US Security Council has voted unanimously to refer Gaddafi and
members of his government in Libya for investigation and prosecution for
crimes against humanity and war crimes.?

Like al-Bashir of the Sudan, Gadhafi and members of his thugocratic empire
will not escape the long arms of justice. The days of massacring unarmed
demonstrators, strafing and bombing civilians and detention of innocent
people by the tens of thousands with impunity are gone. Justice may be
delayed but when the people open the floodgates of freedom, 'justice (not
blood) will run down like water, and righteousness like a mighty stream' and
wash out the wreckage of thugtatorship into the sea.??

Africa's thugtatorships have longstanding and profitable partnerships with
the West. Through aid and trade, the West has enabled these thugocracies to
flourish in Africa and repress Africans. To cover up their hypocrisy and
hoodwink the people, the West is now lined up to 'freeze' the assets of the
thugtators. It is a drama they have perfected since the early days of
African independence.

The fact of the matter is that the West is interested only in 'stability' in
Africa. That simply means, in any African country, they want a 'guy they can
do business with'.

The business they want to do in Africa is the oil business, the (blood)
diamond business, the arms sales business, the coffee and cocoa export
business, the tourism business, the luxury goods export business and the war
on terrorism business. They are not interested in the African peoples'
business, the human rights business, the rule of law business, the
accountability and transparency business and the fair and free elections
business.??

Today, the West is witnessing a special kind of revolution it has never
seen: a youth-led popular nonviolent revolution against thugtatorships in
Africa and the Middle East. Neither the West nor the thugtators know what to
do with this kind of revolution or the revolutionaries leading it.

President Obama said, 'History will end up recording that at every juncture
in the situation in Egypt, that we were on the right side of history.' Well,
what is good for Egypt is good enough for Ethiopia, Libya, Tunisia, the
Sudan, Algeria, Kenya, Bahrain, Djbouti, Somalia and Zimbabwe.

The decisive question in world history today is: are we on the right side of
history with the victims of oppression or are we on the wrong side with
thugtators destined to the dustbin of history???Power to youths in Africa
and the Middle East! –??This article first appeared in The Huffington Post.?

* Alemayehu G. Mariam is professor of political science at CSU San
Bernardino.

---
Africa's Confused Relationship with the International Criminal Court
By Sanderson N Makombe

African Presidents and the African Union leadership evidence a paralysis of
decision making with regard to the relationship they wish to have with the
International Criminal Court (ICC), if the voting for Libya's referral to
the ICC is put in context.

It is consequential to point that all cases currently before the ICC involve
African states. Uganda, DRC and the Central African Republic are all ICC
members who unilaterally referred their situations to the ICC.Kenya, a state
party, however did not self refer but the  ICC prosecutor instituted
investigations  proprio motu (without invitation).Sudan, and now Libya, are
non state parties referred to the ICC by the United Nations Security
Council. In July 2010, at the AU summit in Kampala, Uganda, the organization
(AU) attacked Moreno-Ocampo (ICC Prosecutor) for securing an arrest warrant
against Sudan's Al-Bashir for genocide. The AU requested the UN to suspend
the arrest warrants against al-Bashir. Some even called for withdrawal of
all cooperation with the ICC.Chad and Kenya, despite being state parties to
the ICC, deliberately opted not to arrest Bashir when he visited their
territories in clear violation of their legal responsibility arising from
being a state party to the ICC.
In Uganda there are currently concerted efforts, both within and outside,
lobbying the UN Security Council to defer investigations and prosecutions of
some Lord Resistance Army commanders, ostensibly, based on the need to
promote peace rather than justice.

The UN Security Council on 26 February 2011, unanimously passed Resolution
1970 (2011), referring the `situation` in Libya to the International
Criminal Court (ICC).The three African states in the Security Council all
voted affirmatively for the referral: South Africa, Nigeria and Gabon .Just
over a month ago the AU, led by the same South Africa, asked the Security
Council to defer the case brought by the ICC prosecutor against six senior
Kenyan officials for crimes committed in the last disputed election there.
The irony could not have been lost. The same South Africa voted to refer
Libya to the ICC.No doubt when the serious business of investigating and
prosecuting the alleged criminals commences the same governments will be
throwing spanners in the work of the ICC and lobbying for deferrals ,hiding
under discredited notion of 'interest of peace'. This smacks of double
standards, or at worst an inert inability for Africa to rest on solid
principle on whether they subscribe to the doctrine underlying the ICC.

The UNSC referral also makes interesting reading. Whereas Sudan was the
first non state party referral by the UNSC, through Resolution 1593 (2005),
the United States and China abstained from voting (but didn't veto the
resolution).However on Libya the Permanent Five (P5) all voted
affirmitively.This has implications for other troubled spots of the world.
The gradual recognition of the ICC by the US is paramount, as the court
seeks to establish itself as a truly international court. The US is not a
signatory as the initial decision to ratify  the ICC treaty was rescinded by
George Bush jnr when he successed Bill Clinton, who had ratified. It is
refreshing that the P5 are able to come to compromises (abstaining, rather
than vetoing) as the ICC continue to grow and would probably in future be
the best route of dealing with international crimes, rather than the use of
force.

The other interesting point about the referral is that the ICC when mooted
was not premised on being a court of first instance. Rather, the ICC is
supposed to take jurisdiction when a state is unwilling or unable to
investigate or prosecute. These are not issues that currently arise in Libya
as the conflict is still fluid and developing. The ICC got involved only a
week after the uprising started. The positive motive maybe was to
strategically position the ICC as a deterrent, getting involved in as
quickly as possible to arrest escalation of atrocities. Previously the UNSC
would set commissions of inquiry before referring a situation to the ICC (as
in Darfur).

This would not have escaped the attention of those responsible for human
rights violations and the crusade to crash the opposition in Zimbabwe. As
the country prepares for the constitutional reform referendum and  national
elections probably before year end, Zimbabwe will once again dominate world
news for the wrong reasons. The current culture of impunity will not last
forever and those who have been quick to point out that Zimbabwe is out of
reach of the ICC tentacles ,presumably because China and Russia would veto
such a resolution need to think again. Admitted ,the same UNSC has not
referred other grave situations like Yemen, and Burma, but that does not
mean any other situation would not be of regard as Libya has demonstrated.

The writer can be contacted at smakombe@btinternet.com

---
Is the MDC - T listening?
By Clifford Chitupa Mashiri 24/ 03/11

Without the risk of giving any ammunition to Zanu-pf's member of politburo
so far in charge of propaganda, Jonathan Moyo, it is proper to interrogate
the MDC-T for a change. Despite the fact that the MDC-T is a by-product of
the civic society, ironically it appears now less responsive to new ideas or
calls for change of strategy by its former allies in the face of increasing
Zanu-pf repression.

Why the MDC-T?

Naturally, we should be concerned about what the MDC-T does and where it is
going because it is the majority party or the largest in Zimbabwe followed
by Zanu-pf if we are using the votes cast in the 2008 parliamentary and
presidential elections as a guide. Therefore, how we are governed can not be
left to chance.

Furthermore, if the MDC-T does not become complacent, it could easily romp
to victory to the disappointment of Jonathan Moyo in the next elections
without the need for another coalition government. That is the main concern
of this paper. Is the MDC-T listening?

What could the MDC-T do better?

The MDC-T should be responsive to constructive criticism and be careful not
to alienate its allies and sympathisers. There are millions of Zimbabweans
in the Diaspora who want to be unequivocally assured by the MDC-T of their
right to vote in the forthcoming referendum and elections and they want to
see evidence.

Equally the MDC-T should show concern for exiles who are facing deportation.
Some of the exiles never received counselling for post traumatic stress
disorder after witnessing or experiencing political violence in Zimbabwe and
now they face the prospect of forced removal to the same environment because
the MDC-T is sending mixed signals to the international community.

The MDC-T should admit that power-sharing with Zanu-pf has failed, but that
does not mean walking away of the coalition government and plunge the
country into anarchy. The party should not attack human rights organisations
like Amnesty International, Freedom House or pollsters for delivering bad
news because they are only messengers. The MDC-T should not break the mirror
if it sees a bad image.

For example, the Human Rights Watch organisation has observed that South
Africa and the international community need to acknowledge the power sharing
deal in Zimbabwe has failed to resolve the crisis (SAPA/
thezimbabwemail.com, 23/03/11).

It is therefore significant that the Crisis in Zimbabwe – a coalition of 350
civil society organisations has called for intervention in the election
process by South Africa, the SADC, the AU and the United Nations. The MDC-T
should approach the UN and not expect the UN to come to it. There is a Shona
saying: 'Anorwara ndiye anotsvaga n'anga – It's the sick who looks for the
physician.'

The case for UN mediation

Evidence of Zanu-pf's hostility towards the United Nations was demonstrated
by the expulsion of UN Torture expert Manfred Nowak in October 2009
(france24.com, 29/10/09). Naturally, the party's profile of violence and the
use of torture against political opponents would not go un-audited if the UN
was the mediator unlike at present when a suspected secret 'terror' report
is being withheld by the mediator despite court orders.

More specifically, the UN is better experienced and resourced to oversee
governance issues like the writing of a new constitution, a properly run
referendum as well as internationally supervised harmonised elections in
Zimbabwe, something that is unlikely under the auspices of South Africa,
SADC or the AU combined. Equally, civil society would find it much easier
and less intimidating to seek redress through the UN than SADC for rights
abuses during Operations Gukurahundi, Murambatsvina, Hakudzokwi, Makavhotera
Papi, Chikorokoza, land reform and election violence. The victims of these
and other forms of political violence are bitter at the failure of the MDC-T
to break the regime's culture of impunity.

Morgan Tsvangirai should remember what he said when he launched the report
titled: 'Cries from Goromonzi: Inside Zimbabwe's Torture Chambers' compiled
by Crisis in Zimbabwe Coalition (CZC) in Harare in 2010. He admitted that:

'Indeed, as a Government, we have not yet made the types of progress or
democratic reforms which were the very reason for entering into this new
administration. It is fitting that this launch on March 11, the day when
many of us gathered here were together in Highfields and witnessed and
experienced the brutality of the regime's attempts to suppress dissent'
(zimbabwemetro.com, 11/03/10).

Admittedly the UN was slow to act during the Rwanda- Burundi and Kosovo
massacres however it appears the world body has learnt its lessons. UN
success stories include Namibia, Haiti, Southern Sudan and some have already
added Libya but that is a matter of time. The MDC-T should know that some of
the accusations of treason would not exist if the mediation was via the
United Nations because there would be no crime in engaging members of the UN
unlike now with SADC and AU.

Furthermore, the MDC-T should capitalise on Zanu-pf's vulnerability to
international pressure. Unlike SADC's fear of Mugabe, the UN has global
powers of intervention and the threat of imposing real sanctions to ensure
compliance with its mandate. Libya is a good example. That could be why
Zanu-pf is very quiet on UN mediation.

What is Zanu-pf doing to weaken MDC-T?

Zanu-pf is investing massive resources in a psychological warfare against
the MDC-T and its leader Morgan Tsvangirai in order to discredit and wear
them thin apart from using violence and intimidation on opposition
supporters while constantly shifting goal posts for the referendum and
elections. The idea is to keep people guessing.

The former ruling party seems aware of its weaknesses too judging from
utterances of people like Jonathan Moyo such as when he said: 'If there's an
early election, with all the foreseen and unforeseen challenges it would
throw up, Zanu-pf would without doubt need a robust mobilisation strategy
which is radically different from what it used during the Copac outreach'
(newzimbabwe.com, 21/11/10).

Zanu-pf's bag of tricks

Zanu-pf has never run-out of survival tactics which have seen the party
allegedly use controversial laws like AIPPA and POSA to great effect as well
as the much feared Central Intelligence Organisation (CIO) to 'speak' on
behalf of its party members at the constitution outreach programme and to
infiltrate the Mapostori religious sect just to mention a few. There seems
to be a real mission to make Zimbabwe ungovernable.

Within Zanu-pf 's bag of tricks are half-baked indigenisation and
empowerment policies which turned out to be not convincing even to some of
their authors; the multi-million anti-sanctions signature petition which
reportedly had been signed voluntarily by only 30 people since its launch at
Glamis Stadium for which the City of Harare has not yet received the US$1000
deposit three weeks later.

Block-booking that never was

In order to deny other parties access to public amenities, Zanu-pf allegedly
claimed to have block-booked the spacious Zimbabwe grounds in Highfield
Harare for the whole year, but mayor Muchadei Masunda has dismissed the
assertion as not true (Newsday, 24/03/11). Lately, there has been the
unearthing of real skeletons by Zanu-pf in mine shafts in an effort to
arouse a sense of patriotism coming on the heels of the ZRP guided tour of
former camps of Zanla and Zipra in Mozambique and Zambia respectively which
were bombed by Rhodesia forces during the liberation war.

What prospects for Sunday rally?

There is a possibility that Zanu-pf may again try to scuttle plans by the
MDC-T to hold its star rally on Sunday 27th March 2011. This is now more
likely following the death of Zanu-pf Harare Governor David Karimanzira who
may be buried at Heroes Acre on Sunday! Similarly, the MDC-T should send a
clear message to its members.

Any successful disruption of MDC-T rallies would be a self-fulfilling
prophecy for Zanu-Pf propagandist Jonathan Moyo who claimed that: 'The Copac
outreach has exposed the MDC-T beyond description as a totally useless party
in between elections with no mobilisation capacity' (Mdc-T creating chaos
for survival, newzimbabwe.com, 21/11/10). Hopefully all roads lead to
Zimbabwe Grounds in Highfields on Sunday!!!

Clifford Chitupa Mashiri, Political Analyst, London,
zimanalysis2009@gmail.com

---
JAG open letter forum - No. 742- Dated 23 March 2011
Email: jag@mango.zw; justiceforagriculture@zol.co.zw
Please send any material for publication in the Open Letter Forum to
jag@mango.zw with "For Open Letter Forum" in the subject line.

=================================================
1.  Cathy Buckle - For Owen

2.  Letter from Ben Freeth

3.  P. Mangwende - ZTA

4.  Letter from Stu Taylor

=================================================
1.  Cathy Buckle - For Owen

Dear Jag

A three word text message on my phone this week bought the news I had so
hoped wasn't going to come: "Owen is dead."  The story of Owen is one that
has been repeated a thousand times over in the last eleven years and yet it
is not often talked or written about.

In the early 2000's when Zanu PF supporters and war veterans were swarming
over the country, grabbing farms and brutalizing MDC supporters, Owen had a
good marketing job in Harare. To save money he stayed in a single room in a
prefab house in a high density area while his wife and two children kept the
family home in a rural village. At
every opportunity Owen worked on their rural home; he replaced the roof,
built a small extension to the house and invested in solar panels to enable
lights at night, television and DVD's to entertain the children. Owen was
rightly proud of the home and life he was enriching for his family.

With every political drama, at each violent election and whenever human
rights abuses were raging, Owen would phone every week for news of his
family. He sent money, groceries and medicines. His precious salary kept his
family alive and he always managed to scrape a few dollars together for his
brother and sister in law and their children and other members of the
extended family. Tragedy came often for Owen in the first four years of the
new millennium. His mother and father passed away within a year of each
other; then his brother died, then his niece.

In 2005 Owen lost his job, laid off when the company he worked for went to a
four, and then a three - day week. The agricultural ingredients they needed
for their products were no longer coming from the farms the war veterans had
grabbed. All but a handful of employees kept their jobs, Owen was not one of
them. He tried staying in town to look for other jobs but then came
Operation Murambatsvina and Owen's home was demolished by the government
bulldozers. Owen did what hundreds of thousands of others were forced to do
that winter, he went to his home in the rural village. Within a few months
he knew he had to find work; the needs of his family were too great: food,
school fees, clothes, medicines. Owen went over the border and got work in
South Africa.

For the next six years Owen commuted backwards and forwards to South Africa:
six months away, two weeks at home. Each time the Reserve Bank governor
removed zeroes from the Zim dollar, Owen sent real money home to his family.
When the Zimbabwe government ordered price controls and food vanished from
the supermarket shelves, Owen sent groceries home. When Zimbabwe was
literally starving to death in 2007 and 2008 Owen had a trusted courier who
carried food into the country for him and he literally kept an extended
family of 12 or more people alive.

Owen finally came home in late 2010. He said he was tired and wanted a rest.
We could all see he was sick. By the time he agreed that he needed medical
help, Owen couldn't walk, his feet were burning, his legs were swollen and
he had sores in his mouth and throat. For three weeks they struggled to save
him but yesterday the message came: 'Owen has died.'

This letter is for Owen and the millions who had no choice but to leave home
and find work in the diaspora in order to keep their families and relations
alive. What a sacrifice you have made; it will not be forgotten.

Until next time, thanks for reading, love Cathy.

-------------------------------------------------------------------------------

2.  Letter from Ben Freeth

Dear Jag

I am sure everyone joins me in thanking Kevin Cooke for his interesting
explanation of where tobacco production is in Zimbabwe today.  It is good to
have an open letter forum for this.   I for one am heartened that the small
scale sector - presumably almost all communal - is expanding capacity.  A
lot of a little evidently makes a lot.  If the Crimes Against Humanity
relating to the land program hadn't happened Zimbabwe would presumably be
approaching 400 million Kgs and we would have the fastest growing economy in
the world.

Kind regards,

Ben Freeth

-------------------------------------------------------------------------------

3.  P. Mangwende - ZTA

Dear JAG

In response to the letter from the ZTA President, I can assure him that
there is no confusion whatsoever. It is agreed though that there is no point
in getting into a protracted debate in a public forum for obvious reasons.
In any event, the questions posed were answered in a roundabout kind of way.
The ZTA is apolitical and that it is there to protect its members.

Thanks and kind regards
Mangwende.

-------------------------------------------------------------------------------

4.  Letter from Stu Taylor

When Mugabe rants and raves in public about sanctions hurting Zimbabwe and
Zimbabweans, he neglects to tell whoever is listening/not listening, that
The sanctions are imposed against him and his inner-circle/cronies and when
They do hurt, not all of us realize that the reason is that he and his
Inner-circle/cronies have such control over the economy that of course the
Companies that are in the Mugabe system are going to suffer and as a result
A few people may be affected. But let us not be hoodwinked by Mugabe's
Efforts to cover the fact that he has looted Zimbabwe and has billions of
Dollars in assets externalized for when he is ultimately run out of the
Country. Mugabe has never experienced the bite of REAL sanctions.

Bye-bye, have a nice day.
Stu Taylor.

====================================================

All letters published on the Open Letter Forum are the views and opinions
of the submitters, and do not represent the official viewpoint of Justice
for Agriculture.

====================================================

---