The ZIMBABWE Situation
An extensive and up-to-date website containing news, views and links related to ZIMBABWE - a country in crisis

---
Zimbabwe Devalues Currency; $10,000,000,000 Now $1
New York Times

By THE ASSOCIATED PRESS
Published: July 30, 2008
Filed at 1:34 p.m. ET

HARARE, Zimbabwe (AP) -- Zimbabwe will drop 10 zeros from its hyper-inflated
currency -- turning 10 billion dollars into one -- the country's reserve
bank said Wednesday. President Robert Mugabe threatened a state of emergency
if businesses profiteer from the country's economic and political
unraveling.

Shop shelves are empty and there are chronic shortages of everything
including medication, food, fuel, power and water. Eighty percent of the
work force is unemployed and many who do have jobs don't earn enough to pay
for bus fare.

One third of Zimbabweans have become economic and political refugees.
Another third is dependent on foreign food aid. But Mugabe barred
non-governmental organizations from handing out food last month, claiming
they were supporting the opposition.

On Wednesday, central bank governor Gideon Gono announced he was dropping 10
zeros from the currency, effective Friday. That comes a week after he
introduced a 100 billion-dollar note which was not enough to buy a loaf of
bread.

Mugabe went on television immediately after Gono's announcement to warn
against illegal money dealings and profiteering.

''Entrepreneurs across the board: Don't drive us further,'' he warned. ''If
you drive us even more we will impose emergency measures.''

Gono said new money would be launched Friday with 500-dollar bills. He also
said he was reintroducing coins, which have been obsolete for years.

Gono said the high rate of inflation was hampering the country's computer
systems. Inflation is officially running at 2.2 million percent in Zimbabwe
but independent economists say it's closer to 12.5 million percent.

Computers, electronic calculators and automated teller machines at
Zimbabwe's banks cannot handle basic transactions in billions and trillions
of dollars.

Mugabe has blamed profiteering and sanctions by the United States and the
European Union for Zimbabwe's economic collapse. Critics have blamed
mismanagement by Mugabe's government and a land reform program that has
slashed Zimbabwe's agricultural output.

Both Mugabe and Gono are targeted by the sanctions, which impose travel bans
and asset freezes on more than 170 people, companies and farms.

''The country is under illegal sanctions. These are intended to achieve
regime change,'' Mugabe charged. ''We must strengthen our will and
resistance so we can go through this time of difficulty.''

Mugabe went on television just as South Africa's President Thabo Mbeki was
jetting in to meet with him about stalled power-sharing talks. Mbeki was
greeted by Mugabe at Harare airport Wednesday afternoon. The two shook hands
and briefly embraced before leaving together.

Mbeki has insisted the power-sharing talks which started last Thursday were
going well and had simply adjourned on Monday.

But several officials said Mugabe's negotiators returned home and opposition
leader Morgan Tsvangirai went to South Africa, the venue of the talks, after
they deadlocked over who would lead the ''inclusive'' government under
negotiation. The officials spoke on condition of anonymity because all
parties agreed to a media blackout surrounding the talks.

''We are still negotiating, we want to succeed,'' Mugabe said in his
televised address. ''You find room for compromise but sometimes compromise
is difficult ... So things are never easy.''

A South African statement said Mbeki would meet with Mugabe and the leader
of a breakaway opposition faction, Arthur Mutambara. It said Mbeki met
Tuesday with Tsvangirai and his negotiators.

Mugabe and Tsvangirai, bitter rivals, agreed last week to have their
negotiators hammer out a formula to share power to resolve a deadly
electoral dispute that has left more than 120 opposition activists dead,
thousands injured and tens of thousands homeless.

Two more opposition supporters were killed last week, allegedly by Mugabe's
followers, Tsvangirai's party said Wednesday.

''The deaths show that there is no sincerity on the part of ZANU-PF'' party,
the opposition said in a statement.

Both Mugabe and Tsvangirai say they won the elections and should lead the
government.

---
Zimbabwe to cut ten zeros from banknotes in fight against inflation
The Telegraph

Zimbabwe's ravaged currency is to be revalued from Friday, the government
has announced, slashing 10 zeros off all prices and values.

By Sebastien Berger, Southern Africa Correspondent, and Peta Thornycroft
Last Updated: 5:55PM BST 30 Jul 2008

Hyperinflation has destroyed savings and reduced the economy to subsistence
levels, with bricks of banknotes needed for even basic transactions.

The Zimbabwe dollar was worth more than the American greenback at
independence in 1980, but Robert Mugabe's misrule has seen it plunge to a
point where one pound is worth around Z$200 billion, and accelerating
downwards.

Officially, inflation is now running at 2.2 million per cent a year, but
independent economists estimate it is far higher.

Last week a packet of locally manufactured biscuits cost Z$489 billion. A
teacher at a private primary school earned Z$485 billion a month,
illustrating the impact of the price rises on salaries paid in arrears.

Bread - on the rare occasions it is available - was costing Z$200 billion a
loaf, a can of Coca-Cola Z$600 billion, a plate of rice and scrawny chicken
Z$800 billion, a beer Z$1.8 trillion and a local ride in a shared minibus
Z$2 trillion - the same as a civil servant's monthly wage.

The largest note is the newly-introduced 100 billion dollar bill, and most
cash-handling machines, such as shop tills, are only designed to cope with a
maximum of 14 digits, so even shopping is a challenge.

"The Zimbabwe dollar will be redenominated by a factor of one to 10, which
means we are removing 10 zeros from our monetary value. Ten billion dollars
today will be reduced to one dollar with effective from August 1," said
Gideon Gono, the central bank governor.

The largest new note will be worth 500 new Zimbabwe dollars, or five
trillion current dollars. Coins, which have been obsolete for years, will
also return, and existing notes will be valid until the end of the year.

The German company supplying the paper for Zimbabwe's banknotes recently
said that it would stop doing so, but it is understood the new currency was
printed some time ago and has been held in storage in the meantime.

The revaluation comes two years after the last such exercise, when three
zeros were taken off the currency in a move dubbed "Operation Sunrise".

But it proved to be a false dawn, and economists have warned that simply
issuing new notes will be merely cosmetic without fundamental accompanying
reforms, such as the government ceasing to print ever more bills simply to
meet its own needs.

"This is just to overcome the absurd difficulty of having to deal with all
those zeros but it does not address the root cause of the problem," said
John Robertson, an economic consultant. "The problem is of scarcity of
foreign earnings and investment inflows."

A Harare-based finance specialist added: "At least three zeros will be back
by the end of August."

Immediately after the announcement, Mr Mugabe, who blames Western sanctions
and profiteering businessmen for the economy's travails, went on television
to warn: "Entrepreneurs across the board: Don't drive us further. If you
drive us even more we will impose emergency measures."

---
Zimbabwe's crisis talks to resume Sunday - Mbeki
Reuters

Wed 30 Jul 2008, 14:05 GMT

By MacDonald Dzirutwe

HARARE (Reuters) - Talks between Zimbabwe's ruling ZANU-PF party and the
opposition MDC aimed at resolving the country's political crisis will resume
on Sunday, South African President Thabo Mbeki said on Wednesday.

Mbeki said after an hour-long meeting with Zimbabwe's President Robert
Mugabe that the talks, which adjourned for a couple of days on Tuesday to
allow negotiators to consult with their respective leader, were going well.

"It is work in progress. The negotiators are working hard and have committed
themselves to the time-frame. They will resume on Sunday," Mbeki told
reporters after meeting Mugabe, who said earlier that he wanted the
negotiations to succeed.

In a sign of the economic collapse that has been worsened by the political
turmoil, the central bank said it would redenominate the worthless currency
to cut 10 zeroes from the Zimbabwe dollar, but analysts said that would do
nothing to help the economy.

Mugabe's party began power-sharing talks with the opposition in South Africa
last week, but doubts have surfaced over progress after they were adjourned.

"We're still negotiating, we want to succeed. Negotiations are negotiations,
they are not a card game... You find room for compromise, sometimes
compromise is difficult and you stand by your proposals as presented,"
Mugabe said in his first public comments on the talks since a framework for
discussion was signed on July 21.

"You debate again and again and reach a compromise. I understand the talks
are going well," Mugabe said.

Mbeki denied on Tuesday that talks had reached a deadlock.

On Wednesday Mbeki said he had travelled to Harare to brief Mugabe on the
talks, adding that there were some matters on which the rival negotiators
needed to consult their respective leaders.

South Africa's department of foreign affairs said in a statement that Mbeki
had met opposition Movement for Democratic Change leader Morgan Tsvangirai
and his negotiating team in Pretoria on Tuesday.

PRESSURE

A two-week deadline for completing the talks runs out on August 4, but it
could be extended.

Mugabe and Tsvangirai are under pressure from within Africa and the rest of
the world to negotiate a national unity government to end a crisis that has
ruined Zimbabwe's economy and flooded neighbouring states with millions of
refugees.

Central bank governor Gideon Gono said on Wednesday the currency would be
redenominated by removing 10 zeros from August 1 in the government's latest
bid to prop up the failing economy.

A loaf of bread currently costs around 250 billion Zimbabwe dollars -- $4
using the official bank rate and between $0.04 and $2 on the thriving black
market. The highest denomination bill is 100 billion dollars.

Zimbabwe last redenominated its currency in 2006, removing three zeros, but
this was followed by sharp price increases.

John Robertson, an economic consultant in Harare, said the latest
redenomination would not address the root causes of the crisis in a
once-prosperous country suffering food shortages and inflation at over 2
million percent a year.

"This is just to overcome the absurd difficulty of having to deal with all
those zeros," Robertson said.

It is unclear what compromise could be reached at the power-sharing talks.

The MDC says only Tsvangirai can lead a new government because he won a
first round presidential vote in March and only pulled out of a June run-off
vote because of violence he says killed 122 of his supporters.

ZANU-PF has said it will not accept any deal that fails to recognise
Mugabe's re-election.

The parties also disagree over how long a national unity government should
remain in power. The MDC wants new elections held as soon as possible while
Mugabe, who has ruled since 1980, wants to carry on with his new five-year
mandate.

---
Mbeki, Mugabe sing from same page: Zim talks "all well"
Monsters and Critics

Jul 30, 2008, 14:29 GMT

Harare - Zimbabwean President Robert Mugabe downplayed the suspension of
talks between his party and the opposition on a unity government, echoing
South African President Mbeki in assuring the negotiations were going
'well.'

'We are still negotiating and want success... Some areas are debatable but
we debate. It is not easy but I hear they are proceeding well,' Mugabe told
a press conference at the Reserve Bank in Harare.

'Speaking for Zanu-PF (his party) and myself we are committed and want to
see the speedy and successful conclusion of the talks so that we can focus
on the turnaround of our economy,' Mugabe said.

Mugabe was speaking ahead of a meeting with Mbeki, who travelled to Harare
to try to revive the stalled talks between Zanu-PF and the Movement for
Democratic Change (MDC).

On Tuesday Mbeki met with MDC leader Morgan Tsvangirai in Pretoria to
discuss the abrupt suspension of the talks on Monday.

MDC sources said the talks reached an impasse on the issue of who should
lead the next government.

The MDC, backed by Western powers, is calling for Tsvangirai to have the
leading role, given that he and his party took the most votes in multi-party
March elections.

Zanu-PF says Mugabe should lead after he won the second round of voting for
president in June without a contest. Tsvangirai boycotted the vote after
dozens of his supporters were killed by Mugabe loyalists.

Negotiators from Zanu-PF allegedly called for time to consult with Mugabe
after the MDC rubbished their offer to make Tsvangirai a third
vice-president under Mugabe.

Mbeki said Tuesday the talks would resume by the weekend, but a source in a
smaller MDC faction led by Arthur Mutambara, whom Mbeki was also due to meet
Wednesday in Harare, said the talks would only resume next Monday after a
week's hiatus. Mbeki also said the talks were 'doing very well.'

Meanwhile, in a reflection of Zimbabwe's ever-worsening economic crisis
Reserve Bank governor Gideon Gono announced he was stripping ten zeroes off
the battered Zimbabwe dollar.

The current 10 billion Zimbabwe dollar notes would be replaced by new one
dollar notes on August 1, he said.

Mugabe used the occasion of the announcement to warn business against
overcharging.

'Don't drive us further than you have done in the past. We'll impose
emergency measures. but we don't want to place our country under emergency
rule, which can be tough,' Mugabe warned.

Zimbabwe is crippled by hyperinflation of several million per cent that has
seen the Zimbabwe dollar hurtle from 1 US to 5,300 Zimbabwean at the
beginning of the year to as as much as 800 billion Zimbabwean dollars for a
single greenback in the past few days.

Mugabe has accused business of profiteering by jacking up prices but
business owners say they are just trying to keep their heads above water.

Most observers say the crisis began in earnest when 84-year-old Mugabe, who
has ruled Zimbabwe since independence in 1980, gave the nod to ruling party
members and cronies to begin seizing white-owned farms in 2000.

Gono agreed the lasting solution to inflation was to increase output,
particularly agricultural output.

'We've not done enough since we started our agricultural reform,' Gono said,
referring to the seizure of thousands of white-owned farms by ruling party
members and cronies since 2000.

The seizures decimated commercial farming, once the country's economic
mainstay.

---
Mbeki, Mugabe Meet to Discuss Stalled Zimbabwe Talks
VOA

By Delia Robertson
Johannesburg
30 July 2008

South African President Thabo Mbeki met in Zimbabwe with President Robert
Mugabe to discuss the stalled negotiations aimed at ending the country's
political crisis. He says the talks are to resume Sunday.  VOA's Delia
Robertson reports from our southern Africa bureau in Johannesburg.

Following his meeting with Mr. Mugabe, the South African president repeated
his earlier assurances that negotiations between Zimbabwe's political
parties are going well. On Tuesday he said the talks were merely adjourned.

"They will be adjourning shortly for a couple of days because they want to
go back Harare to go and consult with their principals about the work that
has been, and then come back by the end of the week to resume the
negotiations," President Mbeki said. "But they are proceeding."

President Mbeki is evidently more concerned about progress in the talks than
he concedes in public. Before flying to Harare, he met in Pretoria with the
MDC's Morgan Tsvangirai.

The talks stalled earlier this week after Mr. Mugabe's ZANU-PF negotiating
team offered Tsvangirai a vice presidency in a proposed government of
national unity. It was rejected by the MDC leader. Mr. Mugabe already has
two vice presidents who are merely figureheads without any executive
authority.

Speaking earlier at a monetary policy meeting in Harare, the Zimbabwean
leader said he is committed to achieving a negotiated outcome to the
country's crisis.

"We committed ourselves to a process of dialogue under the facilitation of
President [of South Africa, Thabo] Mbeki, whom I expect today anyway," he
said. "There is total commitment on the part of government and ZANU-PF and I
hope there is similar total, there is similar commitment on the part of the
other parties."

But analysts have warned that Mr.Mugabe is determined to hang on to
executive power.

Tsvangirai believes that he should head a transitional unity government
because he got most of the votes in the preliminary presidential race in
May. His majority in that poll was not enough to avoid a runoff.

Experts have warned that in addition to convincing Mr. Mugabe of the need
for compromise, Mr. Mbeki will have to find a way of drawing in the security
forces, particularly the Joint Operations Command, widely believe to be the
real power in Zimbabwe. The Joint Operations Command is run by a senior
party official, the various military commanders, the chiefs of police and
prisons, and the country's senior intelligence official.


---
Listening to Gideon Gono's mid-term budget monetary statement
http://www.sokwanele.com/thisiszimbabwe/archives/1366

This blogger listened to the radio today in amazement.

Part one aired on the radio this morning was a brief monetary statement from
Gono - a digestible 20 minutes. Part two was a long, boring, dragged out
drone from Robert Mugabe.

"Food Security: the Answer to Disinflation"  - this grand statement is the
title for Gono's mid-term budget.

Gono started, with his normal salutations to the representatives of
government, journalists and diplomats. He even had the grace to thank
representatives of both formations of the MDC when he said to them,
"Welcome, this is how it should be". But he showed his true sycophantic
colours with his demand that a special round of applause be awarded to
Mugabe, the special guest, whom he admitted is under extreme pressure.

Gono went on to emphasise that the future of the economy is dependent on
political stability. Predictably, he laid the blame of the country's
economic woes on sanctions, the tired and worn excuse dredged up by those in
power at every possible opportunity to absolve themselves of any
responsibility. He ended with the hackneyed warning that those in the
international community, our enemies, are keen to see Zimbabwe fail.

Finally Gono got to the meat of the budget.

Cash Limits

Gono lamented the voices that have accused him of manipulating cash limits,
and he cannot understand the criticism. He levelled blame for the shortages
squarely on the shoulders of the German paper suppliers, with their 'illegal
refusal' to supply paper already paid for, but he is happy with the
solutions they have come up with.

The Governor made a puerile attempt at humour when he claimed that he too
has lost zeroes, for he is now being called Gideon gn, not Gono, and his
family are gn 1, gn 2, gn 3, gn 4 and gn 5.

Lets hope he will soon be Gone - oh.

Finally he got to what we have all been waiting for - the great zero slash.
This has been made critical as banking systems are unable to cope with the
number of zeros required. (ZSE collapsed last Friday for that very reason)

Z$10 billion will now be valued as Z$1.

A new currency is also to be launched from the above date, so no more bearer
or agri-cheques (which are easy to counterfeit) will be accepted from
December 2008.

New currency Old cheque value
$500 5 trillion
$100 1 trillion
$20 200 billion
$10 note and coin 100 billion
$5 note and coin 50 billion
$2 note and coin 20 billion
$1 note and coin 10 billion
50c 5 billion
20c 2 billion
10c 1 billion

The biggest laugh is for those people who did not throw out the erstwhile
useless coinage from long ago, which Gono stated was never demonetised and
will now be back in circulation as legal tender. Gono mentioned specifically
people who either threw away these coins or gave them to domestic workers.

Dual Pricing

All retailers will be required to display prices in old and new values until
December.

Cash Withdrawals

The maximum has been extended to $200 (ie $200 trillion) and he quipped that
the only limit will be how much one has in the bank.

Export Promotion Growth

As of 1st August up front market disposal is set at 35-45% and export
retention has been reduced to 55%. FCA's have been extended from 21 to 30
days (ie companies have to dispose of any funds in their Foreign Currency
Accounts within 30 days or forfeit the sum to Reserve Bank). In layman's
terms this means that exporters will only be allowed to retain 55% instead
of the previous 65% of their forex reserves, and the balance has to be
"given" to the reserve bank for their use at the interbank rate, which is
now at about 70% of street rate.

This move will NOT be welcomed by the few exporters left in the country as
they are having money taken away from them once again.

Financial Sector

There has been an increase in minimum capital requirement to between 10
million to 12,5 million depending on the type of financial institution you
are.

Inflation

Gono clearly stated that the only cure is increased productivity, especially
in agriculture. He is mobilising inputs by using the Bakosi framework to
distribute implements, fertiliser etc. On Monday they gave the fertiliser
industry $3 million and they foresee a huge increase in productivity.

Social Contract

The government will have to continue to control prices but Gono says that
the Bakosi system will ensure that all are taken care of. Unfortunately the
Bakosi shops will have to rely on imports but will not favour them. The
launch of a mechanisation programme will apparently ensure that by 2010,
70 - 80 % of farmers will have access to equipment.

Gono ended his presentation with some philosophising of the choices
Zimbabweans can make: to take the road to success or the road to victimhood.
He once again placed huge significance on unity, within civil society and in
government, but said Zimbabwe faced the maximum dangers from the
international community. He recalled the spirit of liberation, that we are
"our own liberators", that we need to show our detractors who want to see us
fail that we can choose the right way.

Finally Gono "committed to God's hands" the monetary statement.

This entry was written by Still Here on Wednesday, July 30th, 2008 at 2:11
pm

---
Mugabe says might declare state of emergency over prices
http://www.zimonline.co.za/Article.aspx?ArticleId=3487



      by Wayne Mafaro Wednesday 30 July 2008

HARARE - Zimbabwean President Robert Mugabe on Wednesday warned that his
government might have to declare a state of emergency in order to contain an
economic crisis that has seen prices rise on a daily basis while inflation
has shot to 2.2 million percent, the highest in the world.

Mugabe, who has in the past accused the mainly white-controlled business
sector of colluding with his Western enemies and hiking prices in order to
incite civil revolt against his government, warned business to be
"disciplined and charge affordable prices" or face a state of emergency.

He said: "The time has come for us to be disciplined and to charge prices
that are affordable. Do not drive us further than you have done in the past.

"We will impose emergency measures under a state of emergency. We do not
want to place our country under a state of emergency where we will tell you
what price to charge and nothing else. In a state of emergency rules can be
tough and we have to say take care. We might have to do that, so please take
care."

Mugabe said he was committed to power-sharing talks with the opposition
Movement for Democratic Change (MDC) party aimed at resolving his country's
crisis. But he accused Britain and America of meddling in Zimbabwe's affairs
and of trying to mislead the United Nations into imposing sanctions against
the southern African country.

He said: "They (US and British governments) are dishonest, hypocritical . .
. they never tell the truth and lie openly about our situation. They wanted
to invoke UN Chapter 7 which applies to countries which are a threat to
world peace. Are we a threat to world peace?"

Mugabe was speaking in Harare after Reserve Bank of Zimbabwe (RBZ) governor
Gideon Gono announced that he would on August 1 introduce new currency as
well slash 10 zeroes on bearer cheques.

Bearer cheques are promissory notes first introduced by the RBZ at the
height of cash shortages in 2003. They function the same as actual money.

Gono said: "With effect from 1 August 2008, all monetary valuations have
been re-denominated by a factor of 1:10 000 000 000 which effectively means
the removal of ten (10) zeros from all monetary values. What this means is
that $10 000 000 000 (ten billion dollars, therefore will translate to $1
(one revalued dollar) with effect from 1 August, 2008.

"With effect from 1 August, 2008, the RBZ is issuing new currency, in the
following new revalued denominations: $500 note, $100 note, 25 coin, $20
note, $10 note and coin, $5 note and coin."

The new currency will eventually replace bearer cheques, which Gono said
would be taken out of circulation by December.

Zimbabwe, which was once a model African economy is in the grip of an
unprecedented recession that in addition to hyperinflation is also
dramatised by shortages of food, rising unemployment and poverty.

Western governments and the opposition MDC party blame Mugabe, who has ruled
Zimbabwe since independence from Britain in 1980, for ruining the economy
through repression and wrong policies such as his farm seizures that have
led to food shortages mainly due to failure by new black farmers to maintain
production on former white farms.

Poor performance in the mainstay agricultural sector has also had far
reaching consequences as hundreds of thousands have lost jobs while the
manufacturing sector, starved of inputs from the farming sector, is
operating below 30 percent capacity.

Mugabe denies ruining the economy and instead says his country's problems
are because of sanctions and sabotage by Britain and its Western allies
opposed to his land reforms. - ZimOnline.

---
Zim army code for hunger: 000
IOL

    July 30 2008 at 09:37AM

By Peta Thornycroft

Peter Choto's take-home pay after nearly 10 years of service in the
Zimbabwe National Army is R200 a month.

He stays in the army only because any job is better than none, with
more than 2-million percent inflation, and prices doubling several times a
week.

He and three-quarters of his colleagues will not go to war for
President Robert Mugabe, because they are "tired of him", and "want change".

Choto was paid on July 16 directly into his building society account,
but for the second month got no pay slip.

The army has an arrangement with banks allowing troops to draw a
trillion dollars a day while the public can only pull a hundred billion, not
enough for a loaf of bread if there is any.

Choto's previous salary, for June, was 120-billion Zimbabwe dollars,
and before the elections lower ranks were paid twice a month.

Tall, skin stretched tight across high cheekbones, he says he has been
hungry for "at least a year".

His wife, who lives in his tribal home about 80km south of his
barracks, has a duplicate building society withdrawal card. "She needs it
all to survive."

A private in the army earns R165 a month as of last Friday.

"On a good day breakfast is black tea. There is never milk and sugar.
On a bad day we go to parade with nothing.

"Three years ago we got porridge, sausage, bacon sometimes eggs. We
always got meat at least once a day.

"At lunch and at dinner we get a small plate of sadza (cooked maize
meal) and cabbage. There is no cooking oil in the food.

"So when we are talking about food we say 011 equals lunch and supper,
but not breakfast. 001 means no breakfast, no lunch, but supper. The number
000 means nothing all day."

The first election on March 29 was won by the opposition Movement for
Democratic Change, and its leader Morgan Tsvangirai beat President Robert
Mugabe, but with not enough votes to avoid a run-off.

"We had meat twice before the first election, and we got some strange
meat another day. There was nothing on the plastic (wrapping), so we think
it was Chinese geese because it wasn't chicken, but it was a bird, and it
was another colour. Maybe it was a penguin?

"There are 500 recruits at the cantonment. If the world saw pictures
of them, the world would be shocked, as they are so thin.

"At least 100 report sick every day.

"They are passing out next week and they haven't been to the rifle
range even once, because that ammo is being reserved for emergencies, in
case MDC wins, or the British come to fight. They believe there is going to
be trouble.

"We will not shoot our people. At least three-quarters of us would not
take up arms for Zimbabwe. We will not go to war for Zimbabwe, I am not
going to take a risk with a rifle for Zimbabwe. That time is gone.

"Our boots are Chinese plastic. I borrow friends' boots when they are
away, because Chinese boots only last a few days on patrol before they are
in ribbons.

"I have only one camo uniform (camouflage) and wear it for the week.
There are no berets, so we have a camo cap.

"We have to provide our own soap.

"I cannot go home because I cannot afford the transport. There is a
television at the mess, but there is never power so there is nothing to do,
nothing."

Before the March 29 election he was on duty far from his base, and no
postal votes were provided, so he did not vote. "It was peaceful.

"On April 5 we were back at the barracks ... the (presidential)
results were not yet out."

But the parliamentary results were, and three-quarters of the
brigade - now half the size it was three years ago - had voted for MDC in
the simultaneous parliamentary election.

Justice minister Patrick Chinamasa, who lost his parliamentary seat,
went to campaign for Mugabe in the cantonment ahead of the second round of
the presidential poll on June 27.

The brigade commanding officer, who cannot be named for fear of
identifying the soldier telling his story, pledged his men would vote for
Mugabe in the run-off.

The soldiers were deployed into the large dry Buhera district, about
240km south of Harare, which had turned out strongly for MDC on March 29.

Corporal Choto and his colleagues concentrated around the business
centre and in two townships, Murabinda and Mukombo, and 120 of them lived in
six small rooms for the next six weeks.

"Our job was to support the militia and Zanu PF youth, intimidate the
MDC people and do a lot of beating.

"I was deployed to intelligence, in plain clothes, so I didn't have to
do the beating myself, but I saw it.

"You have to do the beating or you are labelled MDC. Then you will
just be discharged and sent to prison.

"We took the ID (identity discs) of people so they couldn't vote. We
only got a few minutes' notice before we went on every operation, so we
couldn't warn people.

"One night the dog section went to this MDC's man's house. They broke
his windows, and the person came out and he was bitten all over.

"There was this woman in her 60s or 70s. She died after beating. My
friend came back and confessed and was shaking.

"We spoke and we said this was not the way it should, be as we were
supposed to be protecting, not making people suffer.

"The colonel was there. The youth and the green bombers were paid much
more than us.

"It was Zanu-PF people provoking MDC. Sometime the MDC reacted, but
not much. They arrested this (MDC) MP (Eric) Matinenga, and they accused him
of giving MDC people money to do violence. It wasn't true, it was us doing
the violence.

"Now I am on rest and recuperation from Buhera. I am tired now. I will
leave the army next year. Most are leaving, or going Awol, or dying. Many
are dying.'

He said ZNA colonels and above had been given Japanese 4 x 4
double-cabs ahead of the elections.

He suspected their salaries were large enough to convert to foreign
currency on the streets, as the Zimbabwe dollar becomes increasingly
irrelevant.

Choto said he had admired Zanu-PF and Mugabe during the 1980s and
'90s, and respected the struggle against minority white rule.

The MDC has the names of 80 percent of perpetrators of the violence
which followed the first round of elections. - Independent Foreign Service

This article was originally published on page 15 of The Star on July
30, 2008


---
ZANU PF warns MDC on govt in exile
http://zimbabwemetro.com/politics/zanu-pf-afraid-of-an-mdc-government-in-exile/

By Raymond Mhaka ⋅ © zimbabwemetro.com ⋅ July 30, 2008 ⋅
The ruling ZANU PF party has expressed fears that Morgan Tsvangirai might
form a government in exile. Tsvangirai left Zimbabwe on Monday together with
his entire National Executive Council including Vice President,Thokozani
Khuphe.

Under normal circumstances when Tsvangirai travels abroad Khuphe remains
acting president and the pair are never outside the country together.

Mugabe's spokesman George Charamba did not hide the regime's fears that
Tsvangirai could form a government.

"Now that Tsvangirai has a new passport he will have to resist the tempting
idea of leaving the country to launch a government-in-exile, which for the
British is a precursor to insurgency here, and more forays into the Security
Council. Charamba wrote in the government mouth piece The Herald.

He warned,'It will be a ruinous route to follow, one which would bring
personal grief to Tsvangirai. After Monday, his best chances are with
President Mugabe"

Talks stalled yesterday and were adjourned and South Africa president Thabo
Mbeki tried to portray the adjournment as a minor interruption.

The unplanned adjournment on Monday forced Mugabe negotiators Justice
Minister Patrick Chinamasa and Social Welfare Minister Nicholas Goche to
abruptly fly back to Harare to consult with the president Mugabe.

As the talks were going on in Tshwane ZANU-PF last week declared it will not
accept a deal that fails to recognize Mugabe's reelection in the June 27
runoff election – which was widely condemned as fraudulent – or seeks to
reverse the land reform program. These conditions, agreed at a ZANU-PF
politburo meeting last Wednesday further dimmed prospects for a deal,
analysts say.

Meanwhile Britain's deputy UN ambassador warned Tuesday that the UN Security
Council will have to take up the Zimbabwe crisis again if ongoing talks fail
to resolve it.

"We wish these (South African) efforts well," Karen Pierce told reporters.
"But it is clear that if we don't make progress soon or don't see progress
soon in Zimbabwe, the Council will need to come back to this issue."

Governments in exile are formed by political parties that claim to be a
country's legitimate government, but for various reasons are unable to
exercise their legal power, and instead reside in a foreign country.
Governments in exile usually operate under the assumption that they will one
day return to their native country and regain power.

The MDC president Morgan Tsvangiari won the presidential election on March
29 and his party won control of parliament.

---
Desperately Seeking Sanity: What Prospects for a New Beginning in Zimbabwe
This report draws upon 3320 formal interviews with victims of human rights abuses over the last three months. This figure represents a fraction of those directly affected by violence, the majority of whom are likely to have failed to access appropriate medical assistance.
Download and read the report here.
---
Zimbabwe Opposition Says 2 Activists Killed Since Talks Deal
nasdaq

HARARE, Zimbabwe (AFP)--Zimbabwe's opposition Movement for Democratic Change
Wednesday said two more of its activists were killed by suspected ruling
party militias since a July 21 agreement signed in Harare allowing
power-sharing talks to begin.

"The deaths show that there is no sincerity on the part of ZANU-PF. The
death of the two brings to 122 the number of MDC activists who have been
murdered since the March 29 harmonized elections," the MDC said in a
statement.

The body of an activist abducted from her home on July 23 was discovered in
a maize field Saturday.

"A report was made about the murder to the police but no arrests have been
made," spokesman Tapiwa Mashakada said.

He said a policeman died in a private hospital in the capital Harare
Saturday after being attacked at a rural homestead, where he had gone to
visit his mother, a known MDC activist.

"The MDC has asked ZANU-PF to show its sincerity to the dialog process by
stopping violence, disbanding all militia bases and prosecuting all
perpetrators of political violence."

MDC leader Morgan Tsvangirai and President Robert Mugabe agreed to begin the
talks aimed at ending the country's political crisis at a landmark meeting
on July 21.

Click here to go to Dow Jones NewsPlus, a web front page of today's most
important business and market news, analysis and commentary: http://
www.djnewsplus.com/al?rnd=RpBLwY2%2BwBMpPkHqa4Duuw%3D%3D. You can use this
link on the day this article is published and the following day.

  (END) Dow Jones Newswires
  07-30-081238ET

---
WOZA take to the streets of Bulawayo today - no unity without bread and roses
http://www.thezimbabwean.co.uk/


Wednesday, 30 July 2008 16:40

Approximately 300 WOZA members marched through the streets of central
Bulawayo this afternoon.

The aim of the march was to draw the attention of preoccupied
politicians to people's needs, namely bread and butter issues; or as WOZA
likes to put it, bread and roses issues - bread representing food and roses
representing the need for lasting dignity. No arrests have been reported at
the time of this release although police were seen to respond after the
demonstrators dispersed showing intention to arrest participants.

The protest also sought to test the Memorandum of Understanding (MoU)
recently signed by Zimbabwe's politicians to determine whether freedoms of
expression and assembly truly have opened up. The MoU stated that there
would be freedom of political activity and security of persons and
prevention of violence. It further followed that there would be statements
calling for an end to violence but Zimbabweans have yet to see this in word
and deed.

The representative group of women and men marched to the offices of
the Chronicle, the state-owned newspaper. As the peaceful activists marched,
they distributed a newsletter detailing their demands. By completing the
march without incident, WOZA members have finally laid to rest the ghost of
the International Women's Day protest on 8th March 2008 where over 50
members received medical attention for the brutal beating they received from
riot police when attempting to reach the Chronicle offices.

As they marched the members sang an Ndebele song with the words: "we
are going to Pretoria - even if they arrest us or beat us and even if they
have not invited us." Signifying the need for representation at the
negotiation table to ensure a lasting solution to the crisis in the country
or else the only other option left to Zimbabweans is going the unofficial
way - by border jumping as political or economic refugees. These are the
bottom line choices for the negotiators.

Today's march is also the first protest conducted by WOZA after the
28th May demonstration in Harare that resulted in 14 members being
incarcerated in remand prison for several weeks.

WOZA intend to organise more protests over the next few weeks to press
for civic representatives to be involved in the talks and to continue to
'test' the politician's commitment to a non-violent solution.

Ends
For more information, please contact either Jenni Williams on +263 912
898 110, Magodonga Mahlangu on +263 912 362 668 or Annie Sibanda on +263 912
898 112.

Excerpts from the Memorandum of Understanding between the Zimbabwe
African National Union (Patriotic Front) and the two Movements for
Democratic Change formations - 21 July 2008
Interim measures - Security of persons
(a) Each Party will issue a statement condemning the promotion and use
of violence and call for peace in the country and shall take all measures
necessary to ensure that the structures and institutions it controls are not
engaged in the perpetration of violence.
(b) The Parties are committed to ensuring that the law is applied
fairly and justly to all persons irrespective of political affiliation.
(c) The Parties will take all necessary measures to eliminate all
forms of political violence, including by non-state actors, and to ensure
the security of persons and property.
(d) The Parties agree that, in the interim, they will work together to
ensure the safety of any displaced persons and their safe return home and
that humanitarian and social welfare organisations are enabled to render
such assistance as might be required.

Excerpts from Freedom in a fortnight? A view from the trenches 23 July
2008
We therefore demand that:
· The Africa Union and SADC have provided a reference group to the
mediation team and it is our view that the political parties also need an
on-the-ground reference group made up of civic society representatives who
can provide input and receive feedback.
· The status of the second SADC team dealing with the economy is
clarified and their recommendations be made public so Zimbabweans can know
what is to be done about the crashing economy.
· The United Nations is allowed to come in to assess humanitarian
needs and set up structures to address these urgently.

We would want an engendered transitional authority to have the
following mandate during their eighteen-month term of office:
a. Stop the political violence. Depoliticise the police, army and
other defence forces. Any political violence must be reported, investigated
and prosecuted through the courts without any form of favour or political
influence.
b. Dialogue with the business and professional community to develop
policy designed to bring about economic recovery.
c. Supervise the addressing of the humanitarian crisis together with
the United Nations.
d. Even constitution making has become the sole preserve of
politicians. It was the constitutional referendum in 2000 that intensified
political violence with catastrophic results and therefore we need an
independent person to oversee the consultative process. A transitional
authority must neutralise this position and return constitution making back
to the people of Zimbabwe.
e. Depoliticise the issue of land reform, conduct a land audit and
consult on a fair and equitable land reform programme. If the economy is to
be stabilised, we need our land to be made productive fast.
f. Form a body to consult and develop a transitional justice plan of
action designed to bring healing and reconciliation and then deal with
justice and restitution for victims in the new Zimbabwe.
g. Bring about a truly independent electoral commission to oversee
first a referendum on the new constitution and then a truly free and fair
election process and a peaceful transition to the winner.

Thousands of WOZA members have been arrested for exercising their
freedoms of expression and assembly. Some were even denied bail and
imprisoned for marching to the Zambian Embassy to deliver a petition to the
SADC chair, Zambian president Levy Mwanawasa. They remain undaunted by this
repression and fully intend to continue to peacefully march for bread and
roses, placards held high until their messages are taken seriously at the
negotiation table and in the corridors of power. Of course if they had civic
representatives at the table, their voice would be better heard than from
the streets.
Woza Moya!


---
Is this the biggest cheque EVER? For Zimbabwe $1,072,418,000,000,000 ... or about £2
http://www.thisislondon.co.uk/news/article-23523693-details/article.do?ito=newsnow&


Last updated at 19:13pm on 30.07.08 
It is without doubt the largest cheque ever seen. But it's worth little more than the paper it's written on.
The astronomical sum of one quadrillion, seventy-two trillion, four hundred and eighteen billion and three million dollars only – note the only – was drawn on the MBCA Bank in Zimbabwe, part of  one of the largest banking groups in Africa.
The biggest cheque ever?: The amount is incomprehensible
It was paid by Kasawe Estates, a property company, and was emailed to the Daily Mail by a group of former Rhodesian expatriats who  are horrified at  Zimbabwe's incredible rate of  inflation – officially 2.2 million per cent, but,  British experts say, closer to  12.5 million per cent.
Currency dealers said the plunging value of Zimbabwe dollars made it almost   impossible to estimate its value, but some thought it would have been worth no more than a few pounds yesterday -- and certainly even less today.
The incredible cheque, which is believed to be a  payment as part of a property deal,  was revealed as the Zimbabwe central bank decided to reduce the huge sums that  hard-pressed citizens have to deal with by simply knocking 10 zeros off the end.
Desperate measures: The new Zimbabwean one dollar note
That means that from Friday, when new bank notes are printed, 10 billion old  Zimbabwean dollars become a single dollar.
The desperate move was taken by bank governor Gideon Gono because the nation's  computers, calculators and ATMs faced meltdown because they can't handle all the  zeros involved when bread and staple foods cost billions and trillions of dollars.
The move came a week after Dr Gono introduced a 100 billion-dollar note which is now not enough to buy a loaf of bread.
But  analysts said the move would do nothing to end an economic disaster blamed on President Robert Mugabe's land-grab policies which have caused chronic shortages  of  food and foreign currency.
The Guinness Book of Records says  the  greatest amount in real money paid by a  single cheque in the history of banking  was £2,474,655,000 (two billion four hundred and seventy four million, six  hundred and fifty-five thousand pounds).  It was issued in March 1995 as part of  a share deal between Glaxo and the Wellcome Trust.

"The Zimbabwe dollar will be redenominated by a factor of one to 10, which means we are removing 10 zeros from our monetary value. Ten billion (Zimbabwean) dollars today will be reduced to one dollar with effective from August 1," Gono said in a television broadcast. 
Fault: Robert Mugabe in Harare today. Analysts have blamed the hyperinflation on his economic policies
"The new currency will co-circulate together with the family of bearer cheques ... which shall cease to be legal tender on the 31st of December 2008," Gono said.
Prices are rocketing on a daily basis as ordinary Zimbabweans struggle to survive.
Businesses justify price hikes as the only measure to avert collapse.
Gono in mid-2006 removed three zeros from the local dollar to make life easier for shoppers forced to carry huge piles of cash to make even the simplest purchases, but the move was followed by sharp price rises.
The government this month started distributing subsidised basic goods and quietly hiked salaries for its workers to an average 2 trillion Zimbabwean dollars, worth £17 dollars on the official market and as low as £1.50 on the parallel market.
The salary is enough to pay for 10 trips to work at today's fares or buy eight loaves of bread.
Mugabe accuses businesses of unfairly increasing prices as part of a wider plot to incite people against his government and today warned companies that authorities would impose emergency measures if they continued profiteering.
Gono raised the daily cash withdrawal limit from 100 billion Zimbabwean dollars to 2 trillion Zimbabwean dollars, which analysts said was still far short of individual daily cash requirements.
"This (re-denomination) is just to overcome the absurd difficulty of having to deal with all those zeros but it does not address the root cause of the problem," John Robertson, an economic consultant, said.
"The problem is of scarcity of foreign earnings and investment inflows. I would like to see the government remove its 51 per cent empowerment requirement on all new investments."
Mugabe early this year signed into law a bill giving local owners majority control of foreign-owned firms, including mines and banks.
---
Meaningful reforms must accompany slashing of zeros

http://www.newzimbabwe.com/pages/markets28.18554.html

By Lance Mambondiani
Last updated: 07/31/2008 13:57:14
THE Zimbabwean financial market is not for the fainthearted. It is often
said if you can do business in Zimbabwe, you can do business anywhere in the
world.

Frequent policy shifts render business forecasting useless. On Wednesday,
July 30, 2008, the Reserve Bank introduced a number of currency reforms
intended to stabilise the Zimbabwe dollar and deal with perennial cash
shortages due to an inordinate number of zeros in the payment system.

Gideon Gono, the governor of the central bank said: "The Zimbabwe dollar
will be redenominated by a factor of one to 10, which means we are removing
ten zeros from our monetary value. Ten billion Zimbabwe dollars today will
be reduced to one dollar effective 1 August."

Although this move has been highly anticipated within business circles, it
is the number of zeros removed which seems to grab all the headlines. Whilst
reflecting the deep economic problems, Zimbabwe may again have scored a
world first in its latest currency surgery. There are few, if any, cases of
a country slashing ten zeros from a currency as a currency measure.

The crippling cash crisis in the country had made the slashing of zeros
inevitable. Long queues have become a permanent feature in commercial banks;
the RTGS payment system has been overloaded, with delays of up to a week in
the processing of payments.

There are numerous explanations for the cash crisis, from the bank
conspiracy theory to the monetary policy mismanagement theory. In basic
terms, the persistent cash crisis reflects the problem with a
hyperinflationary environment where economic agents demand more money for
transactionary purposes. The cash crisis also reflects the extent of the
Zimbabwean economy's informalisation.

With most of the commodities available on the black market, consumers would
prefer to keep their money out of the banking system in case they find
scarce commodities where they need to pay for them in cash. Reports suggest
that 90 percent of all economic activity is consummated in the black market.
It's not difficult to see how this can be the case.

The other explanation for the cash crisis is a general loss of confidence in
the financial sector; negative real interest rates have meant that investors
have no incentive to put their money in the formal banking sector, as there
are no viable investment options.

The artificial withdrawal limits, previously set at Z$100 billion per day
have also attracted widespread criticism. That amount is only sufficient to
buy a box of matches. A loaf of bread now costs Z$200 billion whilst
transport to and from work costs around Z$150 billion on average.

Recent reports suggest that the Zimbabwe Congress of Trade Union (ZCTU) had
threatened unspecified action against the Reserve Bank of Zimbabwe (RBZ) if
the central bank did not raise the daily cash withdrawal limit from banks.
Whilst the low cash withdrawal limits were put in place to curb speculative
activities, such ridiculously low withdrawal limits are equal to state
sponsored theft and threaten the very survival of the banking sector. There
is no economic justification for members of the public putting money in the
banking system if they are not able to withdraw it.

Zimbabwe has not had a proper currency for sometime. Unless inflation is
curbed, there is no economic logic in thinking of introducing one in the
near future. Hyperinflation makes the replacement value of a new currency
extremely prohibitive. The central bank's plans to introduce a new currency
last year were shelved after the strategy proved unsustainable.

Whilst base transactions suggest that transactions are edging towards
dollarisation, the central bank is caught between a rock and a hard place.
The inflation war seems more like an unwinnable battle, much like fighting
against the insurgents in Iraq.

The payment system and the computing system of banks was now unable to
handle the number of digits required for accounting purposes threatening
transaction processing with total collapse. Reprogramming the computer
systems to expand the size of fields required for the zeros would have
required significant expenditure of foreign currency, which the country
doesn't have.

The introduction of higher denominated currencies or the slashing of zeros
is dependent on the printing of new notes which has also become temporarily
impossible due to the paper shortages.

The slashing of zeros or the intermittent increase in withdrawal limits
cannot be the solution to solving the cash crisis. A long-lasting solution
has to be found in the stabilisation of the economy through reducing
inflation and the re-establishment of positive real interest rates.

The governor of the central bank is an interview with New Zimbabwe.com also
highlighted the urgent need to resolve the political impasse for any
meaningful economic regeneration to take place. Given that the amount of
money held for transactions and precautionary purposes depends, among
others, on the movements in prices, the current hyperinflation environment
will soon render the new and higher cash withdrawal limit inadequate.

At the rate at which inflation is galloping even an adjustment of the
withdrawal limits every month is unlikely to keep up with demand. The
hyperinflationary environment coupled with low nominal investment rates has
caused serious negative real investment rates. These negative returns on
investment have significantly reduced banking habit as the resultant
reduction in the opportunity cost of holding cash has given rise to
significant speculative activities worsening the inflation situation through
an increase in asset price inflation. Such financial dis-intermediation
debilitates monetary policy effectiveness of banks in the central payment
system.

TO ACCESS OUR ARCHIVED REPORTS VISIT
http://www.coronationfinancial.com

Previous attempts to rescue Zimbabwe's stratospheric inflation have failed.
In 2006, the central bank slashed three zeros from the currency when
inflation then only stood at a few hundred percent. Inflation is now at 2,2
million percent although independent analysts put it at well over 5 million
percent.

The recent currency reforms will certainly bring temporary relief to people
in Zimbabwe. And if the power-sharing talks in Pretoria were to be
successful, it may be the shock therapy that the country needs.

However, like the slashing of zeros in 2006, if unsupported by meaningful
economic change, this latest move may well be just that - a fixation with
zeros with no real consequence.

Lance Mambondiani is an Investment Executive at Coronation Financial Plc, an
International Financial Advisory company registered in the UK trading in
Southern Africa and the United Kingdom. He can be contacted at
coronation.uk@btinternet.com. Please contact us should you wish to subscribe
to our mailing list. You can also contact the Coronation team on; Business
lines +44 161 346 9559 or mobile +44 790 3293 227.

_____________________
The foregoing has been prepared solely for information purposes only based
on independent research by Coronation, no representation or warranty;
express or implied is made to its accuracy or completeness. Coronation
therefore accepts no liability for any loss arising, whether direct or
indirect, caused by the use of any part of the information provided. To
discuss any of these investment options in detail please contact Coronation
Advisory © 2008 Reg No. 06342947

---
Policeman Killed By Zanu PF Thugs for Visiting 'MDC' Mother


SW Radio Africa (London)

30 July 2008
Posted to the web 30 July 2008

Lance Guma

Serving policeman Kingsley Muteta died at the Avenues Clinic on Saturday,
after a mob of 12 Zanu PF youths attacked him at his parents homestead in
Mudzi. The mob accused Muteta who worked in Harare, of visiting his mother,
despite him knowing she was a prominent MDC activist in the area.

A statement from the MDC said a badly beaten Muteta was admitted at Kotwa
Hospital in Mudzi before being transferred to Harare where he later died
from his injuries.

Meanwhile the body of Fungisai Ziome, an MDC activist abducted from her home
on July 23, was discovered in a maize field Saturday in Glendale, Mazoe. She
was an active member of the party in Glendale's Ward 13 in Mashonaland
Central province. The MDC say her body was burnt and showed signs of
mutilation. Passersby in the area realized a body had been dumped and made a
report to the police. So far no arrests have been made and the family awaits
a post-mortem before burial arrangements can be made.

The news once again highlights the lack of sincerity on the part of Zanu PF,
despite ongoing talks with the MDC in South Africa. 'The MDC has asked Zanu
PF to show its sincerity to the dialogue process by stopping violence,
disbanding all militia bases and prosecuting all perpetrators of political
violence,' the party said in a statement. Analysts however criticized the
opposition for engaging in the talks before ZANU PF had dismantled its
structures of violence. Reports that ZANU PF were dismantling militia bases
have turned out to be nothing but a PR stunt. Small bases are being closed
but militants are being transferred to bigger bases, known as District
Command Centres.

On Tuesday we reported how 17 MDC activists, badly beaten by ZANU PF militia
in Buhera South, remain marooned in the area with army Colonel Morgan
Mzilikazi still blocking their transportation to hospital. The MDC have made
several attempts to get them out but each time the rescue teams are harassed
and threatened. The local MP for Buhera South, Naison Nemadziva, remains
holed up in Mutare fearing for his safety. The picture is the same
countrywide with ZANU PF maintaining at least one big militia base in every
constituency. These are being used to launch intermittent attacks on
suspected opposition supporters.


---
Emergency SADC summit on Zimbabwe called for Friday


By Alex Bell
30 July 2008

Political game playing continued on Wednesday as the state of the crucial
talks between ZANU-PF and MDC remained unknown - this as it emerged that an
emergency SADC summit has been called to discuss the Zimbabwe crisis.

The ongoing speculation surrounding the state of the negotiations has been
further fuelled by conflicting reports about the fate of Theresa Makone,
leader of the MDC Women's league. New Zimbabwe.com reported on Tuesday night
that Makoni had been "trapped and exposed as a mole feeding information
about proceedings at the crucial talks to the media". The report came after
Monday's breaking news story that the talks had broken down - a story that
was blamed on a false media leak on Makone's part. The website also reported
that she had been sent back to Harare while the talks continued. The MDC
however on Wednesday denied the reports, dismissing them as "completely
false".

Party negotiators flew back to Zimbabwe on Tuesday, while Tsvangirai flew to
South Africa shortly after the reports, but South African President Thabo
Mbeki, who is continuing his role as SADC appointed mediator in the talks,
denied that the negotiations had broken down and insisted things were going
well. However, despite this insistence Mbeki reportedly rushed to meet with
Morgan Tsvangerai in South Africa on Tuesday before flying last minute into
Zimbabwe on Wednesday to meet with the other key role players, Robert Mugabe
and Arthur Mutambara.

The South African President's rush to meet the party leaders was described
on Wednesday as a "make or break" move for the talks that are at a critical
stage. At the same time as Mbeki reported that the inter-party negotiations
were "going well" and had merely been adjourned, an emergency SADC summit
meeting has been called to discuss the Zimbabwe situation, in light of the
talks. At the same time, Britain's deputy ambassador to the United Nations
warned on Tuesday that the United Nations Security Council will have to take
up the Zimbabwe crisis again if ongoing South African-mediated talks fail to
resolve it.

Meanwhile, the Zimbabwe National Students Union has added it's voice to the
growing chorus of groups criticising the state of the talks. The Union's
President, Clever Bere, told Newsreel on Wednesday that it was unacceptable
for "political playing" while the fate of the Zimbabwean nation hangs in the
balance. He added that people "must be informed, but not through
 speculation" and called on the parties to be more transparent during the
crucial talks. Bere added that only a transitional government with Morgan
Tsvangerai at its head would be accepted, because it will be a result that
"respects the vote of the people as reflected in the March elections".

The talks are set to resume in South Africa on Sunday.

SW Radio Africa Zimbabwe news

---
South Africa -Net Beneficiary of the Zimbabwe Crisis
http://www.thezimbabwean.co.uk/index.php?option=com_content&view=article&id=14435:south-africa-net-beneficiary-of-zimbabwe-crisis&catid=31:top%20zimbabwe%20stories&Itemid=66

 Wednesday, 30 July 2008 11:25

It is difficult for any one to appreciate the position so firmly held by
Mbeki and equally so firmly despised by his critics. We have been
investigating his undeclared reasons for his controversial stance on
Zimbabwe, while at the same time clinging to an untenable mediation role.

The first authoritative statement of the underlying motive for insisting on
being the sole mediator of the Zimbabwe political impasse was his outburst
that Zimbabwe was not a province of South Africa. What President Mbeki meant
was that he was going to ensure that by the time he is through with his
mediation, Zimbabwe would be a de facto economic province of South Africa.
He has succeeded in doing so well ahead of his departure as the South
African President. Here is the Thabo Mbeki Agenda for Zimbabwe.

Firstly, after 7 or so years of on-and-off mediation, his 'quiet diplomacy'
has yielded bankable benefits. Over 70% of Zimbabwean groceries are now
imported from South Africa. A nation that used to boast of ability to feed
her people and others in parts of Southern Africa, now depends on South
Africa for almost three-quarters of its processed groceries- worth hundreds
of millions of US dollars.

Secondly, the main supermarket-chains in Zimbabwe have been reduced to mere
retail shops- operating at one-tenth capacity. The only supermarkets that
are fully stocked are South-African-controlled. They, alone, can afford to
source the cheapest commodities from South Africa and offload to the
Zimbabwean outlets at ridiculously inflated prices. Thousands of workers
have been retrenched or sent on compulsory leave. The country had been
'supermarketized' to a very dangerous extent. Beggars and rich Zimbabweans
were all buying from the supermarkets. Now the public has nowhere to turn
to- except of course, the elusive black market. The losers are not just the
public. The Zimbabwe Revenue Authority is suffering silently.

It is only now that the Central Bank-led Peoples' shops are being
introduced- 40 years after Kamuzu Banda introduced them in Malawi and over
40 years since Julius Nyerere introduced the idea in Tanzania (without much
success) and 30 years after Samora Machel had done the same thing in
Mozambique. It is not a novel idea developed by Governor Gono! What is new
is the fact that unlike socialist Tanzania and Mozambique and Banda's
kleptocracy, neither the Zimbabwe Government nor Governor Gono has any
control over the means of production or the labour or the distribution. He
hopes to create a communist model in capitalist Zimbabwe. If it had been
done in 1980 it might very well have worked. Good luck Governor!

Why was it not done in 1980? Quite simply because the new post-independence
government found a working system that ensured maximum-almost punitive,
taxation in place, courtesy of the Smith regime. For that very reason he
postponed 'total empowerment' of the poor Zimbabweans through land
re-distribution.  In due course, he forgot the poor landless Zimbabweans
altogether! That is, until the masses themselves invaded the white-owned
farms in 2000. Talk of a revolutionary bereft of any revolutionary soul! He
alone postponed the realization of the cardinal aim of the bush war: the
land issue! And for 20 years! Longer than the period of the liberation
struggle itself. And some people mistakenly or blindly still call him a
liberator of Zimbabwe! In a true socialist state he would have been shot as
a counter-revolutionary-a traitor to the forward march of the revolution.
Surely, a winning General who commands his soldiers to retreat and let the
enemy pillage and plunder Zimbabwean resources for a further twenty years
(1980-2000) deserves no less a punishment!

Anyway, I digress. I am bitter- very bitter!

To return to the Mbeki Agenda: he has succeeded in the recruitment of cheap
but skilled manpower. He now has properly qualified black doctors, teachers,
nurses, engineers, insurers, bankers, managers, plumbers, joiners-all the
artisans that South Africa so badly needs. All manner of blue-collar
personnel lacunae have been filled thanks to the meltdown in neighbouring
Zimbabwe. The migration has been so intense that ordinary South Africans
have felt it and expressed their anger and grief through the recent
disturbances in South Africa. I choose not to call it xenophobia. Over ten
thousand white professionals have left South Africa since the end of
apartheid in 1994. Tens of thousands Zimbabwean professionals have entered
as replacements. I am aware that other foreigners also work in South Africa,
especially Nigerians, Kenyans, Ghanaians.

Mbeki has calculated well. He knows that South Africa can absorb thousands
of useful foreigners without feeling the pinch, because their toil and
labour far outweigh the cost to the nation. When the time comes, the South
African government will simply terminate the contracts of those that are
superfluous and ship them back home. But- and this is the point I want you
to get- they will have helped in capacity building for South Africa in the
interim! They will have provided training and education for South Africans.
They will have helped with the construction of the stadiums for the 2010
World Cup. This stop-gap measure has been a Mbeki priority all along. He saw
the opportunity and grabbed it. That is why he growls at the mention of an
additional mediator!

Then there is the hot issue of tourism. For some reason, Zimbabwe believes
that it is the paradise of Africa in tourism terms, dwarfing all other
countries in Southern Africa. That myth is one that Mbeki set out to
destroy. He has largely succeeded in selling the idea that Victoria Falls is
part of South Africa's tourist menu. Thanks to aggressive South African
marketing, Victoria Falls is just one of the Southern Africa's prime
destinations- best organized from Johannesburg, South Africa. That is the
best way to do Victoria Falls. In the confusion Hwange has lost its appeal.
In any case, the Limpopo Trans-frontier National Park has plenty of animals.
As for Kariba, well, Mozambique (and its pristine beaches) is open for
business! Check it out. If you want to know how serious the South Africans
are, just check the Botswana side of the Zambezi River!

We keep hearing that Zimbabwe was a breadbasket of Southern Africa- some say
(erroneously) even of Africa. However, that was the time when South Africa
was at war; Namibia was at war; Angola was at war and Mozambique was at war.
Zambia was then a casualty of all those wars. Simba Makoni believes that it
still can be the breadbasket of Africa. By what miracle he does not say.  Be
reminded that it is not a question of land per se. Zambia and DR Congo have
by far richer soils! Zimbabwe soil is of little value without extensive use
of fertilizers. By sub-dividing all the land, Zimbabwe has lost an
opportunity to develop large-scale farms that could rival USA corn, cotton,
peanut and other farms. There is enough land for all Zimbabweans' needs but
not enough for their greed! Mbeki and the ANC know that. They would rather
you destroy yours now, so that they can convince their people otherwise in
the future. South Africa has no wish to go the Zimbabwe route. It is not
only thorny and pot-holed; it is a cul de sac.

People tend to forget that Mbeki lived in Zimbabwe for sometime- long enough
to know how Zimbabweans feel about his countrymen. The general feeling is
that South Africa cannot survive without Zimbabwe; that it is the
Zimbabweans who provide the top brass of South Africa's business and other
sectors, both public and private because they are better educated. Well,
Mbeki believes otherwise and he wants to put to shame all those inclined to
contradict him.  Mugabe thinks he is using Mbeki. Mbeki knows that he is
using Mugabe!

How do I know that I am right? Ask Jacob Zuma. The moment it was explained
to him, Zuma understood and stopped pushing Mbeki over the top! Remember,
Zuma is a patriot and a freedom fighter. If the policy is good for the
country, why not give it tacit support-at least?

 Lastly, South Africa wants to exert its influence over Southern, Central
and Eastern Africa. It wants to flex its economic muscle all over. Until
recently, only Mauritius, Zimbabwe and Kenya stood in her way. With Zimbabwe
out of the way, South Africa can concentrate on any challenge from Kenya and
Mauritius.

It is not that Thabo Mbeki has little love for Zimbabwe. Rather, it is
precisely because he loves and envies Zimbabwe that he would like it
wrestled out of the jaws of unpatriotic ZANU-PF politicians who cannot
appreciate how horrific it is to bring a beautiful country like Zimbabwe to
ruin. He seriously wants to make it a province of South Africa and Robert
Mugabe is either unwittingly, or out of sheer ignorance, obliging. That is
why I believe Mbeki cannot mediate in good faith!

---
Zimbabwe talks: Compromise but no solution?
Institute for War and Peace Reporting (IWPR)

Date: 29 Jul 2008

Critics fear talks will hand the opposition a slice of power without
achieving radical change

By Mike Nyoni in Harare (ZCR No. 157, 29-Jul-08)

After the euphoria which accompanied last week's agreement by Zimbabwe's
parties to discuss a peaceful end to the political crisis, some analysts are
warning that the negotiating process may be less productive than is hoped.

Some fear that President Robert Mugabe - re-elected on June 27 in a
controversial run-off ballot from which his opponent Morgan Tsvangirai
pulled out - will try to manipulate the talks process to achieve cosmetic
improvements while remaining firmly in control, and suggest the opposition
may be complicit in this process.

Others note that the talks agenda contains little new, as much of it has
already been agreed in earlier negotiations between ZANU-PF and the
opposition Movement for Democratic Change, MDC.

The memorandum of understanding, MoU, was signed on July 21 by President
Mugabe, MDC leader Tsvangirai and Arthur Mutambara, who heads a minority
faction of the MDC, under the watchful eye of the chief mediator, South
African president Thabo Mbeki.

The document committed the opposing political forces to a dialogue resulting
in 'a viable, permanent and sustainable solution' to Zimbabwe's problems.

After the signing, Tsvangirai declared that failure to find a solution to
the crisis was 'not an option'.

However, Lovemore Madhuku, chairman of the National Constitutional Assembly,
a non-government group which has lobbied for a new constitution, warned that
the negotiations currently under way in Pretoria might not amount to much.

The agenda for the talks, and the fact that negotiators were given just two
weeks to achieve a deal, suggests to Madhuku that it will be hard to 'come
up with anything sustainable, let alone permanent'.

Madhuku argues that the MoU gets things wrong from the start since its first
item - 'the objectives and priorities of a new government' - makes too many
assumptions, when in fact the composition of such an interim administration
is crucial and likely to be hotly contested.

'The underlying assumption is that a government of national unity already
exists, and Mugabe sees himself as head of that government,' said Madhuku.
'His task is straightforward - to sort out the economic and political crisis
and secure the lifting of sanctions.'

Madhuku believes Mugabe sees himself presiding over the drafting of the new
constitution mentioned in the MoU agenda.

'It is impossible to come up with a new constitution in a space of two weeks
and any constitution they [the negotiators] come up with which is not
subjected to a popular referendum will not be acceptable to the people of
Zimbabwe,' he insisted.

The leading historian Professor Terence Ranger argues that there is no basis
for negotiations as Mugabe is not amenable to compromise.

'There is nothing to be gained by calling for a government of national unity
in Zimbabwe when Mugabe makes it clear that it can only come into existence
on his terms,' he wrote in an article for The East African.

One important provision in the MoU comes in section 9, which says that as
long as the talks are going on, neither side can make unilateral decisions
that have a bearing on the agenda - for example convening parliament or
forming a government.

Madhuku believes this was included at the MDC's insistence, reflecting its
'deep fears and anxieties. that Mugabe might proceed to swear in parliament
and appoint a new cabinet without it'.

He suspects the MDC is out to secure a share of power for itself, and notes
that there is talk of Tsvangirai becoming vice-president.

He warns that while such manoeuvring is 'typical of politicians', the MDC
may end up settling for something that falls far short of the comprehensive
change people have been hoping for.

'To me this is a sham process designed to defraud the people of Zimbabwe
through a fraudulent political settlement,' he said.

Madhuku and a group of other civil society leaders are unhappy that the
talks are taking place in such a narrow format, involving only the main
political parties, and that they are subject to a media blackout. They have
been demanding that the negotiating process be broadened to include
non-government groups, women's organisations, churches and others. On July
15, they issued a demand that any transitional administration should be
headed by neither Mugabe nor Tsvangirai, but by a neutral figure.

Not everyone is so pessimistic about the process. Eldred Masunungure, who
lectures in politics at the University of Zimbabwe, argues that the MoU
'layed a solid foundation' for a lasting peace.

He does not see the two-week deadline as a major problem. 'Most of the
issues in the MoU have already been agreed on during previous talks,' said
Masunungure, referring to talks that took place between ZANU-PF and MDC in
the months leading up to the March elections.

A senior official in Mutambara's faction of the MDC, who did not want to be
named, said it was immaterial what form the proposed new government took as
long as it resolved Zimbabwe's problems.

'You can call it a government of national unity or a transitional authority,'
he said. 'What is needed urgently is to get us out of this hole, by whatever
means.'

Mike Nyoni is the pseudonym of a reporter in Zimbabwe.

---
Media Blackout Alarms Journalists
Institute for War and Peace Reporting

Zimbabwe's independent media say it is in no one's interests for crucial
talks to take place out of the public eye.

By Jabu Shoko in Harare (ZCR No. 157, 30-Jul-08)

Journalists in Zimbabwe are seething with anger at a blanket ban on
negotiators talking to the media while talks are under way between President
Robert Mugabe's ZANU-PF and the opposition Movement for Democratic Change,
MDC.

The talks, scheduled to last a fortnight, opened in Pretoria, South Africa
on July 24, but the memorandum of understanding signed three days earlier
made it clear the dialogue was to remain confidential.

Clause 8 of the document says specifically states that as long as the talks
are going on, neither side should "directly or indirectly communicate the
substance of the discussion" to the media, nor should they use the media as
a negotiating platform.

Media representatives who spoke to IWPR complained that this provision was
tantamount to stifling freedom of expression, as well as denying Zimbabweans
the right to information about a process that could decide their future.

Iden Wetherell, chairman of the Zimbabwe National Editors' Forum, said
denying reporters access to information about the talks was "unhealthy and
unacceptable".

"There should be intense debate in the media around the issues contained on
the MoU," he said. "The MoU has been made public, so as editors we believe
it should be debated in public. There should be frequent briefings on what
is going on behind closed doors. The public have a right to comment on it
and on other issues."

Wetherell said the editors' forum believed reporters should not be shut out,
especially since the agenda for the talks suggested that a new government
look at media as a priority issue. Current legislation covering media and
communications is restrictive so any change will be a matter of interest to
journalists themselves.

"The media has legitimate concerns, for instance the tough media laws and
the issue of the public media, which has a duty to inform the nation but
abuses it. Currently the public media parrots only the voice of the
incumbent," he said.

Foster Dongozi, secretary general of the Zimbabwe Union of Journalists, ZUJ,
agreed, saying, "The media is being denied access to information. It is
totally unacceptable. We will not be able to know what they are plotting
about our future as journalists and the media."

During negotiations late last year, the MDC and ZANU-PF agreed amendments
slightly softening the Access to Information and Protection of Privacy Act -
a tough law used to restrict media rights since 2001. But as Dongozi said,
there was no consultation with media stakeholders when the parties agreed
this deal.

In the current round of talks, he said, "We need to know what's going on,
especially if there are discussions on media law reform."

In 2003, the information and privacy law was used to close down the popular
Daily News and its sister paper The Daily News on Sunday, The Tribune and
The Weekly Times.

The closure of these newspapers dealt a severe blow to the MDC, which is
covered unfavourably in the state-owned newspapers and the public Zimbabwe
Broadcasting Corporation. The Broadcasting Services Act has allowed
government to perpetuate the monopoly enjoyed by ZBC, an institution the
opposition accuses of naked bias.

Loughty Dube, who heads the Zimbabwe chapter of the Media Institute of
Southern Africa, a regional watchdog, welcomed the signing of the MoU but
insisted that negotiators should ensure the "transitional process" enjoyed
public confidence.

"This can only be achieved in an environment that immediately allows
citizens to enjoy their fundamental right to freedom of expression,
association, assembly, access to information and media freedom," said Dube.

Citing the need to end harassment, arrest and assaults against journalists,
to repeal repressive laws and to allow unrestricted reporting in Zimbabwe,
Dube said media freedom must in future be enshrined in a new constitution.

Despite attempts to starve them of infomation, journalists working for
independent media in Zimbabwe look set to continue reporting on the talks
process as best they can.

"The parties to the negotiations want to turn journalists and the media into
fiction writers," said Nelson Chenga, a journalist with the privately owned
Financial Gazette "Naturally we will speculate due to the gravity of the
talks, which is a historic event that holds the key to the Zimbabwe crisis."

According to Wetherall, "Nothing should be hidden from the public. The media
have a duty to inform the population of what is happening behind those
closed doors in Pretoria.

Attempting to silence the media, he said, would merely encourage
"disinformation, half-truths and speculation, which is not very helpful at
all".

Jabu Shoko is the pseudonym of a reporter in Zimbabwe.

---
August could produce a government that cares about the poor
http://zimbabwemetro.com/featured/august-could-produce-a-government-that-cares-about-the-poor/

By Eddie Cross ⋅ © zimbabwemetro.com ⋅ July 30, 2008 ⋅
I take the fact that the MDC has not walked out of the talks in South Africa
as a very positive sign. They must be making progress and despite the
propaganda put out by both the SABC and the Zanu PF in recent days, I think
this progress is towards a transitional government that will be led by the
MDC. Another feature of this situation that people are not picking up on, is
that for the first time the AU and the SADC have guaranteed the
implementation of the agreements reached in the talks.

We will have to wait for the final outcome - no one is talking about what is
going on behind closed doors and that might be a good thing, providing the
final outcome is acceptable to the rest of us after all our sacrifice and
pain.

While focus is on the talks (and rightly so) we must not lose sight of what
is going on here at home. After 4 months the local government councils are
being sworn into office and as I write, the MDC has taken over the
administration of all urban councils in the country. Since 60 per cent of
the population lives in the urban areas, this means that the majority of the
people now live under an MDC controlled administration.

We still have to contend with Chombo who continues to pretend he is the
Minister and in charge. He was defeated in the elections on the 29th March
and holds his portfolio only because the Zanu PF leadership has tried to
hold onto power for as long as possible - illegally. At best he is a
caretaker administrator waiting for a new Minister to be appointed in the
talks. Most probably the new Minister will come from the MDC.

We also control a significant number of the Rural District Councils and in
all hold 700 of these posts throughout the country. Where Zanu PF controls
the councils in the rural areas they will soon discover that they are under
new management from a central government point of view.

This is a very significant shift in power and gives the MDC its first real
chance to start to make a difference in peoples lives. We are taking the
first steps to make that a reality and our Secretary for Local Government is
about to go full time with a small staff to start coordinating what the
councils will be doing. Local government in many ways, is almost more
important to peoples lives than central government. It is the local
authority that delivers water, effluent and waste management, housing,
electricity and roads. It is the local authority that manages primary health
care and educational and social amenities.

The MDC is a Party of the poor - I am sure I have often stated that. So many
urban areas find themselves with councilors who are drawn from street
vendors, blue-collar workers and even the unemployed. In my district I have
two councilors - one a retired lady with very sparse resources and no
transport and the other a vendor also with few resources. They are, however
both excellent individuals, with integrity and a real commitment to their
communities and I am looking forward to working with them.

We have huge challengers - many urban centers are short of water, roads are
in an appalling state, mass transit systems non-functional, effluent systems
broken down and a threat to public health. 40 per cent of the urban
population is not properly housed; we have a backlog of a million housing
units let alone any future growth in demand. Staff are demoralized,
financial systems have broken down, assets looted and there are many
political appointees who are not going to welcome the new administration.

But at least we can now start to tackle these issues and do something about
them. Once the transitional government is in place (in August?) then we can
really start to do things - especially if the new arrangements reflect the
March elections and are accepted by the international community as having
some legitimacy.

In anticipation of a new day dawning, we are now working on how to mobilize
the collective energies of our much-diminished community to start to make
things happen. What I would like to say to every Zimbabwean - at home or
abroad, get involved.

This morning I went to a local picnic site - Hillside Dams. There a group of
local businessmen plus a motley collection of volunteers are cleaning them
up - they have been given a lease over 45 hectares and are building a
restaurant, picnic sites and cleaning up the gardens and the amenities such
as toilets. The roads and paths are being repaired. When I left there were
many cars in the parking area, hundreds of kids and adults playing in open
areas and many braai fires going with a smell of wors and steak.

If you are outside the country - adopt a councilor and support him or her
with funds to run a small office and meet their expenses. Small sums of
money can make a huge impact in this area and is critical to making
democracy work for the people and to improve their lives.

A group of businessmen are right now forming a Trust to mobilize the whole
business community behind community development and the strengthening of the
democracy we are building. Making democratic practice work for everyone -
creating servant leaders who will be honest and accountable. They are
identifying projects - small and large, that can be tackled by the public
and the private sector to their mutual benefit. One group in Bulawayo is
doing a joint venture with the City to manage and recycle wastewater.

We have a country to rebuild - not had a chance to do anything up to now
because of the crazy politics and the imbecilic economics. This is both an
exciting and a challenging task. The international community will help us
get back on our feet and after that it is up to us - we are a rich country
made poor by bad leadership. That must never happen again.

Democracy and development are the key to this. Democracy to hold leadership
accountable to the people they serve and development to lift everyone out of
the cycle of poverty and deprivation that has been our lot for too long.

Eddie Cross is the MDC Member of Assembly elect for Bulawayo South,and the
MDC Policy Coordinator he writes in his personal capacity.

---
Mbeki set to meet Mugabe, Mutambara
http://www.newzimbabwe.com/pages/mbeki115.18553.html

By Lebo Nkatazo
Last updated: 07/31/2008 13:02:17
SOUTH African President Thabo Mbeki was expected in Harare on Wednesday for
final discussions with President Robert Mugabe over a power-sharing deal
with the opposition which could be signed as early as next week.

Mbeki, who is mediating an end to a decade-long political crisis, met
opposition Movement for Democratic Change (MDC) leader Morgan Tsvangirai in
Pretoria on Tuesday, his spokesman added.

In Harare, Mbeki will also meet Arthur Mutambara, leader of a faction of the
MDC. Mutambara confirmed to New Zimbabwe.com on Wednesday that he would be
meeting Mbeki. He denied reports that the talks were deadlocked, saying
"tremendous progress had been made".

Three teams of negotiators from the three main parties who have been meeting
in Pretoria, South Africa, since Thursday last week have withdrawn to brief
their principals and will be reconvening on Sunday.

Dumisani Muleya, the news editor of the Zimbabwe Independent newspaper said
by telephone from Harare that the negotiators had "agreed on most of the
things" and Mbeki would be clearing "a few minor hurdles".

"President Mbeki wants to clear up a few things, mainly on positions and
powers, before a final agreement is signed. The negotiators have agreed on
most of the things that were up for discussion and Mbeki's trip should be
seen as a clincher. The outstanding issues are definitely not
insurmountable. they should be easily resolved," said Muleya, also the
Zimbabwe correspondent for South Africa's Business Day newspaper.

President Mbeki said Tuesday that the talks were progressing well,
notwithstanding reports that the negotiators were deadlocked.

Mbeki told reporters: "The negotiators are negotiating. As you know they
have been meeting here now for a number of days and they are continuing to
do that. They are doing very well."

And in Harare, MDC spokesman Tapiwa Mashakada quashed speculation that the
talks were deadlocked.

"Negotiators have taken a break. It is just an ordinary recess," said
Mashakada.

He said claims that the talks had broken down were "not true", adding:
"Negotiators just took a break and they would further be consulting their
principals during the break.

"Parties to the negotiations agreed at the signing of the MoU that
negotiators would need to brief their parties after a few days of talks."

On Friday, President Mbeki will brief an emergency gathering of the Southern
African Development Community (SADC) organ on politics, defence and security
in Angola on the progress made so far in the talks.

---
COSATU confident talks between MDC and Zanu (PF) will bear fruit
http://www.thezimbabwean.co.uk/


Wednesday, 30 July 2008 10:38
JOHANNESBURG, --The Congress of South African Trade Unions (COSATU) is
confident that the talks between ZANU (PF) and MDC will bear fruit.

The organisation, which is one of the fiercest critics of the Robert
Mugabe government, called on the warring parties to commit themselves to the
talks and work together with Southern African development Community and
African union to find a lasting solution to the crisis in that country.

Talks between ZANU (PF) and the two factions of the MDC are currently
taking place in South Africa following the signing of a memorandum of
understanding by the party leaders in Harare recently.

"We are confident that the people of Zimbabwe are best placed in
resolving their challenges. In this regard, we further call upon both the
MDC and ZANU-PF to respect the institutions and processes of the AU and SADC
and work with African leaders to find a lasting solution," said COSATU.

Zimbabwe is experiencing its worst political crisis following the June
27 re-election of Mugabe as president after a widely-condemned presidential
runoff election that was marred by violence. MDC leader Morgan Tsvangirayi,
winner of the first round of elections, pulled out of the elections.

The economic landscape is not rosy either with inflation reaching
seven-digit figures--CAJ News

---
Wives playing seductress for food
MUTARE, 30 July 2008 (IRIN) - Dereck Gurupira, 50, was bathing in the river near his home in Zimbabwe's Manicaland Province late one afternoon when he saw a woman on the opposite bank begin to undress, apparently oblivious of his presence.

Usually the women in Manicaland's Odzi district, about 55km northwest of the border town of Mutare, wash downstream in a more secluded part of the river, but after undressing completely the woman greeted him by name and then suggested to Gurupira that he should join her.

He went and sat near her as she bathed in the river and was taken by surprise when a man wielding an axe emerged from the bush and accused Gurupira of having a sexual relationship with his wife. The matter was taken to the traditional court, where Gurupira was fined two cows and a goat for the "illicit relationship", to which the woman even confessed.

"I was a fool to fall into the trap. The shameless husband used his wife as bait to extort the livestock from me, and even though I hardly knew the woman, many people now think I had a love affair with her," Gurupira told IRIN.

Having to forfeit the cattle means that he will not have enough draught power to prepare his land for the agricultural season beginning in September, although he may find solace in the fact that he is not the only person to have fallen for the scam.

Imbayago Chikuni, a messenger for one of the local headmen, told IRIN that the number of cases brought before the traditional courts by husbands alleging infidelity by their wives was increasing.

Cases of alleged infidelity rising

"In the past, I used to bring at most one case of infidelity a year to my headman's court, but I am now dealing with several such trials a month. It is difficult to tell between a genuine case and a staged one because, in all cases, the women are found in compromising positions by their husbands or the husbands' relatives," Chikuni said.


In the past, I used to bring at most one case of infidelity a year to my headman's court, but I am now dealing with several such trials a month. It is difficult to tell between genuine cases and a staged one
Those being targeted are villagers considered to have means, and while the river was one location often used for the ruse, women were also frequenting shebeens [informal taverns] to lure unsuspecting men into their schemes, he said.

Hunger was forcing people "to use bizarre ways to get any form of foodstuffs or money" from "offending" men. "In this part of the province we hardly harvested anything, since the rains were erratic, there was no fertiliser and humanitarian aid is not forthcoming. Those who can manage a full meal of sadza [thick maize-meal porridge] and boiled vegetables a day are considered lucky," Chikuni said.

In June, the Food and Agriculture Organisation (FAO) and the World Food Programme (WFP) said about 2 million Zimbabweans would be facing hunger before September, increasing to 3.8 million by the end of the year, and to 5.1 million by March 2009.

Zimbabwe's precarious food security was exacerbated by a government order banning humanitarian organisations from operating, including those supplementing food stocks in rural areas, on allegations of engaging in political activity.

Most of the villagers in the district depend on gathering wild fruits and roots for food, while others illegally pan for gold and diamonds in the hope of supplementing their income.

Zimbabwe's hard times, in which annual inflation is officially estimated at 2.2 million percent, is also seeing daughters being married for dowries at very young ages.

In a bid to avert hunger, the parents of Yevai Dongo, 15, in the Muzarabani district of Mashonaland Province, consented to their daughter becoming the third wife of a 50-year-old local shop owner. Yevai's 17-year-old sister ran away to Mozambique to avoid a similar fate.

In search of dowries

The Dongo family now boasts six head of cattle, whereas they had none before, and are given a constant supply of maize-meal by their new son-in-law, who also gave them a cash "windfall" of one trillion dollars (about US$8) when he married their daughter two months ago.


True, my family is poor and there are times when we went without food. But I was still going to school, and for my parents to sell me off like a commodity is unfair
"True, my family is poor and there are times when we went without food," Yevai told IRIN. "But I was still going to school, and for my parents to sell me off like a commodity is unfair to me because they used an old fashioned practice to solve the problem that we were facing, while I will be confined to a home that I don't enjoy."

She is concerned that joining a polygamous family might expose her to HIV/AIDS, and "most of the time when I am alone in bed, I seriously consider following my sister, who refused to be imprisoned."

Yevai told IRIN that girls of her age in the community were being forced by their parents to enter into love relationships with older men, and then faking pregnancy so the men would be compelled to marry them.

"Even when the men insist that they used a condom, no-one listens to them and, again, that is not fair, because young girls unwillingly lose their virginity and expose themselves to sexually transmitted diseases," Yevai said.

Erich Bloch, a Bulawayo-based economic consultant, said unusual methods were being employed to beat hunger because of the "sheer desperation and the widening poverty cycle set off by the current economic meltdown."

"When people are starving, when children cry all night long because of hunger and parents have nothing to give them, you see an acute decrease in moral standards," Bloch told IRIN.



[ENDS]

[This report does not necessarily reflect the views of the United Nations]
---
Politics Batters Zimbabwe's Environment
http://english.ohmynews.com/articleview/article_view.asp?menu=f10600&no=383286&rel_no=1


Good governance the bedrock upon which the environment can be better
managed

Masimba Biriwasha

     Published 2008-07-31 02:39 (KST)

Zimbabwe, which currently faces seemingly intractable social, political and
economic problems, has some of the worst environmental indicators in the
world with ecosystems either in decline or under severe threat.

The country did institute some good environmental protection programs in the
decade following the attainment of independence from British rule in 1980.
During that period, the government even went as far as adopting a radical
policy of shooting poachers on sight in order to protect endangered animal
species.

In recent years, however, Zimbabwe has experienced desertification, soil and
water pollution, and slash and burn agriculture, resulting in soil erosion
mainly caused by an unplanned land resettlement program initiated by
incumbent President Robert Mugabe's government in 2000.

Yale University's 2008 environmental performance index (EPI), which ranks
149 countries according to a weighting of carbon and sulfur emissions, water
purity and conservation practices, positions Zimbabwe at number 95, thus
highlighting the grim state of the environment in the country.

"Zimbabwe's air is polluted by vehicle and industrial emissions, while water
pollution results from mining and the use of fertilizers. Zimbabwe's cities
produce half a million tons of solid waste per year. The nation has been
estimated to have the highest DDT concentrations in the world in its
agricultural produce," states the Encyclopedia of the Nations.

In Zimbabwe, as in many countries in sub Saharan Africa, environmental
management tends to play second fiddle to social, political and economic
imperatives that ultimately result in environment degradation. In that
sense, Zimbabwe is a microcosm of environmental conditions unraveling across
much of the continent.

Today, Zimbabwe is experiencing high levels of poverty, disease, political
mismanagement and other significant obstacles to development that make
regard for the environment the least of priorities at both government and
societal levels.

High levels of poverty, particularly in the rural areas, where approximately
70 percent of the population lives, make deforestation and wildlife poaching
a huge environmental challenge due to increased demand for household fuel
wood and food.

The rampant cutting down of trees for both fuel and agricultural purposes is
perhaps the biggest problem because it negatively impacts the weather,
rivers, rain and soil quality.

To make matters worse, climate change, with its disruption of rainfall
patterns, has negatively affected subsistence agriculture, which is the main
source of livelihood and food for 80 percent of the population.

According to analysts, among the most serious of Zimbabwe's environmental
problems is erosion of its agricultural lands, wildlife poaching and
deforestation.

By 1992, deforestation was progressing at the rate of 70,000-100,000
hectares per year, chewing up 1.5 percent of the nation's forestland.

It is estimated that between 1990 and 2005, Zimbabwe lost 21 percent of its
forest cover. The country has no primary forests left, and deforestation
rates have increased by 16 percent since the end of the 1990s.

In 2001, nine of the nation's mammal species and nine bird species were
endangered, as well as 73 types of plants. Zimbabwe has about half of the
world's population of black rhinoceroses, an endangered species.

Despite this degradation, Zimbabwe has some 1,747 species of trees among its
4,500 species of higher plants. The country is also home to a number of
safari animals like elephants, lions and hippos. In total, 270 species of
mammals are found in Zimbabwe along with 180 reptiles and 661 birds.

As Zimbabwe seeks a way out of its political and economic morass, it is
clear that solving the basic needs of the poor -- particularly food security
and energy needs -- will play a key part to reduce problems such as
deforestation and land degradation. In Zimbabwe, as in many parts of Africa,
eradicating poverty is an indispensable condition to better environmental
management.

But good governance is the bedrock upon which poverty is reduced and the
environment better managed.


---
Battle for Strategic Control of Zimbabwe's Rich Mineral Treasures
Jul 30, 2008 - 10:44 AM
Robert Mugabe, the President of Zimbabwe, presides over one of the world's richest minerals treasures, the Great Dyke region, which cuts a geological swath across the entire land from northeast to southwest. The real background to the pious concerns of the Bush Administration for human rights in Zimbabwe in the past several years is not Mugabe's possible election fraud or his expropriation of white settler farms. It is the fact that Mr. Mugabe has been quietly doing business, a lot of it, with the one country which has virtually unlimited need of strategic raw materials Zimbabwe can provide— China . Mugabe's Zimbabwe is, along with Sudan, on the central stage of the new war over control of strategic minerals of Africa between Washington and Beijing, with Moscow playing a supporting role in the drama. The stakes are huge.
Zimbabwe 's President, Robert Mugabe is a very very bad man. This we all know from reading the newspapers or hearing the pronouncements of George W. Bush, earlier Britain 's Tony Blair and more recently Gordon Brown. In their eyes he has sinned badly. They charge that he is a dictator; that he has expropriated, often with violence, the farms of whites as part of land reform; they claim he rigged his re-election by vote fraud and violence; that he has ruined the economy of Zimbabwe .
Whether Robert Mugabe deserves to be in Washington 's honor roll of villains alongside Fidel Castro, Saddam Hussein, Milosevic, Ahmadinejad, and Adolf Hitler, however, it is not the reason Washington and London have made Zimbabwe regime change priority number one for their Africa policy.
What his sin is seems to have more to do with his attempts to get out from under Anglo-American neo-colonial serfdom dependency and to pursue a national economic development independent of the International Monetary Fund and World Bank. His real sin seems to be the fact that he has turned to the one nation that offers his government credits and soft loans for economic development with no strings attached—The Peoples' Republic of China.
Western media accounts conveniently tend to omit the second major party to what is a huge tug of war between Anglo-American interests and China to get control of Zimbabwe 's vast mineral wealth. We should keep in mind that for Washington there are always "good dictators" and "bad dictators." The difference is whether the given dictator serves US national interests or not. Mugabe clearly is in the latter category.
Cecil Rhodes' legacy
Zimbabwe is the name of what under the era of British Imperialism a century ago was named Rhodesia . The name Rhodesia came from the British imperial strategist and miner, Cecil Rhodes, founder of the Rhodes scholarships to Oxford , and author of a plan for a vast private African zone, to be chartered from the Queen of England, from Egypt to South Africa . Cecil Rhodes created the British South Africa Company, modeled on the East India Company, along with his partner, L. Starr Jameson of Jameson Raid notoriety, to exploit the mineral riches of Rhodesia . It controlled what was later named Northern Rhodesia ( Zambia ) and Southern Rhodesia-Nyasaland. The model was that the British Government would assume all risks to militarily defend Rhodes ' looting while Rhodes and his London bankers, above all Lord Rothschild, who was a close associate, would assume all the gains of the business.
Rhodes, a seasoned geologist, knew well that there was a remarkable geological fault running from the mouth of the Nile at the Gulf of Suez south through Sudan , Uganda , Tanzania , down through today's Zimbabwe on to South Africa . Rhodes had already instigated several wars to gain control of the diamonds of Kimberly and the gold of Witwatersrand in South Africa . This geological phenomenon he, as well as enterprising German explorers, had discovered in the 1880's. They named it the Great Rift Valley .
Rhodesia , like South Africa after the bloody Boer wars, was settled by white settlers to secure future minerals gains for allied interests of the City of London , mainly those of the powerful Oppenheimer family and their gold and diamond enterprises in the region.
In 1962 when Africa was undergoing the wave of national liberation from colonial rule, a wave calculatedly supported by "non-colonial power" Washington, Rhodesia was one of the last bastions, along with former British colony South Africa, of white Apartheid rule. Whites in Rhodesia constituted only 1-2% of the total population so their methods of holding on to power were rather ruthless.
White supremacist Prime Minister, Ian Smith, declared Rhodesian independence from Britain in 1965 rather than agree to the slightest compromise on race or power sharing with black nationalists. Britain got UN trade sanctions imposed to force Smith to buckle under. Despite sanctions, there was considerable support from conservative business interests in London . Britain 's Tiny Rowland, head of the Lonrho mining conglomerate, secured the bulk of his African profits from Rhodesian copper mining and related ventures under the Smith regime. The City of London knew very well what riches lay in Rhodesia . The question was how to secure enduring control. Smith's Rhodesian backers had little interest in giving it all to London .
Following a long and bloody struggle, in 1980 the leader of the black African Popular Front coalition, Robert Mugabe, overwhelmingly won election as the first Prime Minister of a new Zimbabwe . Twenty eight years later, the same Robert Mugabe is under escalating attack from the West, especially Zimbabwe's former colonial master, England, including strong economic sanctions designed to bring the country to the brink of collapse, to force him to open the economy to foreign (read Anglo-American and allied) investment. Ironically, the issue seems not all that different from the Ian Smith era: London and US control of the resources of the rich land, and Zimbabwean efforts to resist that control.
The Great Dyke
Within Zimbabwe, a portion of the rich Great Rift is called the Great Dyke, an intrusive geological treasure zone running over 530 kilometers from the northeast to the southwest of the country, in places up to 12 kilometers wide. A river runs along the fault and the region is volcanically active. Here also lie vast deposits of chromium, of copper, platinum and other metals.
The US State Department, as well as London , is aware of the vast minerals and other riches of Zimbabwe . It states in a recent report on Zimbabwe , " Zimbabwe is endowed with rich mineral resources. Exports of gold, asbestos, chrome, coal, platinum, nickel, and copper could lead to an economic recovery one day...The country is richly endowed with coal-bed methane gas that has yet to be exploited.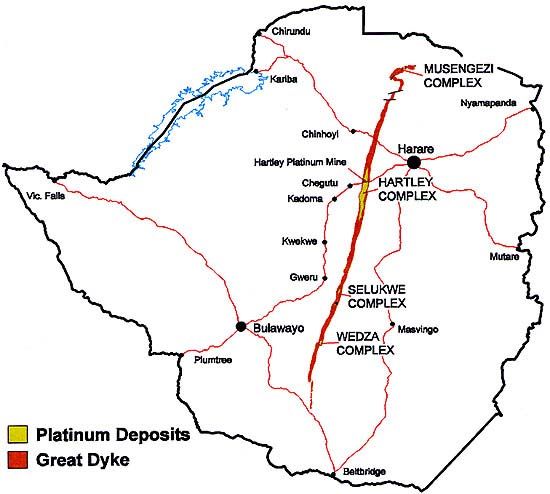 With international attractions such as Victoria Falls , the Great Zimbabwe stone ruins, Lake Kariba , and extensive wildlife, tourism historically has been a significant segment of the economy and contributor of foreign exchange. The sector has contracted sharply since 1999, however, due to the country's declining international image.(sic).
Energy Resources
With considerable hydroelectric power potential and plentiful coal deposits for thermal power station, Zimbabwe is less dependent on oil as an energy source than most other comparably industrialized countries, but it still imports 40% of its electric power needs from surrounding countries--primarily Mozambique. Only about 15% of Zimbabwe 's total energy consumption is accounted for by oil, all of which is imported. Zimbabwe imports about 1.2 billion liters of oil per year. Zimbabwe also has substantial coal reserves that are utilized for power generation, and coal-bed methane deposits recently discovered in Matabeleland province are greater than any known natural gas field in Southern or Eastern Africa. In recent years, poor economic management and low foreign currency reserves have led to serious fuel shortages."
In short, chrome, copper, gold, platinum, huge hydroelectric power potential and vast coal reserves are what is at stake for Washington and London in Zimbabwe . The country also has unverified reserves of uranium, something in big demand today for nuclear power generation.
It is clear of late that so long as the tenacious Mugabe is running things, not the Anglo-Americans, but rather the Chinese, are Zimbabwe 's preferred business partners. This seems to be Mugabe's greatest sin. He's not reading from the right program as George W. Bush's friends see it. His real sin seems to be turning East not West for economic and investment help.
The Chinese connection
During the Cold War China recognized and supported Robert Mugabe. In recent years as China 's search for secure raw materials escalated its foreign diplomacy, relations have become stronger. According to the Chinese media, China has invested more in Zimbabwe than any other nation.
Already back in July 2005 as Tony Blair turned the sanctions screws tighter on Zimbabwe , Mugabe flew to Beijing to meet with the top Chinese leadership, where he reportedly sought an emergency loan of US$1 billion and asked increased Chinese involvement in the economy.
It began to bear fruit. In June 2006 state--owned Zimbabwean businesses signed a number of energy, mining and farming deals worth billions of dollars with Chinese companies. The largest was with China Machine-Building International Corporation, for a $1,3bn contract to mine coal and build thermal-power generators in Zimbabwe , to reduce Zimbabwe 's electricity shortage. The Chinese company had already built thermal-power stations in Nigeria and Sudan , and had been involved in mining projects in Gabon .
In 2007 the Chinese government donated farm machinery worth $25 million to Zimbabwe , including 424 tractors and 50 trucks, as part of a $58 million loan to the Zimbabwean government. The Mugabe administration had previously seized white-owned farms and gave them to blacks, damaging machinery in the process. In return for the equipment and the loan the Zimbabwean government will ship 30 million kilograms of tobacco to the People's Republic of China .
Other Zimbabwe-China agreements included a deal between the Zimbabwe Mining Development and China 's Star Communications, forming a joint venture to mine chrome, with funding from the China Development Bank. Zimbabwe also agreed to import road-building, irrigation and farming equipment from the China National Construction and Agricultural Machinery Import and Export Corporation and China Poly Group. Zimbabwe also relies on China for imports of telecommunications equipment, military hardware and many other critical items it can no longer import from the west because of the British-led sanctions.
Relations have become so important that Zimbabwe 's police have a dedicated " China desk" to protect Chinese interests in the country.
In April 2007 the chairman of China 's top political advisory body, Jia Qinglin, head of the National Committee of the Chinese Peoples' Political Consultative Conference, flew to Harare to meet with Mugabe. It was a follow-up to the 2006 Beijing China-Africa Cooperation Summit where the Chinese government invited the heads of more than 40 African states to discuss relations. Africa has become a diplomatic and economic priority for China and its economy.
At that time, Beijing got an open invitation to help develop dormant mines in the country. The deputy speaker of Zimbabwe 's parliament called for more Chinese investment in the country's mining sector, according to China 's Xinhua news agency. Zimbabwe 's mining laws were changed to allow the government to reallocate mining claims that were not being exploited.
Mining generates half of Zimbabwe 's export revenue. It is the only sector in the country that still has foreign investors after the collapse of the main agricultural sector. Western companies with mining claims in Zimbabwe were not exploiting them. "We would appeal to the Chinese government to come in full force to exploit these minerals," Zimbabwean Deputy Parliamentary Speaker, Kumbirai Kangai said to the official Xinhua.
Kangai assured potential Chinese investors that they would not expose themselves to legal action if they took over claims held by Western companies.
A few months after, in December 2007, Chinese company, Sinosteel Corporation, acquired 67 percent stake in Zimbabwe 's leading ferrochrome producer and exporter Zimasco Holdings. Zimasco Holdings is the fifth largest high carbonated ferrochrome producer in the world. It used to produce 210,000 tons of high-carbon ferrochrome per year, nearly all of it along the mineral-rich Great Dyke, accounting for 4 percent of global ferrochrome production.
Zimasco has also the world's second largest reserves of chrome, after South Africa . It was formerly owned by Union Carbide Corporation, now part of Dow Chemicals Corp.
Oh, oh! Alarm bells went ringing in London and in Washington at that news.
China clearly views Africa as a central part of its strategic plan, most notably for its oil reserves and vital raw materials such as copper, chrome, nickel. The continent is also at the same time becoming an important region for Chinese manufactured exports. But the raw materials battle is at the heart, and the real reason by all accounts, why Washington recently decided to form a separate Africa Command in the Pentagon.
Controlling China 's economic emergence is an un-stated strategic priority of United States foreign and military policy and has been since before September 11, 2001 . The only delicate point in the business is the fact that China, with well over $1.7 trillions of foreign exchange reserves, most believed in form of US Treasury securities, could trigger a complete dollar panic and further collapse of the US economy should she decide for political reasons it were too risky to continue holding its hundreds of billions of US dollar debt. In effect, by buying US Government debt with its trade surpluses, China has been indirectly financing US policies counter to Chinese national interest such as the Iraq war, or even the $100 million or so annually that Condi Rice's State Department spends on Tibet .
China is refusing to play by the rules of the Anglo-American neo-colonial game. It does not seek IMF or World Bank approval before dealing with African countries. It makes soft loans, regardless who might be running the country. In this it does nothing different from Washington or London . The Chinese see American influence in Africa less entrenched than in the rest of the world, thus offering unique opportunities for China to pursue its economic interests. 
It may or may not be cynical. It may be Realpolitik. If it results in the ability of certain African countries to use China as a political counterweight to the one-sided Anglo-American domination of the Continent, that itself could be a major benefit to Africans depending on how they use it.
Clearly, it has been extremely positive for Chinese access to vital economic minerals for its economy as well as oil from places such as Darfur and southern Sudan , or Nigeria .
Mineral wealth has once more put Africa on center stage of a battle for mineral riches between East and West. This time, unlike during the Cold War era, however, Beijing is playing with far more assets, and Washington with far less.
By F. William Engdahl
www.engdahl.oilgeopolitics.net
COPYRIGHT © 2008 F. William Engdahl. ALL RIGHTS RESERVED
* F. William Engdahl is the author of A Century of War: Anglo-American Oil Politics and the New World Order (Pluto Press) and Seeds of Destruction: The Hidden Agenda of Genetic Manipulation , www.globalresearch.ca . The present series is adapted from his new book, now in writing, The Rise and Fall of the American Century: Money and Empire in Our Era. He may be contacted through his website, www.engdahl.oilgeopolitics.net . 
---
Leopards, hyenas discuss welfare of goats
http://www.thezimbabwetimes.com/?p=1686

July 30, 2008
Jupiter Punungwe

SO MUCH hope seems to have been invested in the ongoing talks between the
MDCs and ZANU-PF. At last a glimmer far down the tunnel is visible. Many
people are excited that a solution to Zimbabwe's problems seems within
reach.

I hate to be a spoilsport but my view is completely different. The glimmer
so many are excited about is not the end of the tunnel but just another
dying candle in the long dark tunnel.

The first problem I have with the talks is that issues of principle are not
featuring at all in the talks. If they are they are coming a distant second
to the sharing of political spoils among the participants. An indication of
the shallowness and frivolity of the participants at the talks is that the
first issue that had to be ironed out at the talks is that the hosts had not
provided equal access to free beer. All had access to free beer, but some
had mini-bars in their rooms and some didn't.

Secondly, it seems the major issue being talked about is who gets what post
in the so called government of national unity. It seems people are mortified
at the thought of ending up with 'junior' posts in the new arrangement.
Everybody wants 'senior' posts. Some people are simply delighted that Mugabe
is being made to talk to Tsvangirai. While I agree that it is awe-inspiring
to see the leopard and the hyena holding a peaceful discussion in the same
cave, it would be extreme naivety to believe that the resulting agreement
could be beneficial to the goat.

Thirdly, I am not happy at all that the talks are being held in total
secrecy. Those people sequestered in Pretoria are discussing matters of life
and death for ordinary Zimbabwean people like you, me, the umdala in
Plumtree and the ambuya in Nyamaropa. If they were merely discussing
Priscilla Misihairabwi's bridal shower, I wouldn't care to know. The issues
being discussed affect every Zimbabwean's life thus in my view every
Zimbabwean has a right to know and pass judgement.

On matters of principle, there are fundamental flaws in the way the
Zimbabwean legal and governance system is structured. Any discussion that
does not recognise what those flaws are and commit everyone to addressing
them is bound to be inadequate in the long term. The dividing of cabinet
posts between Zanu-PF and the MDCs is not one of the fundamental flaws. It
is merely a matter of the hyena and the leopard deciding which pieces of the
goat's carcass each should get.

Some of the issues of principle that need to be discussed include the
property laws of the country. The property laws have been messed up by such
laws as the Land Acquisition Act and the law forcing some companies to
surrender shareholding to locals. In particular the Land Acquisition Act has
virtually removed security of tenure on all agricultural land in Zimbabwe.
Without security of tenure the collateral value of land is zero. Given that
land forms the bulk of property in Zimbabwe, once you take away its value
you render the whole credit guarantee system based on property rights
useless. The collapse of the credit guarantee system does not only affect
agriculture but industrial production as well, because people can no longer
borrow money to start industrial ventures based on the value of their land.

It seems Zanu-PF was subconsciously trying to model the land tenure system
in Zimbabwe after that used in the former native reserves, which largely
resembles the pre-colonial land tenure system. Under that system the land is
communal property controlled by some central authority. The authority rested
with chiefs in the pre-colonial days, and nowadays it has been assumed by
the state. While that system was good for the economic model of the time,
which was entirely subsistence agriculture based, it simply cannot sustain a
modern economy which needs to have a substantial industry portion to be
successful.

The other matter of principle which needs to be addressed is devolving power
from central government, and making all levels of governance more
accountable to the people. Under the current heavily patched Lancaster House
constitution, too much power lies with an executive authority. It doesn't
matter whether that executive authority is a president or a prime minister,
the bottom line is power needs to be taken away from the centre. I have
always maintained that provincial governors need to be elected and given
control of provincial budgets, possibly under the supervision of a
provincial parliamentary caucus made up of parliamentarians from that
province.

Under the present system it doesn't matter whether governors have to lick
Mugabe or Tsvangirai's butt, so long as they have to please one man in
Harare to guarantee their posts, it is likely they will neglect the
interests of the people in their provinces in the long term.

The other fundamental issue that needs to be tackled once and for all is
guaranteeing freedom of trade. Citizens' right to exchange goods and value
among themselves on their own free market based terms needs to be
guaranteed. The government's role should be restricted to maintaining a fair
competitive environment. The current economic crisis has been caused chiefly
by the government's interference with the free exchange of value among
citizens through price controls, prescribed rates of exchange and
restriction of the free trade of some commodities such as the economically
critical maize.

Not only has the government interfered with trade, in some cases it has
prevented citizens from acquiring goods and services that could have
alleviated their plight. An example of this is the banning of the
importation of maize by citizen's organisations, as well as the banning of
the operations of some humanitarian citizens' organisations.

The above should make it absolutely clear that the critical issue at this
moment is not the sharing of power between Zanu-PF and the MDC but, actually
the reduction of the power of central government. In short, we should
restrict both leopards and hyenas from accessing the grazing areas of our
goats. Letting them talk among themselves is not going to achieve that.

Zanu-PF and the MDC are focused on sharing the excessive power of central
government, not on reducing those powers to enhance the rights and freedoms
of ordinary citizens. An indication of that wrong focus is the endless
preoccupation with who gets what post. I hope I am not alone in observing
that precious little has been said about what needs to be done to get
Zimbabwe right. Besides arguing about free beer, the only other thing
participants are arguing about is the sharing of posts.

In light of the fact that leopards and hyenas cannot be trusted to negotiate
the safety of goats honestly among themselves, it is therefore a matter of
urgency that representatives of goats need to be let into the cave where the
discussions are going on. Representatives of politically unaffiliated civic
organisations such as the NCA need to be given observer status to the talks
urgently.

I am not saying Dr. Lovemore Madhuku of the National Constitutional Assembly
should be shipped all the way from Harare at the expense of the South
Africans. I am sure he or representatives of the NCA can make their own way
to the talks. What is important is to incorporate a non-partisan input into
the talks. What is important is to make sure there is someone who can remind
participants about matters of principle.

One can argue that such matters of principle can be discussed in the
transitional period after the power sharing has started. The people of
Zimbabwe are starving now. To save them, principles such as free trade need
to be implemented now, not after a transitional period. Therefore it is
important to get those who are going to be in charge of the governance
system to commit to such principles, to paraphrase Arthur Mutambara, as of
yesterday.

---