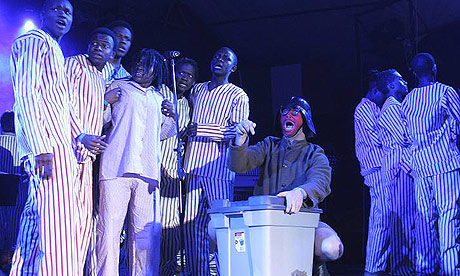 The bloated, bloodstained king of an enchanted land takes centre stage. He extends his life vampirically by stealing the music from his people. Some he beats until they stop singing, others are persuaded to sell their melodies for Chinese tractors and other tat. His country's spirit dies - apart from the songs of hope people sing in their dreams.
This was the motif for Dreamland, the opening event of Harare's International Festival of the Arts last night. The festival is an annual miracle that rejuvenates and encourages Hararians, in the midst of one political crisis after another, and cultural starvation for 51 weeks of the year.
An astonishing collection of international, particularly African, talent arrives for a week of performances and collaborative jams with talented Zimbabweans. The product is a dense programme of acts ranging from Welsh opera to Malawian tribal dance. The highlights are always the cultural fusions, like Spanish reggae act Canaman and South African supergroup Freshlyground.
As Dreamland begins, small choirs dotted around the arena sing Shona songs of love and freedom. One by one, they are silenced by storm troopers, who chillingly hood and throttle the singers before dragging them off-stage.
The backdrop to the festival is that Robert Mugabe's youth militias are rampaging through the country, dishing out punishment beatings to those who dared to support the opposition on 29 March. A wave of refugees has fled the violence, but hundreds, including mothers and children, have been arrested in Harare on absurd charges and kept in squalid police cells.
This gave new meaning to songs, like The Cranberries' haunting Zombie, richly sung by Zimbabwean singer Prudence Katomene:
"Another mother's breaking,
Heart is taking over.
When the violence causes silence,
We must be mistaken."
Anyone who knows the Cranberries' music would have noticed that Katomene changed a lyric to make clear that she was referencing Zimbabwe today, not Northern Ireland a decade ago:
"It's the same old theme since 1980."
As Katomene neared the end of her song, actors dressed as stormtroopers got on stage and clubbed her theatrically to the ground, stifling her last note.
Also altered by context was Bob Marley's celebration of independence, Zimbabwe, performed by another superb female native vocalist - Chiwoniso. Zimbabwe needs to be liberated again, but this time not from white supremacists, but from a tiny clique of old men.
The comedic high point of the show was the arrival of the king, tottering, hands dripping with blood, stuffed into military uniform. The crowd booed and jeered, only to burst out laughing, as the king sang The Jackson 5's Never Can Say Goodbye.
The climax was John Lennon's Imagine. As the song progressed, dozens of young children tried to light candles. But it's a chilly, blowy autumn here and many times their little flames were put out. They kept trying and in the end, every child was a tiny point of light. It could have been a saccharine moment, but for the genuine earnestness of the youngsters and the poignancy of youth here.
If Robert Mugabe was at State House last night, he cannot have failed to hear the sound of young Zimbabweans singing out their hopes for a better future, or of 3,000 Hararians cheering as the old man was mocked and derided.
Zimbabweans feel that this could be the last arts festival of the Mugabe era. But that does not change the fact that these are tough and dangerous times. At least for this week, the festival is lifting spirits and inspiring activists to face the trials that are to come.
• Sophie Shaw is a pseudonym