Source: Winnie Madikizela-Mandela to be given state funeral | World news | The Guardian
President Cyril Ramaphosa pays tribute to anti-apartheid activist as mourners gather in Soweto
Winnie Madikizela-Mandela, the hero of the anti-apartheid struggle in South Africa but also one of its most controversial figures, will be honoured with a state funeral, President Cyril Ramaphosa has said.
Madikizela-Mandela, who died on Monday aged 81, was one of the few remaining representatives of the generation of activists who led the fight against apartheid.
Known as "the mother of the nation", the ex-wife of the former South African president Nelson Mandela had a frequently negative image abroad that contrasted with a deep and long-lasting popularity within her homeland.
On Monday night, crowds of mourners gathered outside Madikizela-Mandela's home in the Soweto township, a centre of anti-apartheid resistance that remained her base decades after the end of white minority rule.
Neighbours, supporters and passersby assembled to sing and chant at the gates of her modest two-storey red-brick home in the Orlando neighbourhood shortly after her death was announced.
Ramaphosa arrived to pay his respects on Monday evening.
"The nation was ill-prepared for her departure and people are grieving very deeply. The death is a great loss on that she has been one of the strongest women in our struggle who suffered immensely … She remained courageous on behalf of the people," Ramaphosa, who took power in February, said.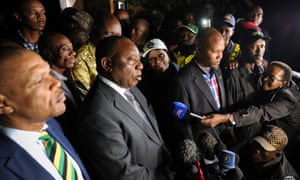 Tributes continued to pour in on Tuesday and many have paid tribute to Madikizela-Mandela's long fight for women's rights.
Baleka Mbete and Thandi Modise, parliament's presiding officers and senior officials in the ruling African National Congress (ANC), issued a statement describing Madikizela-Mandela as "a torch-bearer to gender mainstreaming, and an inspiration to millions of downtrodden women across the length and breadth of the country, across the continent and the world".
The ANC Women's League, which Madikizela-Mandela once led, said: "She will forever remain an encouraging figure in the fight against patriarchy and male chauvinism in and outside politics."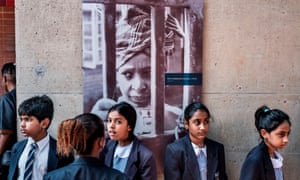 During Nelson Mandela's 27-year incarceration, Madikizela-Mandela campaigned tirelessly for his release and for the rights of black South Africans, establishing a massive personal following. Tortured and subjected to repeated house arrest, she was kept under surveillance and, in 1977, banished to a remote town in another province.
As the violence of the apartheid authorities reached new intensity, Madikizela-Mandela was drawn into a world of internecine betrayal, reprisals and atrocity.
"We have no guns – we have only stones, boxes of matches and petrol," she told a township crowd. "Together, hand-in-hand, with our boxes of matches and our necklaces we shall liberate this country." Necklacing was the term for killing a perceived traitor with a petrol-filled burning tyre around the neck.
Most notoriously, Madikizela-Mandela was found guilty of ordering the kidnapping of a 14-year-old boy, Stompie Seipei, also known as Stompie Moeketsi, who was beaten and later had his throat slit by members of her personal bodyguard in 1989.
Within a year, she gave the clenched-fist salute of black power as she walked hand-in-hand with Mandela out of Cape Town's Victor Verster prison on 11 February 1990.
The end of apartheid marked the start of a string of legal and political troubles that, accompanied by tales of her glamorous lifestyle, kept her in the spotlight for all the wrong reasons.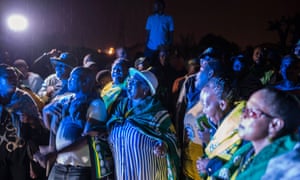 Appearing at the Truth and Reconciliation Commission (TRC) set up to account for atrocities committed by both sides in the anti-apartheid struggle, Madikizela-Mandela refused to show remorse for abductions and murders carried out in her name.
Only after pleading from Archbishop Desmond Tutu, the anguished TRC chairman, did she admit that "things went horribly wrong".
She and Mandela separated in 1992 and her reputation slipped further when he sacked her from his cabinet in 1995 after allegations of corruption. The couple divorced a year later.
Still popular, in 2008 she took up the cause of immigrants who had come under attack in widespread riots. A year later, she won a parliamentary seat. More recently, she spoke out against official corruption.
The ANC, in government in South Africa since the 1994 elections, faces a tough election next year. Officials and supporters hope Ramaphosa can reverse the decline in support suffered by the ANC under the previous incumbent, Jacob Zuma.
Madikizela-Mandela's funeral will take place on 14 April, three days after an official memorial service.