Source: Did we panic? No, this was a very Zimbabwean coup | Blessing Musariri | Opinion | The Guardian
The detention of Robert Mugabe was not a story of blood, guts and glory. Instead, the people of Harare responded with jokes and social media memes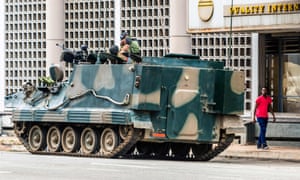 This news should have alarmed me, but I didn't believe it. Then the videos started coming through, from people who had stopped by the roadside to record an extraordinary sight. We scrolled through Twitter. OK, so this was real. What to do? My sister and family members abroad went into full panic mode, advising us to move to somewhere safer. Had we stocked up on food? We told them not to worry, we would be fine.
Three days on, I wonder if any of us in Zimbabwe, besides those directly involved, felt a single moment of panic. We live 30 minutes' drive out of Harare and that is enough to count as far away – and anyway, I know several ways out of my neighbourhood, so no worries there.
Incredibly, we all went to bed untroubled and a little excited. Because here's the thing. Politics in Zimbabwe has occupied a space so far removed from our regular lives that it has become a kind of spectator sport for us. We watch the shenanigans surrounding Robert and Grace Mugabe and the political elite and discuss them at home and socially: her attacks on then vice-president Joice Mujuru, out of nowhere, that led to her eventual dismissal; Grace's inflammatory speeches; the opportunistic shuffling of cabinet ministers.
In fact, Zanu-PF party politicking ended up unifying Zimbabwe more than any policy of reconciliation ever could have, as we marvelled at the boldness of moves against adversaries and shared the resulting memes and jokes on social media, and most of all commiserated with each other about the waiting in bank queues, unable to access our money, or fuming impotently against police road blocks.
This time it felt like something really was happening. The messages started just after midnight: the army had taken over the national broadcaster, and the first family were under military protection. Blasts had been heard in town.
I have to point out that I slept soundly through all this. Uncertainty is a condition we are familiar with in Zimbabwe and we typically respond with calm and an acceptance of the fact that most likely everyone will stay home unless something extreme happens. Why? Because of our past experience of boycotts and protests – and nobody wanting to have high-velocity water and tear gas fired at them only for things to stay exactly the same.
The only time Zimbabweans seem to panic is when they hear there might be a shortage of cooking oil, sugar or fuel. Then you will see us come out in droves to stock up and we may even fight each other for it. The rest of the time we say, let's wait and see.
I went out and found the roads were blissfully empty; many businesses had decided not to open, or they had closed early. All the while, WhatsApp and Twitter filled with speculation. The rumours read like crime fiction – the military entering the home of one of their targets, shooting two guards, and going through the roof and recovering $10m in cash. We took them with a pinch of salt.
We laughed at how desperate news presenters seemed to be for news of blood, guts and glory. They urged interviewees to tell them "how tense" things were. Sorry, no dice: we don't do tension here. We love a good story, but when it is politicians fighting among themselves, or if there is a slight case of the coup going around, we stay home and relax until we have to do otherwise. One person on social media asked could they please hurry up with their coup, because Friday was coming and we want to go out drinking.
We now wait – it's OK, we've been waiting a long time. We hope for real change in our country, particularly in terms of the economy. We all hope to see cash in the system once again, less corruption and a return to social conscientiousness – we used to be honest. But in the meantime, sorry for the lack of dead bodies and looting: it's just business as usual.
• Blessing Musariri is a poet and children's author who lives in Zimbabwe