Source: 'We have a new chance': Zimbabwe gears up for elections after Mugabe | World news | The Guardian
The president and his wife drive slowly across the dusty sports ground, preceded by a pickup full of local reporters, flanked by a crowd of excited teenagers, and followed by a large cloud of dust. Banners are held aloft, flags waved.
Zimbabwe's election campaign has reached Chegutu, a small agricultural town on the high, flat uplands 70 miles west of Harare.
The rally is one of the first since the official declaration of the campaign last month. The coming election – on 30 July – is the latest turning point in the most tumultuous few months in almost four decades of Zimbabwe's political history.
In November, Robert Mugabe was forced out of power after 37 years, following a peaceful military takeover supported by the vast majority of the 17 million population. The coming election could decide the former British colony's course for decades to come.
"For so long we were suffering. Now we have a new chance in Zimbabwe," says Chiedza Marutsa, a 57-year-old farmer attending the rally in Chegutu.
The election pits Zanu-PF, the ruling party, against the Movement for Democratic Change (MDC), the longstanding opposition. Zanu-PF is led by Emmerson Mnangagwa, a 75-year-old former vice president known as "the Crocodile" who took power when Mugabe was ousted. Polls indicate a potentially close race, but one Zanu-PF should win.
Mnangagwa's message at Chegutu is simple: a vote for Zanu-PF is a vote for economic growth. The average income in Zimbabwe will increase four, five, 10 times in coming years, he promises the crowd, but that requires foreign investors.
"What builds clinics, roads, schools, clean water? What makes jobs? It is business … Zimbabwe is open for business," he says.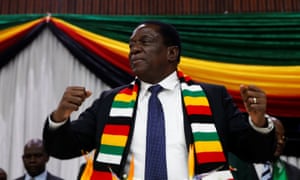 The rhetoric is a stark departure from the leftist ideology of the Mugabe years. But Zimbabwe is in desperate need of capital: its once envied infrastructure is crumbling; government debts are massive; civil servant salaries go unpaid; millions need food aid to avoid severe malnutrition. Marutsa says her six children, all educated or with professional qualifications, are without jobs.
"We are fulfilling what we went for in the 1970s: to build a new and modern country. We are going to break out economically at last," says Chris Mutsvangwa, a presidential adviser and leader of the powerful veterans of the liberation war.
Mugabe has "stolen the future of the young people", he continues. "We were sliding into the middle ages. Reforms are in the works that will make us the optimal destination for investment in the while of Africa. Discipline, organisation, education and stability will be the building blocks of our future."
The ruling party's messaging encourages Zimbabweans to look forward to prosperity and stability under an experienced, moderate and reasonable ruler. Anyone looking back may see Mnangagwa in a very different light.
A former spy chief, Mnangagwa was Mugabe's right-hand man for decades. He and other senior officials – many of whom are former senior soldiers – are accused of involvement in massacres in the early 1980s of tens of thousands of civilians in Matabeleland and of masterminding the brutal repression of the MDC in more recent years. Some are accused of corruption and racketeering.
Voters know that Mugabe was not ousted to restore democracy but because Mnangagwa and others feared that the 94-year-old ruler's much younger wife, Grace, was about to take power.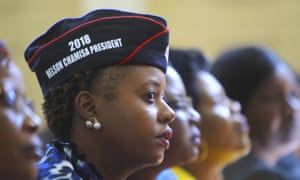 "We removed a dictator in November 2017 but we did not remove a dictatorship. These are not change agents," says Tendai Biti, a top MDC official.
So far there has been little material improvement for the ordinary Zimbabwean citizen since the end of Mugabe's rule. Hard currency still remains desperately short and the price of key essentials is still rising.
Representatives of major international investment funds have flown into Harare but are wary of committing large sums. When Mnangagwa flew to Beijing this year, he was told that China was happy to help but only when financial and legal systems improved. Until massive loan arrears are cleared, the big multilateral lenders cannot supply the money needed to refloat the economy.
This is one reason why senior officials are so keen for Zimbabwe to return to the Commonwealth, from which it was suspended in 2002 after brutal repression and fraud during a presidential election.
"Our policy is very clear: we want to be friends with everyone," says the foreign minister, Sibusiso Moyo, a former general who shot to global prominence when he announced the military takeover of the state broadcasting network.
"For many years our people have been suffering and we want to get them out of the quagmire. We need friends to do that. We want to be a member of the community of nations again."
The international community has interests too. Post-Brexit Britain needs a foreign policy success and has made its support for Mnangagwa clear – if conditional on free, fair and credible elections. China continues to take advantage of the Trump administration's lack of interest in Africa to expand its influence.
Recent polls show the MDC leader, Nelson Chamisa, on 28%, and Zanu-PF on 39%. If the gap were to close substantially in the weeks before the ballot, there are fears that hardliners within Zanu-PF may be tempted to revert to the old ways rather than lose power, even if the cost is international opprobrium.
"These are the same people who were the enforcers of Mugabe's regime," says Welshman Ncube, a senior MDC figure based in Bulawayo, the country's second largest city.
The MDC says there are serious problems with the electoral roll, concerns over the ballot papers, a biased election commission and systematic intimidation of voters in rural areas. They also complain about the obvious and massive bias in the dominant state-run media.
"A ruse has been sold to the international community … They are putting stability ahead of democracy, and favouring commerce over good governance," says Chamisa, who has been leader of the MDC since the death of Morgan Tsvangirai in February. Other MDC officials go further, accusing London and Washington of complicity in repression.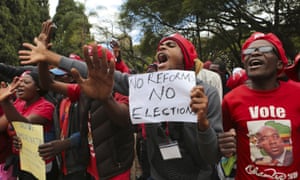 One international election expert in Harare says logistic and technical preparations for the elections has been "correctly conducted" – a statement that opposition leaders called "outrageous" – and points out that many more respondents are now prepared to answer pollsters questions on voting intentions, suggesting "less fear" than before Mugabe's fall.
The MDC is holding rallies in Zanu-PF strongholds where previously it feared to set foot and has been allowed to march through central Harare.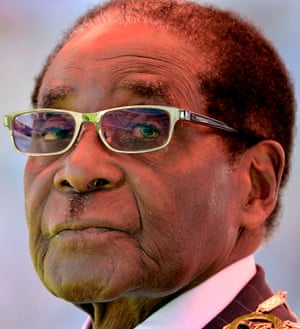 "A lot remains to be done but in the context we were coming from, to let us canvas, mobilise and organise is a lot of progress," Ncube says.
He says: "We've never had an election like this. We've never had this much peace … It's very disorientating."