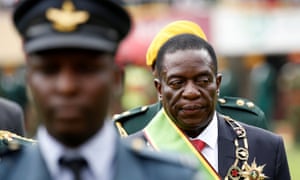 Emmerson Mnangagwa, who was sworn in as Zimbabwe's president last month. Photograph: Siphiwe Sibeko/Reuters
Opposition activists in Zimbabwe have said they will launch a fresh campaign to bring democratic reforms to the impoverished southern African country after the new president announced a fresh cabinet with key roles for veterans of the ruling Zanu-PF party and senior soldiers but no posts for the opposition.
Emmerson Mnangagwa took power after a military takeover and popular protests ousted Robert Mugabe last week, and many had hoped the 75-year-old would give leading opposition politicians significant roles in an "inclusive" government in line with his promises to reach out to all "patriotic Zimbabweans" and build a "full democracy".
Opposition figures and activists reacted strongly to the announcement. Tendai Biti, a former finance minister and opposition politician, called the move a betrayal.
"We are now dealing with a junta. We have the answer to if the coup was done to give Zimbabwe a chance or to protect the private interests of certain individuals and the ruling party," Biti said.
"Now we the citizens have to regroup and [fight] for a normal elected political authority."
Doug Coltart, a human rights activist, said the new cabinet did not represent a new Zimbabwe but "the entrenchment of the old failed political elite".  Zimbabwe, you are right to feel betrayed. On 18 November, we ALL came out on the streets, united as a people around a common vision of a new Zimbabwe. This Cabinet does not represent a new Zimbabwe but the entrenchment of the old failed political elite. Aluta continua.
"It's very concerning. It's a very hardline … government. Very little changes for the struggle that is ongoing to open up political space," he said.
"A lot of people feel a lot more concerned this morning than they ever felt under the Mugabe regime."
Mnangagwa's appointment of party loyalists and the military – as well as leaders of the powerful war veterans – will concern international observers hoping for widespread reforms after 37 years of Mugabe's autocratic rule.
It will also complicate negotiations for the massive financial aid Zimbabwe needs to repair the damage done to the once-thriving economy over recent decades.
The British government, which wants to engage in southern Africa through its former colony, will be particularly disappointed.
Hours before the cabinet announcement, the British foreign secretary, Boris Johnson, said the UK could take steps to stabilise Zimbabwe's currency system and extend a loan to help it clear World Bank and African Development Bank debts, but such support depended on "democratic progress".
Zimbabwe is due to hold elections next year.
The new cabinet includes controversial figures such as Obert Mpofu, a wealthy Zanu-PF veteran, and Patrick Chinamasa, a former finance minister who has been reappointed to his former post.
Piers Pigou, a Johannesburg-based analyst at International Crisis Group, said: "It does not bode well, certainly. Those who were drinking the kool aid that this was a new broom will have to temper their enthusiasm for the moment. We will have to wait and see what the [new ministers] actually do but it does not bode well."
The new cabinet underlines how the end of Mugabe's rule was driven by a redistribution of power and patronage within the party and its allies within the military, not by popular calls for reform and economic regeneration. The trigger for the move against Mugabe by the armed forces was the firing of Mnangagwa on 6 November at the behest of the 93-year-old dictator's wife, Grace, and her supporters within Zanu-PF.
The party was split by a bitter battle over the succession to Mugabe. With Mnangagwa forced to flee overseas, Grace Mugabe, 52, appeared to have a firm grasp on power. She is now under house arrest in the sprawling residence she shares with her husband in Borrowdale, an upscale neighbourhood of Harare, but is covered by an immunity deal negotiated with military authorities.
Mnangagwa's allies outside the party have been rewarded for their support. Maj Gen Sibusiso Moyo, who read a statement announcing the military takeover on national television on the night the armed forces took power, becomes foreign minister. Perence Shiri, a senior air force officer accused of gross human rights violations in the early 1980s, will be land minister.
Chris Mutsvangwa, who leads the war veterans and played a key role in mobilising protests against Mugabe, takes charge of the information ministry. – The Guardian