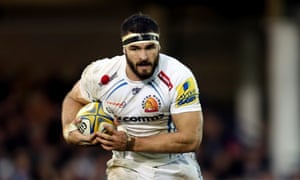 For every Zimbabwean living in long-term exile, the removal of Robert Mugabe as president has stirred powerful emotions. Exeter's Don Armand and Kai Horstmann are no different: both grew up on farms outside Harare, enjoying a youthful freedom seldom found on Britain's frost-covered school playgrounds. Until, that is, Mugabe's notorious fast-track land reforms drove their families out, forcing them to seek new lives elsewhere.
Armand, Horstmann and their compatriot Dave Ewers have fared better than many, helping Exeter Chiefs to become England's champions, but their sun-kissed childhood memories are still bittersweet companions. Armand and Ewers were 12 and 13 respectively when they left Zimbabwe; Horstmann was in his late teens. Livelihoods ruined, dreams trampled, the what ifs never-ending. "If you lived in bitterness you wouldn't enjoy anything here," says Armand, acutely conscious of those who suffered far worse when Mugabe's war veterans brutally targeted farmers and their workers between 2000 and 2002.
The fact all three men have subsequently prospered in such a mentally challenging profession may not be entirely coincidental. Horstmann and Armand, capped by England in Argentina in June, suspect their resilience and work ethic comes from their parents. The former, in particular, has vivid recollections of the day his future plans fundamentally changed: "I remember being at boarding school in England, opening a newspaper and seeing a picture of my mum demonstrating on the streets of Harare. I rang home and spoke to someone who told me she'd subsequently been locked up. She was held for four or five days and was pretty shaken up. There were 40 or so women in one cell. She said it was the most horrific thing she'd ever experienced."
In happier times his mother Ann's family had two farms in Zimbabwe; his German father, Heiko, was a surgeon. When her farm was taken and her husband relocated to Majorca, her son, now 36, understandably remembers them as tough years. "It hammered home to her the value of life. She'd had a gut full of it. Seeing that sort of struggle was really hard." At least Ann's passion for Zimbabwe's natural beauty and its long-suffering people has remained intact, despite her move to Stellenbosch in South Africa. "She travels back once every four months and loves it. Her absolute dream is for it to be a legitimate option to move back. I know Mum would have loved one of her children to have run the farm. We've still got title deeds … the dream is that one day it gets given back."
Armand, perhaps the Premiership's most consistent back-row forward, also has family still in Zimbabwe. His parents, Wade and Adele, grew plants and flowers for export to Europe before moving to South Africa for their children's sake. "They're the ones who had to change their whole lifestyles and their plans to accommodate us," Armand says. "I didn't experience anything negative about moving off the farm because my parents hid it very well. They bore a lot of the brunt of the really hard stuff. I don't really find myself living in bitterness. I have my memories and they were amazing.
It is a slightly different story with Ewers. His uncles had farms around Mutare, near the border with Mozambique, but as the political climate worsened his family sent their 13-year-old son to live with his paternal grandparents in Ivybridge. It remains a sufficiently sensitive period for him to decline to contribute to this article. "By his own admission he's tried to shelve it," Horstmann says. "He doesn't want to talk about it."
All three Devon-based Chiefs, however, hope Zimbabwe is now inching towards better times, though the appointment of certain senior military figures to Emmerson Mnangagwa's first cabinet is not immediately encouraging. "Getting rid of Mugabe should have happened a long time ago," Horstmann says. "He hadn't had a legitimate election in probably 20 years. The fact he's gone is a really big plus, although Emmerson Mnangagwa has been involved with Mugabe for a long time. The words 'leopard' and 'spots' spring to mind but the world's eyes are on him.
"There's an election next year which, fingers crossed, will be legitimate. The country hasn't had that in a long time. It was once the 'bread basket' of Africa and there's no reason it couldn't be again. It's going to take some convincing to get people back there but the potential for Zimbabwe is huge."
Armand, whose mother and sister have now joined him in Exeter, would like to think Zimbabwe's shattered agricultural economy could one day be revived. "I have a few ears to the ground there and they are saying there have been post-Mugabe plans in existence since 2007." His father and uncle are involved in organising what they hope to establish as Africa's most lucrative pigeon racing event, based at Victoria Falls. "All the people there want to work for something better," says the 29-year-old. "That's the challenge for the government. You will always get your extremists like the war veterans who would blindly follow Mugabe, beat people up and kick them off their farms. What is there to guarantee it won't happen again?"
Discussing rugby, by now, feels absurdly mundane if not totally irrelevant. Just imagine, though, the stellar back row Zimbabwe could conceivably field: David Pocock at openside alongside the outstanding Armand and bullocking Ewers, with Leicester's forceful Mike Williams and Worcester's David Denton as backup. Do not underestimate, either, the input of Exeter's three hard-working Zimbabwe boys to the club's rise, not least Armand whose omission from Eddie Jones's autumn plans still has everyone west of Taunton baffled. Horstmann jokes that a beard trim might advance his claims; last year's Premiership final man of the match is relying on more obvious solutions: "Rob [Baxter] just says to me: 'Keep playing the way I'm playing and they'll find a place for you.' It's about making sure my performances are at a standard where, if a place does open up, Eddie can justify picking me."
Send third-placed Bath back home empty-handed and the Chiefs, already leading the table by five points, will be one step closer to reclaiming their title. "The biggest thing I've noticed about this squad is that every season has created more and more belief," says Horstmann, previously with Worcester and Harlequins. "There's now an innate belief the possibilities are endless." The Chiefs' Zimbabwean trio would dearly love to say the same about their homeland one day. – The Guardian