Source: Zimbabwe's Capital City Mayor Faces Calls to Resign Over Bad Tap Water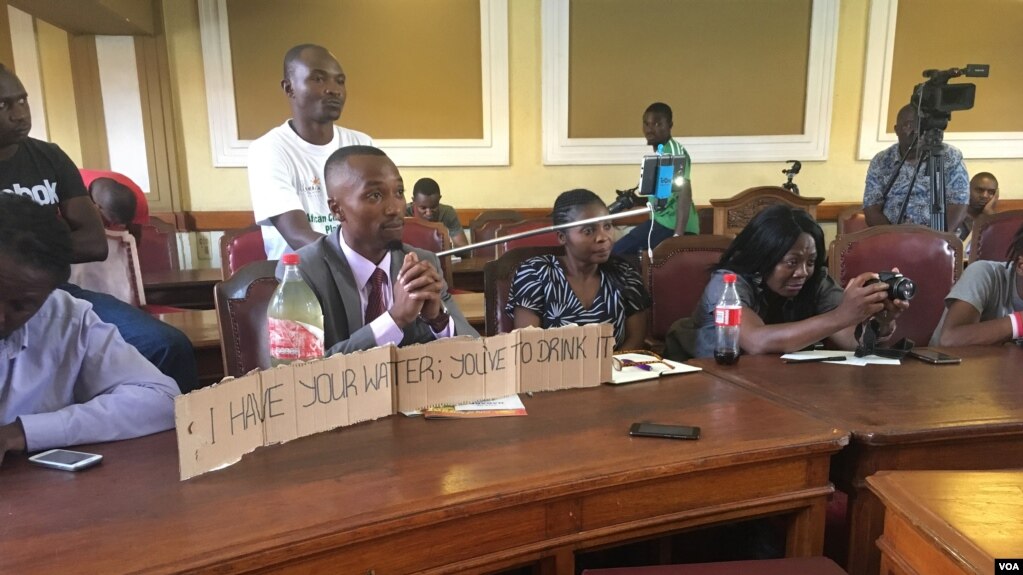 A Harare resident displays a sample of dirty water in a bottle next to him during a meeting with the city's mayor at a meeting at Town House, in Harare, Zimbabwe, Dec. 29, 2017. (S. Mhofu/VOA)
"Water is a basic fundamental right. Water is life. When we have no water, people die and people are dying," said Linda Masarira, a resident who attended the meeting, which lasted close to two hours, said
"Our health department is in shambles," she continued. "A lot of people are suffering from diseases that they do not understand because of consuming this dirt water. Everyone should get clean, safe water coming out of their taps."
Masarira added that from here on, residents will "make an appointment with the local government minister since the mayor said his hands are tied."
If that effort is unsuccessful, she said they will go "to the president's office. We will go all the way until clean water is coming out of Harare taps."
Most parts of Zimbabwe do not have access to clean water, forcing residents to rely on open sources that expose them to waterborne disease.
A cholera outbreak in 2008 and 2009 claimed close to 5,000 lives, according to U.N. statistics. The situation could have been worse had international organizations such as USAID not helped, providing water treatment chemicals, among other interventions to ensure proper sanitation in Zimbabwe.
Sharon Mumbula fears the situation in Harare might escalate to 2008 and 2009 levels unless Mayor Manyenyeni steps down.
"I am wondering why he is even sitting there; why he was hired," she said. "Clearly he can't execute his duties. Some of the answers he gave us are not even relevant to the problem. Clearly he can't say he does not know where the unclean water is coming from. Yet it is the whole of Harare which is affected. So it is time for him to go."
At the meeting Friday, the mayor said he would not step down but would not seek re-election in 2018. After the meeting, Manyenyeni told VOA he was hopeful Harare's water problems would end one day.
"We think we are providing you with water that is good for you and your family to drink," he said. "We have seen experiences of water that does not look good, water that looks greenish and brownish, water that froths or foams. Let's share the responsibility. While we assume and claim that our water is clean and safe to drink; we ask you to exercise caution wherever you are and make your own personal decisions about what you see, what you smell. Is it good enough for you to drink?
The mayor added that if residents are not satisfied while authorities fix the problem, then "please avoid drinking water which you consider suspect."
He said the time frame to fix the problem depends on the availability of funds. That, he noted, "is not a council problem. It is a national problem."
Zimbabwe's critical shortage of foreign currency is forcing businesses to source it on the black market. This has led to price increases on most commodities. The mayor ruled out getting foreign currency on the black market so that Harare can import water treatment chemicals.