President says he is in talks with opposition to calm situation as nation awaits results
Source: Zimbabwe election: soldiers patrol Harare streets after day of violence | World news | The Guardian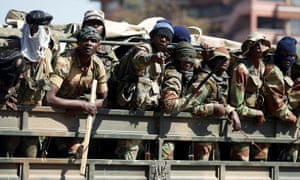 A tense calm has returned to Harare a day after three people were shot deadas soldiers and police fought running battles with hundreds of protesters, firing live ammunition, teargas and water cannon.
Less than 72 hours after polls closed in Zimbabwe's presidential election – the first since the fall of Robert Mugabe last year, and billed as the beginning of a new era for the impoverished country – soldiers patrolled the streets of the capital, warning the few office workers and vendors around to go home.
The main post office, banks and many shops were closed on Thursday. Traffic remained light and military helicopter flew overhead, with scattered debris and scorch marks betraying the scenes of violence from the day before.
"We are scared," said Mildred Masara, a hotel worker. "We don't know what's going to happen now. I have to earn a living but I would like to be at home now."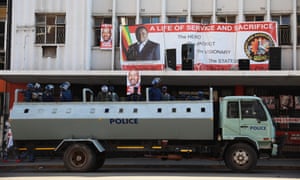 It is unclear who ordered the troops on to the streets to clear the unarmed protesters on Wednesday, but the clashes and resultant casualties are a huge blow to efforts by the ruling Zanu-PF party to improve its image overseas.
Though parliamentary results have been declared, the outcome of the presidential vote is still unknown, and opposition fears that the count was being rigged prompted the protests.
Emmerson Mnangagwa, who replaced Mugabe as president, tweeted on Thursday that he had been "in communication" with the opposition leader, Nelson Chamisa, "to discuss how to immediately diffuse [sic] the situation, and we must maintain this dialogue in order to protect the peace we hold dear."
He called for an independent investigation into the deaths on Wednesday and extended condolences to the families of the victims. "This land is home to all of us and we will sink or swim together," he said.
The contact between the two rivals and Mnangagwa's conciliatory words reassured some observers in Harare, though there is great anxiety about what may happen in the coming days and impatience for the result of the presidential election to be announced.
The Zimbabwe Electoral Commission has until Saturday to declare the winner, according to the law. It said it would announce the results "very soon" and denied it had allowed Zanu-PF to rig the vote. There was "absolutely no skulduggery", the deputy chairman, Emmanuel Magade, told a press conference. Another press conference is scheduled for 5pm local time (1600 BST).
The offices of the opposition Movement for Democratic Change (MDC) in Harare were shut on Thursday, with two armoured police vehicles full of officers and two equipped with water cannon stationed outside.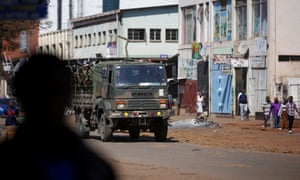 Joseph Chakutamazi, 35, was selling newspapers on a corner. Headlines in the pro-government press blamed MDC supporters for the clashes. "I am worried about more violence," Chakutamazi said. "I am not a rich man. I have to provide for my wife and children. It was bad under Mugabe. But now it is just the same."
Ernest Mudzengi, 43, a media manager, said: "We are in a new era of uncertainty. But now we know what kind of government this is. It is a government that calls itself liberal and democratic, [but] unleashed soldiers on unarmed civilians."
Elsewhere, nervous workers ran for taxis and buses as the streets rapidly emptied. There have been no reports of protests outside Harare, which is an opposition stronghold.
In a late-night press conference on Wednesday, the home affairs minister, Obert Mpofu, said the government would "not tolerate any of the actions that were witnessed today".
"The opposition … have perhaps interpreted our understanding to be weak, and I think they are testing our resolve and I think they are making a big mistake," he said.
By mid-afternoon on Wednesday much of the city centre resembled a war zone, with military helicopters flying overhead, armoured personnel carriers moving through burning debris and soldiers chasing stone-throwers down narrow streets.
Terrified commuters took cover in shop doorways or behind walls still covered in posters bearing portraits of election candidates as volleys of shots rang out. Witnesses reported seeing soldiers beating people with makeshift batons.
The United Nations secretary general, António Guterres, called on Zimbabwe's political leaders and people to exercise restraint and to reject any form of violence. The UK Foreign Office minister Harriett Baldwin said she was "deeply concerned" by the violence and called on leaders to "take responsibility for ensuring calm and restraint at this critical moment".
Amnesty International urged authorities to launch a "prompt and effective" investigation into the deadly military crackdown. "People must be guaranteed their right to protest," said Colm Ó Cuanacháin, its acting secretary general.
The scenes of violence contrasted dramatically with the jubilation and joythat greeted the end of Mugabe's rule in November. At that time soldiers were seen as patriotic heroes. On Wednesday afternoon, in Harare at least, they were seen once more as thuggish defenders of Zanu-PF's rule.