The government's enthusiastic welcome for Robert Mugabe's successor ignores a brutal crackdown on the opposition
Source: The Observer view on Britain's response to repression in Zimbabwe | Observer editorial | Opinion | The Guardian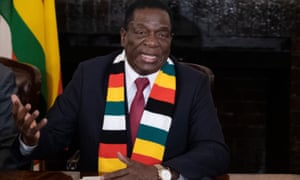 Last November, when news spread through Harare that Robert Mugabe had resigned after 37 years of misrule, joyous crowds poured on to the streets of the Zimbabwean capital. They cheered, sang and even embraced the soldiers whose intervention had forced the departure of the ageing autocrat.
These scenes convinced many overseas that Mugabe had been ousted by a popular revolution, a sort of Harare spring. This was not the case. Mugabe was ousted because Zimbabwe's generals feared the ailing 94-year-old autocrat was about to anoint his 54-year-old wife as his successor. So they joined forces with a powerful faction within the ruling Zanu-PF party led by Emmerson Mnangagwa to get rid of him. Mugabe was collateral damage of this internecine power struggle.
Once in power, Mnangagwa made all the right noises, talking of democracy and investment. He even spoke of rejoining the Commonwealth, an ambition that the then foreign secretary, Boris Johnson, described as "fantastic news".
Even though Mnangagwa is accused of playing a key role in brutal repression in Zimbabwe over decades, many took the former spy chief at his word. When he called elections and invited in Commonwealth, EU and US observers, as well as international media, this was seen as evidence of real change. The campaign was relatively peaceful and the opposition Movement for Democratic Change (MDC) was allowed to hold rallies all over the country without serious impediment for the first time.
Mnangagwa won the election and the international community appeared happy to sign off on the poll. It had been undoubtedly flawed but was a vast improvement on anything seen in Zimbabwe for decades. Privately, British officials said the election pointed the way to the sunny uplands of stability and prosperity for 16 million people.
Such optimism now looks naive. Less than 48 hours after polls closed, the army opened fire on protesters in Harare, none carrying anything more dangerous than stones or sticks, killing six. Since then, a wave of repression has broken across Zimbabwe: nocturnal abductions, beatings by masked men, raids on opposition areas and offices, hundreds of activists in hiding.
Analysts are divided as to whether Mnangagwa has approved the crackdown or is unable to restrain hardliners. Either way, any hope of international legitimacy – and of the much-needed financial bailout – is fading fast.
Britain, the former colonial power, has a particular responsibility. It is unlikely that President Trump can identify Zimbabwe on a map. China's influence is less than some believe. Today, Harare is one of the few cities in the world where people genuinely see London as having significant influence in local affairs.
The British government has been more forward in its support for Mnangagwa than any other power. This policy may have been rooted in mandarins' instinctive belief that he is a statesman needing our support. There is also the cold reality that Theresa May's administration desperately needs a foreign policy win. In these pre-Brexit days, one that involves a former anglophone colony would be especially welcome.
There have been costs to this policy, though. Our enthusiasm for Mnangagwa has disappointed and alienated much of the opposition – the people now being detained, beaten or shot. It will take decades to overcome this deep anger.When Johnson welcomed the plan to rejoin the Commonwealth, he stressed that "Zimbabwe must now show commitment to Commonwealth values of democracy and human rights". This its rulers have clearly not done. So far, British statements have only expressed concern and disapproval at the ongoing repression.
It is time to go much further. We should make it absolutely clear that our support for any readmission of Zimbabwe to the Commonwealth is contingent on an immediate end to the crackdown and will only come after at least a year without any relapse. Neither is any other form of rehabilitation possible – certainly not the major loans that Zimbabwe's rulers so badly want. A strong statement will not only make it easier for Mnangagwa to face down the hardliners if he is committed to reform, but might go some way to mitigate the deep hostility to the UK now felt by so many honest, brave people in Zimbabwe.